Dublin unforgettable experiences
The capital city of the Emerald Isle, Dublin is best known for its friendly locals, enthralling sights, smells and sounds, as well as history and countless bars. Here are 5 things to add to your to-do list on your next trip:
1. Visit the city's key landmarks
Read a book at Trinity College
Dublin is a UNESCO City of Literature where many greats like Oscar Wilde, Samuel Beckett, James Joyce, and Seamus Heaney got their start. Inside Trinity College visitors will find great literature from around the world, alongside every book that has ever been published in the UK and Ireland. The Book of Kells – a manuscript of the 4 Gospels of the New Testament, created around 800 AD. The book is a masterpiece of calligraphy and graphics, of both artistic and cultural importance and is considered the most valuable national treasure of Ireland. It has been on display in the college's Old Library since the middle of the nineteenth century.
Take a walk in Phoenix Park
Phoenix Park is reputedly the largest enclosed city park in Europe. Founded in 1662 by the Duke of Ormond James Chester on behalf of King Charles II. It was a royal hunting park which opened to the public in 1747. Today it's home to the President of the Republic of Ireland, as well as the base for An Garda Siochana HQ (police station) and Dublin Zoo, the fourth oldest zoo in Europe which was opened in 1831. A large herd of fallow deer still roam the grounds to this day.
A history class at The Irish Whiskey Museum
Take a journey back through time to learn about Irish whiskey. The industries rise and fall in production and sales, going from 200 distilleries in the 1800s to only having four by the 1950s and 60s. The answer to why Scottish whiskey (scotch) is only distilled twice whilst Irish whiskey is triple distilled.
2. Eat your way around the city
Ananda Indian Restaurant in Dundrum
Ananda means "bliss" or "divine joy" and that's how people feel when walking out after a meal. Set up in 2008 by Atul Kochar, the first Indian chef to achieve a Michelin Star while working at Tamarind Restaurant in London. It is no surprise why it was named the best restaurant in Dublin at the 2018 Irish Restaurant Awards. 
Dada Moroccan Restaurant in Camden Street
The flavours of North Africa in an affordable, unique fusion of authentic Moorish-inspired dishes in beautiful Marrakesh-inspired decor. Try the Harira, soup with lentils, chickpeas, vermicelli and coriander for a refreshing starter.
Hang Dai in Camden Street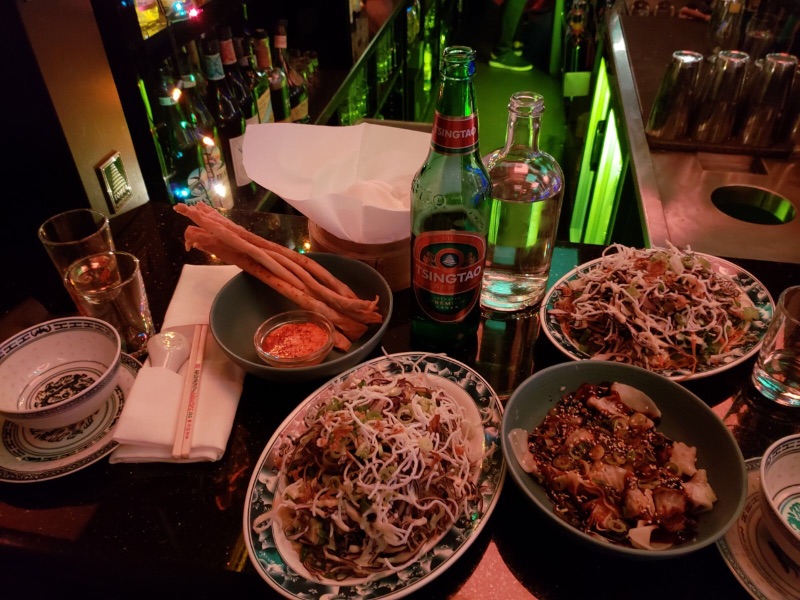 This contemporary Chinese restaurant on the popular Camden street has authentic food and slick tunes. Try the Beijing Wood Fired Duck, which must be pre-ordered when making a reservation. It is prepared for two days then roasted for 50 minutes upon the guest's arrival. 
3. Bars
With over 1000 licensed pubs in the city, Dublin is world-renowned for its lively nightlife and traditional pubs.
Murray's Bar in O'Connell Street
Enjoy a pint of Guinness at this traditional Irish pub with live Irish music and dancing and an outdoor bar area for sports fans.
The Blind Pig on Suffolk Street
An underground speakeasy where a booking must be made online and clues will be sent via email on how to find the bar which is located inside another popular restaurant behind a hidden bookcase door. Upon entry, guests are handed a list of rules and a cocktail bible before fun times begin.
Vintage Cocktail Club in Temple Bar
Behind the black iron door with no handle lies a cocktail heaven with a dazzling array of high-class beverages. The low lighting, draped curtains and vintage sofas add to the exclusive atmosphere. Dress to impress as its highly likely to be let in especially without a reservation. 
4. Explore nearby towns
Hill of Tara in County Meath
Just 45 minutes from Dublin City Centre is the town of Navan where a sacred place also known as the Hill of Heroes is found. This archaeological complex is filled with ancient monuments and stone structures. The centre of the hill stands a standing stone called 'Lia Fáil' aka the Stone of Destiny. It was here that the kings were crowned, made peace and got buried. 
Cliffs of Moher in County Clare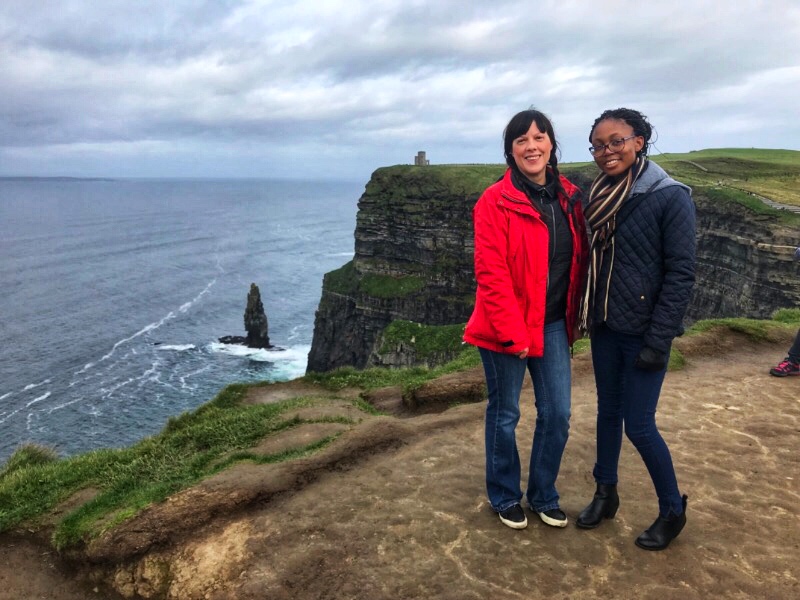 Seen in movies like The Princess Bride (1987) and Harry Potter and the Half-Blood Prince (2009). Locals call it Hag's Head as they claim it resembles a woman's head looking out to the sea when viewed from the North. The Cliffs of Moher are entirely vertical, and the cliff edge is abrupt. They rise to 120 meters above the Atlantic Ocean and reach their maximum height of 214 meters. With over 1,5 million visitors every year, The Cliffs of Moher are Ireland's second popular tourist destination.
Titanic Museum in County Antrim
Just two hours from Dublin, the city of Belfast is another gem! With a rich history of shipbuilding, the iconic Titanic was built in this city's docks. While in Belfast, a black taxi tour is highly recommended. Conducted by real taxi drivers, with the knowledge to provide an in-depth, local perspective to the city. This political tour takes visitors around the areas of North and West Belfast synonymous with the years of conflict known as "The Troubles".
5. Best Dublin Walking Trails
Howth Head Walk
The New York Times called the vista from Howth Head "one of the most beautiful views in the world." It's not wrong! The 6.5 km trail has the best views of Dublin and a steep entrance with a gravel path leading to a secret beach.
Great South Wall
This 4km granite walkway stretches from the Pigeon House towers to Poolbeg Lighthouse. With views of the ocean and a Million Euro worth houses.
Bray to Greystones
The 7km walk offers stunning views of the Irish Sea, Bray, Wicklow Mountains and a range of marine wildlife.
Although Ireland is a visa-free destination for South Africans here are few things to know:
South Africans are granted a stay for a maximum of 90 days in the Republic of Ireland. While in the country, South Africans do not have any residency rights and may not work or study for the duration of the stay. Visiting Northern Ireland isn't recommended as its part of the United Kingdom, and South Africans need a visa unless going on a tour bus for less than 24 hours.
Documents needed:
1. Passport (If you have a British Passport skip the rest of the steps)
2. Reason for visiting 
When 

visiting friends or family:

 

Letter of invitation

An invitation letter should be written to invite you to visit your family or friends in Ireland. This letter should include the following information about you:

• Name (same as per passport)

• Your relationship to the person inviting you

• The purpose of your trip

• Duration of your trip

• Accommodation details

The letter should also include the following information about your host:

• Name

• Irish address and telephone number

• A copy of their residency card and / or passport
Tourism purposes:
A copy of your itinerary and accommodation confirmation

 

Return flight information
Book cheap flights to Ireland now!
Stay updated with our latest flight specials by subscribing to our newsletter for great deals and travel tips!
Have you travelled to Ireland or do you have family there? Share your experiences with us in the comment section below.
***Disclaimer!
All information on this page was correct at the time of publishing and may change at any time without prior notice. Travelstart will not be held liable for loss or inconvenience resulting from the use of information from this website.