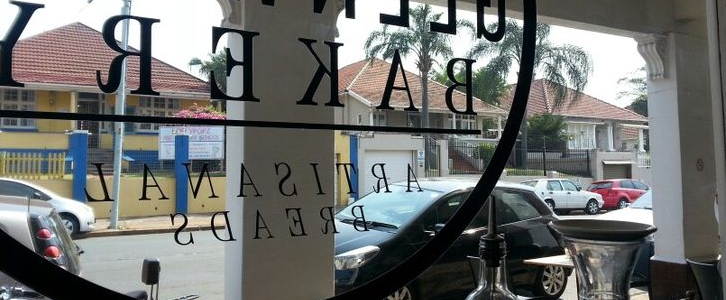 I was lucky enough to spend a couple of days in Durban lately, and while I was there I stumbled across the most divine bakery: Glenwood Bakery. Have you heard of it? I'm sure you have. It's my new favourite.
Glenwood Bakery is a simply marvellous spot – a small, corner shop of a café-bakery with fresh bread, bagels and croissants baked every day (at specific times). Oh yes, if you want to be first in line for their freshly crafted breads, pain au chocolat or croissants, you better get there on time: from 6am to 11am, there's a new delicious goodie every hour or two.
You could also go for lunch, of course, and I would highly recommend that. Sit at the counter watching the world go by, or at one of the tables inside or on the pavement outside – it's a very relaxed affair. We had a superb Serrano ham, avocado and rocket sandwich on fresh potato and rosemary bread (be still my beating heart!) and a bagel and lox, with the freshly made bagel complimenting the lashings of cream cheese and generous portion of smoked salmon. The portions are just as generous – we were given two sandwiches and two bagels for only R40 each. And the deliciousness doesn't stop there: they also serve Belgian chocolate hot chocolate in winter, and milkshakes in summer. Yum!
I wasn't in town on a Monday, unfortunately, or I would have definitely checked out their Monday Pizza Night. It's the only evening the bakery is open, and they serve a selection of fabulous-sounding pizza with live music and no corkage on alcoholic beverages… What a great way to start the day!
Whether you're looking for a freshly baked loaf for lunch or dinner, a few croissants for breakfast in bed, or a wonderful spot to meet a friend for coffee or a meal, I highly recommend Glenwood Bakery. If only they'd open up a branch in Cape Town..a girl can dream.
If Glenwood is too out of the way, why don't you check out these other coffee shops that are taking Durban by storm.