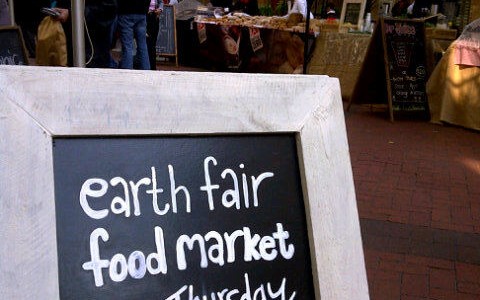 Since its Thursday I thought I'd write about the Earth Fair Market. It's Travelstart's favourite lunch haunt when Emilia (our resident chef) isn't in the office, and even when she is making fantastic food for us we always tend to wind up here for  what has quickly become known as 'second lunch'.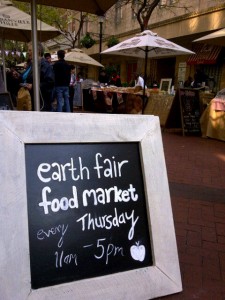 It takes place every Thursday in the St Georges Mall outdoor arcade area (cnr St Georges Mall & Church Street) from 11am to 5pm. Close to the tourist centric Greenmarket Square, the market attracts workers and tourists from all over the Cape Town CBD. While some opt for a Mexican snack, some delicious biltong or a piece of homemade fudge, others will fill up on their 'second lunch' and do some grocery shopping.
You'll see many familiar faces if you've been to the well-established Old Biscuit Mill in Woodstock. Many of the same traders from the Biscuit Mill bring their fresh flavours and produce to the Earth Fair Market.
What's on offer at Earth Fair
Without giving too much away I'll recommend you sample the delectable tastes of Montague Cheese – from goats cheese to cows milk cheese this stand is definitely worth a visit. Mr. Juice will satisfy your thirst with his range of healthy liquids while the soothing beats of the Marimba band complete the ambience of this fantastic little market in the heart of Cape Town CBD.
If you find yourself around the other side of the mountain then catch the Earth Fair Market at the South Palms Centre in Tokai on a Wednesday and a Saturday.  Visit the Earth Fair Market website for more details.
You can also follow @earthfairmarket on Twitter. As for me… I'm off to the market.
Image from Nick Paul