Kashmir in Northern India is famed by adventure seekers and filmmakers alike. It houses some of India's most beautiful scenery and your eyes will not have to search very far for beautiful sights here.
From the pictorial beauty of Dal Lake to the mesmerizing gondola ride in Gulmarg to the snow-capped Himalaya peaks of Sonmarg and the verdant meadows of Pahalgam, Kashmir will surely captivate and keep you intrigued.
Let's take a journey together and discover all that Kashmir, India's natural capital, has to offer. 
The Mighty Himalayas
There are few moments in your life that will take your breath away. One such moment is admiring the world's most fascinating natural wonder – the Himalayas. Witnessing it up close is mesmerizing. And it comes as no surprise as to why the Nepalis refer to its highest peak as the Sagarmatha. The term refers to the "Goddess of the Universe" or "Forehead of the Sky".
To experience it with your own eyes is not only rare, but it is also a true privilege. In fact, the Himalayas is the second least visited place on earth. 
It is the world's tallest and longest mountain range spanning 2,400 kilometres across six countries (India, Nepal, Bhutan, Tibet, Afghanistan and Pakistan). They are close to 70 million years old and cover about 0.4% of the surface area of Earth. A total of 30 peaks tower over 8,000 metres with Mount Everest and K2 being the highest. 
After Antarctica and the Arctic, the Himalayan ranges is home to the third-largest deposit of snow and ice on this planet. It is one of the very few places on Earth where the snow never melts.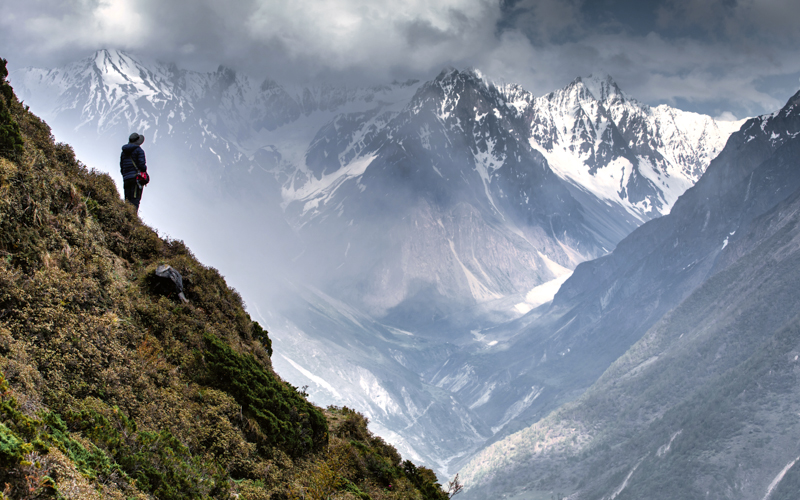 Kashmir, India | Image by Chantelle Flores | www.51countriesandcounting.com
Winter and summer are the only two seasons that occur here. And the rivers formed by the Himalayas are older than the mountains themselves. In addition, it is claimed that no other mountain range moves as quickly as the Himalayas. Scientists believe that these mountains will continue to grow in size and will become even taller. 
Leh and Ladakh
Fringed with the snow-capped peaks of the Himalayas, Karakoram and Zanskar mountain ranges, Leh and Ladakh have been welcoming adventure seekers for centuries.  
The unparalleled beauty of this north Indian state is rich in culture and breath-taking scenic splendours. You can expect to find lush and barren mystical valleys, torrential rivers, deep gorges and serene glacial rivers, as well as high mountain ancient forts and palaces.
The quaint and colourful capital of the region is Leh. It is nestled in the lap of Indus River Valley and perched at an elevation of around 3,500 metres above sea level. It is the perfect place for you to spend a few rejuvenating days in the lap of mother nature. 
You will also appreciate the unmatched spiritual bliss that can be found here. It is often referred to as being the 'Land of Buddhism'. And you can find an uncountable number of ancient monasteries, chortens and stupas that mark their presence here.
Be sure to check out the Namgyal Tsemo Gompa, Thiksey Monastery, Shey Monastery and Spituk Gompa. These are the most popular and beautiful of all in Leh. 
Leh's neighbouring valleys of Nubra and Markha offer an unprecedented adventure of trekking, mountain biking and river rafting. High altitude camping amidst these awe-inspiring vistas, is also a popular activity. 
On one end, you will find endless stretches of desert. On the other, lush and green terrains. Be sure to check out Pangong Lake. It is a bewitching spot. 
The valley is also blessed with a number of charming villages. Each is known to offer something distinctly different from the next. A visit to the remote and quaint hamlet of Turtuk, which lies in close proximity to the Baltistan region of Pakistan, will provide you with an experience like no other. It has bewitching scenery sprinkled with gorgeous fruit orchards and flower-carpeted meadows. This is sure to instantly captivate you.
Dal Lake
An unspoken charm exists at Dal Lake. A type of universal love that cannot be seen but only felt from the heart.
It has been described as the Jewel of Srinagar and is Kashmir's second-largest urban lake. It can be found in the heart of the city of Srinagar. Its pictorial beauty draws many nature lovers. The calming waters of this mirror-like lake soothe and rejuvenates your soul. It also serves as the starting point for trekkers heading to the famous Ladakh region to explore more of the Himalayas. 
All aspects of life for people living here are centred around the water.  At the start of dawn each day, you can immerse yourself into Kashmiri lifestyle, at one of the worlds few floating vegetable markets. Here you can witness wholesale vendors gathering to sell their fresh produce directly from their boats. During July and August, you can even find lotus flowers amidst the colourful fruits and vegetables.
The lake is also a recognizable sight in famous Bollywood movies. It is here that you can find primitive boats traversing the calm waters with reflections of snow-covered mountains.
It is the perfect place too for romance. You'll see couples daily enjoying intimate moments in these beautifully carved and colourfully decorated shikaras – a gondola-type rowing boat that boasts cultural significance to the region.
The lake, although shallow, has many intricate waterways and channels that serve as a gateway connecting other parts of the lake to the old city. In the centre of the lake, you will find the island of 'Chaar Chinaar'. It once belonged to the royal family of Jammu and Kashmir and is named after the four chinar trees found on it. 
House Boats
Journey around the world with somewhat 1,400 houseboats moored close to the shores and named after countries and famous cities. These provide amazing accommodation alternatives as they will offer you a similar experience to that of a luxurious hotel mixed with hands-on individual hospitality of a quaint guest house. 
Gulmarg
If you are looking to retain peace of mind in the purity of nature, the hill station of Gulmarg might just be the place you are looking for. It is situated at an altitude of 2,650 metres above sea level and is the crowning jewel of Jammu and Kashmir.
Once a resort for the kings, this cup-shaped valley is not short of unsurpassed picturesque vistas, leaving you in awe. More spectacular in reality than imaginable, it is no surprise that a decent number of Bollywood filmmakers continuously flock here.
Gulmarg is the heartland of winter sports, not only in India but is one of the top three ski resort towns found on the entire Asian continent. It receives some of the heaviest snowfall in all of the Himalayas. If you love snowboarding and skiing you can expect to pay significantly less than at its European competitors. 
There's never a day, neither a season, when Gulmarg ceases to be beautiful. During summer, its lofty snow-capped mountains turn lush green and its small, yet serene and scenic lakes flaunt their incredible shades of blue. It gets transformed into the "Meadow of Flowers", adorned with daisies, forget-me-nots and buttercups.
During this time, Gulmarg attracts golfing enthusiasts and draws them to the world's highest green golf course that rests here, at 2,650 metres above sea level. The best time of the year to visit Gulmarg is from November to February.
Sonamarag
Known as the "Meadow of Gold", Sonamarg is the perfect place for you if you love getting outdoors and being adventurous. This picturesque hill station rests at 2,740 metres above sea level in the Ganderbal district. It serves as the gateway to the Leh-Ladakh.
You will appreciate its snow-capped glaciers, sparkling lakes, undulating emerald green meadows and waterfalls, which can best be enjoyed on foot through the many trekking options available. 
Its two prime attractions are what draw visitors back here year after year. The Thajiwas Glacier and the Zojila Pass. 
The Thajiwas Glacier is the most accessible glacier as one can easily walk the seven kilometres through the undulating terrains to its base. Or, if you are not up for the walk, you can reach it by hiring a pony. It is the perfect place to enjoy the snow even during the summer months which offer a contrasting site to the eyes.
The Zojila pass is ranked as the second-highest altitude pass in all of India. It overlooks breathtaking snow-capped summits and dense jungles.
At the foot of the pass, you can find the Baltal Valley –  a base camp for pilgrims heading to the holy cave of Amarnath yatra. It is considered to be a Shiva Linga (the holiest shrine in Hinduism). In addition, it is here where Lord Shiva explained the secret of life and eternity.
Inside this 40-metre-high cave, you will be amazed to see a special kind of stalagmite that is formed. Unlike most other stalagmites, this one grows up vertically from the cave floor. 
The best time of the year to visit Sonamarg is from May to October.
Pahalgam
Snuggled in the lap of the Himalayas you will find the small picturesque town of Pahalgam. 
It is often referred to as India's mini Switzerland, for its gorgeous surroundings and old-world charm. Here, you will find horses galloping through the shop-lined streets. A sight that would make you feel as if you have just stepped into a time capsule. Life, as it seems in this valley of the shepards, has been frozen in time. 
Seeing that the town is flanked by mountain peaks, it serves as another starting point for those looking to trek to the Amarnath Cave Temple. One of the four major pilgrimages of India. Other trekking trails start here too, for those looking to explore the panoramic views of the untouched Himalayan ranges.
These exhilarating trails take you through the picturesque Liddar Valley. Through lush green virgin pine forests, meadows of wildflowers, snow-capped peaks and across gushing rivers. Wild bears, leopards and musk deer are common sights in this region.
The old town of Srinagar
The charm of the century-old city of Srinagar is often overshadowed by its picturesque surroundings and splendid natural beauty. It is as much a city of winding alleys, splendid monuments and beautiful houses. As it is a city of lakes, canals and gardens.
It is a city where the imprints of the Mughal and British period still linger on in its architectural wonders. These unique architectural styles date back to the 9th century BC. One such example is the Shankaracharya Temple, perched over 1,800 metres above sea level and dotted with brightly coloured historic wood mosques. 
The Jhelum river, also known as the Vitasta in ancient Hindu texts, runs through the city and has been the lifeline of its people for many years. Boatsman would ply along the waters, carrying passengers and goods up and down the city. This same river flows for over 500 kilometres from Verinag in Kashmir and joins the Chenab in the Jhang district of Pakistan.
Travel advisory
It is important to note that both India and Pakistan are in dispute of the ownership of the Kashmir Valley. Political violence can flare up without warning.
When you are planning your trip it is best to keep an eye on possible travel advisories set forth by foreign governments. Often, advisories are given against all travel to areas outside of the cities of Srinagar and Jammu. Failure to follow this warning could result in your travel insurance not being valid. 
Ready to stkashmirart planning your unique getaway to the Himalayas?
Book cheap flights to India now with Travelstart.co.za.
Also Read:
Untold stories of Jaipur, India's pink city
Indian Visa application explained
Guide to the Holi Festival in India
---
All information on this blog page was correct at the time of publishing and may change at any time without prior notice. Travelstart will not be held liable for loss or inconvenience resulting from the use of out-dated or incorrectly noted information.