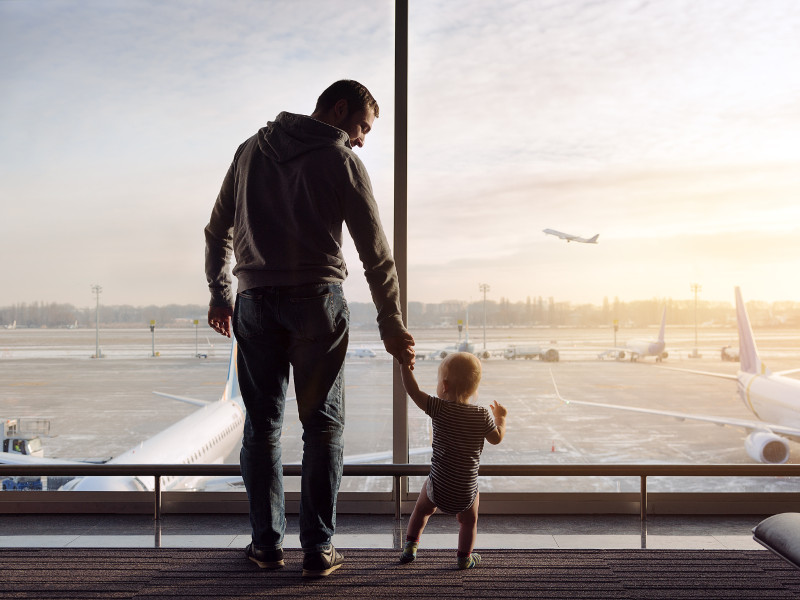 Family trips across South African borders may be every parent's dream, but the stress of flying with children can put some people off the idea of it all. Not to worry though! Here at Travelstart, we love the thought of enriching your children's young minds and exposing them to cultures abroad. This is why we've composed a list of everything you may need to get ready for that long flight ahead – hassle-free!
What kind of research should you do?
What's the ticket pricing for a child? Does the airline offer child services i.e. nanny service? Does your choice of accommodation cater for children, can you bring a stroller along etc.? Does your child need travel documents, in accordance with ACSA and TSA regulations, etc.?
Tip: one can never do enough research to ensure your perfect vacation, be sure to set plenty of time aside for this – especially the administrative bits of flying with children.
How should I prepare my children for the flight?
Speak to your child and prepare them for the flight. Get them excited about the prospect of flying and explain to them that they will be sharing the cabin with other passengers. Speak about behaviour and that while flying it is a good idea to use their 'inside voice' and to try to be considerate of other passengers. If this is your child's first flight, also explain what it means when the safety belt sign is on – more so that no potty breaks can be taken during take-off and landing! Also, consider packing in a 'gift' for other passengers seated near you in case of loud crying or a tantrum –sweets or chocolates can sometimes go a long way.
Tip: If possible, try to limit your child's liquid intake about 2-4 hours before your flight to avoid needing the loo during check-in, boarding and take-off!
Which travel documents are needed?
Make sure all your children's travel documents (ID, birth certificate, passport, visas) are in place, save it to your smartphone or to your cloud (Google Drive/Dropbox/iCloud) – make copies of it and keep them handy. In some cases when travelling without your spouse, you might need an affidavit from him/her, giving you permission to travel with your child. See below for a full breakdown of travel documents when flying with kids in this FAQ Friday.
Tip: Make sure to plan this part of your travel process at least 3 months in advance!
What kind of clothing should I pack for the flight?
Pack enough spare clothing in your carry-on luggage for those unexpected accidents. Also, go with layers instead of bulky items to warm up or cool down. There's no need to strap your child into an oversized fur coat as he or she will most probably find it uncomfortable to travel like this. Also, don't underestimate the fact that it can be quite a few degrees cooler in an airplane than what it was when you left your house, so a light but warm jacket and a spare pair of socks are always a good plan!
Tip: Keep a few large Ziploc bags for soiled or wet clothes.
How do I work around flight times?
Book online. Check in online. Arrive on time (check how many hours ahead of time you can check in) but don't arrive overly early either. This way your child won't get too distracted, over stimulated, or even bored at the airport, waiting to board the plane. Schedule flight times to coincide with child's nap or bed time to allow for a smooth journey, if possible.
Tip: Travelling with a toddler? Schedule feeding times to coincide with take-off and landing as drinking/chewing can reduce the impact of blocked ears.
Which snacks should I pack in for my children?
Pack healthy snacks and try to avoid sugar. Sometimes, the intervals between designated meal times on an airplane can seem like forever to a young and anxious traveller. You wouldn't want a sugar-induced child running up and down the aisle. Chewy snacks are a good idea to help alleviate the discomfort in their inner ears due to cabin pressure changes. Avoid snacks that could melt or produce a sticky mess. No mess, less stress! Good snacks to pack in are dried fruit, crackers, juice boxes and pretzels.
Tip: For peace of mind, also make sure to pack in wet wipes and extra serviettes to clean up accidental spills or just to clean sticky fingers.    
How do I entertain my children on a long flight?
Gifts
A neat little trick to entertain and reward your children for good behaviour is to wrap up small gifts for them. Have a few ready for your child to open up during those long flights. Little gifts can include anything from a wrapped snack to a very small gift. The actual gift is less important than the excitement of what good behaviour can bring.
Tip: Keep an empty plastic bag nearby for all of the discarded wrapping paper as you don't want your seat and the aisles to be full of it!
Games and Apps
Children these days have the luxury of spending hours on their tablets or smartphones. They can entertain themselves with games or educational apps which makes the flight time seemingly quicker for the little ones. For a peaceful flight while flying with children, double check that you've packed in your earphones as other passengers will probably not want to listen to whichever game your child is playing.
Make sure though that you switch the device off 30 minutes or so before your little one's designated bed time. This way, the child can ease into sleep and their young brains will have time to unwind from a particularly busy game or movie.
Tip: Ensure devices are fully charged and invest in a portable charging device, such as a power bank.
Toys and Activity Books
For much younger children, bringing along their favourite toy might be a good idea as many children find comfort in their own things and it would benefit the whole journey. If it's a very bulky toy though then consider how practical it would be for you to carry it along from one end of the airport to the next. Choose things that can easily fit into your handbag or baby bag. Make sure to have options at hand.
Tip: Activity books, puzzles, Lego, board games and pens and colour pencils can provide hours of entertainment too.
Can I fly with my child's medication?
Always have any of your child's necessary medication on hand. Over-the-counter medication, as well as prescription drugs (with proof of prescription), can be taken on a flight. For South Africa, passengers are allowed to carry one months' supply of their own or their children's medication with them, but this amount will vary from destination to destination, so please make sure to check ahead of time.
Flights can experience turbulence, and even without that, it can still be tricky at times to give a baby or child his/her medication. A good idea for all children under the age of 10 years old is to forget the medicine spoons at home and use a medication syringe instead to avoid mess. Keep some allergy medication at hand too. It's recommended to keep your child's medication in your carry-on baggage in case of emergency usage.
Tip: Mark your children's medicine clearly and store it in sealable bags.
Flying with Children:  fees, screening requirements and documents
Do children pay less on flights?
Infants vs Children
Parents/Guardians will usually be required to pay a percentage of a flight price for their infant. The percentage differs per airline and some airline, such as Singapore Airlines, allows infants to fly for free. Parents/Guardians can also choose to book a seat and pay full price if they would prefer their baby to have a designated seat of their own. Reduced fees apply to an infant seat when the baby will be spending the duration of the flight on the lap of their guardian. They are eligible to a bassinet if the parent/guardian arranges it ahead of time with the airline with which they are flying.
An infant is classified as a baby between the ages of 7 days and 2 years old.
If travelling with a child, the parent or guardian is allowed to bring along a collapsible stroller on most airlines, free of charge.
The infant must fly on the lap of his/her parent or designated guardian.
Please note that only one infant can travel with an adult. If there are two infants, two adults will need to be present, and so forth.
Children from the age of 2 to 18 years old have to pay full price for a flight ticket. There are some cases in which children aged between 2 and 12 years old get a discounted fee, but this is not standard practice across all airlines.
If your child turns 2 years old while away between the dates of their flight to a destination and the return flight, a separate flight ticket will have to be bought for the return trip.
All children older than 2 years old are required to have their own seat and pay the full price (with most airlines) as an adult seat.
Children from the age of 2 years old have the same baggage allowances as adults.
Domestic requirements for travelling with children in South Africa:
Most airlines require an unabridged birth certificate for domestic travel, though some are more lenient and just require a form of identification of the minor. It is a good idea to call the airline ahead of time and enquire about this information.
International requirements for flying with children from/to South Africa:
All minors (all those younger than 18 years old) will need an unabridged birth certificate to travel out of the country.
What is an unabridged birth certificate?
Unabridged birth certificates are issued to all babies born after March 2013 and has since become standard practice, and is free of charge. It has the details of BOTH parents. Children who were born before this date will need their parents to apply for an unabridged birth certificate at their nearest Home Affairs office in South Africa before any international travel. To do this, they will need:
The ID documents of both parents (original certificates – your driving licence will not suffice)
The ID number of the child
Original birth certificate
R75 to complete the application
This process may take up to 8 weeks from start to completion, so parents should take this into consideration when planning a trip abroad.
What are the TSA regulations at the airport?
Airports Company South Africa (ACSA) abides by international Transport Security Administration (TSA) regulations and guidelines.
Flying with liquids:
You can fly with amounts of baby formula, breast milk and juice in your hand luggage. But be prepared to have this screened separately from the rest of your belongings. You may also pack it in your checked luggage.
You do not need to be flying with a baby to carry breastmilk in your baggage. An example of this may be if you are delivering breastmilk from one part of the country to another, for a friend or relative. However, if the quantity is more than 100ml, you will need to inform the officer. Prepare to have the container opened for testing.
Also see: Everything you ever wanted to know about travelling with liquids
Screening of children before boarding flights:
Screening applies to all passengers, but specially adapted regulations are put in place for children under the age of 12 years old. Over the age of 13 years old, standard screening regulations apply.
Strollers, booster seats, etc, will be screened by X-Ray. If these objects are too large to be screened this way then they will be hand-inspected by officers.
Children under 12 years old can leave their shoes, jackets and headgear on during screening.
Infant will be screened on the arm of their parent or guardian.
Toddlers will be screened by themselves, assisted by a parent or guardian at all times.
Children with disabilities
It is best to call the airport between 48 and 72 hours in advance to advise the screening officers that a child with disabilities will be travelling. This will hasten the screening process and allow for a smoother procedure. Children will not be removed from their mobile device to go through metal detectors.
Travel documents needed for travelling with children
(information provided by the Department of Home Affairs, South Africa):
With both biological parents:
Valid passports of both parents and child
Unabridged Birth Certificate (UBC)
With legal guardians:
Valid passports of both guardians and child
Unabridged Birth Certificate (UBC)
Guardianship Order
With a single parent:
Valid passport of travelling parent and child
Unabridged Birth Certificate (UBC)
Plus, one of the following:

Parental Consent Affidavit (PCA) not older than 6 months
Proof that in an event that a parent or parents are incapacitated or deceased and no legal guardian has been appointed as yet.
With a single parent, divorced:
Valid passport of travelling parent and child
Unabridged Birth Certificate (UBC)
Court order granting FULL parental responsibilities and rights to the travelling parent.
With a single parent, widowed:
Valid passport of travelling parent and child
Unabridged Birth Certificate (UBC)
Death certificate of the deceased parent
Child travelling with a non-parent (older sibling, aunt, grandparent, etc.):
Valid passport of the child
Unabridged Birth Certificate (UBC)
Plus, one of the following:

Parental Consent Affidavit (PCA) not older than 6 months
Letter of Special Circumstances issued by Director-General of Home Affairs in the event that a parent or parents are incapacitated or deceased and no legal guardian has been appointed as yet.
Related articles: How to Survive Flying with a Baby Like a Super Parent
If you're looking for flight cabin crew that go the extra mile in making sure kids enjoy their flights, have a look at our list of child-friendly airlines!
*Disclaimer: All information on this blog page was correct at the time of publishing and may change at any time without prior notice. Travelstart will not be held liable for loss or inconvenience resulting from the use of out-dated or incorrectly noted information.