The view from my one-bedroom apartment overlooks a secret garden, one of many that Athens keeps between the pastel hues, burnt orange and warm greys that dominate the city's skyline. There's a generous balcony and I sit with freshly brewed coffee and a map, planning the next 48 hours in this iconic city that birthed Democracy. Around me my multi-leveled neighbours put out laundry, chat in their kitchens and water plants. I feel very much at home.
Just off the 3-day TBEX Conference where I joined travel bloggers and writers from around the world to learn new trends, I've extended my stay to see more of this place I never imagined I'd visit. So far my time has revolved around the Megaron Conference Centre, City of Athens Technopolis and Skyfall bar.
I've bid farewell to travelling friends and am ready to immerse myself deeper into this unfamiliar metropolis …
What I found is that Athens is an equal mix of ancient and modern, grunge and grace, iconic monuments and world-class museums. Past and present blends well here, as does the abundant street art with edgy fashion and the ancient landmarks alongside bustling cafes offering al fresco dining. It's a city that's seen a few rough financial years, yet is visibly sophisticated and cosmopolitan, living up to that truth that out of hardship is born creativity. It's evident in the people, their charm and friendliness. Athens is a happy welcoming city.
Should you find yourself here for a couple of days, these are the things you should have on your to do list:
Historic Sites
The Acropolis is one of the most important ancient sites of the Western world, crowned by the Parthenon it stands as custodian above the city and is visible from almost everywhere. The marble shines white in the sun and reflects in the illuminated light of the night. It's a must visit, also to see the incredible investment of € 8 000 000 being made by the European Union in its restoration. Allow time to walk up the hill and linger here. The views from up there across the city are endless.
Other significant sites include the Acropolis Museum with its collection of Archaic and Roman artefacts. Ancient Agora in the heart of old Athens where Socrates developed his philosophy and where in AD49 St Paul came to convert to Christianity. There's the Temple of Olympian Zeus, the Benaki Museum, Hadrian's Arch and Library and the Ottoman Monuments. Also the Panathenaic Stadium which hosted the first Olympic Games in 1896. The National Archaeological Museum with its unbelievable collections is a must see, but do allow yourself time. Everywhere you walk in these areas you will find statues, street art and monuments to admire.
Changing of the Guards
In front of Parliament at the Tomb of the Unknown Solider the evzones or presidential guards stand watch. The changing of the guards takes place every hour and is a must see, especially at the 11am change which involves more guards and where the ceremony is more complex. The uniforms of the evzones refer to different areas and eras in Greek history, with pleated kilts or fustanella and pom-pom decorated shoes. After the ceremony when they are checked and in place, you may have your photo taken with them on a 'don't touch, don't salute, don't talk to' basis. These are the most advance trained soldiers in the Greek Army and have a minimum height requirement of 1.8m.
The city centre
Take half a day and start at the city's main Syntagma Square opposite Parliament, where nearly every major event in Greek
history has been celebrated or mourned. This is a good place to know, as its the hub of public transport; buses, trolleys, trams and the metro stop here. As does the City Sightseeing Hop-on Hop-off bus which is always a good idea.
Syntagma Square is the starting point of the famous pedestrianised Ermou Street which leads to Monastiraki Square. This important shopping street offers top end stores, fashionable cafes, souvenir kiosks and newspaper stands. The Flea Market with its colourful vendors and endless shopping opportunities may find you a rare antique or in my case, a pair of strappy sandals and a branded sweatshirt.
Plaka is a must as it is the oldest part of the city located just below the Acropolis. The architecture differs here where residential living meets jewellery stores, tourist shops and side street cafes.  There are street musicians, flower sellers, and photographers everywhere you look, especially on Adrianou Street.
Don't neglect a walk on Vasilissis Sofias Avenue with it's beautiful buildings, embassies and museums, the historic Hotel Grande Bretagne which was the Nazi headquarters during WWII and the National Gardens.
Take in the street art and graffiti as you go; it's to be found in every form from scrawls, fat cat and shadow lettering, to stencilled messages and art formed murals.
There are dogs tagged and taken care of by the municipality, there for all to talk to and love, while stray cats exude an unrivaled sense of ownership.
The Coastline
All this and I never got to the coastline during this visit, except to see it from a distance, but Athens offers a string of beaches, which means you don't have to get on a ferry or cross over to an island to enjoy the Aegean Sea. Resorts, tucked away coves and Blue Flag beaches for diving, water-skiing and relaxing is on offer at the well organized beaches. If you're there for longer than a couple of days, this is the area.
Eat
There are restaurants, bars and coffee shops filled with locals and tourists. Most have free Wi-Fi, good local wine, excellent coffee and are staffed by gorgeous looking bearded hipsters. There is local food to be found everywhere, with special emphasis on souvlaki, moussakas, stuffed vine leaves, kebabs, double cream tzatziki and perfect feta. I learnt that Greek yoghurt tastes better in Greece as its made of 80% sheep milk and made more than one stop at a yoghurt shop for a giant bowl full, topped with honey.
Armed with a local simcard, I used Google maps to get around on my own and had downloaded the 'I am an Athenian too' app which invites you to 'take a photo, add a stamp, share it' – such fun and incredibly interactive.
Having booked a guide with Trafalgar Travel for my one full day, I valued the closer look that this brought to the destination, how it saved time with most direct routes and meant I didn't have to queue for tickets at any of the places we visited.
Also watch:
There are 60 towns and cities around the world named Athens, but there is only one which holds the origin in its cobble stoned roads, each with their stories to tell. Here you can feel like an Athenian.
Often the best gifts of travel arrive where we least expect them. Don't pass this modern inviting city by. My only question for now is, why isn't everybody lingering in Athens.
Useful Travel Information:
South Africans require a Schengen to visit Greece. See Travelstart's FAQ Back to Basics.
There are numerous options to get there, yet I have found Turkish Airlines and Swiss International Air Lines the most direct.
Even if the main focus of your visit to Greece is time on the islands, I encourage you spend at least a couple of days getting to know Athens.
The currency is Euro and there are ATM's throughout, credit cards are widely accepted. I found Athens to be more affordable than most European destinations I've visited recently.
I booked my accommodation with Airbnb and found the service, value and warmth of my host unbeatable. I arrived unwell and she personally drove me to the pharmacy, checked in on me and left me all sorts of treats in the fridge to make sure my stay was memorable.
There is great value in taking a guide, especially if time is limited and as an initial introduction to a place. I spent a day with the remarkable Anna Zora of Siva Travel, as arranged through Trafalgar Tours. Anna has been guiding for 20 years and her knowledge and passion offered an entirely new insider perspective.
Useful websites to learn more from – Visit Greece and This is Athens.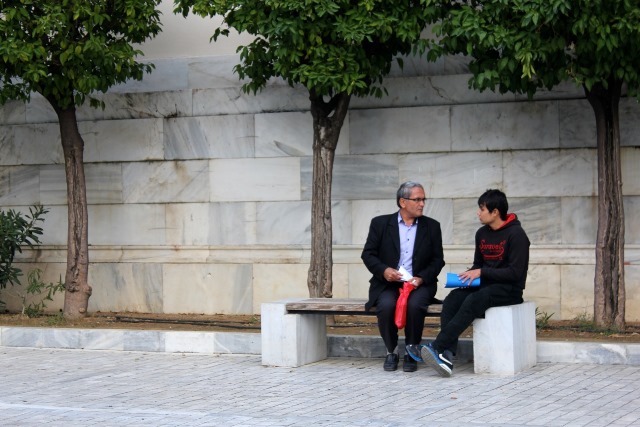 Walking Athens – A video by The Incidental Tourist