Mauritius Holiday Packages from R8,750
When it comes to travel it's always nice to have options and that's exactly what we're giving you with this week's package deal to Mauritius. We're offering a choice of 2 holiday packages to Mauritius – option one will have you sitting in the lap of luxury at the 4 Star La Palmeraie Boutique Hotel while option two allows you to explore the island on your own terms from your base at the 3 Star Cape Residence self-catering apartments.
Mauritius is great for South Africans – Visas are easily obtained on arrival and it's a short flight meaning no risk of jet lag.
Option 1: La Palmeraie Hotel Mauritius – November 2011
Return Flights from Johannesburg
7 Nights accommodation in a Superior Room at the La Palmeraie Boutique Hotel
Breakfast & Dinner included
Return Airport Transfers
Travel dates: 1 -25 November 2011
Total price per person = R10 400
Find conditions and Book La Palmeraie now. Prefer self-catering? See Option 2 below.
With a 4 ½ Star rating on Trip Advisor, we're confident you won't be disappointed in this Mauritian boutique hotel.
Kitesurfing Ile Maurice
Kitesurfing enthusiasts will love the beach at La Palmeraie. Set on a beautiful lagoon bordered by a white sandy beach, its unique location on Palmar Beach lends itself to excellent kiteboarding conditions offered by the trade winds that blow from the southeast and create a safe enclave.
For those of you that don't know much about this fast growing extreme sport take the opportunity and learn. The Kite Surf Paradise Mauritius, arguably Mauritius' best kite boarding school, is just a stone's throw away from La Palmeraie. Their qualified professionals offer kiting lessons for all skill levels and the prices include all equipment. Hone your skills or take up something completely new – lessons cost about 210€ and last for 6 hours.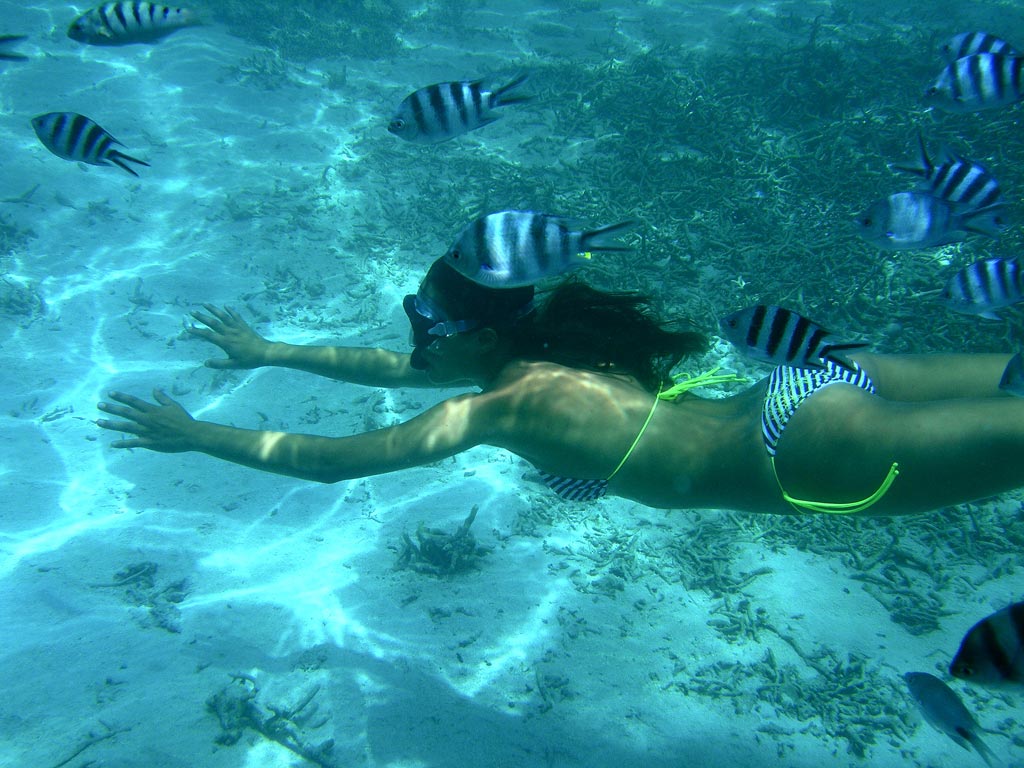 The best time for kitesurfing in Mauritius is from April until early December. Other activities on offer at La Palmeraie include diving and snorkeling, water skiing, kayaking, pedal boats, glass bottom boat trips and hobie cat adventures.
Golf on the Island
Avid golfers can explore different golf courses near La Palmeraie. The hotel has privileged access to three world class golf courses: the Links Golf Belle Mare and 18 hole Championship courses at Le Touessrok and the Four Seasons.
Option 2: Cape Garden Luxury Residence Mauritius
These self-catering apartments on Mauritius' East Coast will have you living the high life in the Indian Ocean. The Cape Garden Residence in Cap Malheureux on the island's northern most side is not your normal full service hotel. It's self-catering so you'll feel more independent here allowing you to explore Mauritius in your own time and on your own terms.
Cape Garden Package details
Return Flights from Johannesburg on Air Mauritius
7 Nights accommodation in a Studio Apartment at the Cape Garden Residence, Mauritius
Return Airport Transfers
Travel dates: 9 October – 25 November 2011
Total price per person = R8750
Find conditions and Book Cape Garden now.
The modern self-catering apartments come equipped with kitchenette, bathrooms with separate shower and toilet, and there's a sparkling pool when you feel like getting off the sand.
The Map below shows the difference in locales of the La Palmeraie Hotel (east) and Cape Garden Residence (north).

View Larger Map
Alternative Mauritius Attractions
Looking for something different to do in Mauritius? Try these different Mauritius Attractions:
Zip Lining
Zip Lining – It's as fast as it sounds when you say it out loud and you can do it in Mauritius. Nature aficionados will love it and it's very similar to the canopy tours we have here in South Africa. Shop around for zip lining adventures in Mauritius when you get to the island.
Underwater Sea Walk
A long standing Mauritius attraction, the underwater sea walk is just that. Take a stroll on the sea floor (about 3-4m depth), and see the magnificent marine life of Mauritius in their natural habitat. It's completely safe and highly recommended.
Underwater Scooter
Speed freaks fear not. If you'd prefer to ride a scooter on the seabed then look no further than an underwater scooter adventure in Mauritius. This is great for couples and you don't need any diving experience to participate. As with other Mauritius attractions, shop around for the best deal.
SUP – Stand Up Paddling
Slightly more relaxed but still a great workout, Stand Up Paddling (or simply SUP) is fast becoming a favourite pastime among watermen the world over. Lessons are offered by the Kite Surf Paradise Mauritius school at the La Palmeraie Hotel.
Book your Mauritius Package Holiday now.
Images: La Palmeraie Hotel Mauritius & Cape Garden Residence Mauritius