So it's time to embark on a getaway for two, so take advantage of the gift of sharing and pack light. Once you travel with kids, packing light is not really an option and when solo, there's no one to help you to carry all your bags. Here are a few packing tips to make your load lighter as a pair…
1.Share a pulley bag.
Unless you're heading on a whirlwind backpacking trip or a trekking mission to multiple mountainous regions like the Machu Picchu in Peru, you don't really need to carry your life on your back. Most travellers will find themselves checking into a hotel with a porter as opposed to a hut in the middle of nowhere (although that is always an epic idea), so a suitcase with wheels is the most travel-friendly. Your partner may find every excuse as to why all their clothes and big shoes can't fit into half a suitcase with your clothing, but you can make it work. Wheels mean ease while in transit, and free hands for one of you to buy hot coffee, snacks and have passports ready on hand at the airport and hotel.
2. Travel to a warm destination.
The elimination of winter and a cold terrain will literally cut your load in half. No bulky woolies, jackets, boots or scarves; only light clothing with the ability to fit into tiny spaces. Island holidays (Mauritius, Thailand, Zanzibar, Bali) require nothing more than a swimsuit, sunblock, hat, kimono, sarong towel, slip slops, sunglasses, one or two dresses, pair of shorts, t-shirts, light pants and top for evenings and a rain mac for possible tropical downpour. Ladies, now is your chance to take a make-up break too; humidity, sunblock and seawater are not good company for your foundation and mascara. Plus fresh air and some vitamin D will do wonders for your skin.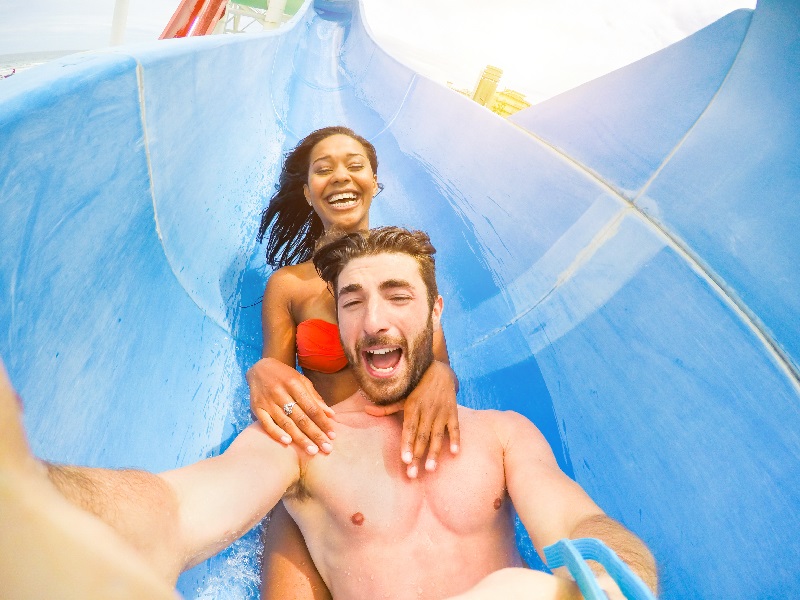 3. Welcome Hand Roll Vacuum Bags into your life.
With a surefire inability to pack lightly, these hand roll vacuum bags can help you to pack clothing for a three week Europe trip. Because a vacuum cleaner is optional and air can be compressed by rolling the bags, you'll be impressed with this new travel hack. Autumn in Europe means light clothing for Italy and warm clothing for Austria and Switzerland which meant tons of luggage. However, you can save tons of space with these bags and ensure that you no longer have to sit on your suitcase to close it.
4. Take Microfibre pocket towels.
Most hotels and guesthouses will offer up gigantic ultra plush towels for guests, but if you're heading to a backpackers, camping stay, or cabin somewhere near the coast or mountains, invest in a microfibre pocket towel Cape Union Mart's Sea to Summit ones are great as these are extremely thirsty for their size, dry quickly and fold up into a tiny bag.
5. Borrow or buy a Down jacket for Cold Destinations.
The best item of clothing you can own is black down jacket which is made to keep out the icy cold in winter or snowy conditions and rolls up into a tiny bag the size of two fists. Every other winter jacket usually takes up a quarter of your suitcase and doesn't even keep you nearly as warm. A roll up down jacket is the ultimate space saver when it's tricky to pack light.
6. Take one unisex backpack.
This means you can each take turns to carry the backpack as a carry-on or while out on day trips.  If you travel often you may always need to take a heavy tech bag for camera gear, tripod and GoPro etc so one backpack for spare clothing or snacks is perfect between the two of you.
7. Minimize your electronics.
Working in travel means that this is a tricky one; you may both be inclined to each take your laptops, phones and all charging equipment. If possible and especially if you're are going on a strictly holiday adventure; leave one or both laptops at home and use your phones to connect to WiFi for emergencies. Take one charger plug with dual ports so you can both charge your devices using only one outlet. One camera is usually enough between two given that one of you may want to shoot stills and the other may want to listen to the tour guide or record a video.
8. Share a toiletry bag.
Depending on where you're going, you really don't need two toiletry bags and tons of products. Decant your big-product items into 100ml travel-friendly containers to bring your overall luggage weight down and share as many products as possible ( e.g toothpaste and shower gel)
9. Packing Cubes.
These little cubes which you can zip-up will definitely come in handy if you're sharing a bag. They can easily separate underwear, ironed folded clothing you want to keep neat and make finding your items way easier than rummaging through everything first.
10. Try take only Carry-on Luggage.
If you're not keen on the idea of sharing one large bag to check-in then opt for two light rolling carry on bags. This means never having to wait in long queues to check your luggage in or wait for them to appear on the conveyor belt post-flight.
We hope these packing tips were helpful. Do you have any tips of your own? Please share them with us in the comment section below.
Book cheap flights to you dream destinations now and don't forget to make use of our packing tips!