Dubbed the "the heart of Asia", the little island of Taiwan is an often overlooked destination.  Located east of China in the South China Seas, the island is host to humming metropolises surrounded by an astonishing amount of hidden forests and lush mountainous landforms, not to mention the beautiful beaches, staggering sunsets, and friendly people. These are all the makings of a must-see destination for 2019. It's no wonder travel photographers flock to the island to dampen their insatiable desire to capture the Instagrammable spots of Taiwan.
If you're a budding photographer or just have a keen eye for composition, then Taiwan should definitely become a prominent feature on your bucket list. Our list of locations will have you constantly trailing behind your fellow travel buddies as you cease those picture-perfect moments on the budget-friendly island. At the very least, we're pretty sure you'll want to publicly acknowledge some of your memorable moments with a selfie.
Timing is everything: Best time to visit Taiwan
Capturing beautiful moments requires a lot of time outdoors, so you want to make sure you've picked the correct time of year so that your days aren't spent chasing the perfect weather. The best time to visit Taiwan is Autumn, or during the months of September to November with average temperatures of approximately 25°C. The typhoon season is tapering down and the climate is considerably cooler. Goodbye rain, hello sunny dry days.
March to May is Spring and with that, cherry and plum blossom season bids us welcome. Hello, perfect instagrammable moments! Spring sees temperatures of 20°C – 25°C. Comfortable weather for long hikes and tearing up bicycle trails in the mountains.
Where do I start?: Instagrammable spots of Taiwan
1. Taipei 101
Location: Taipei
Cost: Adult NT$600 / ZAR 273; Children NT$540 / ZAR 245 (children above 115cm or students)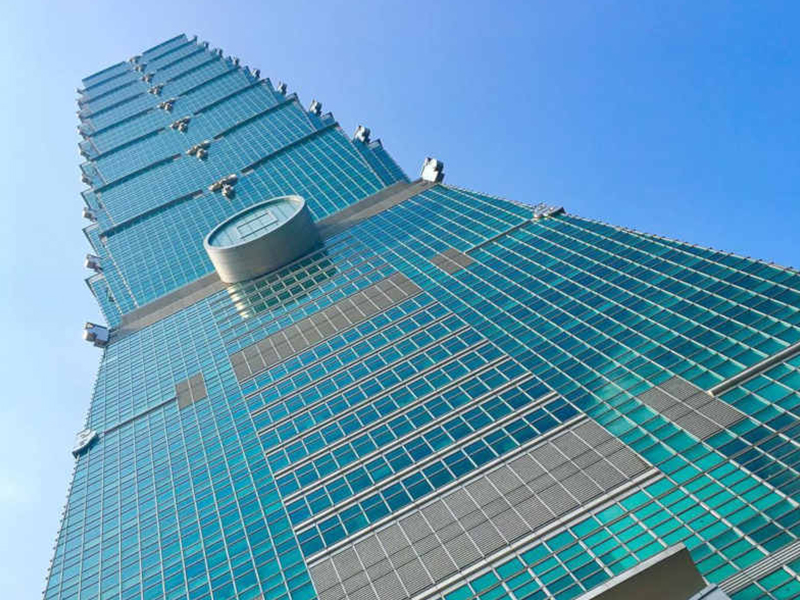 While not the easiest building to fit into your frame, it wouldn't be a trip to Taiwan if you didn't make it your business to visit Taipei 101. Ranking number 8 as one of the largest buildings in the world at 509m, it would be a lost opportunity to not at least try to get a few good angles on the camera roll. Standing at the foot of the building you'll barely be able to see the top, but with some distance, you'll be able to capture the unusual lines of the buildings. Whether travelling with a DSLR or an HD smartphone, any camera will do the trick when it comes to interesting architectural shots.
Head up to to the 89th floor for panoramic views of the city from every angle. The golden hour will be at around sunset when the skyline will be dressed in hues of yellows, oranges and reds and the city lights come to life. For more specific photos, a zoom lens would be beneficial.
2. Xiangshan (Elephant Mountain)
Location: Taipei
Cost: Free
You'll feel as if the world is at your fingertips. Well, we hope so since it will take quite a bit out of you to get to this location. Only a metro stop away from Taipei 101 and a 15 – 20 min (steep-ish) "hike" will get you that Taipei skyline shot you've been dreaming of. Not one, but two viewing platforms are there for your visual pleasure. The first platform is about 10 mins along the trail where most people gather to get their "I came and I conquered" shot. Just beyond the first platform are some boulders where more dedicated tourists will aim to get the perfect shots of themselves with the boulders on the backdrop of the magnificent skyline.
The second platform and final stop are where avid photographers will flex their photography skills in peace and quiet (much deserved after schlepping their appropriate equipment) for that wide angle shot that separates the amateurs from the professionals. A tripod and a wide angle lens will capture the perfect cityscape, but a GoPro could capture the perfect time lapse if you make it for sunset.
Tip: Take a bottle of water. It's not that much of a climb but you'll need to hydrate as often as possible. Insect repellent might be a good idea too.
3. Taipei Night Markets
Location: Taipei
Cost: Free
Recommended markets: Raohe Night Market, Shilin Night Market, Huaxi Night Market, Tong Hua Night
Markets are often the heart and soul of Asian food culture. The electric energy of local families anxiously preparing delicious treats and the myriad of colourful delights make for a great evening of cultural display. Between trying new foods and people-watching, finding an instagrammable moment shouldn't be a tall task.
Shilin Night Market is the oldest and most popular night market in Taiwan, dating back as far as 1909. While you should definitely make an evening of it, perhaps you would like to try something a little more authentic. Tong Hua Night Market happens to be one of the lesser known tourist markets. In fact, you will find there are more locals dining here than any of the other markets, but where there are more locals, you know you're getting a more authentic experience.
Be camera ready for these photo opportunities:
People eating or trying foods for the first time;

Locals preparing food;

An array of colours of different fruits.
4. Ximending
Location: Taipei
Cost: Free
Ximending is where it's at! An area where old meets new, and hip and funky meets outright weird. Some say it's like stepping out off Taiwan and into Japan. That's why people officially call it "Ximending Youth Shopping District," the Shinjuku of Taipei.
Drink rainbow-coloured ice tea, get a knife massage (it's an ancient form of healing), witness government sponsored street artwork and street dance competitions, and the list goes on. You'd need a day or two to really take it all in, not to mention the pics you'll capture for your Instagram wall of fame.
If you've always dreamed of wearing a traditional Chinese dress, well now's your chance.  On your way out of Ximen and towards Jiufen, hop onto the Ximen to Jiufen shuttle bus, where you can rent a qipa for an entire day. Now doesn't that sound picture-perfect? Now don't fill up that memory card just yet. We still have a few Instagrammable spots of Taiwan up our sleeves
5. Jiufen Old Street
Location: New Taipei City
Cost: Free
Traditional lanterns against old stores and shops line the narrow streets of the old gold-mining town in Jiufen, making for the ideal shots. Previously colonised by the Japanese, this old town atmosphere with seaside flair is a must-see spot when visiting northern Taiwan.
It's sheer beauty, including exquisite views of the sleepy mountainside town and Keelung Harbor, has made it the tourist haven that it is today. So be warned, stand your ground in the Jiufen Old Street. It's usually crowded with people at noontime, especially on the weekends.
Among the many treats and souvenirs to be enjoyed, you should be sure to try a local favourite, taro balls (soft chewy balls made of taro and flour served with hot/cold syrup), and visit teahouses and coffee shops. you'll be sure to come away from Jiufen with some of the most memorable photos of your trip to Taiwan.
6. Formosa Boulevard MRT Station Kaohsiung
Location: Kaohsiung, Xinxing District
Cost: Destination dependent
Designed by Italian artist Narcissus Quagliata, This station is known for the "Dome of Light", which is the largest known glass work in the world. Formosa Boulevard Station is considered one of the most beautiful metro stations ever built. This man-made artform exudes colour, interesting images, and plenty of light. Every photographer's dream.
7. Alishan
Location: Alishan, Chiayi Country
Cost: Adult NT$300 / ZAR 136 (Entrance to Alishan National Forest Recreation Area)
Out of the city and into the tranquillity of the Alishan mountains. Renowned for its famed sunrises over seas of clouds, Alishan is home to Taiwan's most visited resort for over a century.
Due to its altitude, Alishan is always about 10 degrees cooler than the main cities in Taiwan. If you're lucky you might be met with misty forests, producing mystical scenes reminiscent of classical Chinese paintings, one of the reasons the park is so popular among visiting Chinese and Asian tourists. Alishan is undoubtedly one of the best instagrammable spots of Taiwan.
A day trip to the Alishan mountains is very possible but two or three days is advisable. You'll need to catch the famous sunrise and allow another day to trek through the mountains before rushing back to the city.
8. Rainbow Village
Location: Taichung City, Nantun District
Cost: Entrance to the village is free but depending on your location you will need to take either a high-speed train, taxi or bus to get to Taichung City.
If by instagrammable spots of Taiwan you mean colourful, then you're not going to find a better location. The Rainbow village is unique because of the colourful houses here, thus, the name. Practically unknown until just a few years ago, it has quickly become one of the hottest new things to do on a visit to Taiwan.  This can all be attributed to Grandpa Rainbow, Mr Huang Yung-Fu, the village artist who completed all the beautiful paintings. Tourists come and visit and take pictures because of its fun, vibrant energy.
9. Hot Springs of Taiwan
Location: Mostly Beitou and Xinbeitou districts
Cost: There are many public hot springs free of charge
Street food, cityscapes and hiking trails through the mountainous regions are just a few of the popular attractions that keep visitors flocking to Taiwan. Another very popular downtime for locals is visiting one of the many hot springs dotted around the island and mainly in the Beitou and Xinbeitou district. The perfect way to get away from the hustle and bustle is to relax and unwind in the warm soothing waters. It certainly wouldn't be the worst way to end off your Taiwan adventure.
If you have more travel time, below is a list of more beautiful locations where you will undoubtedly capture a host of picture-perfect instagrammable shots of Taiwan:
Taroko National Park

Guang Shan Buddha Museum – Tallest sitting Buddha in the world

Tiger Mountain

Green Island

Yushan (Jade Mountain), the tallest peak in Taiwan sitting at almost 13,000 ft above sea level.

Sunrise in Central Mountain Range seen from Mt. Hehuan

Longshan Temple

Forest of Forgetting Sorrow, Fenchihu

Dihua St
Lights, Camera…. Gear
Travelling light is always best. That way you'll always have space for impromptu purchases along the way. Travelling with excess camera equipment is equally as taxing. The last thing you want is to be overweight at the luggage drop-off, or even worse lose or damage any of your expensive equipment.
You don't need to travel with the biggest camera or the biggest lenses to capture your instagrammable moments. We're in the future! Less is more, and more than enough. Below is a basic list of a few items you can carry with you should you want to have just your bases covered.
GoPro camera

– Pick one that fits into your budget.

Wide angle lens for your phone

–  There are many options, so just find the one suitable for your phone.

Tripod

for GoPro or phone

– Try to get one that has a flexible gorilla grip. You never know when you'll come across uneven surfaces.

Tripod for other cameras

– make sure it's sturdy on the ground.
Don't forget your Visa
We know you're excited to get to Taiwan, but before booking that flight you need to make sure that
You have a valid passport with at least 6 months validity from the date of your arrival in Taiwan.

You've checked your visa requirements.
Every South African Passport holder will require a visa to enter Taiwan. An e-visa is easily accessible online. You'll have it in your inbox within 72 hours. No mess, no fuss, and no need to go into an embassy.
Feel free to contact our visa partners at Visa Box. They would be delighted to assist you in any way possible.
Taiwan is more than just a bustling metropolis. Its eclectic diversity from every part of the island makes it an Insta-ready destination 365 days of the year. All you need is a decent camera, a keen eye, and your sense of adventure. Go on then, book your ticket already and get snapping!
Sign up to our newsletter to be the first to know about all our awesome deals, and never miss another adventure again!