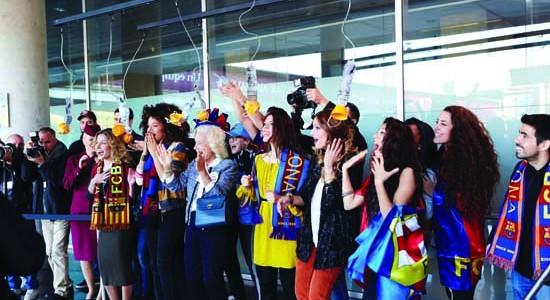 Qatar Airways, voted 'Airline of the Year' in 2015, is the latest major carrier to release their own sporting take on the in-flight safety video. Barca fans everywhere will no doubt be hailing the Doha-based carriers effort bought to life with a little help from their friends at the football club.
Enlisting the likes of Messi, Suarez, Neymar, Pique, Rakitic and Mascherano, the safety video with a twist should go a long way in capturing the attention of football fans everywhere; none more so than those who usually doze off before the video rolls.
The video has racked up 11 million views and counting on YouTube alone, and looks set to rival other upbeat versions of the previously drab and dreary safety video – Delta and Air New Zealand (Middle Earth) are just some of the other carriers who have won-over fans and endeared passengers in this way, in the past.
Now playing on any one of its 175 aircraft, the video footballerfies the events leading up to departure; see for yourself …
Watch Qatar Airways In-Flight Safety Video Starring FC Barcelona

In addition to the millions of people who will catch it on board Qatar Airways flights to more than 150 destinations (including Cape Town, Johannesburg and Durban), the video has already reached a remarkable viewing time of 39 years and 94 days since its launch the airline said in a statement.
Aside from a view that quirky in-flight saftey videos are more effective at getting passengers' attention, the new wave of movies are also a publicity generating exercise for airlines these days.
Of course the clubs detractors might argue at a stretch, "Is this how 'Farcelona' is recruiting new players these days?".
[polldaddy poll=9279292]