Not surprisingly, everything in Qatar Airways' Business Class offering is bigger and better. If you're more accustomed to flying Economy Class like me, then to experience the luxurious trappings of Business Class on an 8 hour flight from Cape Town to Doha and on to Venice is an absolute godsend.
My journey started in Cape Town Airport's international departures terminal. After checking in for my flight on the 'Red Carpet' at the Qatar Airways counter at Cape Town International and clearing passport control, I headed up to the Bidvest Lounge in the International Departures terminal. Managing to steer clear of the complimentary temptations on offer, I sat in the lounge in eager anticipation of QR 583's Business Class menu later in the evening.
Confessions of a Business Class Rookie
Soon enough I was being welcomed into the Business Class cabin. Qatar Airways cabin crew take your drinks order when you're still on the ground so it wasn't long before I had the guilty pleasure of watching the other lesser mortals (aka Economy Class passengers) board the plane from my Business Class seat, drink in hand, hot towel waiting in the wings.
That said; my guise as a seasoned business class traveller was short-lived when I mistakenly leaned on the panel buttons that control the seat functions. It didn't take long and this business class buffoon was being stretched out into the lie flat position – the movement out of my control. A knowing glance from a flight attendant and my Renaissance man cover was blown. Luckily for me, she was more intent on helping me discreetly than further making a mockery of me.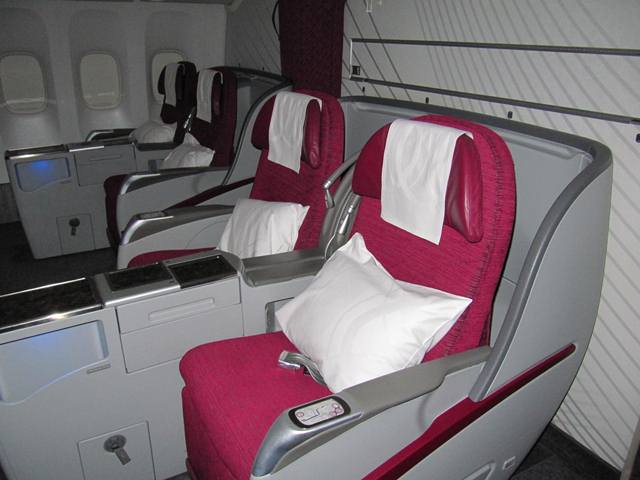 Qatar Airways Business Class Seat Features
Well into the flight and somewhere over Sana'a turbulence made itself known to the darkened cabin. Oddly enough, a little turbulence has never felt so good when you're in the lie flat position. This probably has a lot do with the enhanced features of Qatar Airways' business class seat which boasts the following specs:
Seat pitch: 78" (nearly 2m) – that's the distance between 2 seat rows in Qatar Airway's business class cabin.
Seat width: 22"
Seat type: Lie flat
Laptop power: Yes
Wi-Fi: No
As with Turkish Airlines' business class, the Qatar Airways business class seat features a USB port so it's easy enough to plug 'n play your personal selection should their comprehensive Oryx IFE system exclude your preferences. Add to this a bunch of luxurious in seat massage functions (include lower back, bottom and upper back massage), ample storage space above and in front of you; and you're in for a flight that's fit for a Sheikh.
B777-200LR Cabin Layout
The Boeing 777-200LR is used on Qatar Airways' long haul flights from Cape Town/Johannesburg to Doha. In terms of Business Class, there are 2 cabins – a front cabin (behind the cockpit) that houses 24 seats, and a rear cabin (between the front business class cabin and economy class) that houses 18 seats.
Gone are the days of cattle class claustrophobia – In short, the large and spacious Business Class cabins lend themselves to optimum comfort and a feeling of freedom in the air.
Inflight Amenities
Flying Business Class on Qatar Airways comes with many perks and niceties including a generous Molton Brown vanity pack, your own in flight pajamas for maximum comfort in your lie flat seat, as well as 'noise cancellation' headphones for the Oryx inflight entertainment.

Business Class Meal
The Business Class menu was everything I hoped for – a lime coriander prawn appetizer, and entrée of tri coloured tortellini with aged parmesan cheese (just what I needed to get me in the mood for Venice) and a dessert of mango pannacotta and fresh fruit tartlet.
Whether you're a Business Class newbie like I was, or you're a privileged veteran; you'll soon realise there isn't much to flying upfront (other than familiarizing yourself with the seat functions). No request is too much hassle for the professional and attentive Qatar Airways flight attendants and they really do go out of their way to make your journey as comfortable as possible.
Book Qatar Airways flights with Travelstart.
Doha Airport Premium Terminal
In perfect unison with Qatar Airways' Business Class is their Premium Terminal on the ground at Doha International Airport. QR Staff roam the lounges with iPad's in hand; ensuring you won't miss your flight even if you've dozed off in one of the comfortable lounge chairs offering a glimpse of modern Doha from the large windows inside the terminal… but that's for a whole other blog post.

All Qatar Airways Business Class pictures: Russell Jarvis | Travelstart