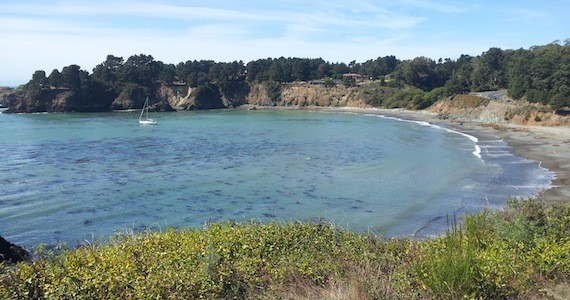 Having spent some time in  the amazing Redwood Forests, my wife and I headed further south on the scenic Coastal Highway 1, planning to stop halfway between the Redwood Parks and our next destination, San Francisco. This brought us to Mendocino, a quaint seaside town, located on a headland surrounded by the Pacific Ocean, which has made it popular as an artist colony and with holidaymakers. With its rocky outcrops and coves, the coastline feels a bit like a mediterranean Wild Coast.
We were very lucky enough to find ourselves in The Andiron Seaside Inn & Cabins for a two-day stop over.  The inn is located just three kilometres south of Mendocino and has been carefully renovated and refurbished by the owners, Scott and Madeline. Each cabin is filled with vintage, salvaged, recycled and restored memorabilia and artefacts, from outlandish lamps to beautiful furniture, to give each one a distinct (and very cool) personality.
For example, there is the Curious Cabin which features a telescope, science kits and lots of other paraphernalia to pique your interest and satisfy your curiosity. My wife's favourite was the William & Mildred Suite, which is an homage to the romance between a couple, William and Mildred, during World War Two, featuring real love letters they sent to each other and lots of other retro items from the 1940s. The Andiron is a great place to relax and ensure you get some proper rest during your holiday. It also makes for a perfect romantic getaway in a lovely setting. Not only do the cabins have their own character but they are nestled amongst Mendocino Cypress trees and there is even a hot tub tucked away in the woods. A dip in the tub by starlight was the perfect way to unwind after a couple of days on the road.
There are numerous state and national parks in the vicinity of the town and the nearby Van Damme State Park should not be missed. We had a lovely run through the Fern Canyon, dotted with redwoods, and up to the "Pygmy Forest", dominated by trees such as dwarfed Bishop Pine, Bolander Pine and Mendocino Cypress. It is a unique environment where, due to the acidity of the soil, usually large trees can only grow to three or four feet despite being fully mature and, in some instances, around 100 years old.
An amazing day outing, which we topped off with some sundowners on the Glass Beach in Fort Bragg, the site of an old coastal glass factory where the beach 'sand' is predominantly made up of worn and rounded pieces of glass. And then it was back to the Andiron's hot tub! Dare I say, a perfect northern California day!