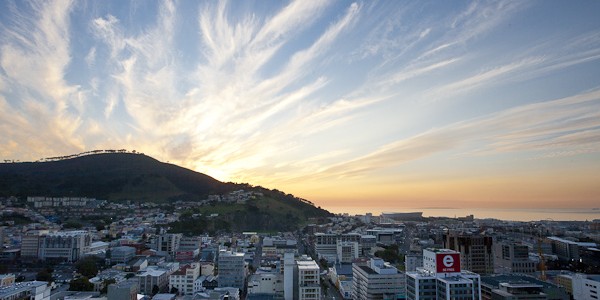 It's not often that you get to be a tourist in your own city, but on Friday night I found myself in a fabulous suite on the 29th floor of the Southern Sun Cape Sun, a Tsogo Sun hotel, in the heart of the Cape Town city centre. What a treat!
The Cape Sun, for those who aren't familiar with it, is the iconic building known mainly for its' exterior glass elevators that are lit up on the outside. I've seen them zipping up and down the hotel for years, but had never actually set foot inside the hotel (or the elevators!) The experience was better than I could have imagined.
First off, you go from the hustle and bustle of the city centre, with all its noise and traffic and commotion, into a vast, sweetly scented lobby, all lit up with chandeliers and smiling staff. The rooms are large and spacious – perfect for those on business who need some space to hold meetings or catch up on work and don't want to sit in their bedroom.
And then there's the view. And what a view it is! We were lucky enough to stay on the 29th floor (there are 32 in total) and I was absolutely blown away by the view out over the city to the waterfront, and all the way to the Bo Kaap and beyond. The afternoon view is fascinating, the sunset view is beautiful and the night-time view is amazing… It's really a spectacular vantage point over the city.
We had both dinner and breakfast at the Riempies restaurant, and were treated to generous buffets of every kind of Cape-inspired food imagineable, from lamb bredie to freshly-cooked fish and steak, and an abundant choice of starters and desserts.
I have to say, by the time we checked out of the Cape Sun, I was thoroughly refreshed and relaxed, and convinced that it's the perfect place to work from in Cape Town. I wouldn't mind heading back there right now in fact…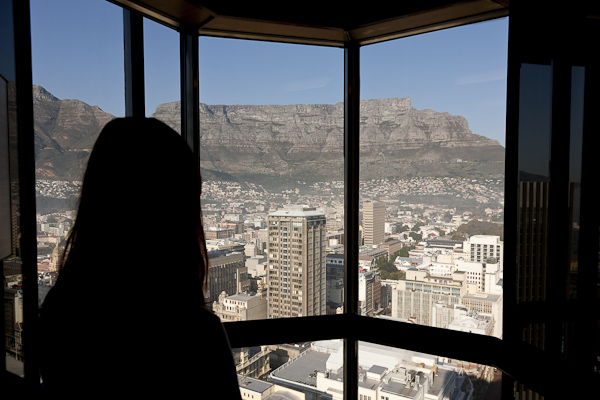 Images credit: Mark Peddle