Most foodies would agree that a little fine dining goes a long way, but there's also nothing quite like tucking into hot, generous helpings of freshly prepared street food. Call it soul food if you will! We round-up the best street food in the world, from the weird to the wonderful.
Thai street food
When travelling to Thailand, street food sampling is mandatory. One of the most famed of roadside delicacies, Phad Thai may just change your life. There's something about the combination of crispy tofu, egg, noodles, peanuts, bean sprouts and shallots blended in perfect symphony with a perfectly tangy, sweet sauce.
The grand finale? If the array of deep-fried insects, spiders and scorpions on offer don't take your fancy, opt for a melt in the mouth Thai crêpe – made to order from a mobile food stall that seemingly pops up just when you need it. Think sweet lashings of banana and Nutella or savoury spring onion and prawn folded into a crispy pancake of egg, flour and sugar.
Chinese street food
A culinary buffet, travelling across China offers the chance to try a wide array of cuisine. Ranging from familiar comfort food to crazy and unexpected dishes that will push you out of your comfort zone, the opportunities are endless.
Get your chopsticks on a bowl of piping-hot dumplings, or jiǎozi, at just about every turn you take in China. The delicate dough parcels come filled with a variety of meats and vegetables, folded neatly into crescent shapes. Not to be confused with the equally delicious bao, or baozi, which are thicker in consistency and shaped like pillowy, pinched balls.
Candied fruit sticks are a popular street food snack and date back over 800 years. A bite through the candy coating reveals juicy, skewered-fruit centres. Other sweet treats include candied haws (think crystallised Chinese Hawthorns resembling strawberries) and youtiao, or deep-fried Chinese dough sticks.
For the adventurous, Chinese tea eggs bring to mind marbled dinosaur eggs, but if you can get past their appearance, they are simply delicious braised eggs that are flavoursome and tea-infused. Equally loved by roadside diners are fermented squares of flavourful 'stinky tofu' and donkey meat sandwiches, which are guaranteed to make it to a food vendor near you.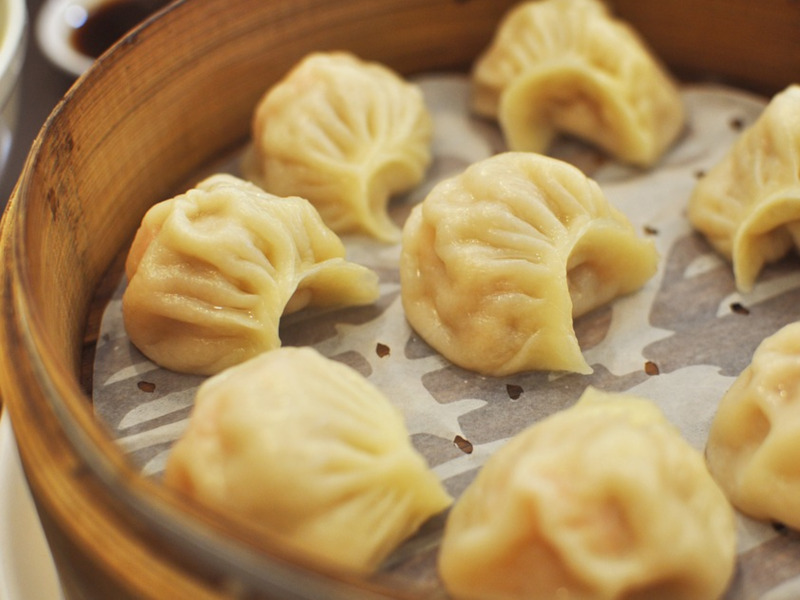 Indian street food
The street food scene in India is as vibrant as the destination. If you are prepared to take a gamble on the roadside fare, the rewards can far outweigh the risk. Just use common sense when choosing a vendor and choose wisely – vegetarian options are usually a safer bet.
Sink your teeth into a kathi roll or Indian kebab roll, with delicious skewer-roasted meat, tucked into a flaky paratha (Indian bread). Another famed street food with origins in Kolkata, the egg roll is an egg-lined variation, and rumoured to permanently imprint itself on your taste buds!
No exception to wacky and wonderful streetside dishes, resourceful locals across India have developed some unusual delicacies. Bheja Fry is one such dish, composed of spicy masala lamb, sheep or goat brains, while red ant chutney is said to be both tangy and fiery.
Japanese street food
There's a lot more to Japanese cuisine than the sushi and tempura it's synonymous with. While more readily available around festivals and annual events, you'll be able to get your fix of Japanese street food year-round, especially in the capital of Tokyo or Osaka.
Who could resist deep-fried doughy balls of takoyaki, complete with lobster or octopus and topped with spring onion? Vegetarians will delight in yaki imo, sweet potatoes baked over a wood fire. Equally popular are Japanese dumplings or dango, delicious rice flour balls of different varieties, usually coated in sweet, sticky soy sauce.
While you might come across a range of exotic dishes in Japan, some should be reserved for sampling in restaurants. Fugu is one such dish. The poisonous blowfish is laced with neurotoxins, and if not skillfully prepared, consuming the sashimi could prove fatal.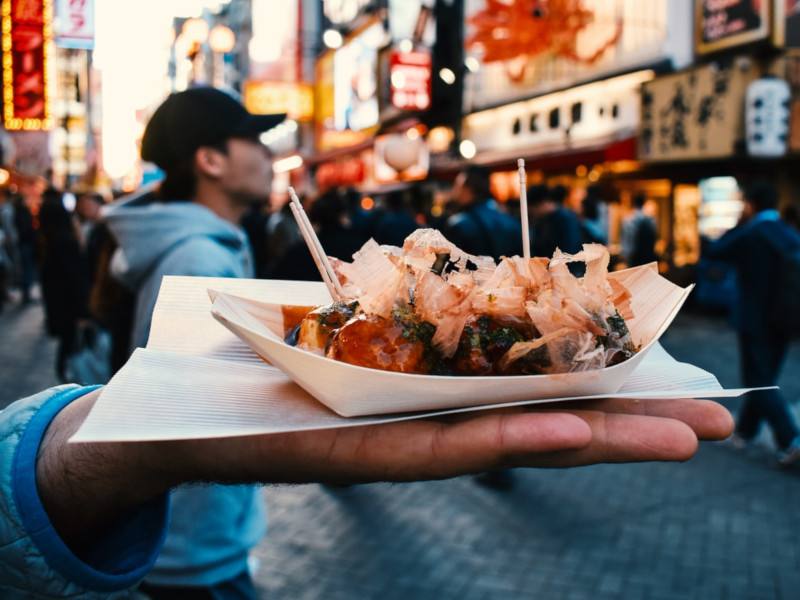 Korean street food
With cuisine as exotic as the destination, you're in for a unique street food experience. While less is known about North Korean street cuisine, South Korea's street food scene is a booming treasure trove of roadside delights.
Find trays filled with skewers of tteokkkochi or stir-fried rice cakes, soaking in sweet and spicy robot-red and orange sauces. Battered twigim abound in the form of deep-fried vegetables, shrimp, and just about anything you can think of. While you're at it, Korean dumplings or mandu are mandatory, as are rice filled bowls of bibimbap and the cute carp-shaped toasted breads or bunge-oppang.
On the flip-side, you might want to think twice before tucking into a sundae, a common Korean dish of stuffed pig entrails. The textural adventure that is sundae differs between regions and is a combination of soft on the inside and chewy on the outside.
Mexican street food
When the craving hits for hearty, cheap eats on the streets of Mexico, look no further than the antojitos or Mexican food vendors. Making it to the top of the list as one of the best of all street food cultures across the world, Mexico is a street food smorgasbord.
A balanced mix of food groups, the humble street-sourced taco is surprisingly healthy, sans the calorie-laden additions that are usually found in fast food varieties. Think beans, salsa, onions and your choice of meat, swaddled in a soft corn tortilla. Deliciosa!
In parts of the country, tacos brimming with grasshoppers or caterpillars are available, alongside those with exotic protein options like eyes or tongue. But the faint of heart may fare better sticking to tamales – corn dough dumplings steamed in a banana leaf. Finish off with generous helpings of sticky, doughy churros, freshly deep-fried and sprinkled with sugar.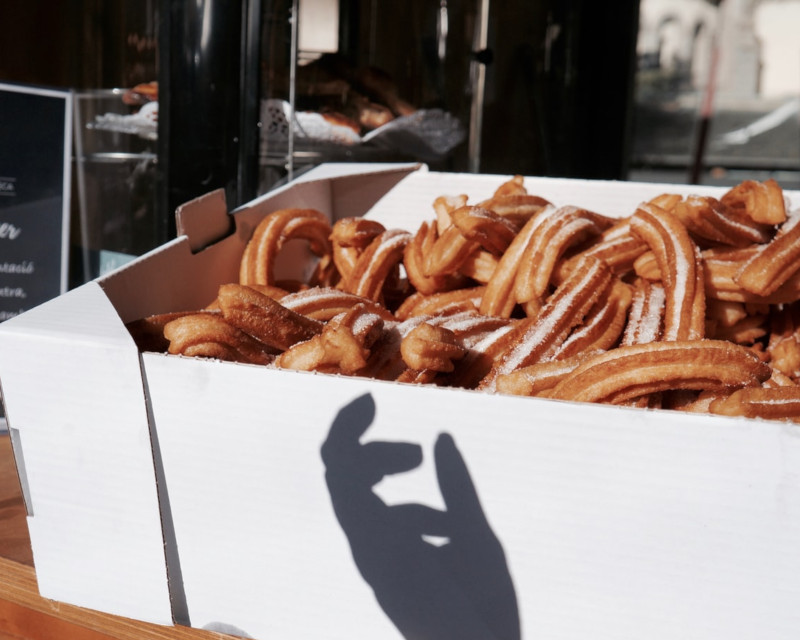 American street food
Representing the broad ethnic identity of the United States, street food in America is diverse. For a true taste of Americana, opt for famed street eats and food trucks selling typical all-American fare.
Is there anything more North American than a hotdog? Scoffed down while standing on the sidewalk or at an all-American ballpark, this humble 'dog' comes complete with relish, onions, ketchup and mustard. You'll find it difficult to pass by a tasty slice of pizza on the street corners of New York or a heavily-loaded cheese steak sandwich in Philadelphia.
Although you're unlikely to find anything too bizarre on the street food scene in the US, you surely will find an assortment of deep-fried candy bars, plenty of dishes adorned with string cheese and disco fries loaded to the max with gravy, cheese and just about anything else you like.
Italian street food
Not a destination usually associated with streetside cuisine, the street food culture of Italy rivals the best of them. With many a street food market to dine from under the Italian sun, you may just start to forget about the equally fantastic pasta and pizza packed ristorantes in favour of al fresco fare.
Arancini are unmissable, deep-fried rice balls that seek only to delight the senses. Usually stuffed with cheese and meat, there are an array of fillings to taste. Arancini are like a croquettes, but with a Sicilian twist. Olive ascolana or fried olives are a thing too – tiny morsels of meat-stuffed olives coated in a crispy bread crumb.
Italians know how to satisfy comfort food cravings. Salty, slow roasted pork or Porchetta Romana and pesce fritto al cono – cones of fried seafood – make for equally great streetside food ideas. In the spirit of trying something new, sample Italy's answer to meat on a stick in the form of stigghiola, or skewered, seasoned intestines. Buon appetito!
French street food
When compiling a list of the culinary delights of Paris, street food hasn't always been top of the menu. With a rise in popularity, however, street food in France promises a gastronomic experience like no other – in the French capital and its surrounds.
Enjoy a multitude of dishes not just reserved for leisurely sit-down settings. If you find yourself in the bustle of a street food festival, or in the company of the many food vendors, scoff down servings of custom-filled baguettes, jambon-beurre (French ham sandwiches) or savoury crêpes. Why not savour a fresh, hot crêpe filled with Nutella and bananas, while taking in the view of the Eiffel Tower too?
If you are feeling adventurous and want to test the taste buds, you might just come across some rather stinky Andouillette. The French regional sausage is sometimes found at markets, luring diners in with its pungent smell and peculiar filling of pig intestines and onion.
Catering to every craving from the weird to the wonderful, these unique street foods from around the world will take you on a culinary and cultural journey. It may be comforting, or totally out of your comfort zone!
Sink your teeth into great deals across the globe, with flight specials on Travelstart, and sign up for our newsletter to get inspired for your upcoming culinary adventure.
Have you sampled curious cuisines in exotic countries around the world? Tell us about your street food experience!
All information on this blog page was correct at the time of publishing and may change at any time without prior notice. Travelstart will not be held liable for loss or inconvenience resulting from the use of out-dated or incorrectly noted information.