Thailand is a dazzling mosaic of diversity wrapped in a blanket of cultural grandeur. A visit to this country is a magical journey into a world of awe-inspiring natural landscapes of emerald rice fields, and shimmering waves concealing a technicolour underwater world which laps pearly-white palm-fringed islands and majestic limestone rock formations. The rural heartland lay between megacities offering travellers a harmonious blend of culture, old-world charm and modern attractions. Architectural wonders are peppered all over Thailand for a celestial experience into the rich traditions, religions and customs of the hospitable locals. It is for these reasons and more that Thailand constantly tops the must-visit destinations in the world, attracting the adoring hearts of travellers from all over. Want to experience authentic Thailand without having to deal with the crowds? Add these hidden provinces and attractions to your travel itinerary.
Hidden Gem: Must-Visit Thailand Provinces
1. Nan Province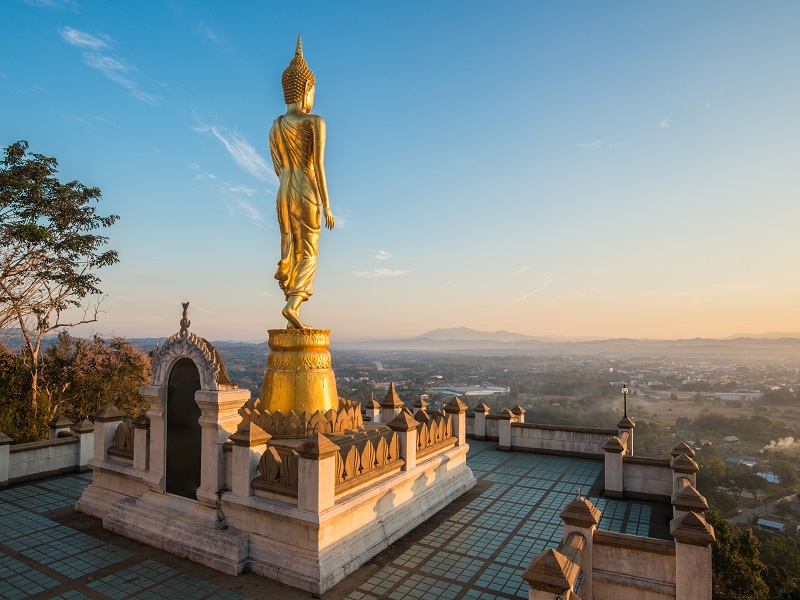 Strap on your hiking boots and explore the picturesque province of Nan, offering unique scenic trails of wonder passing through surreal landscapes. Nan provides an authentic experience of Thailand, introducing visitors to the history, traditions and customs of the indigenous hill tribes which are seldom seen out of this province. Tranquillity reigns rife in this region of Thailand where guests enjoy an unfiltered experience into lesser-known cultures of this country without having to deal with tourist crowds. Adventure enthusiasts can explore the natural diversity of the province which is a symphony of contradictions and paradox of dramatic limestone rock formations, lush rolling valleys and glorious waterfalls. Schedule your visit around January and February where the Phu Kha National Park comes alive in blooming Thai Sakura (Cherry Blossom) trees providing perfect insta-moments.
2. Trang Province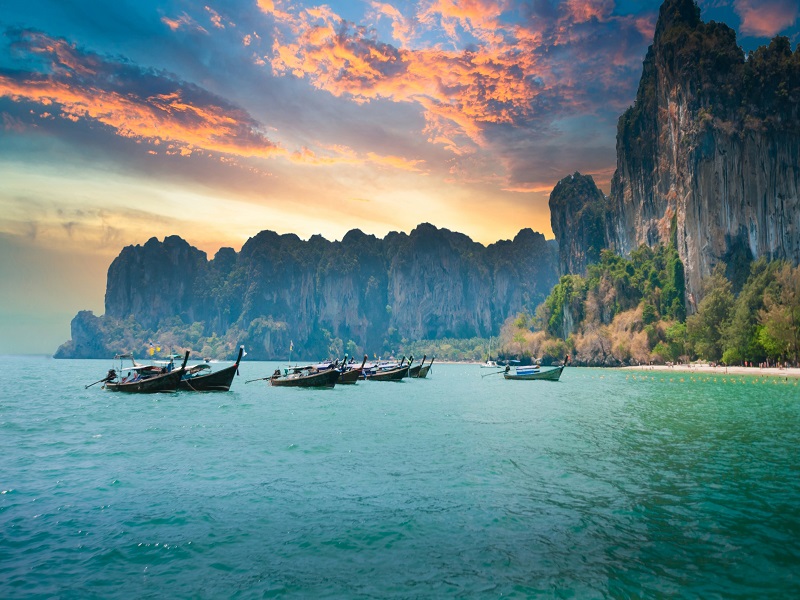 Year upon year, tourist flock to the balmy shores of Krabi to bask in the beachside splendours on offer. For a genuinely off-the-beaten-track holiday with the beauty that rivals that of Krabi, then give Trang Province a chance. Trang is characterised by a seemingly endless stretch of white sandy beaches lapped by the shimmering emerald grandeur of the Andaman Sea with entrancing limestone mountains as your backdrop. Trang offers perfect snorkelling and diving sites where visitors can explore the underwater world of colour and breathtaking marine life. If you prefer to keep your feet dry, then hike through the Khao Chong Wildlife and Conservation Centre, catching glimpses of the diverse fauna and flora of the province. Insider tip: aside from escaping the crowds, you can also save money as these places in Trang are comparatively less expensive. Ka-Ching!
3. Chiang Rai Province
Heading north? Most travellers head over to Chiang Mai when they visit northern Thai cities, overlooking the delightful province of Chiang Rai. Chiang Rai might be a small, charming city, but its diversity of attractions make up for its size. Chiang Rai is one of the few places where you can mix the cuisine of the north with the traditional style of eating known as 'Khantoke Dinner', where guests are taken on a gastronomic journey savouring well-presented dishes at low tables while diners sit on the floor. The scrumptious food is matched with an inviting ambience along with cultural performances like the Thai candle dance and the Thai finger dance. Moreover, Chiang Rai's drawcard is the architectural wonder of the Wat Rong Khun or White Temple, which is a celestial splendour and a visually appealing masterpiece.
4. Loei Province
Untouched by the masses, Loei is a mountainous region teeming with diversity, fascinating cultures and a nature-lovers paradise. Peppered with trails, Loei is the ideal destination for hikers suited to your level of expertise also granting travellers a chance to discover rare animals and even dinosaur tracks in rocks along the way. The streets of Loei comes alive in colour, song, parades and dance for the Phi Ta Khon Festival where travellers can immerse themselves in the traditions and culture of the local people.
Hidden Gem: Must-See Thailand Attractions
5. Phanom Rung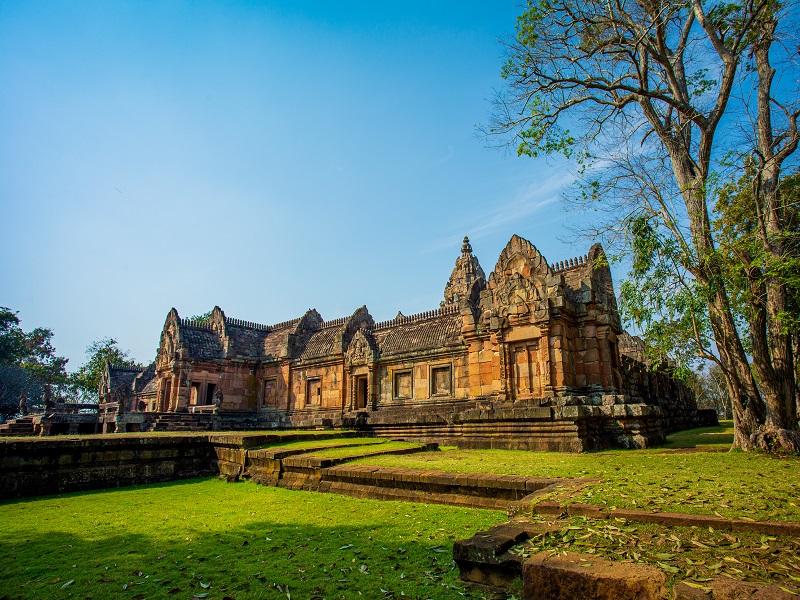 Heard of the legendary Angkor Wat of Cambodia? Thailand is home to a 10th-century Angkorian temple site, Phanom Rung, which is also a UNESCO Heritage Site. These Khmer ruins are located on an extinct volcano and are a grandeur celebration of the Hindu and Buddhist religions. For an unforgettable experience, venture out to this landmark on 13 April, when the sun shines through the 15 portals of the main temple creating a magical phenomenon.
6. Phraya Nakhon Cave
Like most treasures, the quest to uncover it can be quite an effort.
Similarly, the magnificent Phraya Nakhon Cave is a captivating landmark which only a handful of dedicated visitors will make an effort to visit. Travellers are rewarded with a stunning vision amid a tranquil and serene atmosphere. The caves consist of two chambers with the ceiling allowing iridescent rays of the sun to filter through, illuminating the cave and giving it a mystical appearance. The highlight of your trek to the caves would be basking in the awe-inspiring views of the glorious Kuha Kharuehat pavilion. The unusual silence adds to the majestic and spiritual experience. Channel your inner Indiana Jones or Lara Croft and take a 30-minute walk above the hills leading to Laem Sala beach or rent a boat to visit this dazzling landmark.
7. Wat Chaloem Phra Kiat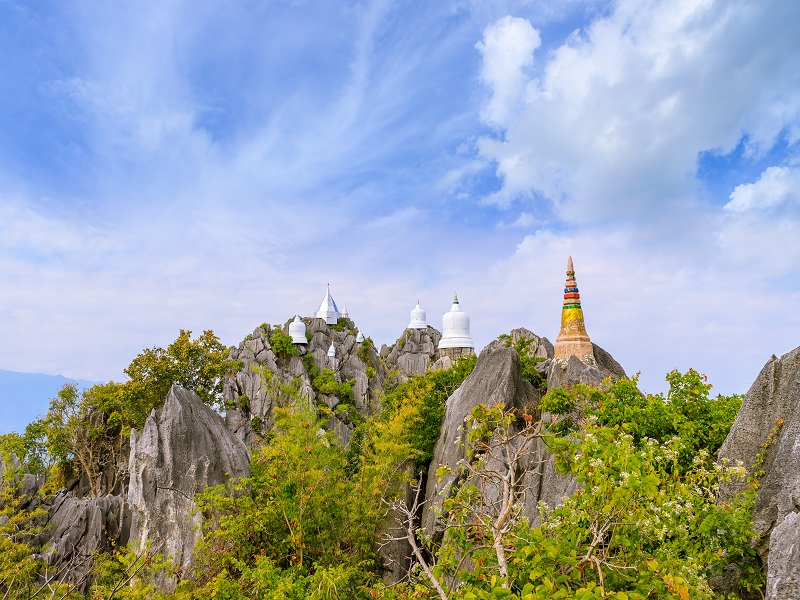 Stand in awe of the architectural beauty of Wat Chaloem Phra Kiat, one of Thailand's best-kept secrets. Seeing these white pagodas perched upon the majestic mountains is one of the most authentic and untouched experiences you can have in Thailand. The temple is a testament to the love and dedication of the local monks, who carried these up piece by piece many decades ago, to create this work of art and devotion. You would need to take a two-and-a-half-hour drive from Chiang Mai followed by a summit up the mountain, passing through sublime scenery and lush forest. The views from the top will leave you gobsmacked by the sheer beauty of the natural surroundings.
8. Thi Lo Su Waterfall
Located in Tak Province, you will find the wondrous beauty of the Thi Lo Su Waterfall surrounded by the dense unspoilt natural environment. The falls are one of the largest and tallest plunge waterfalls in Thailand, made up of four tiers and offering paradisiacal views. You can even hear the thunderous sounds of the falls throughout the rainforest.
One thing is for sure; these gems won't be hidden for too long, so be among the few to explore, immerse and experience the beauty on offer. There is so much more to Thailand that hasn't yet been explored. Share your top hidden gem attractions in the comments below.