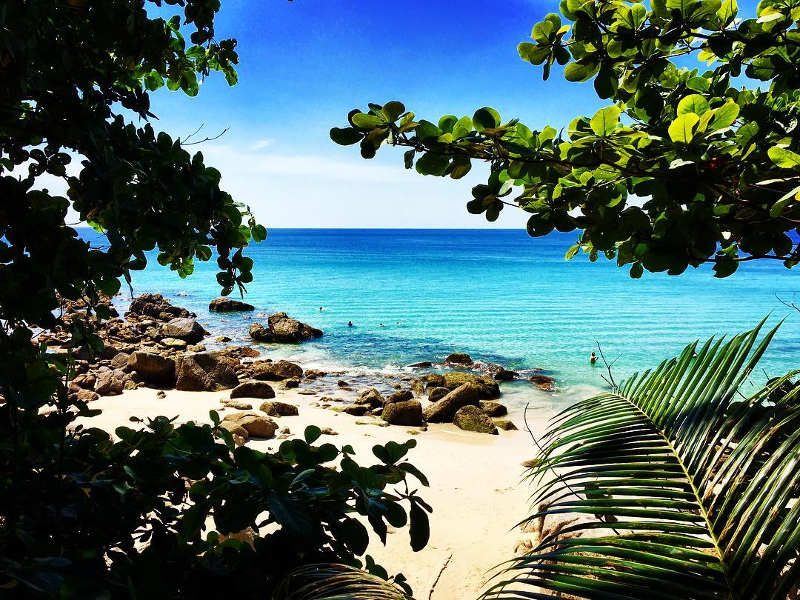 The best time to visit Phuket is during its dry season, between the months of November and March. Though it can get a bit crowded during this time and it is the most popular season, the weather is fantastic as you'll experience warm, rain-free days.
Phuket is one of Thailand's most popular island destinations as it offers white beaches with perfectly-picturesque turquoise waters, great spa services, endless shopping, affordable accommodation and that unique Thai cultural experience! It is in close proximity to other well-known Thai islands such as Phi Phi Islands, Similan Islands, Koh Kai Islands and more. With all of this in mind, you might want to start planning your trip to Phuket way in advance to take advantage of all that this destination has to offer.
The entire country of Thailand is worth a visit, so if you're planning on venturing off to explore the whole country, then make sure to have a look at Travelstart's guide on the best time to visit Thailand too.
Luckily, one of the nice things about Phuket is that the temperatures are pretty fantastic all year long – throughout its wet and dry seasons! Choosing the best time to visit Phuket in Thailand will play a large part in getting the most out of your vacation so let Travelstart help you out on this one.
Book cheap flights to Phuket online with Travelstart and save on the best deals and promotions for your ideal vacation!
Weather and seasons
Phuket, like the rest of Thailand, experiences a wet and dry season. The island experiences a tropical monsoon climate so there are periods of lots of sunshine and beach time, and other times of plenty of rain and enticing indoor activities. The wet season falls between the months of mid-May through to the end of October, and the dry season fills up the rest of the calendar, with cool to hot temperatures from November all the way through to May.
 Average Temperatures for Phuket
| | | | | | | | | | | | | |
| --- | --- | --- | --- | --- | --- | --- | --- | --- | --- | --- | --- | --- |
| Month | Jan | Feb | Mar | Apr | May | Jun | Jul | Aug | Sep | Oct | Nov | Dec |
| Low °C | 23°C | 23°C | 23°C | 24°C | 24°C | 24°C | 24°C | 24°C | 24°C | 24°C | 23°C | 23°C |
| High °C | 31°C | 33°C | 33°C | 33°C | 33°C | 31°C | 31°C | 31°C | 30°C | 30°C | 30°C | 31°C |
| Rainfall (mm) | 40 | 28 | 62 | 142 | 323 | 291 | 292 | 272 | 381 | 335 | 186 | 65 |
The Dry Season
The popular season to visit Thailand's largest island falls between the months of November through to the end of May. During this season, you will find Phuket quite busy as visitors from all over the world flock here to enjoy its good weather and perfect swimming conditions. This island destination has an extravagant nightlife scene and if you're keen on experiencing this unique scene then visiting during the dry season would be the best time to visit Phuket. From beach parties to nightclubs (called discotheques!) in Bangla Road and Patong Beach Boulevard, you'll be guaranteed a couple of crazy nights filled with a lot of entertainment.
During the dry season, you will also find the peak of tourist activity, which falls between early December to February. This is the busiest time on the island, and you will find that flights and accommodation are at their most expensive during this time. Humidity levels are at an ideal low during these months, adding to the perfection that the island has to offer!
Essentials to pack:
Swimsuit
Shorts & T-shirts
Flip-flops
Sunglasses
Beach towel
The Wet Season
For those who are less keen on crowded streets, sitting in traffic as you move from one spot to the next and enjoying a more quiet island experience, then the wet season of Phuket is for you! This season falls over a period of five months, with a shoulder period that will almost guarantee you more sun and less rain. The great thing about the wet season is that this is the time when you will save, save and save, making it an ideal time to visit Phuket! Often, hotels and flights have great discounts and an island hotel resort that may have cost you an arm and leg during the dry season will suddenly be available with a 50% discount!
Average rainfall during this entire season is at about 250 mm, but don't let that put you off as it is known to rain for a while and then take a nice long break before it restarts again. If you'd like to miss the heavier of the rainy days, then you may want to avoid visiting between May, September, and October.
During the wet season, it is not always a good idea to go swimming off the beaches as there are some strong undercurrents at play. Activities may still include snorkelling and boat rides, but make sure to go with a registered guide who will advise you on what would be considered safe or not and to check and take heed of the warning flags across the beaches.
Make sure to check out Travelstart's flight specials as you could be jetting off to your next holiday destination for a fraction of the usual cost!
Essentials to pack:
Swimsuit
Flip-flops
Light layered clothing
Comfortable trainers
Daylight hours
Because of its location, Phuket is lucky enough to receive more or less the same amount of daylight hours throughout the year. From around March to the end of October though, you'll be lucky enough to get an extra 30 minutes or so of sunlight as the sun rises just before 6.00am and sets at after 6.30pm equalling a full 12h30 hours of daytime bliss!
Sea temperatures
Everyone knows that the main reason to visit this beautiful location is to spend time in its gorgeous waters! If you're looking for the best time to visit Phuket regarding how warm the sea water is then you won't have much to worry about as temperatures range throughout the year but have an annual average of around 27 °C. Time to dive in!
How much are flights to Phuket?
Peak season: December to February
Phuket is a very popular holiday destination with visitors from all over the world. With that in mind, it is not uncommon to pay 50% more for flights during the peak season as opposed to the low season. Of course, you could definitely save on flights by booking in advance!
Shoulder season: March to May
The shoulder season may be the best time to visit Phuket for a number of reasons, including enjoying all of the peak season delights with flights up to 20% cheaper than during peak season.
Low season: May to November
Don't let a few rain showers put you off the amazing flight prices that you could save on during a trip to Phuket during the low season. Low season flight prices are often between 50 – 60% cheaper than peak season, and 40% cheaper than the shoulder season.
Phuket's Annual Festivals
If you're wondering when the best time to visit Phuket is in terms of enjoyable and fun activities, you'll be pleased to know that there's always something happening on this wonderful island.
Chinese New Year – February
Phuket has a strong Chinese community and if you're lucky to be on the island over this New Year period, you'll be in for a great time as buildings and houses are ordained in red decorations, there's plenty of tasty bites to sample and of course, many parades to join in on.
Songkran Festival – April
If you enjoy being splattered with water on a hot summer's day then you'll really enjoy the Songkran Festival which celebrates the Thai New Year. Songkran is a fun and active time to be on the streets of Phuket, and you can join the locals with water-guns, buckets of water and other fun activities.
Phuket Gay Festival – April
This LGBT festival is one of the most fun and flamboyant on the island. People from all across Thailand come to join in the celebrations and you can expect lots of colourful costumes and shows. Make sure to bring your camera for this one!
Kathu Street Festival – July
Enjoyed on the streets of the Kathu area, this festival brings about all of the good things you love about markets in Phuket. Traditional Thai dishes, exhibitions, stage shows and many more things can be found in this usually quiet village area.
The Phuket Vegetarian Festival – October/November
During the 9th lunar month each year, one of the most auspicious festivals takes place in Phuket to celebrate this event. Held over the period of a week, you can indulge some of the most delicious vegetarian dishes and see devotees dressed in white, yellow and orange as they praise the many deities.
New Year's Eve – December
Phuket is world famous as one of the best places to celebrate New Year's Eve. There are numerous ways to partake in this event from high-end hotel parties to street parades, to the well-known beach parties that many tourists come especially to visit!
If Phuket sounds as though it's calling to you, then make sure to sign up to Travelstart's newsletter as there are many, many great flight specials to get you to this dreamy destination, and so many more!
Been to this awesome destination? Please, tell us all about it in the comment section below!
Featured image courtesy of  @helga_shik via Instagram.