Are you an adventurous traveller or a beach bum? Whether you're more interested in a cultural trip or living the ultimate island life, Thailand has it all. With gorgeous mountain landscapes in the north, paradise beaches in the south, and cities brimming with cultural heritage, this country offers you a vacation with endless possibilities. So, when is the best time to visit Thailand?
Your best time to travel to Thailand depends on what kind of vacation you are dreaming of. We have highlighted some of the best things to do in Thailand, including the best weather conditions and top attractions such as islands, hiking, festivals, food markets and, of course, shopping. Since South Africans do not need a visa to enter Thailand, all that's left to do is book your ticket and head east!
Thailand weather
Thailand's tropical weather is comprised of warm, cool and monsoon seasons where north and south experience different weather patterns. For the best time to visit Thailand, first decide on which region you want to explore.
Northern Thailand weather
The northern parts of Thailand are surrounded by green tropical forests and staggering mountain landscapes. The weather in this area is defined by a rainy season, cool season and warm season.
October to February is the cooler period in the north and definitely the best time to visit Thailand for its incredible hiking and stunning sunrises. In the morning you can wake up to fresh air with temperatures peaking at 20-25 degrees Celsius during the day. This blossoming period is perfect for experiencing the countryside with its picturesque green mountains, rice terraces, and winter flowers.
The months of March to May experience the hottest weather in this area. With this heat, northern Thailand's weather is similar to the south, just a little less humid! Be prepared for sweltering temperatures, so pack in extra sunblock and drink plenty of water.
Monsoon season up north starts from mid-June and stays until October. Keep in mind that rain showers generally occur sporadically, in short bursts, so always have a raincoat on hand and be flexible with your activities. While you'll need to plan your hiking around these rain showers, the upside is you can enjoy much cooler temperatures.
Weather and Climate in Chiang Mai
Average temperature & rainfall per month:
| | | | | | | | | | | | | |
| --- | --- | --- | --- | --- | --- | --- | --- | --- | --- | --- | --- | --- |
| Month | Jan | Feb | Mar | Apr | May | Jun | Jul | Aug | Sep | Oct | Nov | Dec |
| Low °C | 13°C | 14°C | 18°C | 21°C | 23°C | 23°C | 23°C | 23°C | 23°C | 21°C | 19°C | 15°C |
| High °C | 29°C | 32°C | 35°C | 36°C | 34°C | 32°C | 31°C | 31°C | 31°C | 31°C | 30°C | 29°C |
| Rainfall (mm) | 8 | 6 | 16 | 52 | 152 | 136 | 168 | 230 | 241 | 124 | 36 | 15 |
Essentials to Pack
– Comfy hiking shoes
– Backpack
– Sturdy daypack
– Sunscreen
– Map of the region
– Insect repellent
– Light, comfortable clothing (cotton)
– Light raincoat
Central Thailand weather
The flat cultivated landscapes of central Thailand experience a tropical climate comprised of a cool season, warm season and rainy season.
The cooler season, from October to January, is the best time to visit the central parts of Thailand. In Bangkok, the temperatures range from 28-30 degrees Celsius and you can enjoy strolling around the vibrant streets of the capital city.
The warm season generally hits central Thailand from February until June, where you may get temperatures up to 40 degrees Celsius in Bangkok. Some areas around central Thailand may be hot but still very humid –  a combination which can be challenging if you're doing more physical activities. Feel free to laze by your hotel pool after a full day of shopping and sightseeing!
The months of July to October are affected by central Thailand's monsoon season. If you do want to visit during these months, remember to bring a raincoat for the afternoon showers.
Weather & Climate in Bangkok
Average temperature & rainfall per month:
| | | | | | | | | | | | | |
| --- | --- | --- | --- | --- | --- | --- | --- | --- | --- | --- | --- | --- |
|           Month | Jan | Feb | Mar | Apr | May | Jun | Jul | Aug | Sep | Oct | Nov | Dec |
| Low °C | 21°C | 23°C | 25°C | 26°C | 26°C | 26°C | 26°C | 26°C | 25°C | 25°C | 24°C | 21°C |
| High °C | 32°C | 33°C | 34°C | 35°C | 34°C | 33°C | 33°C | 33°C | 32°C | 32°C | 31°C | 31°C |
| Rainfall (mm) | 10 | 10 | 50 | 110 | 180 | 180 | 180 | 170 | 220 | 190 | 40 | 10 |
Southern Thailand weather
The southern part of Thailand, stretching down past beachy Phuket, is defined by two seasons: the rainy season and the dry season.
The dry season spans from December until May, and temperatures range from around 25 to 32 degrees Celsius. The best time to visit Thailand's southern parts is during the dry season from around November to April. During this time, you get to soak in the tropical heat along the beautiful coastline while cooling off in the sparkling turquoise waters.
The rainy season in the south starts in around June and continues until October. The rains usually come in short spurts so, if you're planning to visit Krabi and the surrounding islands, you'll still get plenty of sunshine. You can also indulge in having the flawless beaches of Phuket and Koh Samui all to yourself!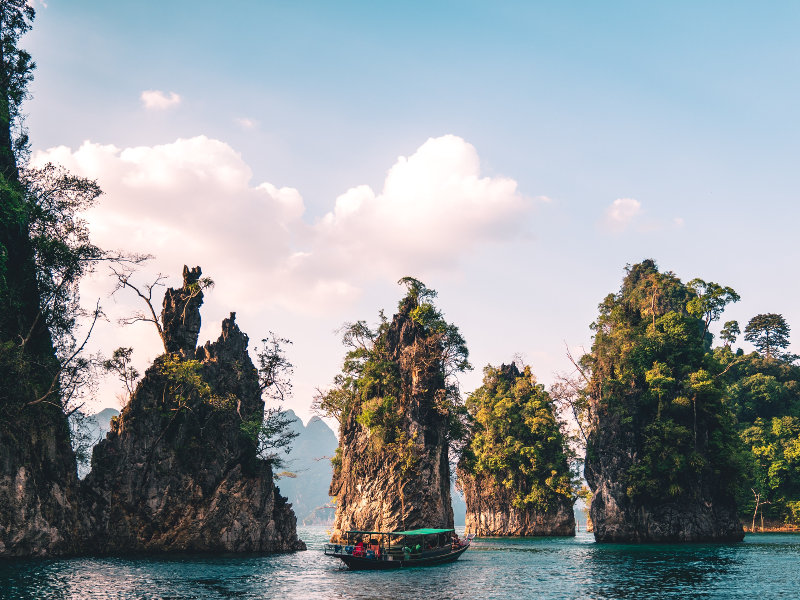 Weather & Climate in Phuket
Average temperature & rainfall per month:
| | | | | | | | | | | | | |
| --- | --- | --- | --- | --- | --- | --- | --- | --- | --- | --- | --- | --- |
| Month | Jan | Feb | Mar | Apr | May | Jun | Jul | Aug | Sep | Oct | Nov | Dec |
| Low °C | 23°C | 23°C | 24°C | 24°C | 24°C | 24°C | 24°C | 24°C | 24°C | 24°C | 23°C | 23°C |
| High °C | 31°C | 33°C | 33°C | 33°C | 32°C | 31°C | 31°C | 31°C | 30°C | 30°C | 30°C | 31°C |
| Rainfall (mm) | 40 | 28 | 62 | 142 | 323 | 291 | 292 | 272 | 381 | 335 | 186 | 65 |
Essentials to pack
– Flip flops
– Backpack or waterproof bag
– Light, comfortable clothing (cotton)
– Water bottle
– Sunscreen
– Swimming costume
– Sun hat
– Insect repellent
Snorkelling and Scuba Diving
Southeast Coast
Between March and April is the best time to visit Thailand's islands of Koh Pha Ngan and Koh Samui for the most incredible diving and snorkelling along the east coast. Enjoy the 26 degree Celsius warm waters and spot magnificent sea animals, including whale sharks!
Southwest Coast
The southwest coast of Thailand is known for its breathtaking islands and gorgeous beaches. Water temperatures here stay high all year round and the average sea temperature along the Krabi coastline is 29 degrees Celsius. As a diver, December to January is the best time to visit Thailand's west coast. Swim between colourful reefs and spectacular fish species off the islands of Koh Lanta and Koh Phi Phi.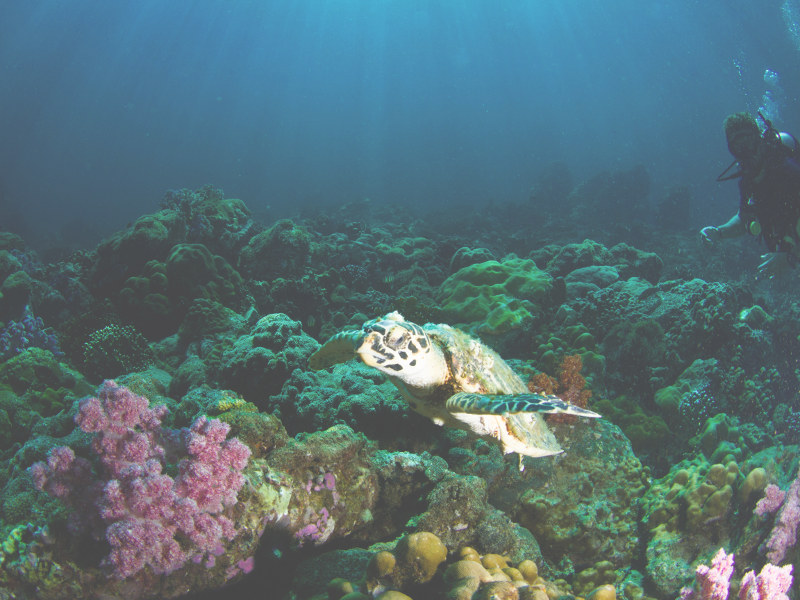 How much are flights to Thailand?
High season (November-February)
The tourist peak season hits Thailand from December to January and also in April during the Thai New Year. During the festive peak period, prices on flights and accommodation can go up by more than 30% during low season, so this might not be the best time to visit Thailand if you're looking to travel on a budget. However, if you do a little bit of planning and book early enough, you may just score some great deals on cheap flights and accommodation.
Low season (March-October)
Travelling during low season has the advantage of being a lot cheaper, especially if you visit places that aren't busy all year around. Why not explore some off-the-beaten-track places and discover some of Thailand's hidden treasures without the bustling crowds?
Take advantage of fewer crowds, lower prices, emptier hotels and having the beaches all to yourself! Stay updated on our latest flight specials to Thailand.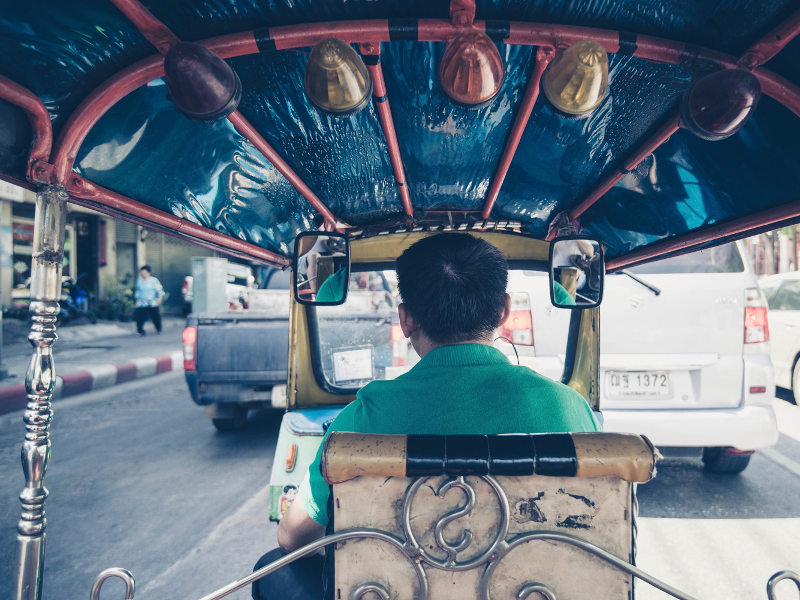 Annual events and holidays
When it comes to religion, Thailand is first and foremost a Buddhist country, with 94% of its population practising Buddhism. Many national celebrations and public holidays are therefore due to Buddhist traditions. Some get celebrated throughout several days and are amazing to experience. For the best time to visit Thailand and experience its festivities, be sure to plan your trip around some of these events:
Chinese New Year: 16 January (date changes every year)
This New Year's celebration is very festive, especially in the Chinese parts of town! On this day in Bangkok, you'll find people dressed in red, partying in the streets and celebrating this occasion!
Songkran Water Festival: 13-15 April
This is one of the biggest festivals and is a celebration of the Thai New Year. The celebration is spread over three days, where on the first day people engage in massive water fights in the streets. Bring a water pistol and have some fun!
Phi Ta Khon:  late June-July
This is called the Ghost festival and is a 3-day celebration held especially in the town Dan Sai, bordering Laos. During the festival, people bring attention to the spirits of the dead. During the 3 days of celebration, you'll find fireworks, games, and parades held throughout the city where people dress up as dancing spirits. Take a look at the beautifully decorated costumes!
Loy Krathong (Lantern Festival): November
Loy Krathong is a celebration of the river goddess "Mae Nam" and takes place on the night of the 12th full moon every year. People traditionally release decorated krathongs (lanterns) on to the water and glowing paper lanterns into the sky at night. It is an absolutely beautiful sight.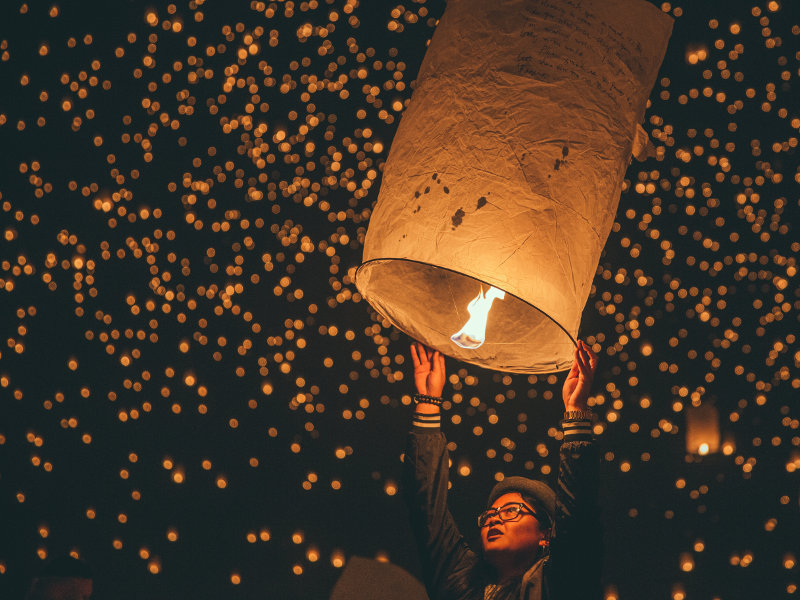 Now that you have a complete guide on Thailand's seasons and attractions, the best time to visit Thailand is generally between the cooler months of November to February, or between June and September if you're looking for the best deals. Since peak season runs from December to January, we recommend you to travel just outside of this period. This will guarantee you both spectacular weather as well as cheap flight tickets for your holiday!
What is your idea of the best time to visit Thailand? Share your thoughts below on your ideal Thailand getaway.
Keep up to date with our latest flight specials by signing up for our newsletter, and you'll soon be on your way to exploring the exotic flavours of Thailand!
This blog post was written by Beatrice Fröjd.