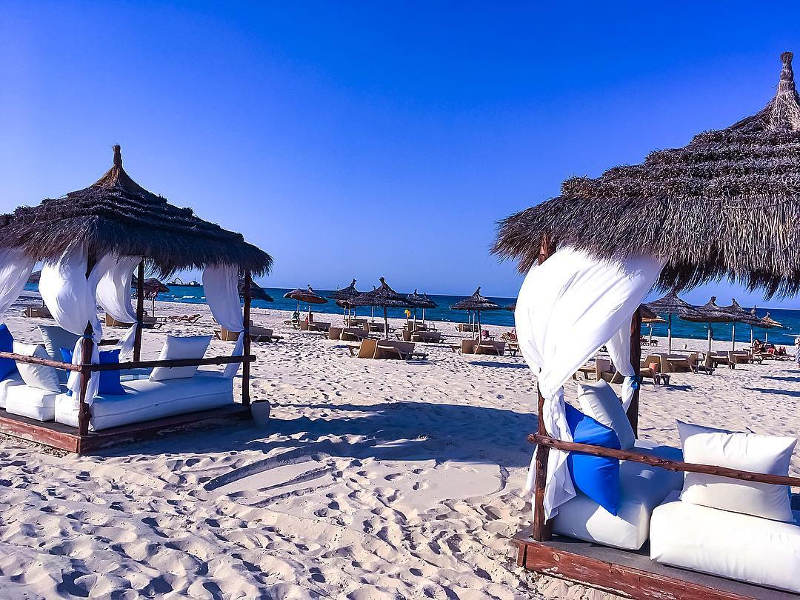 Nothing beats a Mediterranean holiday, from the picturesque palm trees, to the warm sea waters and the amazing food selections, you're guaranteed to be spoilt for choice! Why not visit Tunisia as a wonderful option to experience all of this? Tunisia has more than an abundance of beautiful towns and cities, and rich, cultural and historic sights to enjoy. With all of the magnificence that you'll find from the beaches in Hammamet off the capital city of Tunis, the endless coastline of the south-east Djerba, and the delicious sweet fruit and olive oil-infused dishes, you'll most probably want to stay forever!
Let Travelstart guide you around this fascinating country and show you why Tunisia is Africa's best-kept Mediterranean hideaway. Book cheap flights to Tunisia with Travelstart today!
Tunisia is a small coastal country in North West Africa, neighboured by Algeria and Libya. Its sparkling sea waters are due to the country sharing the Mediterranean Sea with many European countries, such as Spain, France, Italy and Greece. Tunisia is a mostly Arab country, but shares many wonderful European influences in its architecture, cuisine and tourism infrastructure. Not just a beach destination, Tunisian streets are crammed full of historical attractions, including a rich French influence, ancient amphitheaters, souks and 9th century mosques!
Why you should visit Tunisia
A trip to the country guarantees holiday-makers a remarkable experience and more beauty and sunshine than you could imagine. Of the endless list of attractions that Tunisia has to offer, make sure to check off our list of everything that you need to see, do and experience to truly appreciate this African gem!
Cuisine
Tunisia is one of the original homes of olive oil and is the fourth largest producer of this famous natural product in the world! With that in mind, can you imagine the tasty, fresh and authentic dishes that you can find here? Couscous and varieties of pasta are well known in these parts, paired up with the most tender cuts of lamb or beef. You can also expect to find the most delicious seafood that you can imagine! Prawns, octopus, fresh fish cuts – you name it, you'll find it. Some of the country's most famous dishes include brik (a thin breakfast pastry, filled with egg & an assortment of vegetables & herbs), great for brunch or after a long day of chilling on the beach, Tunisian shakshouka (a tomato-based meatball/vegetarian and egg dish), yoyos (cinnamon-spiced donuts) for your sweet tooth and of course, a refreshing glass of mint tea to wash it all down with.
Beaches
This is what you can expect, and so much more! Three of the country's most beloved beaches are Mahida Beach, Hammamet Beach and Sentido Djerba Beach, all found in their respective towns or cities. What you'll love best about these tranquil waters is not just the palm trees, warm (26-degrees Celsius) or even toasty sands, but the fact that for now, the beaches are uncrowded and you can swim and frolic to your heart's delight, with plenty of space for you and your loved ones!
It's no laughing matter when people say that some of the Mediterranean's best beaches are found in Tunisia, because it is very true! Imagine just over 1000 kilometers of coastline, dotted with different shades of golden sand and picture-perfect beach spots with an endless expanse of turquoise water in front of you.
Nightlife
The nightlife scene in Tunisia is a haven with plenty to do until the early hours of the morning, and to top it off, great local eateries to chow at after! After the sun goes down you can look forward to bustling streets that are filled with shisha and belly dancing cafés, Arabic and French cinemas and even casinos for the high rollers. If dancing through the night is more of your thing then the cities of Sousse, Hammamet and Tunis are great for nightclubs that pulsate through the night, bringing people together to do what they do best – have fun!
Scenery
A great tourist pulling point about Tunisia is the vast array of scenic attractions that you will find, scattered across the country. There are so many to name that it would be difficult to name them all, but here are our top five:
Sidi Bou Said – the town that has the loveliest backdrop of sea with blue and white petite buildings, you'd be forgiven if you thought that you were on the European side of the Mediterranean with its laid-back atmosphere, curios shops and quaint restaurants.
Carthage – be amazed by the ruins of this once-feared Phoenician society as you marvel at the ruins and reimagine the power that was once found in this area. Carthage is a UNESCO World Heritage Site.
Kairouan – Arab culture has left its sophisticated mark on this Tunisian city, with tall minarets, ancient tombs and mosques in all directions. If you manage to look past its magnificence, you'd also be intrigued by the crumbling walls of colorful houses, found in the city's back alleyways.
El Jem Amphitheatre – walk through the grounds of this 3rd century amphitheater, preserved in so much of its previous splendor and beauty, in the Roman city that was once known as Thysdrus.
The Sousse medina – an old town with cobbled streets, back alleys painted in shades of white and blue and souks selling original leather and metal work.
History
Tunisia has a rich history of conquest and ancient wonders, and was ruled by the Phoenicians, Rome, and even the Ottoman Turks! Later in history, this glorious country was ruled by Italy and then France, and finally gained independence in 1956. With such an array of countries having left their mark on the country, you can only imagine how the relics and tombs found dotted across Tunisia speak of tales far and wide, beckoning for wondrous stories of this North African destination!
Intriguing Cities
Tunisian cities are as beautiful as they are intriguing, with vast historical and cultural heritage etched into the city streets. The sprawling capital city, Tunis, is as metropolitan as they come. Here you will find the daily grind and plenty of attractions that include the remnants of ancient city, Carthage, the National Bardo Museum which houses world-renowned mosaics and many other wonderful attractions. The Greek-looking seaside town of Sidi Bou Said is also found on the edge of the city, and there's a 99.9% chance that you'll fall in love with the winding streets, perfect sea views and white and blue buildings. The famous town of Sfax was built upon Roman ruins, and it is here that you will find the tastiest olives, dates, pomegranates, melons, navel oranges and so much more! And of course, once in Tunisia, you also have to visit the touristy city of Hammamet, known for its endless sparkling beaches, luxury resorts and elegant, whitewashed buildings with their very French flair.
People and Safety
One of the wonderful things about Tunisia would most definitely be its people. Tunisia has more than 11 million residents, who somehow, make the time to greet visitors as though they're old friends or family. Everyone has time to talk and no favour is too much to ask. As for the safety of the country, the two-year tourist warning was lifted in August 2017, allowing for visitors to enjoy the country, worry free! You may want to skip the outskirts of the country and borders of Libya and Algeria, but other than that you'll be comfortable and safe, enjoying your time in the sun.
Last, but not least – the climate!
Tunisia has a Mediterranean climate that is sure to guarantee you a wonderful time during your vacation! Tunis, the capital city has warm, balmy summers and you can enjoy temperatures of between 24 – 32 °C in summer and cool winters with temperatures ranging from 18 – 22 °C in the winter time. The sea waters average out at around 22 °C throughout the year, making it a nice, refreshing swim after working on your all-year tan. If you're travelling in March, please note that sea temperatures can sometimes decrease to around 14 °C, on the coldest of days.
Tunisia is also a wonderful alternative to the current, more popular North African travel destinations, Morocco and Egypt. While these two countries are absolutely perfect in their own right, what you'd gain from visiting Tunisia instead would be less crowds, more relaxation and of course, that Mediterranean atmosphere which is unique to this country.
The best news of all is that South Africans do NOT need a visa to visit Tunisia for up to 90 days! Can you imagine that? Three months of absolute perfection and enjoying the Mediterranean sun, visa-free and absolutely loving it!
So, what do you think about this destination for your next holiday? Sign up for the Travelstart newsletter and receive the best flight specials and deals for your next trip, abroad or locally!