Harness the power of your smartphone. Travel better using these free mobile travel tools from Google and other nifty travel hacks.
With the rising petrol prices and the grim cost of living, these free travel tools are sure to come in handy. Use these tips and hacks to plan trips using input from friends or family and your travel companions, get great travel deals and experience true localization while you're exploring your holiday destination.
Best of all, most of them work offline without any data.
Travel Hack 1: Use the local lingo
Whether you're in Italy, Spain or Morocco. Chances are you'll need help navigating local linguistics. The Google Translate app provides translations that you can play aloud to communicate with people on the ground at your destination and they, in turn, can speak into your smartphone micropohone so you can have a proper chat.
One of the most useful features though is that the app can translate images and signs between more than 100 different languages. Simply hold your phone's camera to the picture and voila! No more breaking the law. This also means you can order food off the menu like a pro and the clever app even translates handwriting script, such as Thai. We also love that you can save your favourite words or phrases for offline access (and to feel nostalgic over back home). The only downside is that you'll need data or WiFi for this one.
Download the app and add it to our five ingredients for an unforgettable Thailand holiday.
If you want to brush up on the lingo before you arrive at a new destination, the free Duolingo app is an easy way to crack the code. Their online courses cater to beginners and cover all the necessities such as greetings, food, animals and operates like a game using pictures, your smartphone's microphone and video clips to help you learn new words.
Travel Hack 2: Offline Google Maps & lists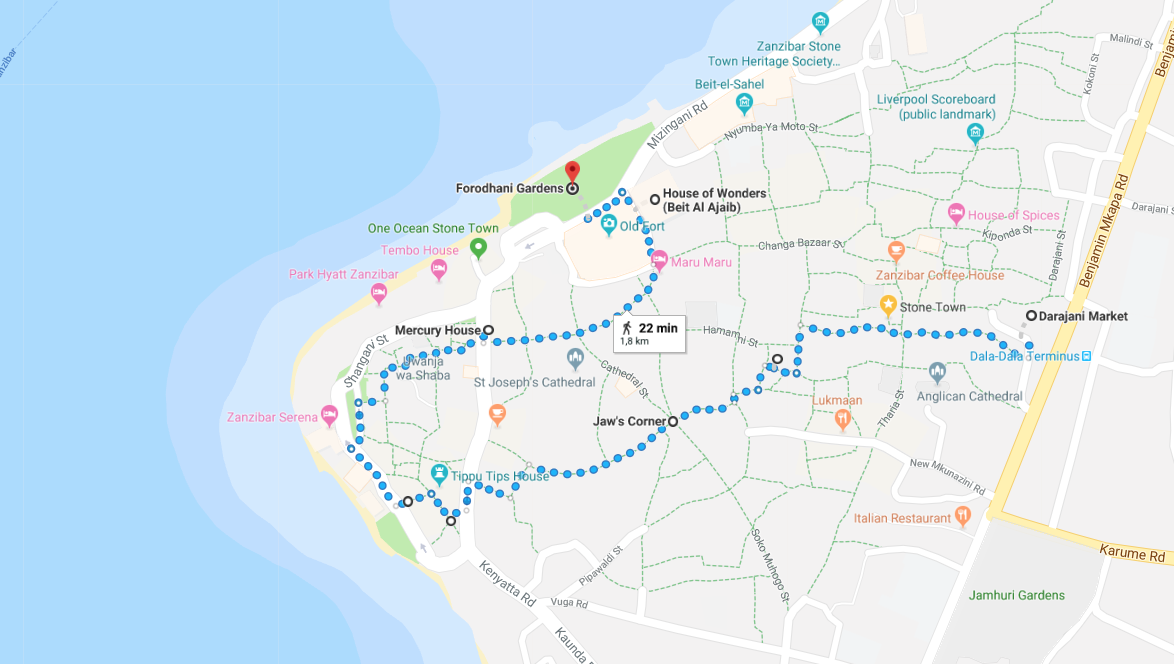 You're probably already using Google Maps to navigate on your travels, but it's more than a simple location app.
During your planning, you can create lists and bookmark that interesting hotel you've been eyeing out, quirky restaurants or epic viewpoints you simply have to visit. This list can be kept private or shared with your fellow travellers so you can plan the sightseeing together.
Once you know where you want to go, it would suck if you got lost.  Using the Google Maps app, you can download specific areas for offline use. Yup, without any data. For free. It's best used for driving or navigating the offline area using the streets because it's not optimised for walking. However, even if you do choose to stroll inside of drive, it's incredibly helpful as an orientation tool.
Feeling inspired? Here's how you can walk the best of Zanzibar's Stone Town for free.
Travel Hack 3: Google Trips
It might freak you out at first and feel a bit like 'Big Brother' but Google can pull reservations from your Gmail account, adding hotel bookings, car rental details and more to a central travel app called Google Trips. Like a tech-savvy butler, this nifty app builds your travel itinerary before you even lift a finger.
Once you've set up a trip, use it to browse through the web and plan each day. Google has curated day trips, locally-suggested and popular places to visit or eat at, plus reviews for almost everything. You can look at the suggestions, pick the items you like and it will create a suggested itinerary. Otherwise, you can select a general itinerary, such as "72 hours in London" or find other informative niche guides that focus on museums or top shopping. You can then customise these guides by adding in your own favourites.
If this feels too much like an invasion of privacy, use our guide and see how to do London differently the next time you visit.
Google Trips then lets you store this data offline as well, so you can access your travel plans, reservations and important information at any time on your travels. Download Google Trips for IOS/Android.
Travel Hack 4: Gather beautiful inspiration
Forget Pinterest. You can now create your own mood boards and travel inspiration using Instagram. While you scroll and search out top destinations, save your favourites by simply tapping the bookmark icon on the bottom right of the image post. You can then save and organise these into collections. Use your favourite posts to plan your own travels to unusual destinations, hunt down those perfect waterfalls and stand on that breath-taking mountain top.
Travel Hack 5: Incognito mode
Got a Google Chrome browser? Click 'file' and open up an 'Incognito Window'. Now you can browse privately, and other people who use the computer or device won't see your activity. More importantly, Chrome won't save your cookies and website data. Some travel experts have reported that search engines use cookies to show potentially higher airfares on routes that have been searched often. Switching your web browser to private mode ups the security and is said to avert rising prices when you search a route multiple times.
Also read the Travelstart guide on the ideal time to buy an airline ticket.
Travel Hack 6: Find cheap flights using the Flapp App
If you want to really travel savvy though (without having to sneak around on private browsers), download Travelstart's Flapp App.
It's the easy way to get travel discounts, find flights, hotels and book car hire. One of the most convenient features for flights is that you can check-in online straight through the app – no need to dig around for reference numbers and log in using the direct airline portal. There's also our friendly Flapp-Bot on-hand to answer any queries, retrieve invoices and deal with your travel admin.
What are your favourite travel apps? We'd love to know how to try to travel smarter.
Sign up for the Travelstart newsletter to find our cheapest destinations and land great deals with our the latest flight specials.
All information on this page was correct at the time of publishing and may change at any time without prior notice. Travelstart will not be held liable for loss or inconvenience resulting from the use of information from this website.