"Travelling to this part of the globe presents travellers with the opportunity to revel in the unfamiliar."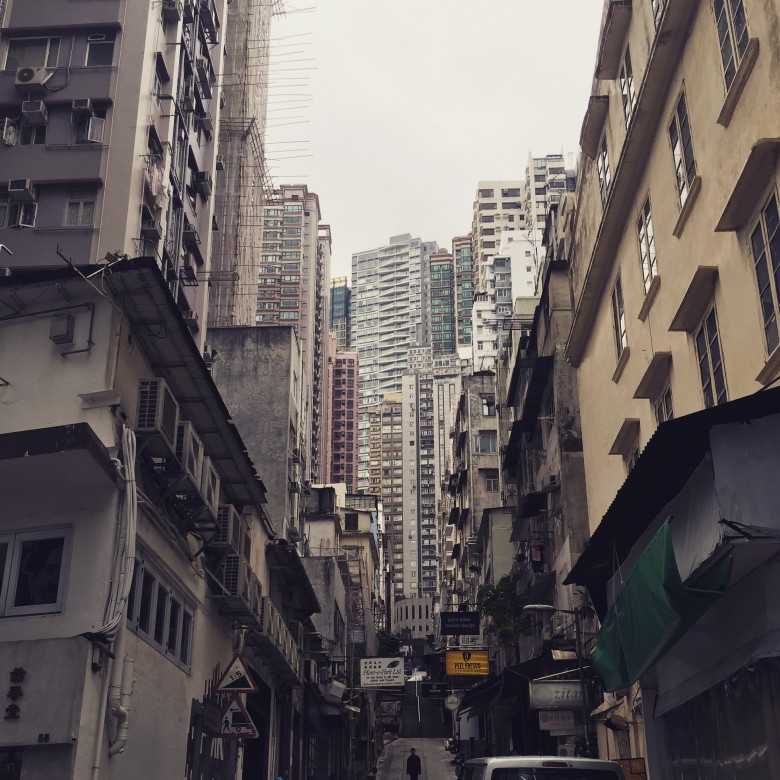 As quoted by Bill Bryson, "the luxury of travel is to be able to experience everyday things as if for the first time" – this luxury holds true in a city like Hong Kong.
Take for instance the smell in the air, which you'll notice before you've even driven out of the Hong Kong International Airport, it's not bad but totally different to anywhere else. Then as you start approaching the city, you'll notice that skyscrapers don't only define business districts, they form the majority of neighbourhood real estate too. Shopping malls are as luxurious as 5-star hotels and building exteriors turn into light installations at night. For those who are curious about and fascinated by Asia, this is the ideal place to start because beyond the ultra-modern designs and first-world, fast paced, work-hard-play-hard lifestyle, is a city full of character with a strong sense of history and culture that you'll find in the most unexpected places.
Getting there
A direct flight from Johannesburg to Hong Kong takes approximately 13 hours and covers a distance of 10672km as the crow flies.
Hop on a direct flight to Hong Kong from Johannesburg's OR Tambo Airport (JNB) on SAA or Cathay Pacific which offers direct flights between South Africa and Hong Kong every day of the week. There are also numerous stopover options.
---
Find cheap Hong Kong flights here.
---
Good to know before you go
South Africans can visit Hong Kong visa free for 30 days.
The lay of the land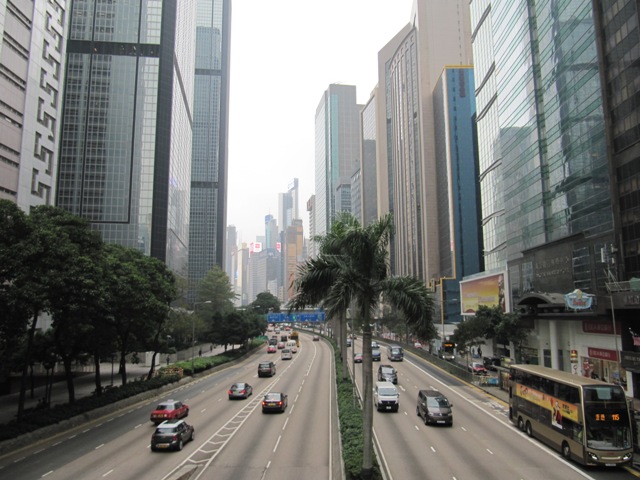 There are two main hubs in this city; Hong Kong Island and Kowloon. The island side is contemporary, each street lined with tall, glossy high-rises set against a mountainous backdrop which is Victoria Peak. Kowloon, just a short ferry ride away, has an old-meets-new look and feel, offering open air street markets, hole-in-the-wall restaurants and gorgeous hotels.
Getting around
Getting around is easy and efficient – taxis are reasonably priced and the MTR subway system is clean, comfortable and reliable. One thing to note:  taxi drivers don't all speak good English, my recommendation is to search your destination on Google Maps and take a screenshot to show the driver. If you are considering using Uber, do note that they are more expensive than the local taxis.
Budget
Generally Hong Kong is an expensive city (more so recently because of the exchange rate) but if you know where to go it doesn't have to be. To give you an idea a decent cappuccino will cost you between R65 and R75. A noodle dish will set you back anything from R30 to R100.
1. Rise and Shine with Breakfast at Grassroots Pantry in Sheung Wan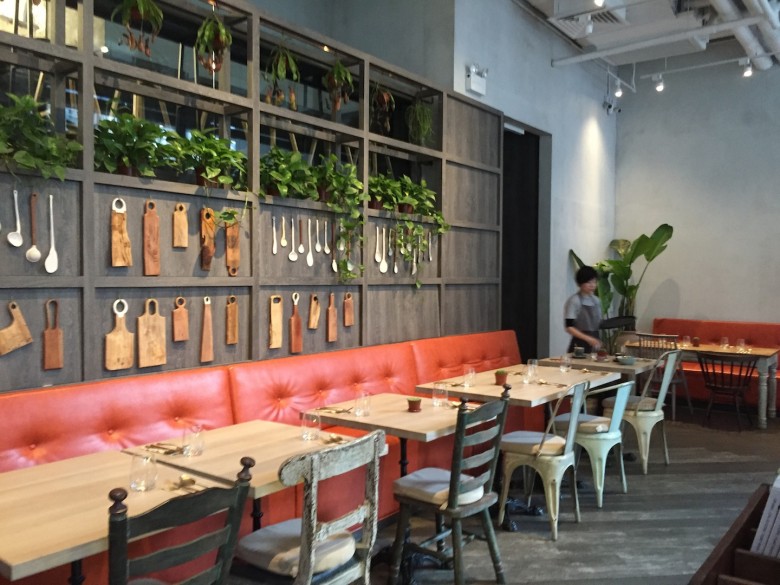 Grassroots Pantry is an earthy, urban style restaurant in Sheung Wan that prepares their dishes with unprocessed, sustainable and organic ingredients. I indulged in a scrumptious Acai Berry Bowl topped with banana, raw walnut-buckwheat granola and strawberries. Yum!
2. Step out of your comfort zone and into a wet market
Wet markets are where regular Hong Kongers shop for fresh fish, meat, fresh produce, noodles, sushi, fruit and dry goods – and for very cheap.  Discover the most authentic and interesting taste sensations: Hong Kong Egg Waffles (aka bubble waffles). What I loved about them (aside from the taste) is that you can break off the little puffs and eat them on the go. Also try Egg Custard Tarts, Chinese Steamed Buns, Pineapple Buns and Dragon Fruit.
Whether you take a fancy to this or find it totally weird, you haven't experienced Hong Kong like a local until you've eaten like one.
Egg Custard Tarts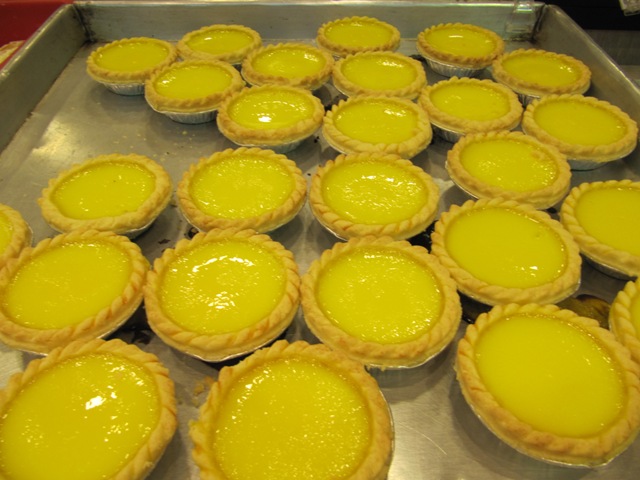 Sweet and savoury steamed buns, being rolled and baked fresh at the market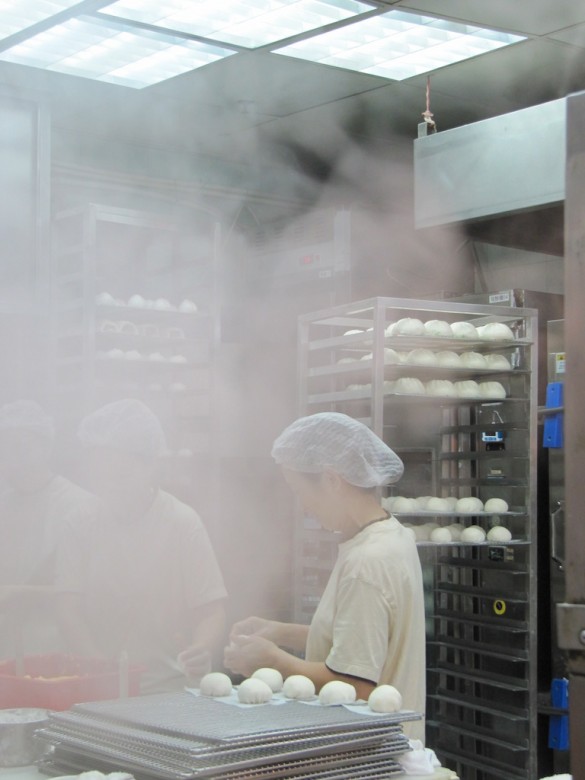 Egg Waffles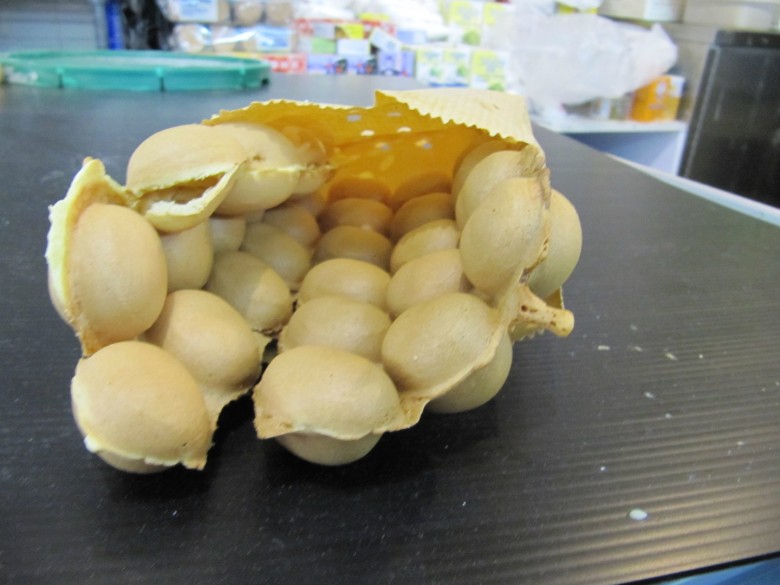 Fresh fish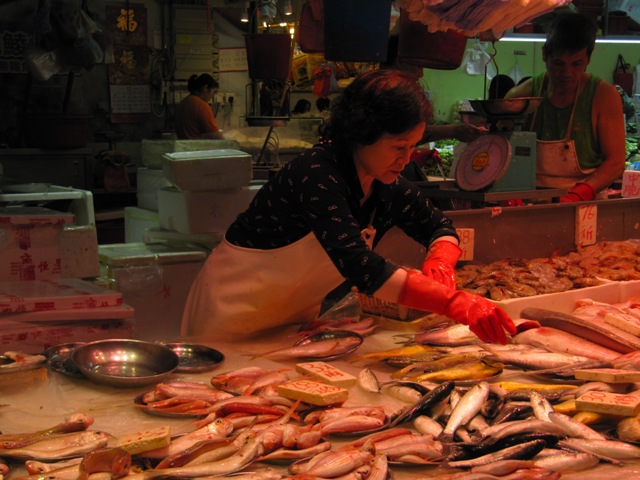 3. Get to know the coffee culture
I'm forever curious and excited to explore the coffee culture outside of my home town. No matter where I am in the world, to me coffee is the "common ground" between countries.
The Coffee Academics
Rated as the second best coffee shop in the world by The Telegraph UK, this one totally lives up to its ranking, brewing excellent coffee. It's the type of coffee shop in which you can easily lose track of time. Located just off Leighton Street in Causeway Bay, the interior has an industrial look with exposed ceilings and face-brick walls, furnished with comfortable cushions and old chandeliers that create a cozy atmosphere.
Habitu
As quoted on their cleverly branded sugar packs that provide 5 definitions of Habitu, this is 'a true Hong Kong brand' and was recommended by to me by a local. Expect delicious cappuccinos and scrumptious bagels.
Also read:
4. Refuel with noodles on Nathan
Lunch time yet? Nathan Road, located in Tsim Sha Tsui, Kowloon, is a famous shopping street that stretches almost 4km's.  As you reach the 3rd quarter of this long road you'll notice the buildings become older and the choice of noodle joints is endless. Refuel with a refreshingly cold noodle salad.
5. Do dinner at Tsui Wah
Tsui Wah is a popular restaurant chain we stumbled upon that serves traditional food with a "new twist". This is your go to when you're in the mood for generous portions of super tasty food in a casual setting.  Definitely try the Sweet Corn and Mushroom soup. Perfection!
6. Snag a seat at SEVVA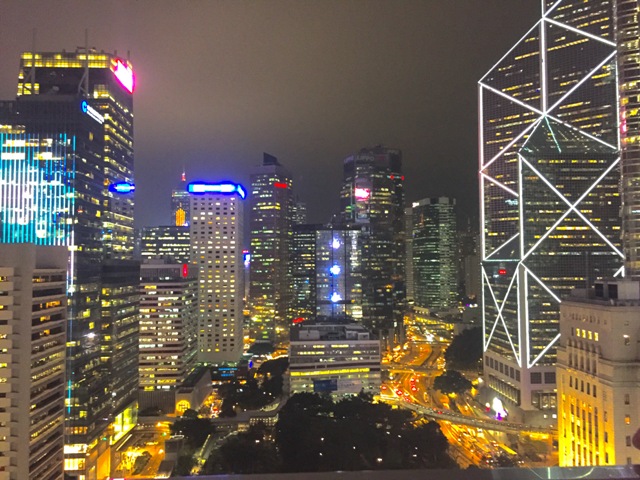 SEVVA Lounge is on the 25th floor of Prince's Building. This chic establishment has a lengthy terrace that takes 'cocktail-with-a-view' to a whole new level. I must warn you, drink prices are steep but this is one of those YOLO (you only live once) moments. You can also watch the 'Symphony of Lights' Laser Show if you're there by 8pm. 
7. "Summit" The Peak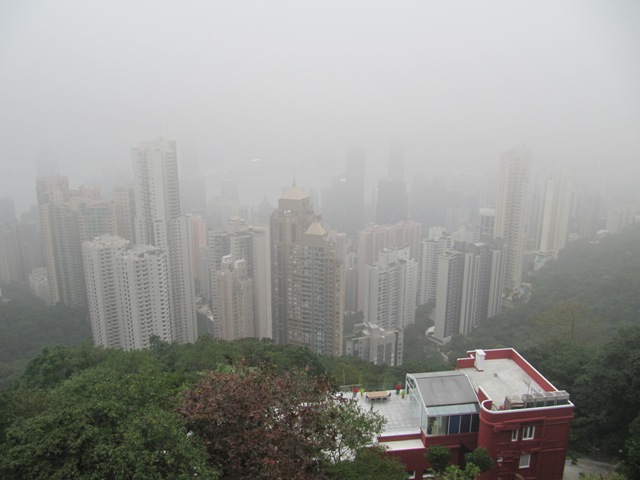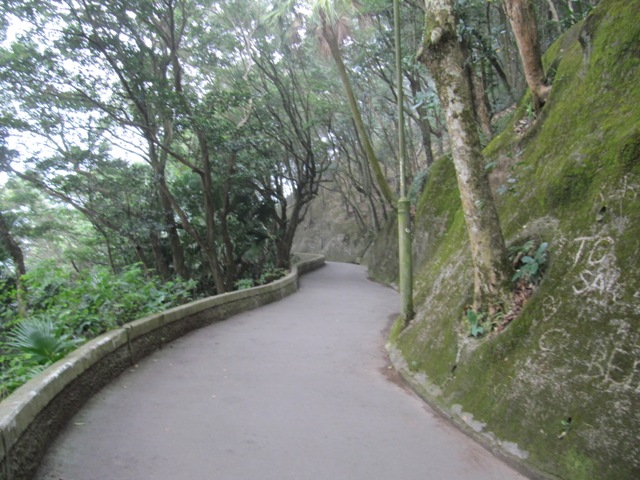 Victoria Peak (The Peak) is a mountain which boasts sensational views. It's also an affluent residential area where you'll find many expats living. Head up in the Peak Tram. There are several view-points from the top so be careful not to fall into the tourist trap of paying to see the view. Then sweat it out with a jog along the trails surrounding this area.
8. Hop on a Double Decker Bus to Stanley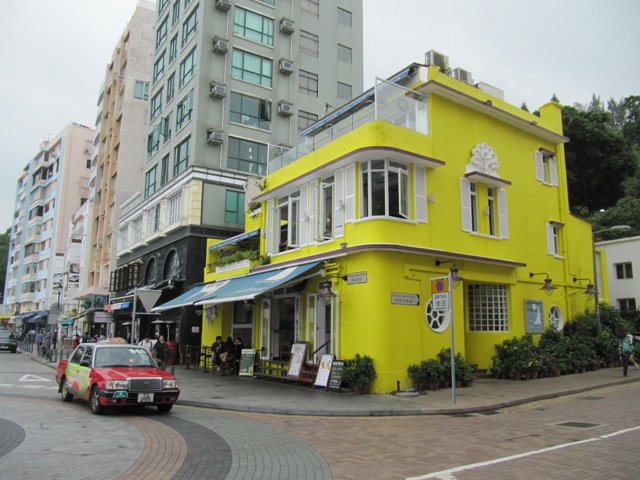 Stanley town is situated along the peninsula, east of Repulse Bay where you can swim in the South China Sea, and is home to the famous Stanley Market. From the top level of the bus you can enjoy the views of the gorgeous little bays along the drive which is approximately 35 minutes each way.  At the market you'll find great bargains on silk ties, bags, purses, pashminas and more.
9. Experience the Star Ferry at night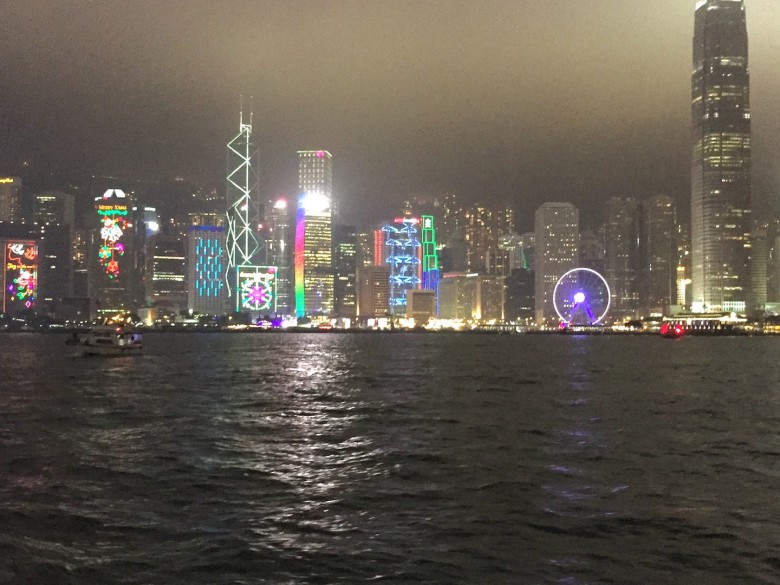 The evening ferry ride from Hong Kong Island to Kowloon (or the other way around) boasts a bright and colourful skyline. This is one of the cheapest ferry rides in the world and is a very smooth journey so there is no need to worry about getting sea sick.
10. Ride the Longest Outdoor Covered Escalator in the World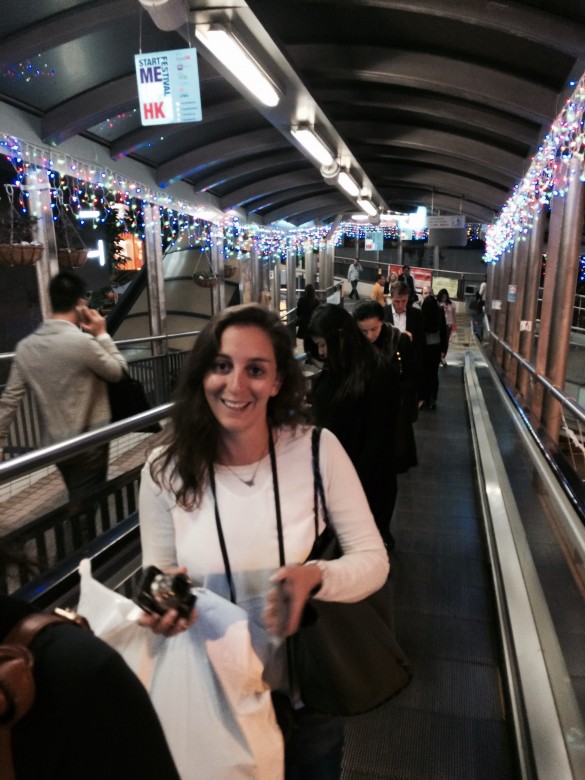 The Central-Mid-level escalator and walkway system is nothing short of impressive. It covers over 800 meters from bottom to top.  You can only take it upwards, and then take the stairs down. 
11. Don't miss-out on the views from the 102
nd
Floor of the Ritz Carlton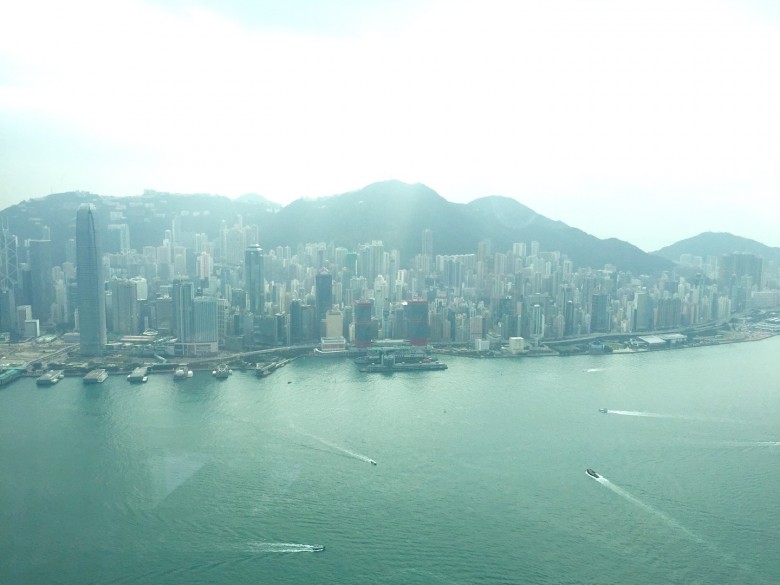 The Ritz-Carlton, Hong Kong is situated in Kowloon and is famous among other things for its views of Hong Kong Island from the 102nd floor.  The hotel itself is a sight for sore eyes – serious eye-candy for those who love luxury and designer decor– but nothing compares to the views you're in for. From here you'll see a totally different perspective of Hong Kong. I recommend this to do during the day.
12. Afternoon Tea at the Peninsula Hotel
Built in 1928, this hotel is the definition of elegant. If you love grandeur, indulgence and the good life or you're a fan of Rolls Royce (which you'll always find lined up front-side) you'll love the Peninsula.
13. Causeway Bay
Causeway Bay is a bustling shopping and business district.  If luxurious malls are your thing, you'll find them here. Make your way to Times Square center. Even if only to window-shop, it's one of those things you've just got to see, plus all puffy-jacket Uniqlo fans will find the flagship store in the heart of this area.
14. Lan Kwai Fong
This is a square of streets in Central, Hong Kong. Vertically the streets are pretty steep. The area is great for having a casual drink or a meal, with a cool vibe both during the day and at night. Tip for the ladies: come wearing flats!
15. Hollywood Road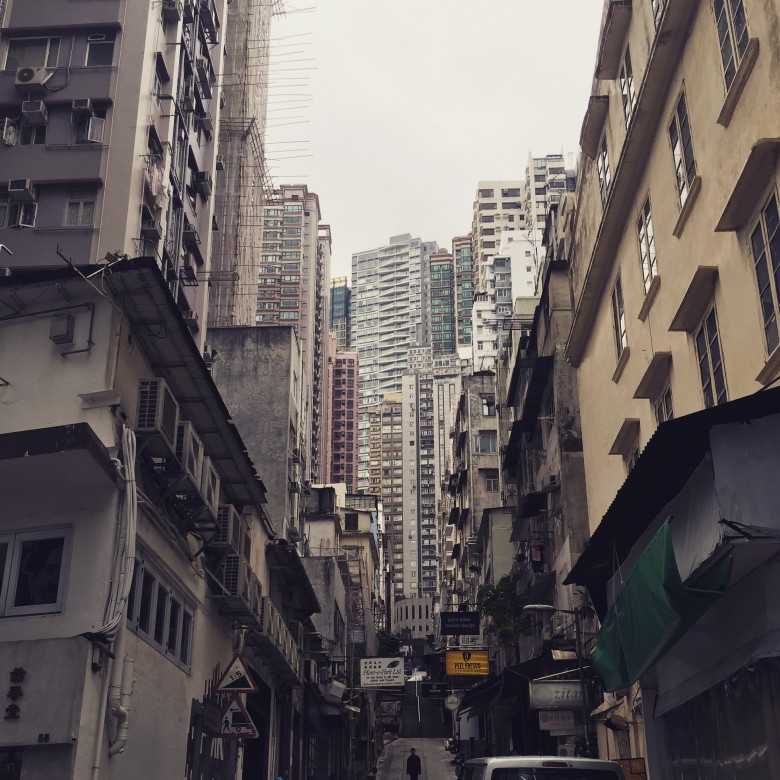 While you're in Central take a detour to Hollywood Street, one of the oldest roads in Hong Kong. It's an interesting walk with lots of little steep side roads, leading to high rise apartment blocks, and many antique stores.
16. Mong Kok – Ladies Market, Sasa, Fortress
Looking for deals? This way please!  The Ladies Market is an open-air market in a pedestrian-only street in Mong Kok, Kowloon. Imagine 1 km of the latest bags, clothes and accessories. Finish it off with a look through Sassa, on Sai Yeung Choi Street, where you'll find excellent deals on genuine perfumes and cosmetics. Guys, head to Fortress directly opposite for awesome savings on electronics.
And last but not least discover a secret gem
17. Off the beaten track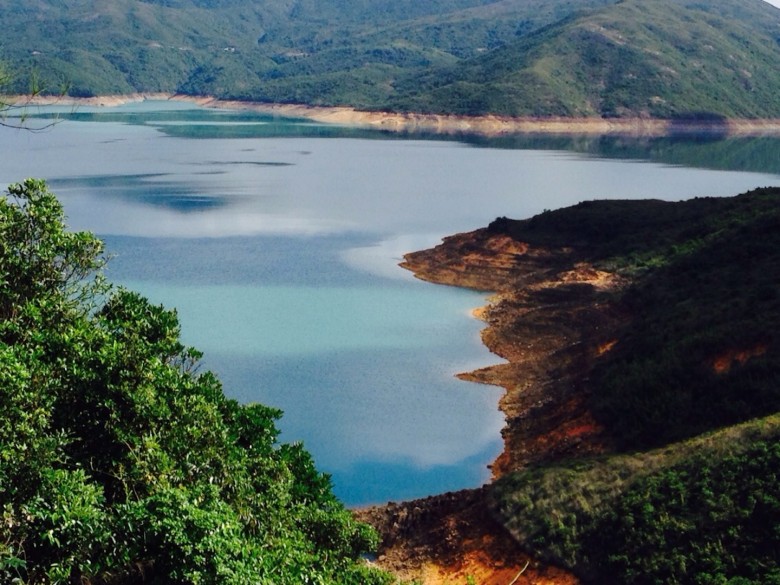 Just outside of the city is a town called Ma On Shan which forms part of the New Territories and just further on is Sai Kung which is home to the Sai Kung Nature Reserve. This whole area is a coastal gem that few tourists know about. It's a nature-lover's heaven and fitness junky's ultimate playground.
Follow Jessica on Instagram here. What are your favourite spots in Hong Kong? We'd love to hear from you in the comments below.