Welcome to your travel news roundup – the weekly installment on the Travelstart Blog designed to keep you on the cusp of what's what in the travel world including industry news, airline anecdotes, travel advisory's and a pick of the week's most important stories impacting travel around the world and in South Africa.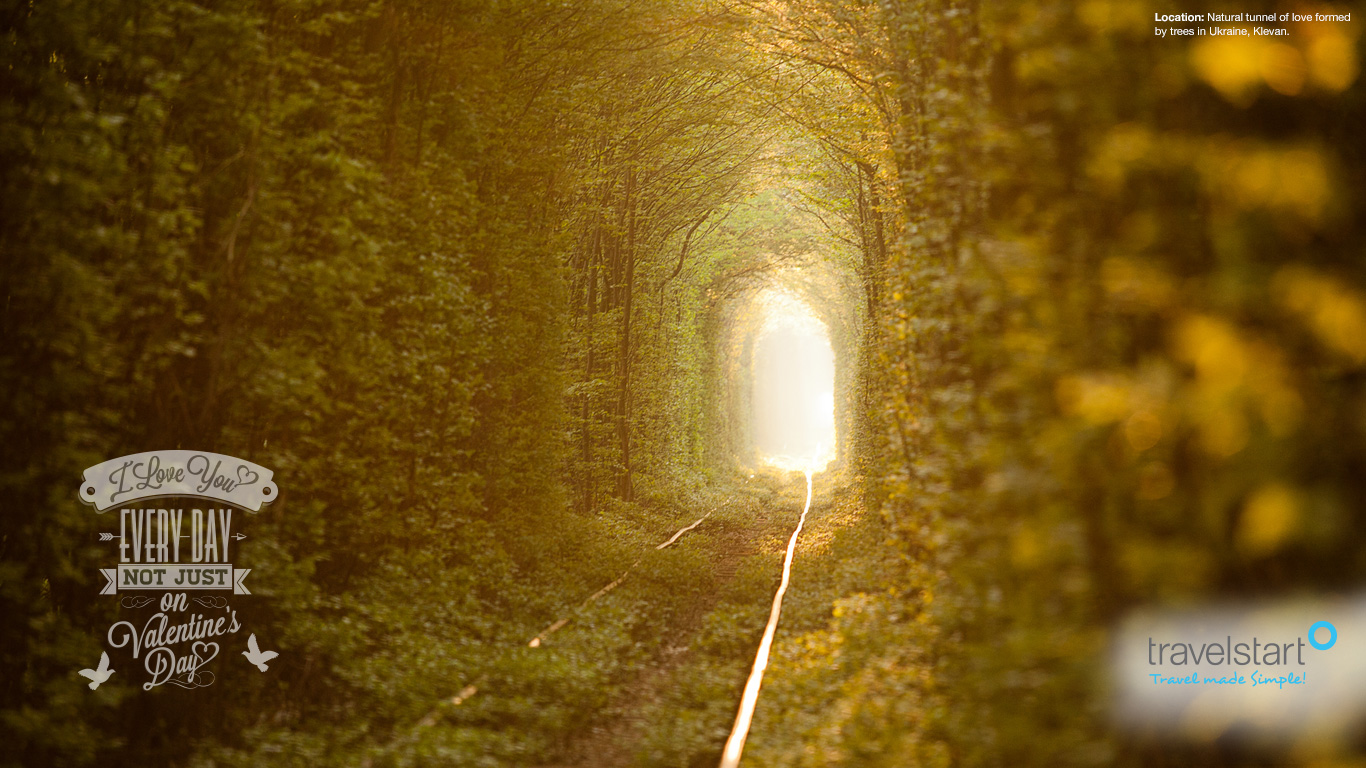 Flights to Plett launch with FlyCemair
On 28 March 2014 FlyCemair will launch the first scheduled flights between Johannesburg and Plettenberg Bay on the Garden Route and Cape Town.
Using a light Beechcraft 1900 plane, at this stage it is only possible to book FlyCemair flights by sending an email to plett@cemair.co.za or calling 0861 236 247.
Baggage allowance is 20kg per passenger.
It's Valentines Day –  download your wallpaper
Get romantic this Valentines with the 'Tunnel of love' wallpaper. Download it.
India relaxes visa process
SA travellers will soon be able to get a visa-on-arrival (VOA) when travelling to India. In a move to boost tourism, the Indian Government decided to relax the country's visa norms, allowing nationals from 180 countries, including South Africa, to obtain a VOA when travelling to India from October onwards. South Africa is currently the largest African tourism market for India with more than 50 000 South African nationals visiting India in 2012.
60 Instagram photos that will make you fall in love with Cape Town
Just what is it that makes this city so irrefutably photogenic? As you'll soon discover, it's her landscapes, her two oceans, her Winelands and her people; and who better to showcase the city than the Instagrammers that live and travel in Cape Town.
Source: Travelstart.
SAA links up with Virgin Australia
South African Airways entered into an agreement with Virgin Australia that would see the airline expand its access in the country.
Source: Fin24.
New Malawian Airlines launches flights to Johannesburg
Malawian Airlines has now taken to the skies and will be flying to Johannesburg, Lusaka, Dar es Salaam, Harare, Maputo, Tete and Beira. Flights to and from these destinations will take off from both Blantyre and Lilongwe daily. The partnership with Ethiopian Airlines also gives travellers the convenience of connecting to the rest of the world through its world class fleet and in-flight service along with their extensive route network.
The inaugural flight will take off from Johannesburg on the 17th February 2014. Malawian Airlines offers daily return flights between Johannesburg, Blantyre and Lilongwe. The airline maintains its headquarters in Lilongwe the capital of Malawi and the largest city in that country. The airline's major operations base is at Kamuzu International Airport, the largest airport in Malawi.
SAA wraps up your cash
SAA has been fleecing all customers flying out of OR Tambo airport since November, charging them between R50 and R100 for a bag-wrapping service that did not exist.
Source: Fin24.
BA withdraws Maputo route
British Airways (operated by Comair) has advised that it will no longer be operating flights between OR Tambo International Airport and Maputo International Airport from February 8. Since launching in May 2013, the route has proved to be commercially unviable for the airline.
Passengers already booked with BA Comair will be re-accommodated by the airline on SAA at no additional cost. Un-ticketed bookings will be cancelled.
New schedule makes Air Mauritius an easy sell
Air Mauritius will introduce a new flight schedule for Johannesburg, Cape Town and Durban from June 27. The new schedule for Johannesburg offers travellers more time in Mauritius, competing with SAA's favourable schedule. Flights will depart OR Tambo International Airport at 09h40 on Saturdays and Sundays, arriving in Mauritius at 15h40 Return flights depart Mauritius at 17h00 on Fridays and Saturdays, arriving in Johannesburg at 19h35. From June, Air Mauritius' Cape Town flights will operate on Tuesdays, Thursdays and Sundays at modulated times. Durban flights will operate on Mondays and Fridays at the same times as they currently do.
Virgin drops Sydney to Hong Kong service
Virgin Atlantic has blamed "Increasing costs and a challenging economic environment" for its decision to dump its Sydney to Hong Kong service as from May 5. The last flight departing Hong Kong to Sydney will be May 4.