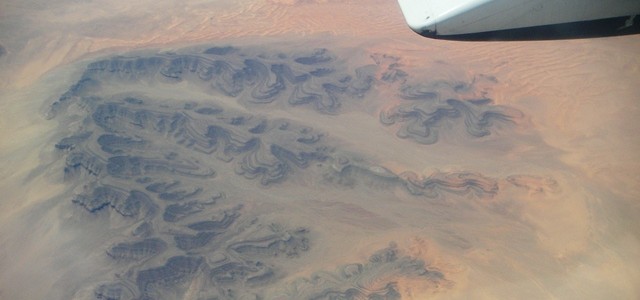 Julie Mbaisa from Windhoek recently won a trip to Cape Town courtesy of Travelstart Namibia. She gave us a written account and photos of her and her husband's Cape Town experience.
I don't know many people who enter competitions expecting to win – I definitely don't. Maybe I hope for that one-in-a-million chance to come my way but never think that it's very likely. So you can imagine how surprised I was when I received an email at the end of April telling me that I had won a weekend in Cape Town from Travelstart Namibia! I had "liked" their new Namibia Facebook page and signed up for the e-newsletter; just happy to be able to get information on travel specials from Windhoek instead of only from Johannesburg or Cape Town, so to win the prize was an absolute bonus.
Originally from Australia, I've lived in Namibia for 16 years but have never made it to Cape Town. It had been years since my husband had been there so we were both excited to be going. We weren't able to travel in May and the trip had to be taken by the end of September, so we finally settled on the last weekend in September (hopefully missing the worst of the winter weather).
After weeks of anticipation, finally it was Friday morning. We bundled the children off to school, made the final arrangements with the neighbours who were looking after them, and suddenly found ourselves sitting at the airport.
We had a taste of things to come when we noticed a man walking around wearing a pink bobbly headband, fairy wings and carrying a wand. Surrounded by a fairly raucous but cheerful group of friends, it soon became clear that they were off to a bachelor's weekend in Cape Town and we weren't surprised when they boarded the plane with us. They didn't pay much attention to their seat allocations but in true Namibian style the rest of us arranged ourselves good-naturedly around them.
The Air Namibia flight left on time and, being the Friday flight, went via Walvis Bay. Although the plane was quite full, the service was fast and efficient. Before long we landed in a cool and windy but gloriously sunny Cape Town.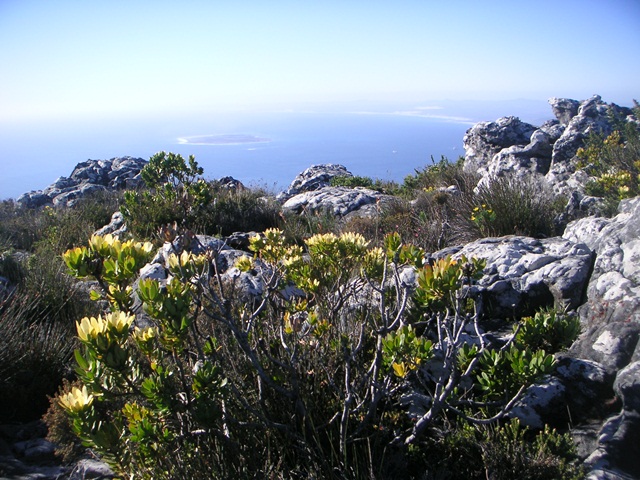 Being first-timers at the airport we were a bit confused to realize that not only were the rental car offices outside the airport, they were on the other side of a few lanes of traffic! At Hertz we didn't have to wait and after all the formalities were done we were thrilled to get our hands on a brand new (only 8km on the speedo) Polo Vivo 1.4. It's a great little car – zippy, very easy to park and we had driven 250km before the fuel gauge moved off 'Full'! However, although the stereo had a USB port it could not read my iPod; and the only other complaint we would have is the complicated 'four-press secret-code-like button' sequence to get the hatchback to open…maybe there was a simpler way but we never found it.
We had received warnings about the "terrible" Cape Town traffic and horrible, confusing roads so we made sure we were armed with a GPS. Luckily we didn't run into any peak-hour traffic and found the major routes and attractions clearly signposted.
We had decided that if the weather was good we'd go straight from the airport to Table Mountain as the other thing we had been warned about was Cape Town's "four seasons in one day" and didn't want to risk the weather changing. On the way I insisted we stop at Honest Chocolate for some raw, organic, dark chocolate. If you want a different (and tastier!) chocolate experience, make sure to visit their new shop in Wale St.
Table Mountain
From there it was only a few minutes before we were looking for a parking place at the Lower Cableway Station. There were lots of people and lots of cars and luckily we'd bought our tickets online and not only did this save us R20, we were able to walk past the queue at the ticket office and straight into the lift. After about ten minutes wait, we were in the cable car and enjoying the spectacular view from the rotating floor.
It was a sunny day and as we had been driving through the city we'd become quite warm so nothing prepared us for the freezing wind and drop in temperature on top of Table Mountain. Still, we were able to enjoy the incredible views and interesting information that was posted and took plenty of photos. On our way back down, the clouds started forming the famous Tablecloth over the edge of the mountain thus making our Table Mountain experience a success!
Crystal Towers Hotel
Next was the Crystal Towers Hotel where we were wowed by the décor and the friendliness of the staff. Once we were shown to our room we had a chance to unpack and freshen up before our 7:30 dinner reservation in the hotel restaurant (also part of the prize). The ambience of the restaurant was great as the lighting and high-backed chairs gave a feeling of intimacy even though the restaurant was fairly full. We placed our orders and accompanied the food with a Kröne sparkling wine recommended by the waiter which was very pleasant. While we were waiting, the chef sent over some complimentary sushi. (In addition to the restaurant, the hotel has a deli and sushi bar which is open 24 hours.)
When the food came we truly thought we had gone to culinary heaven! My husband started with a biltong salad while I savoured my antipasto platter. A scoop of orange and poppyseed sorbet cleansed our palates before our main courses arrived. My husband had a difficult time deciding between the ostrich fillet and the Norwegian salmon but went with the salmon and declared it delicious! I ordered the chicken and prawn curry and was hooked from the very first taste.
With very full stomachs we stopped at the reception on the way back to our room to ask what to do about our parking ticket. It was explained that as the hotel does not own the parking garage there is a charge of R40 per night that we could pay upon checking out and until then the reception would validate our tickets so we could drive in and out. That would've been helpful information to give guests when checking in.
We had also had trouble picking up the Wi-Fi connection in our room so one of the reception staff came up with us to see if he could work out the problem. The only solution he could give was that it was down at that moment and to try later or to go down to the lobby and access it from there. (We did try again in the room the next morning and got the same message but didn't have the time to try again or ask for more help).
We had a very good night's sleep in the king-size bed and went back down to the restaurant for the breakfast buffet the next morning. I was glad to see a good selection of fresh fruit to help me recover from the excesses of the night before but my husband seemed determined to sample a little of everything on offer.
Cape Town Sightseeing
Again it was a lovely sunny day and we looked around the hotel a bit more before going to meet up with friends who live in Sunningdale. They took us over the "Nek" and around the Cape, passing Camps Bay and Llandudno before stopping in Hout Bay for a lunch of – what else? – Fish and chips. Being a bit pressed for time we chose the Fish on the Rocks takeaway and enjoyed their hake, calamari and chips combo.

Then it was on to Chapman's Peak Drive with its spectacular views. After stopping at Chapman's Peak we drove around Noordhoek and made our way to the Kommetjie Lighthouse. Unfortunately it's shut on weekends but we had some fun there taking photos anyway.
We went passed Sweetwater and Misty Cliffs (which were indeed 'misty') and entered the Cape of Good Hope Nature Reserve. After a winding drive where we could admire the striking indigenous flora we arrived at the parking area for the Cape Point lighthouse. Unfortunately for us the funicular was out of service so we had to walk up the steep hillside. The hike helped keep us warm as the wind picked up the nearer we got to the top. The stunning views of the Cape of Good Hope and False Bay along the way and at the lighthouse were well worth it. Although we had to keep going, there was so much to see and do in the Nature Reserve (Visitor's Centre, hiking trails, historical monuments and buildings, shipwrecks, tidal pools) that you could easily spend a whole day there and still run out of time.
Next we hit Simonstown and stopped at Boulders Beach. It was closed but we were able to walk along the upper boardwalk and still see (and hear, and smell) lots of penguins. After a quick drive through Fish Hoek and Muizenberg we took the M5 back to town as the sun was setting in magnificent fashion.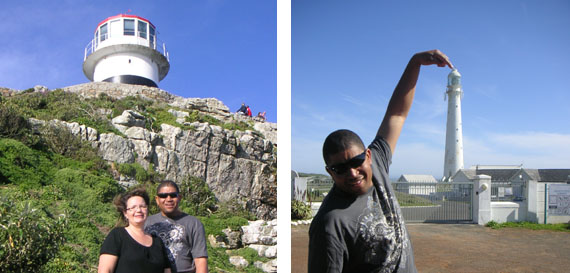 We had dinner with our friends and got back to the Crystal Towers Hotel to enjoy a cup of tea from the ingenious tea and coffee station. This pulled out on a little drawer from the cupboard with the kettle already on a built-in hob. And the gourmet cookies provided with the drinks were absolutely delicious.
Proof that we were relaxing came with a sleep-in on Sunday morning that had us hurrying to get to breakfast before 10am. I was better able to enjoy all the food on offer and we felt prepared for the day as we went back up to our room to collect our luggage. Checkout was quick and easy.
We didn't have a lot of time before having to be at the airport just after 12, but we decided to at least get a look at the Waterfront. Again, so much to see and do and more great views! We managed a quick look around and some Häagen Dazs ice-cream before we had to leave.
We got all the way to the Cape Town International Airport before we remembered we needed to refuel, but thankfully could just do a loop to the nearby service station and the way back to the airport and rental car drop off was clearly signed. A quick check by Hertz and we were on our way to Departures, this time on a complimentary golf cart. The check in and customs was fairly quick so we had plenty of time to wander around looking in the shops before proceeding to the boarding gate. Our bachelor party friends from Friday's flight were once again with us, much quieter and subdued!
The flight back seemed longer and was definitely bumpier, but again the landing and switch of passengers at Walvis Bay was fairly quick and emptied the plane a bit. Before long we were landing in a cool and cloudy Windhoek, refreshed from the weekend away and wondering when we could make it back to Cape Town!
A big thank you to Travelstart Namibia for a fantastic prize and wonderful weekend.