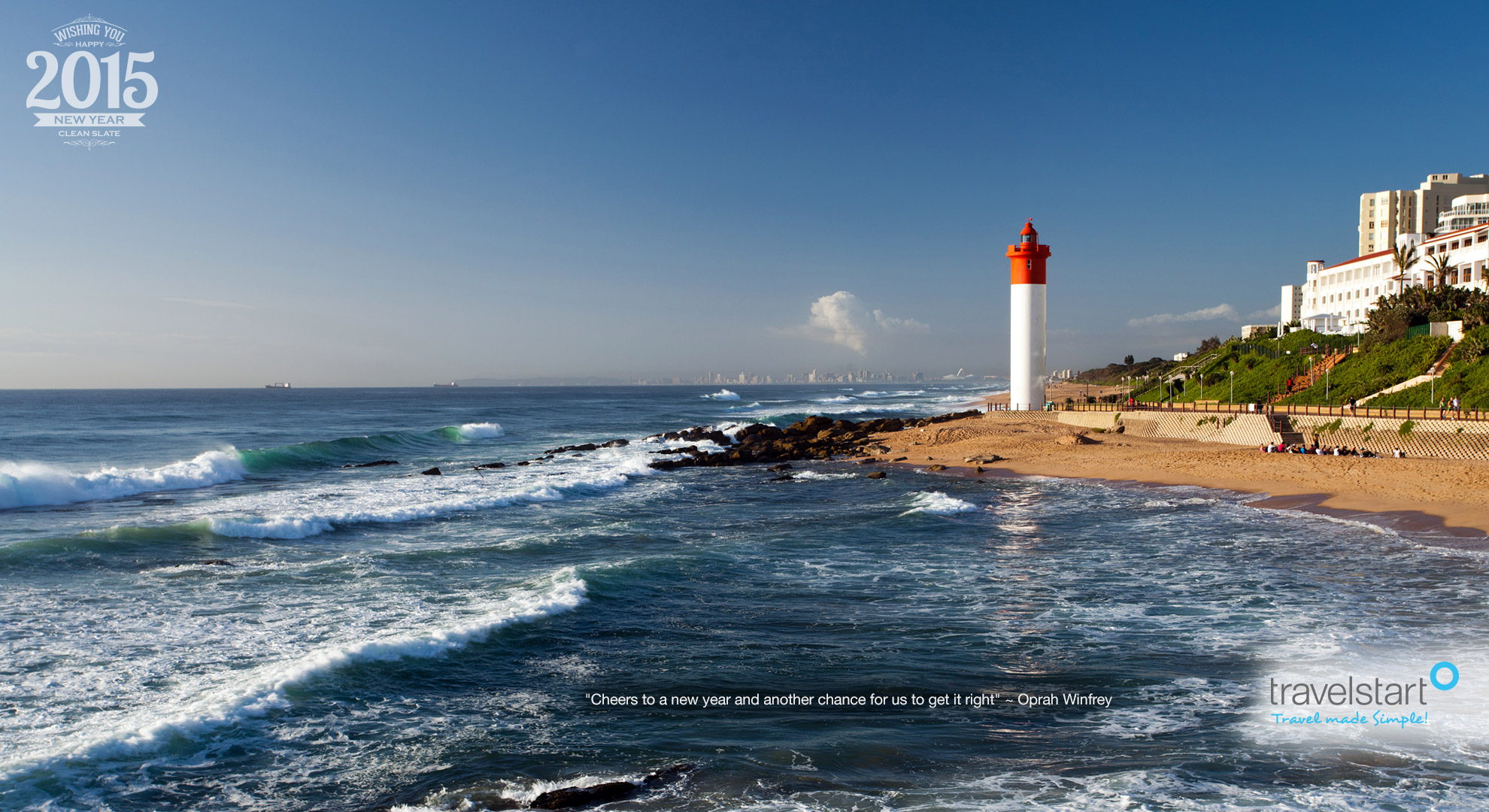 As 2014 draws to a close many of you will be seeing in the New Year at one of South Africa's festive resort towns which is why we thought the iconic Umhlanga lighthouse would be a fitting image to wake up to on 1 January 2015.
Completed in 1954, the lighthouse in Umhlanga has been the subject of numerous paintings and memorabilia; it is also a recognisable focal point forming part of the view from the Oyster Box Hotel. The circular concrete tower, painted white with a red band at the top, stands 21 metres above the beach and has a focal plane height of 25 metres. The fixed red light enables ships waiting to anchor in the outer anchorage, to monitor its position. If the red light can be seen, it suggests the ships anchors have probably dragged too close to shore. The Umhlanga Lighthouse has never had a keeper, as the Oyster Box Hotel, built in 1869, has been the official warden. The lighthouse controls are in the hotel office where staff monitor the controls and report to Portnets Lighthouse Service.
We'd like to take this opportunity to thank you for your support in 2014. Having celebrated our 15th birthday this year; we hope we have fulfilled our mission in making your travel simpler, and we promise to continue to doing so in the new year ahead.
Also read:
Free Wallpaper Downloads for January 2015
Desktop Computers
1366 X 768 – DOWNLOAD (with calendar)
1366 X 768 –  DOWNLOAD (without calendar)
1980 X 1080 –  DOWNLOAD (without calendar)
1980 X 1080 –  DOWNLOAD (with calendar)
Laptops
1440 X 900 –  DOWNLOAD (with calendar)
1440 X 900 –  DOWNLOAD (without calendar)
Tablet Computers
960 X 800 –  DOWNLOAD
Phones
320 X 480 (for iPhone 3/Small Android) –  DOWNLOAD
640 X 960 (for iPhone 4/Regular Android) –  DOWNLOAD
1136 X 640 (for iPhone 5) –  DOWNLOAD (without calendar)
1334 X 750 (for iPhone 6) –  DOWNLOAD (without calendar)
1080 X 1920 (for Samsung Galaxy S4) –  DOWNLOAD
Facebook Cover Photo
851 X 315 –  DOWNLOAD