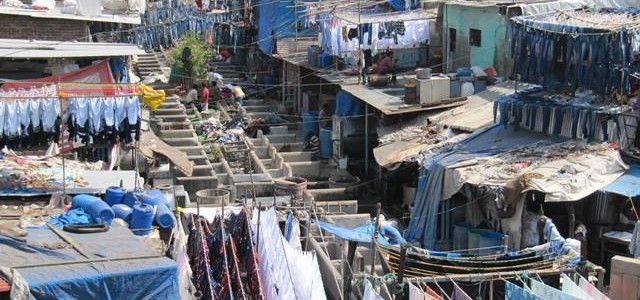 Crammed between the slums, colonies and high-rise apartments of Mumbai I discovered a city built on top of itself.
Mumbai's upper most layers are the first you see as a tourist – the palatial airport is a far cry from the slums which border its apron, as are the plush hotels, air-conditioned transfers and having someone to carry your bags.
Further into the fold I navigate layers stacked upon layers, uncovering the true spirit of Mumbai as I go and the themes which makes travelling here not everyone's cup of chai tea.
---
It's Wednesday morning in Mumbai and our guide is stuck in traffic. We're dealing with the aftermath of a 4am check-in topped with the three and a half hour time difference hangover. It's already hellishly humid outside and we're in no hurry to leave our air-conditioned sanctuary – the Hilton Hotel Mumbai International Airport.
The decision is made to meet our chaperon en-route to a city tour.
Sangeeta emerges from the chaos smiling warmly. She graciously explains the concept of "Indian Stretchable Time" – the everyday term locals use for being 'fashionably late', or rather 'predictably late'. You see, congestion, cow blockades, convoys and cratered roads compound the problem, and in Mumbai it's a valid excuse. More than 20 million people live here and when you consider the rampant overpopulation which plagues the city, there's probably many more residents unaccounted for.
And so begins our tour of Mumbai, formerly Bombay.
Also read:
Trapped ten rows deep amid a tightly packed convoy of hooting tuks-tuks our driver wrestles his way south towards the city's financial centre. At this stage it's impossible to tell where amongst this rambling mass the centre actually is.
Mumbai's multi-layered inners have long attracted a certain type of traveller and the dreaded, bandanna-headed, baggy-panted drifters with a strong sense of adventure still can't get enough of it. First exposure to these layers will open your eyes to the complexity of the Mumbai sandwich and the usual Incredible India labels – impoverished, powerful and super real!
The morning rush is at fever pitch and swarms of bouncy, black-hooded tuk-tuks are causing the traffic to take on an irregular shape. A beat up bus seizes an imaginary gap, black and yellow Fiat taxis jostle across lineless lanes. Scooters with helmetless families riding pillion are a stressful sight. I close my eyes and hope for the best.
It's our first morning and already I'm up to my eyeballs in Mumbai.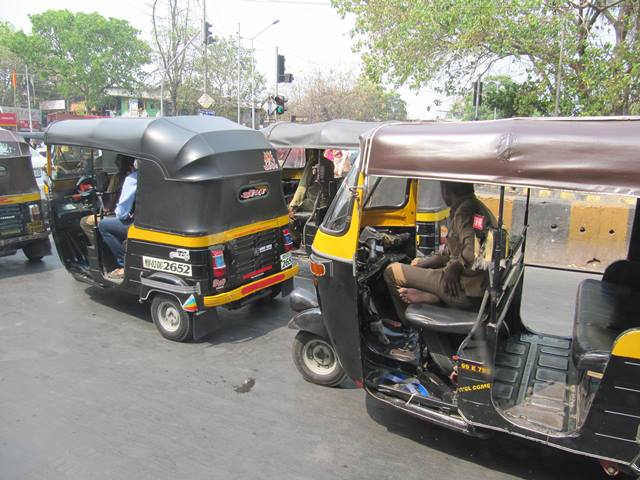 The biggest billboard I've seen advertises an upmarket residential development; it's blocking the morning sun from hitting a slum where 3 million people reside.
Looking up from the middle of it all a mixture of modern, dilapidated and incomplete high rises scatter the upper layers of the Mumbai sandwich. Property developers are in no rush to complete their projects; the price of land is on the up and up, and the spaces they've reserved are set to soar in value.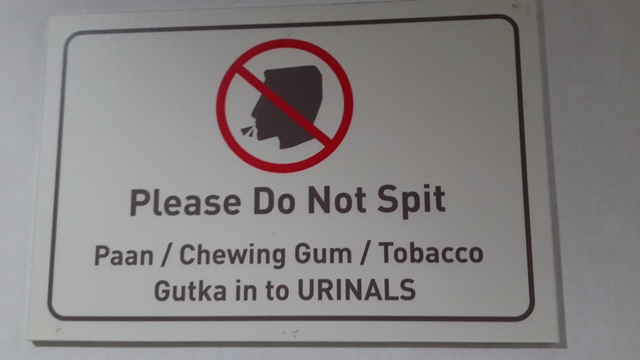 Everywhere in India signs like these attempt to bring some method to the madness. While noise pollution, speeding, littering and spitting are hotly campaigned against; everyone seems to do the opposite.
"Be considerate. The sound of your horn goes beyond the road"
"Get home safe. Your family will be waiting for you"
"Keep our Mumbai clean"
"Please do not spit paan / chewing gum / tobacco gutka into urinals"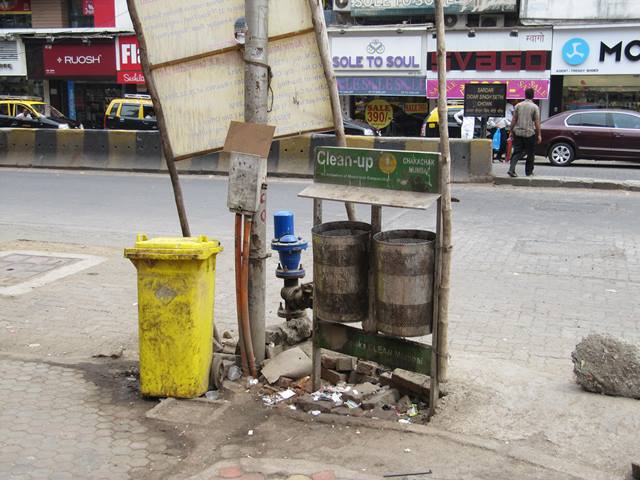 The relentless honking of horns are as synonymous with Mumbai as not indicating is in Cape Town, or hijacking the yellow line for the fast lane is in Joburg. Despite this, good old-fashioned South African road rage is non-existent. Yes, they toot madly at each other 24/7 but there's also a mutual understanding of "We don't get aggressive with each other because I know I'm as bad as he is". Mumbaikars are incredibly tolerant of their 24/7 situation.
We cross the Bandra Worli Sea Link. It's an iconic landmark of modern Mumbai, though against the backdrop of Dhavari – the world's largest slum – it's another blatant example of the deeply unequal power equation.
With the worst of the morning traffic in our wake we near the city where the world's loftiest private home comes into view. Antilia stretches 27 floors and is the home of one of India's most successful business tycoons, his wife and their three children. With the populace exploding at its feet, Antilia proudly fly's the flag of inequality, raising a capitalist middle finger to the masses.
As tourists we experience the mid-morning hum at Mumbai Central Railway Station. Its Victorian Gothic architecture mimics London's most famous stations. Trains packed to the rafters with commuters pull in on the suburban lines. Males pile out of one cabin, sari-clad females from another. This is literally Mumbai between the lines.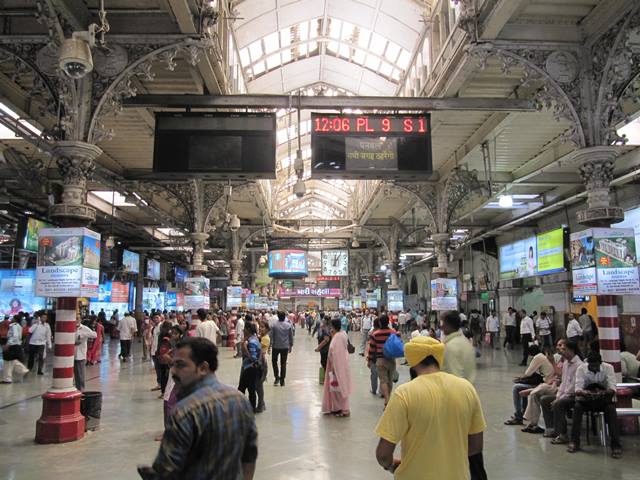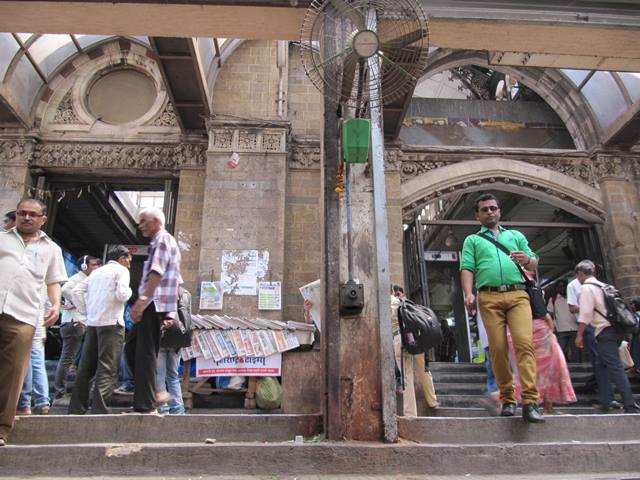 On to Mani Bhavan in downtown Mumbai; it served as Gandhi's headquarters between 1917 and 1934. The grand house highlights Gandhi's close connection with South Africa, and is jam-packed with displays and artefacts which detail the humble statesman's life journey.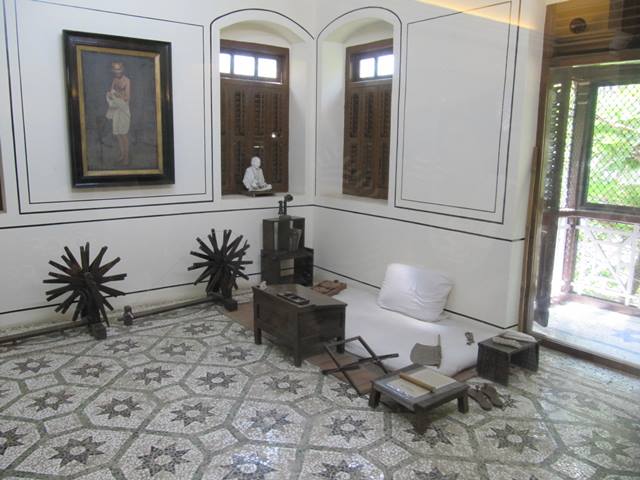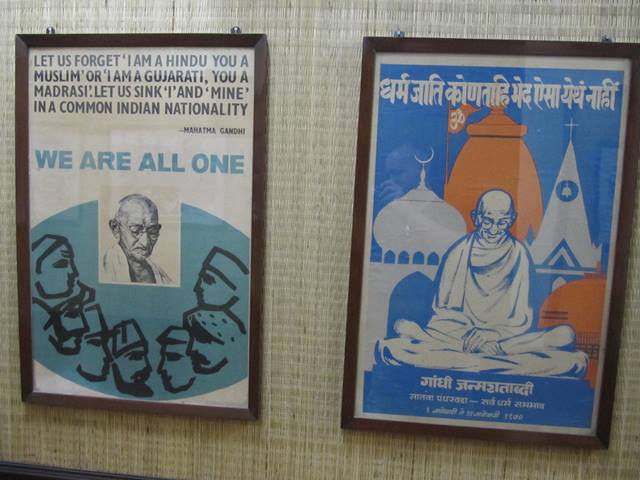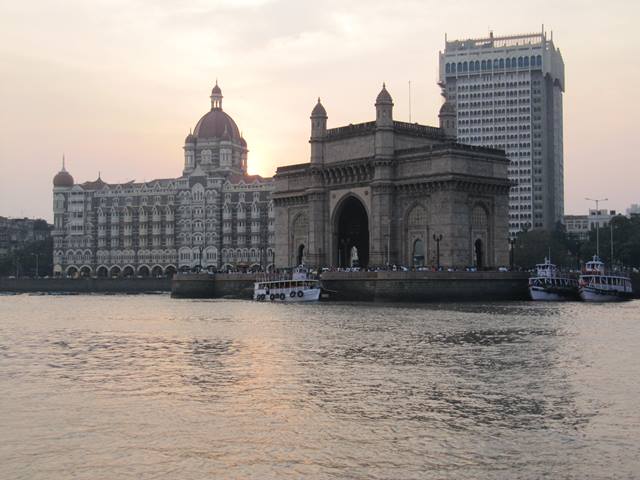 In Colaba we get our first look at the Gateway of India – the symbol of Mumbai. Unveiled in 1924, the monument commemorates the visit of King George V and Queen Mary to Mumbai. Here we board the ferry to Elephanta Island to see age-old history carved into the rocks which have made the caves here famous. They're so old no one even knows exactly how long they've been here.
To get there we endure an hour-long ferry crossing on a sea so smog-filled there is no horizon. We climb 100 stone steps to the Hindu Caves; all the way up we're taunted by apes and tempted by souvenirs.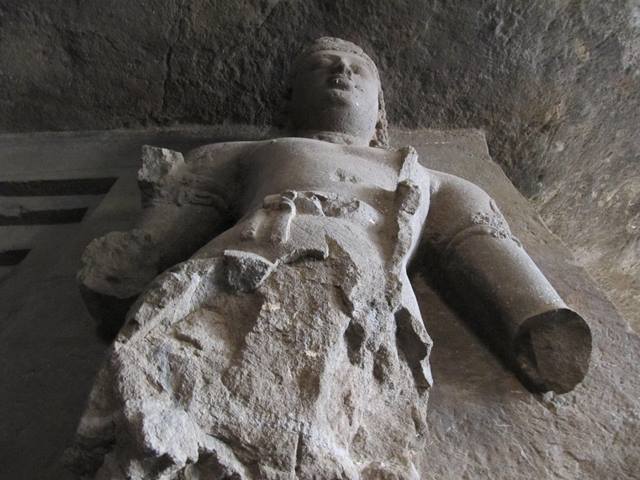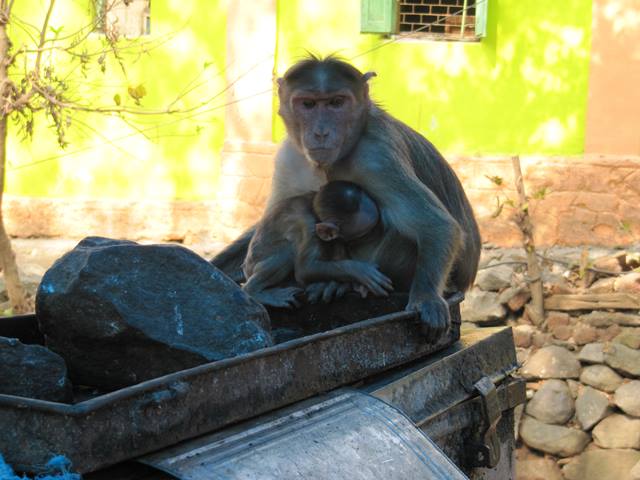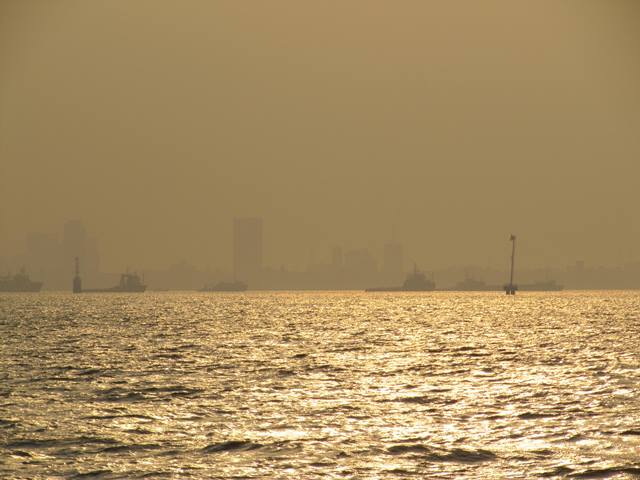 I never did encounter the lowest layers of Mumbai. The same layers that see people living on railway lines and where horrific scenes from Slumdog Millionaire reside. As a tourist you remain largely concealed from this.
But what of a city where 400 families are migrating to everyday? A population and intense tax system carves a worrisome divide in incomes and living standards. In spite of this, Mumbai and India in general has a lot going for it. Education, being free, is the great leveler which is why Doctor's and Engineers are emerging from the slums and creating some inspiring stories in the process.
A nighttime visit to Mahatma Gandhi Market in King Circle offers a fitting end to our stay in Mumbai. A shop owner offers me some relief under his fan where we're soon locked into a conversation which highlights the soul of the city and its people. He wants to know how I feel about Mumbai; his eyes search me for compliments, he is proud.
"I came back to Mumbai after ten years abroad. I missed the people and energy of this place man!" the shopkeeper tells me before returning to his discounted pashminas.
6 useful things to know about travelling in Mumbai and India
Security is painfully rigorous in India. Guards and officials will check your bag and person before you enter hotels, shopping malls, tourist attractions and other official buildings. Be prepared for this. Go with the flow.
If you fly domestically within India, airport security officials will demand your passport and boarding pass/e-ticket before you enter the terminal building. Therefore remember to print your boarding pass or e-ticket before you go to the airport and keep it accessible.
Several packaged perishables I bought in India had a date printed which I thought was the expiry date. Turns out this imprint was the date the product was manufactured. These edibles said, "Expires 12 months from date of manufacture".
Surprisingly, free Wi-Fi is nearly impossible to come by in India. Hotels, even the Hilton at Mumbai Airport which one can assume has a steady business clientele, charges for it. ₹400 (R75) for 1 hour's access.
In Mumbai, it costs ₹17 (R3.20) to travel 1.5km in a tuk tuk.
At Mahatma Gandhi Market mentioned earlier, most of the stalls allow you to haggle for goods. You can bargain items down to thirty percent off the asking price. In general, sellers in India are a lot less forceful than those I have encountered in the Far East and some parts of Africa.
Getting there with the Air Seychelles connection
As SAA pulls out of Mumbai, stopping direct flights from South Africa from 1 April 2015, Air Seychelles is set to pick up the shortfall with flights to Mumbai from Johannesburg and a painless 90 minute transfer via Mahe Island in the Seychelles. The departure days to Mumbai out of Seychelles are every Tuesday, Wednesday, Friday and Saturday.
For flights to Mumbai from South Africa be sure to check options such as Emirates (flights via Dubai), EgyptAir (flights via Cairo), SAA and Etihad (flights via Abu Dhabi) too. Always check Travelstart to see all options for the cheapest flights to India.
---
I travelled by invitation of Air Seychelles and was hosted by GeTS Holidays in India. With India Tourism they planned an excellent four day itinerary that took us from Mumbai to Aurangabad offering a balanced look at India's diverse historical and modern sights. Special thanks to Air Seychelles (Megan Wilson), GeTS Holidays (Wasim Shaikh) and India Tourism (Mr Manas Ranjan Pattanaik).