Travelstart is now on Instagram and what better way to test the popular mobile photo-sharing app than on a recent trip to Zanzibar where our debut 'Iger' Russell, discovers an island and hotels so picturesque, hardly a filter is needed.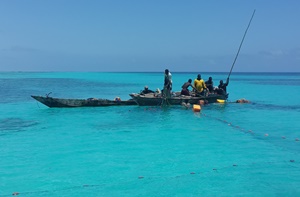 The four hour flight to Zanzibar from Johannesburg is a cheerful one. Everyone starts getting fidgety shortly after the seat belt sign has been switched off, or after exhausting the trolley service. But the ensuing restlessness which works its way through the cabin like a half-hearted Mexican wave isn't baseless; after all most passengers aren't hurtling full tilt towards the island for stressful business meetings. No. Most of these passengers are in holiday mode and the unsettledness currently sweeping the cabin is more of a wishful "hurry up and get there" pilot pseudo-coaxing than it is boredom, even though this Mango plane has little onboard to entertain us.
With the excitable pre-holiday anticipation come the calculated 'best angle' selfies; they light up the aisle – the scene playing out in front of me signals a good start to a stay characterised by cheer, and despite the fact that this international Mango Airlines flight has no moving map; we're already feeling closer to Zanzibar …
Travel logistics
First the business side of the discussion – If you're looking at Zanzibar as a holiday destination; it helps to know the East African island is accessible for those of us burdened with green and gold passports. It is visa free, and the 4 hour direct Mango flight between Zanzibar and Johannesburg departs and arrives in the two cities twice a week – on a Tuesday and a Saturday; it's an ideally positioned flight schedule for short 4 night/5 day trips to the island, or slightly longer trips. South African passport holders do require a Yellow Fever Certificate for Zanzibar, and despite the fact that in my experience this little yellow annexure has gone unchecked twice now when reentering our borders; it is still a non-negotiable requirement for travel to Zanzibar.
Malaria is a risk; however, Zanzibar is not considered a full blown Malaria area by U.S. travel health advisories. I didn't take precautions save for over the counter mozzie repellent and most hotels in Zanzibar provide their guests with a mosquito net. Whether you decide to take preventative measures against Malaria or not is entirely up to you; consult a reputable travel clinic if you are unsure. There are not many ATMs on Zanzibar so factor this into your currency planning. US Dollars and Tanzanian Shillings are the norm.
95% of Zanzibari are Muslim and prayers take place in beautiful mosques no less than 5 times a day. When it comes to photography in the areas set away from the resorts, don't be complacent about respecting the locals; I managed to upset a local Swahili fisherman just by photographing his boat.
Zanzibar itself is a semi-autonomous part of Tanzania with its own government, flag and President. While it consists of many small islets, Unguja and Pemba are the main ones. Unguja, which is the busier and wealthier of the two, is home to more than 200 hotels and resorts; it's unsurprising that many locals have left Pemba for Unguja to take advantage of opportunities that have sprung up as a result of a heavy handed approach to tourism.
While the Zanzibari government provides their people with free water, healthcare and education, the locals have adopted the saying "free for nothing" as the quality of public services on the island is low.
Zanzibar Airport
We disembark and the tropical heat gags us from the outset. However, because of the humidity this is not peak tourist season and I'm told the best times to visit Zanzibar is from December to February or from June to October when it's dry and cool. We suck it up and cram ourselves on to the bus which ferries us to the terminal … or what's left of it.
A chaotic and steamy scene receives us at the airport building. We're ushered through immigration fairly quickly and on to a fascinating baggage claim area where bags are literally claimed by clambering over each other; you see there is no luggage carousel, and the only way to become one with your belongings again is to stand in front of the bag hole in the wall and wait for your possessions to appear.
Construction is currently underway at Zanzibar Airport, and the new terminal, due for completion in June 2015, can't come soon enough.
Spices
Happy to leave the confines of the clammy airport behind us for a few days, we forge our way into the island. Kids wheel their bikes around the village on a dangerous scale of balance, skinny chickens peck at the fertile ground, and a suicidal goat stands aimlessly in the road. Lonely humpbacked cows are stationed at random points around the village, flicking their ears at bothersome flies. Slow down, feel free, this is Zanzibar.
Given the sluggishness of the roads it's not surprising the national expression of "Polepole" (slowly) is the guiding principle for tourists and locals here.
Our first stop is a spice tour on one of the many farms on the way to Bluebay Resort. Here we taste the Spice Islands, learning the significance of the seasonings and their medicinal, cosmetic and flavour uses in Zanzibar's history.
With mouths agape we watch a guy climb a palm tree and sing a Swahili song from the top, and we eat the juiciest fruit straight from the ground beneath our feet.
Zanzibar Beaches
Dhows and fishing boats around the island rise to attention on the incoming tide. They replace the gradually submerging sandbanks and look more graceful now than what they did when they were sprawled in the sand earlier.
Spread-eagled tourists wake from their slumbers in the sand and sun loungers and head down to the shoreline for a dip. On the Northern Nungwi beaches of Zanzibar, especially around the Gold Zanzibar Beach House, you can expect a wider, sandier coastline where your swim is less affected by the dramatically changing tide.
Take a snorkeling trip to Mnembe Island and live it up in one of Zanzibar's most idyllic island settings for the day. After more than an hour of puttering along (polepole rafiki), our boat swishes to a stop a few hundred feet off Mnembe Island, the water around us is now a mesmerizing shade of blue and the 45 or so tourists crammed on the boat waste little time in hopping overboard. These day trips, which can be organised on the beach for as little as US$30, depart at 10am and return at 4pm and include the boat trip, snorkeling gear, bottled water, and a delicious post-snorkel beach barbeque (we had fresh tuna, rice and salsa). Beers cost extra at $3!
At low tide, the reef exposes itself, villagers flock down to the shoreline as tourists dodge spirited beach boys as they head back to their sun loungers and all-inclusive cocktails. Zanzibar attracts a large amount of Italian tourists, and the Masai combing the beach are more likely to greet you with a hearty Buongiorno than they are a Jambo or a Howzit nowadays. Locals take the opportunity to get stuck into their daily chores – men maintain boats while women entertain children near the sea.
Stone Town
Stone Town, with its decorative mahogany doors and lively marketplaces, gets its name from the limestone material used to construct the first colonial buildings here in the 1800s. The town is formed in a triangular layout so if you don't stray too far from the main road you won't easily get lost. Once you meander off the main street the town becomes much like parts of Rome, characterised by narrow streets walled on each side by apartments, businesses and shops. Street vendors pounce on camera-bearing tourists; now and then, a brief downpour empties and cools the streets for a few seconds.
On arrival here, you'll be hassled by sellers as you open the car door; if you are interested in buying anything, their prices are negotiable but don't haggle for too long … this is their livelihood after all. Some will want to sell you an informal walking tour of Stone Town; expect to pay about US$15 for an hour long tour – this is a convenient way to navigate the labyrinthine town, not to mention a way to keep vendors at bay as you walk around in peace with a local guide.
The main market in Stone Town has been in existence since 1904 – vegetables, fresh fish, meat, spices; it's all available here. Merchants are kind enough to offer loans to local customers in hard times; a piece of information that gives you a window into the community conscious nature of the people who reside here.
Stone Town's many arched doorways and facades point to an Indian and Arab influence which still runs deep. We learn that the beautifully crafted doors which the town is famous for has separate doors for males and females.
I'm sat in the sweaty departure lounge at Zanzibar Airport and I'm struggling to mask my envy of the tourists who have just arrived and are making their way to arrivals on my right. I'd go through the feverish procedure all over again just to spend a few more hours here … even baggage claim wouldn't deter me.
Dropping out the sky above South Africa on a stormy Saturday afternoon, it's safe to say the return flight from Zanzibar is decidedly less festive than what it was on the way there. As the Mango plane plummets even more intensely, the back to reality finality of our time in Zanzibar sets in; a unanimous air of misery fills the cabin as the post-holiday blues set in. The pilot expertly forces our orange bird through a foreboding sky over O.R. Tambo, calmly steering a nervous load of holidaymakers through the lightning and rain.
---
3 Five Star Zanzibar hotel options
Bluebay Beach Resort & Spa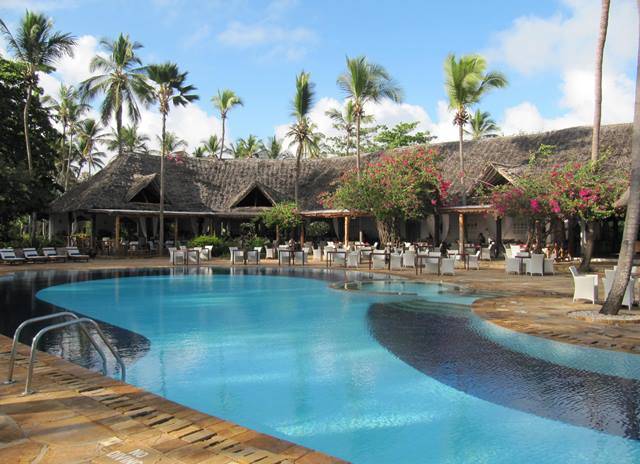 Bluebay Resort, which opened in 2000 and is well-suited to families travelling to Zanzibar, offers accommodation on a half board, full board or all inclusive basis. Choose from 2 top of the range Sultan Suites; with direct access to the beach and a butler, this is Bluebay's most luxurious option. The 6 Junior Suites sleep 2 adults and 2 children comfortably, while the 74 Superior Rooms and 24 Garden Rooms round out the majority of the accommodation at Bluebay. The Resort is located 50km from the airport on Kiwengwa Beach in the east of the island; it features two restaurants and the Octagon Pool Bar as well as a Kids Club for children aged 3 – 13 years.
Essque Zalu Zanzibar
On the way to Essque Zalu we pass the hardware shop, the grocery shop and the web development shop; this is Zanzibar's Nungwi region – a densely concentrated tourist area with a variety of accommodation options; the industry has injected economic stability into these parts; uplifting locals' lives with jobs. Land based farming is not a concern as the ground is largely coral rock, and those not working in tourism are generally involved in fishing.
Bumping our way down to the hotel we spot Essque Zalu's soaring Makuti roof before anything else; it is the tallest hotel roof in Zanzibar, and at 40-odd metres it is a grand architectural statement which adds to the hotels mystical almost 'Nubian' allure. In 2012, this was the location for MasterChef SA; and I think to myself what a luxurious and comfortable consolation prize Essque Zalu must've been for eliminated contestants.
The hotel opened in 2011 and is ideal for couples seeking an uninterrupted getaway – there are 40 suites, and 9 villas furnished with every mod-con imaginable. The coral fringed beach is narrower than others we've seen in Zanzibar, but the warm sea, jetty and huge pool makes up for it. The hotel's interior feels less like a resort than a private residence; the minimalist décor lends itself to settling into a sun lounger and doing as little as possible all day.
Gold Zanzibar Beach House & Spa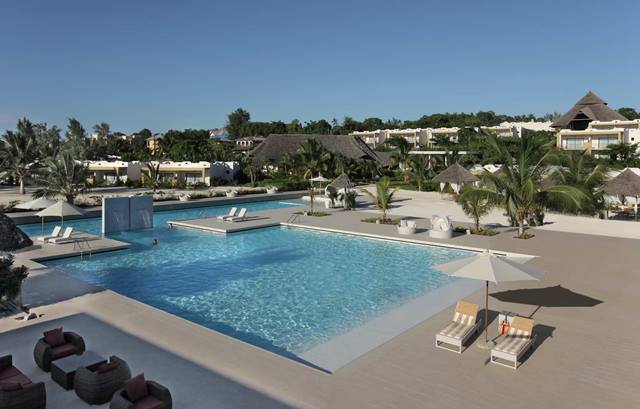 Gold Zanzibar is located on Kendwa Beach on the Northwest tip of island – the wide beach is swimmable at high tide and low tide which is a huge plus on an island like Zanzibar where tidal fluctuations make a noticeable difference to your time in the water.
Gold Zanzibar, which opened in 2013, boasts a total of 67 rooms (in 4 categories), each with an ocean or garden view. While the hotels lavish surroundings support its deserved 5-Star grading, the comfy Italian hospitality will put you at ease, as will the all-inclusive cocktails menu if this is the board you've chosen.
The owners have spared no detail right down to the handy beach basket placed in each room, and the family-oriented feel, the overall newness of the grounds and facilities, is why Gold gets our vote for a well-rounded Zanzibar hotel.
For budget travellers to Zanzibar there are plenty options for accommodation and you can get a basic seaside cottage for as little as US$30 per night including breakfast.
For even more hotels, watch this FAQ Friday about value for money resorts in Zanzibar.
To book any one of these Zanzibar hotels call Travelbar on 0861 878 278, or send an enquiry to travelbar@travelstart.com.
---
Thank you to our gracious hosts – Victoria Zackey from Rove Africa and Zandile Cele from Axis Marketing – who hosted Travelstart on this trip.
After the rush of using Instagram in Zanzibar, I'm just happy to have made it through this article without pinning a hashtag to the front of every second word. From now on whenever one of our globe-trotting Travelstarters jets off we'll be making sure they've packed the Instagram login details to bring you even more awesome, real time content from the far reaches of the world.
See more Zanzibar photos on Travelstart's Instagram instagram.com/travelstart