On a recent trip to San Francisco I considered my options on getting a sim card for use while over there. Basically I wanted to be able to take photos and upload them to Facebook, Instagram, Twitter and so forth. I also wanted to be able to browse the web for places to eat, attraction and events as well as to use maps to navigate around California. So it was pretty important for me to have a fairly robust data package for my journey.
The options I considered
Roaming with Vodacom
Maxroam
Flyconnected
Buying from the kiosk at the airport
I decided against roaming with Vodacom as the data charges are astronomical at R128 per MB, so I began considering some other options. Some friends warned me against getting a sim card here in SA as they found it to be cheaper buying a card over there.
San Francisco Airport Sim Card Kiosk
A colleague had done some research before her trip to San Francisco and had found out that there was a kiosk at the airport there where you could buy a sim card, at the arrivals exit hall. She couldn't remember the price she paid, but I thought I would chance it and get the card at the airport. The kiosk was easy to find, as you come out of the arrivals doors past immigration and customs, just before you leave the building, the kiosk is on your right.
The costs, I must say seemed really steep. The card was through Lycamobile, they operate in many countries all over the world and specialise in sim cards for travellers. My sim card had unlimited data, unlimited local calls and texts and $10 international call credit loaded onto it. All good and well, but it cost a whopping $85 for a 14 day validity card. The system also piggy-backed off of T-Mobile USA which, to say the least, had some pretty dismal 3G and 4G coverage in California. At one point, my phone went from showing a 3G signal, to simply "G" for GSM, which harkens back to the prehistoric times of my Nokia 1610 "brick" phone which doubled as a self-defence weapon.
I suppose I could probably have waited  until the next morning to consider my options and bought a card from a store in the city, but I'm a nervous traveller and wanted it all sorted, as soon as I arrived.
Comparison with other providers
If I'm looking at the rates for some of the providers I mentioned in the options I considered, they don't compare very well in terms of costing though. With Maxroam it was 49 Euro for 100MB data bundle (that's over R700 for 100MB compared to a local rate of under R50 here in South Africa – not comparing apples with apples here, but this is for perspective's sake).  With Flyconnected it was a bit cheaper with a rate of around R700 for a similar unlimited package as I purchased at the airport, however they no longer seem to offer the option to purchase this on their website.
What does seem to be the case though is that mobile data in the USA is just plain expensive, ranking at one of the most expensive countries in the world at $85 on average for 500MB data, as this chart on Androidcentral details: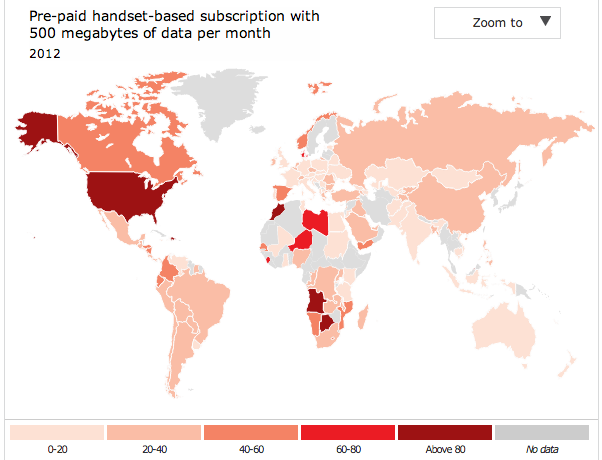 My Verdict
I thought I was getting ripped off by all providers I checked out, but in retrospect, none, except for Vodacom, might have been a bad deal. Important to note though, that the situation with Vodacom may change at some point, we reported that they've started rolling out a R2 per MB deal to many countries, just not to the USA (yet?). I just wished that the connectivity was better, I ended up using WiFi a great deal at coffee shops (and WiFi is prolific in the States), so who knows, maybe that's the best option after all!