Vietnam Travel Tips
Don't just visit Thailand and Indonesia – here are some Vietnam travel tips to convince you that this fascinating South-East Asian country should be top of your list.
There's no doubt that Vietnam isn't set up for cookie cutter tourist travel the way that other South-East Asian countries are (here's looking at you, Bali!). But it is a fascinating country, full of cultural gems and complex history and delicious food, and it's well worth a visit.
1. The diversity
Take a look at a map of Vietnam and you'll see how long the country is. From the Mekong Delta in the South to Sapa in the North, there's an extraordinary range of experiences you can have, all in one country. Here are a few favourites in the mid to Northern parts of Vietnam… Some Vietnam travel tips to ensure you have a wonderful holiday.
2. The culture
Sapa is a small little town in the mountains right in the North. The town itself it pretty touristy, but the surroundings are incredible. You can go hiking into the nearest local village on your own (and then go exploring around the river for some breathtaking scenery), and do a day tour where you visit three villages, guided by a local. Book with the tourist office just above the market to get off the beaten path. Or strike up a conversation with one of the many locals who will happily take you to their village on a private tour.
The Thai Binh Hotel is a friendly, affordable hotel that costs about R215 a night for a double room. The location is excellent, there's a superb breakfast included (with some of the best baguettes in Vietnam) and (the clincher) they have not only a heater but an electric blanket. Extremely necessary in Sapa – it gets freezing.
3. The nature
Halong Bay is one of Vietnam's treasures. It's very touristy, but absolutely breath-taking… If you go with the right company. One of the best Vietnam travel tips is to spend your money on a luxury Halong Bay experience. If you don't? You follow 600 (no exaggeration) other boats through the bay.
What's so special about the bay? The emerald water, the stunning karsts (limestone islands with rainforests) and the extraordinary natural beauty. The Red Dragon Junk is part of the Indochina Junk Company who have permission to sail a different route. That means you're guaranteed a magical experience exploring the karsts up close and personal on kayaks, and feasting on deliciously fresh seafood every night.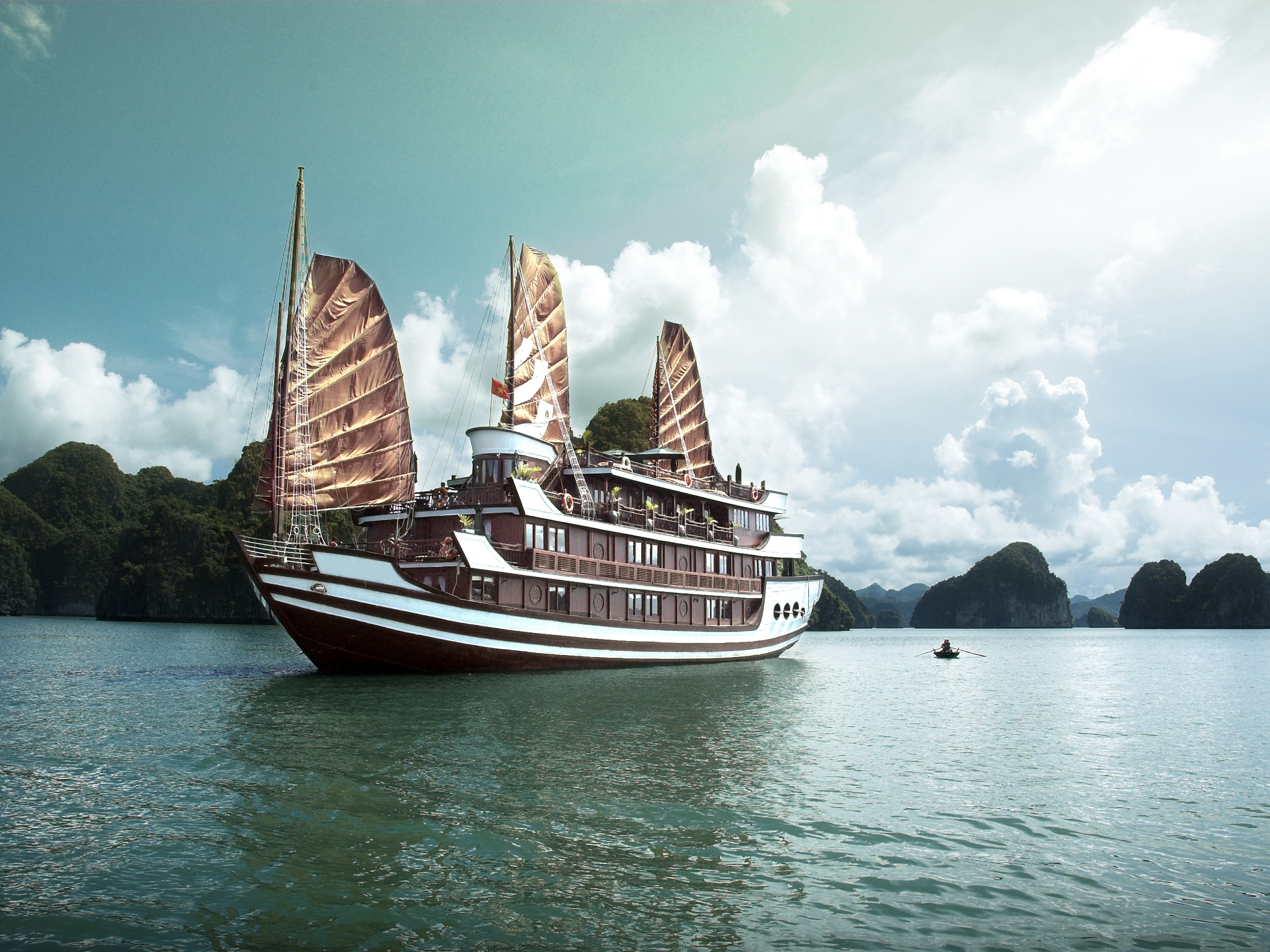 4. The shopping…
Oh, the shopping! Reason enough to visit Vietnam. In particular, the shopping in Hoi An, an old town in central Vietnam where tailors line the streets. They can make any clothing you like (literally – take a picture in a magazine and they'll find a way to make it). And it's custom tailored so it fits like a dream. The tailors can copy anything or create it from a picture or you can choose from their display items or leaf through magazines. Pure wool coats, dresses, shorts, suits, shirts – you name it, they'll make it. One of the things to be careful of is that you want to choose the right tailor – some of them are known for using poor quality fabric or not taking the right care with finishing details. Take a day or two to look around and get a feel for the options, chat to other tourists, look up reviews online and you'll be able to find your perfect fit (pun intended).
…. And the food!
Of course, Hoi An isn't just known for their tailors. It's also a town rich in history and flavour. Hoi An is a wonderfully walkable city. The old city section doesn't allow any motorized traffic, so it's all cobblestones and brightly coloured Vietnamese lamps. If you're there on full moon, there's something called Hoi An Legendary Night where they don't light any electric lights in the old town and have all kinds of musical performances.
Also see: Vietnamese Street Food Guide: Eat Your Way Around Vietnam
The riverside area is also home to some amazing restaurants, including Blue Dragon. Here you'll find amazing traditional Vietnamese food (think shrimp dumplings, rice paper Vietnamese rolls and pho noodle soup) and a portion of the profits go to a local children's charity. Vietnam is also known for its bread and pastries, thanks to its French history, so you'll find some amazing croissants and baguettes – check out the Cargo Club Hoi An Patisserie for a taste of France in the middle of South-East Asia.
The easiest place to fly into if you want to explore Northern Vietnam is Hanoi. From there you can catch a train to Sapa and find the right company to go on a Halong Bay trip, as well as explore the rich culture of the city of Hanoi itself. Don't miss a water puppet show! The Hanoi Guesthouse offers comfortable double rooms with breakfast for $36 (about R450) and is centrally located.
Also read: Your Complete Guide on the Best Time to Visit Vietnam
And: Vietnam Visa Requirements for South Africans
We hope these Vietnam travel tips were useful. Have you been to Vietnam, do you have any tips to share? Please share your experiences in the comment section below. If you haven't been, now is the time to book cheap flights to Hanoi!
*Disclaimer!
All information on this blog page was correct at the time of publishing and may change at any time without prior notice. Travelstart will not be held liable for loss or inconvenience resulting from the use of out-dated or incorrectly noted information.