As SA Tourism gets ready to wow us with the second #InstaMeetSouthAfrica, we thought we would wet your palates with a quick rundown of the most Instagrammable spots in our beloved Mzansi!
In celebration of 25 years of democracy, we went ahead and picked out 25 exquisite South African wonders worth checking out. Whip out your camera, pack some comfy shoes, and get ready for an eyeful of awesome.
1. Blyde River Canyon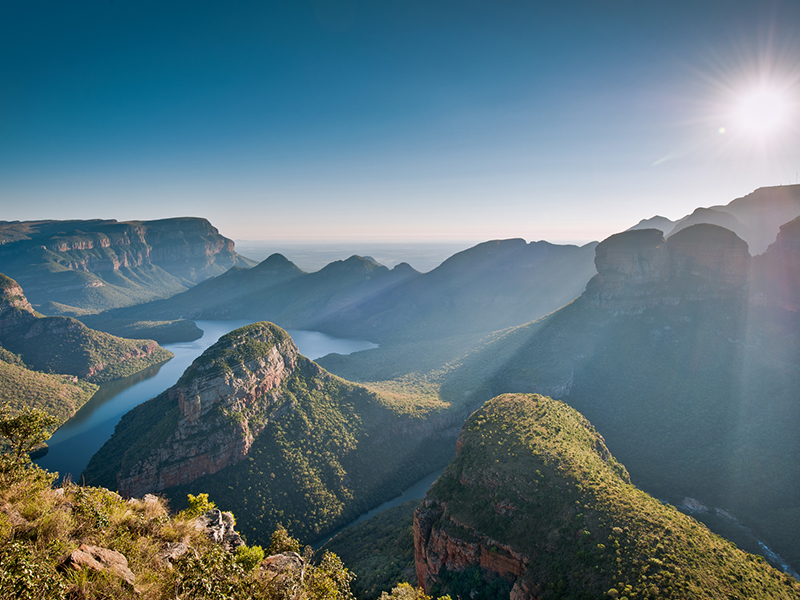 Head for Drakensberg majesty when you treat yourself to panoramic views of the Blyde River Canyon. Now officially known as the Motlatse Canyon, this tourism gem boasts the third largest canyon in the world. Between the cold misty mountains and the drier low veld, you are guaranteed an unforgettable nature experience. For the more adventurous at heart, the Blyde River Canyon Adventure Centre offers some sweet activities to get the blood pumping. Choose from quad biking, white river rafting, geckoing and much more. Go forth and capture this natural wonder.
2. Bourke's Luck Potholes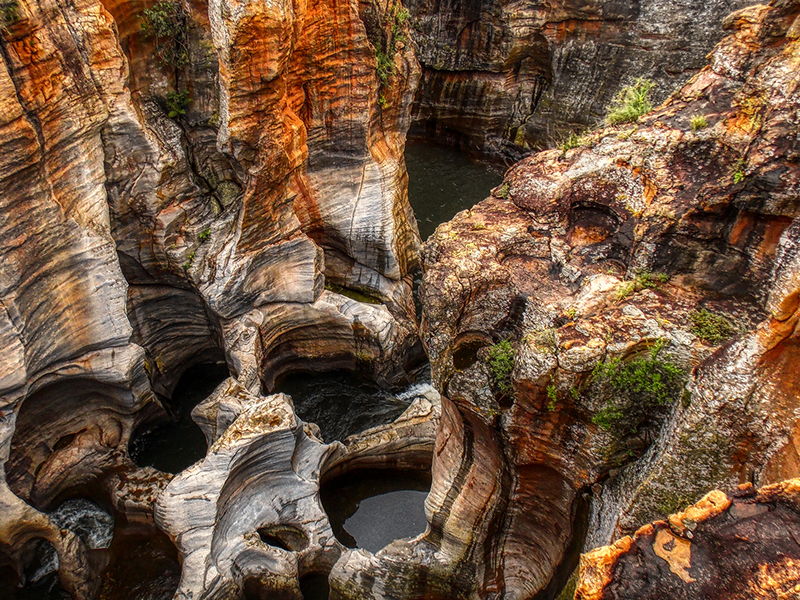 A Blyde River visit is not complete without a visit to the Bourke's Luck Potholes. This geological marvel is a result of the meeting of the Blyde River (river of joy) and the Treur River (river of sorrow). Thousands of years of water erosion has caused cylindrical rock formations to be carved by swirling water. Walk among multicolored swirls of naturally sculpted beauty and collect some memorable snaps while you're at it.
3. God's Window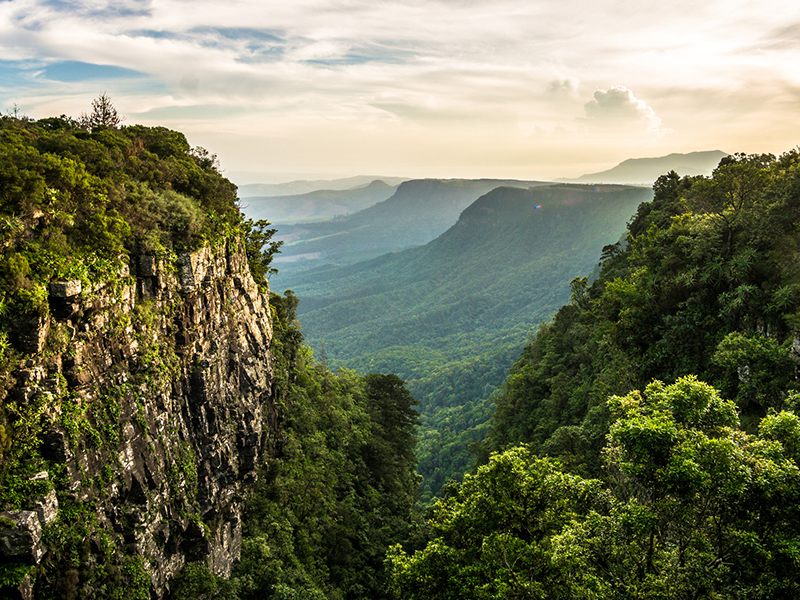 Aptly named, God's Window offers the happy traveller unbelievable views of the lowveld landscape and the Blyde River canyon surrounded by lush vegetation and fairytale mountains. When weather conditions are just right, you can see all the way to the Kruger National Park and even Mozambique (Yes, Mozambique!). Get out your wide-angle lens, take a long look and capture this idyllic, bucket-list worthy landscape.
4. Kgalagadi Transfrontier Park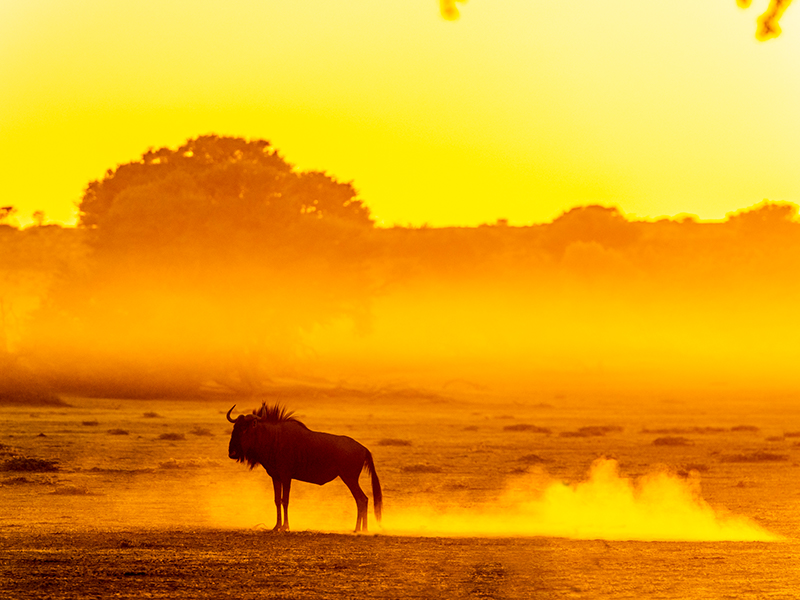 Pack your bags for an African sunset, red sand dunes and wildlife for days. Sunset drives in the Kgalagadi Transfrontier Park are an adventure into sightings of black-maned lions, eland, springbok, leopards and more. Set against the backdrop of an orange, yellow and purple lit sky, the camel thorn trees provide the perfect setting for gorgeous silhouette shots of sheer African beauty.
5. Augrabies Falls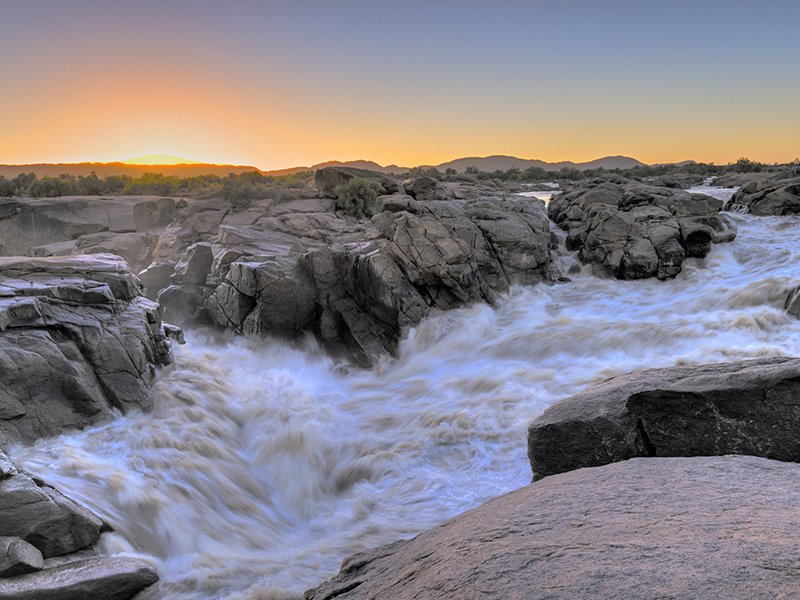 Turn on your ASMR tingles at the Augrabies falls or "Aukoerebis" (place of great noise) as it called by the Khoi. Here, the Orange River Gorge makes magical music as the powerful yet calming water drops into a natural chasm. There's nothing quite like the sound of roaring waters to wake up the senses and light up your Instagram boomerangs.
6. Table Mountain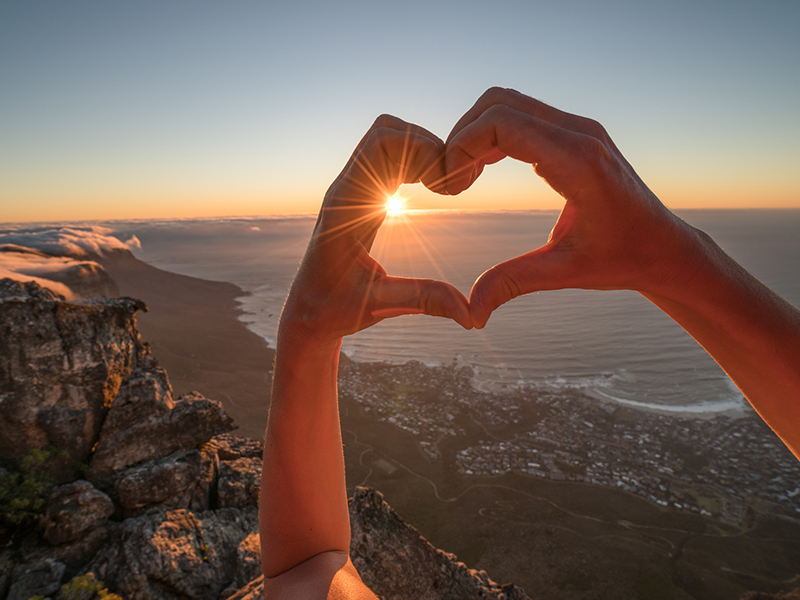 The Atlantic Seaboard is best experienced from atop of our beloved mountain. Known as "Hoerikwaggo" or "Mountain in the sea" to the Khoi, legend has it that this is where God dwells, and when you take in the breathtaking views from the top, its no small wonder why it is so called. Bask in the greenery of the mountainside as you take a rotating cable car up this Cape Town titan and watch the clouds part like a curtain of white cotton candy to make way for an absolutely spinetingling view of the Mother City.
7. Robben Island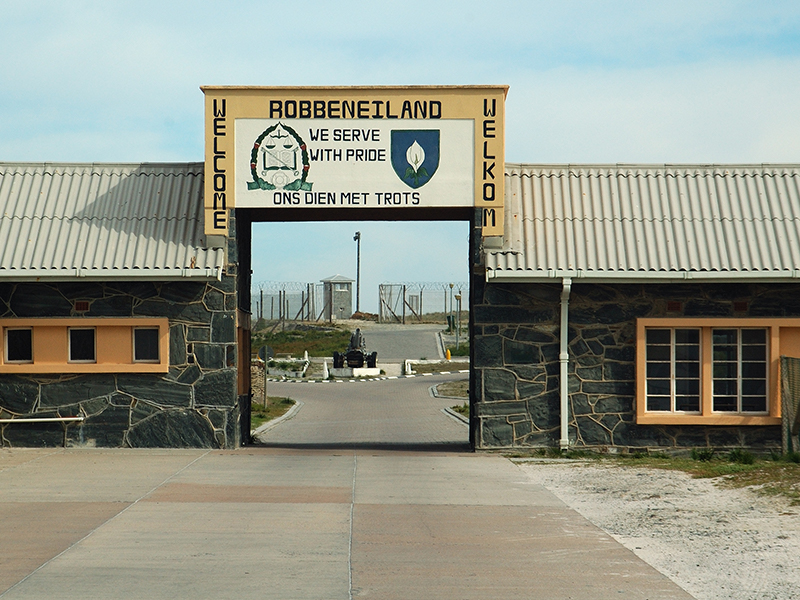 Perhaps the most iconic South African landmark, this sea fortress was home to Tata Madiba and other Apartheid stalwarts for almost 30 years. Hop aboard a ferry from the V&A Waterfront and go on a guided tour of this prison turned museum. A paradox of beautiful scenery and ugly history, Robben Island provides invaluable insights into Apartheid struggles, and the landscape is definitely worth a picture or ten. Snap shots of the infamous limestone quarry, the actual jail cells, as well as the beautiful surrounds.
8. Cape Point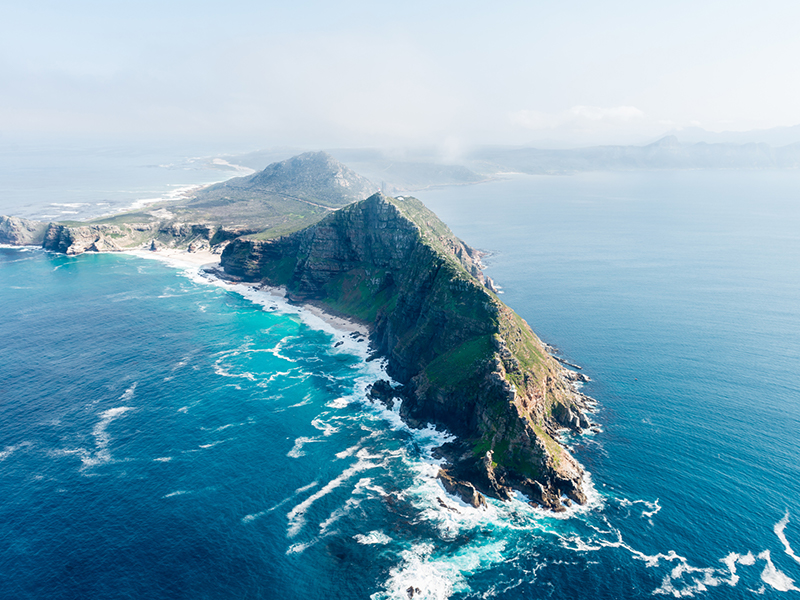 Famed for paradise-worthy beaches, extensive displays of fauna and flora and beautiful hiking trails, Cape Point offers the lowly instagrammer a unique photo experience. Snap a shot of the exact place where the Atlantic and Indian oceans meet and cross that off your travel to-do list. Don't leave without taking a hike along one of the picturesque Cape Nature Reserve trails and snapping images of unique Cape Town vegetation. Not that into fitness? No problem! Pack some camping chairs and delicious eats and treat yourself to a picnic with a view!
9. Bo-Kaap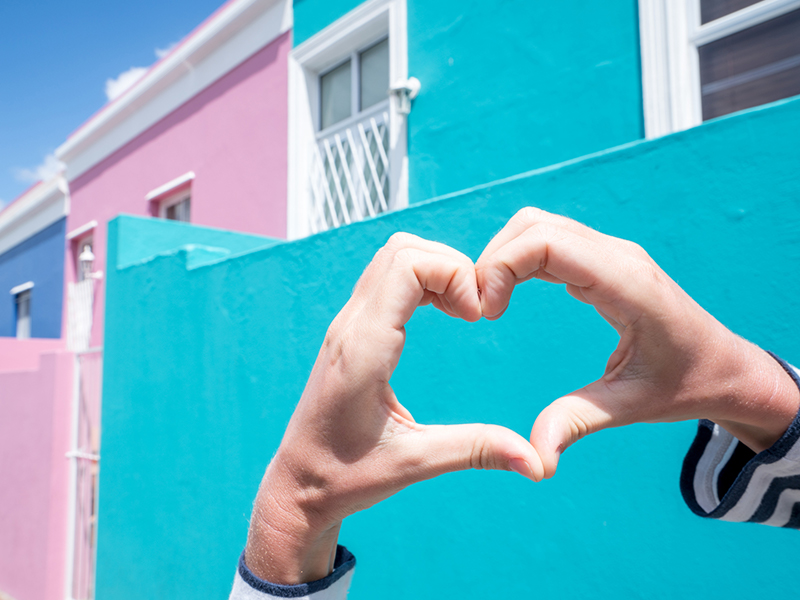 Known for a colourful display of beautifully painted houses, cobbled streets for walking, and delicious cuisine for eating, Bo-Kaap is always worth a visit. Let your creative juices flow among the pinks, greens, yellows and blues of this Cape Town heritage site before indulging your palate in traditional Cape Malay Cooking. Once you go spicy, your chakras are feisty!
10. Kruger National Park
Relax your mind and rejuvenate your soul at the Kruger National Park. Nothing calms the psyche quite like witnessing majestic elephants or lordly lions stalking around in their natural habitat. Hop aboard a game drive and snapshots of the infamous Big 5 and more as they make their humble abodes in the African bush. Feeling bold? Sleep over in a rustic camp and experience the true meaning of Africa. Ranked the best wildlife experience in Africa, the Kruger National Park promises remoteness, tranquillity and absolute seclusion.
11. The Cradle of Humankind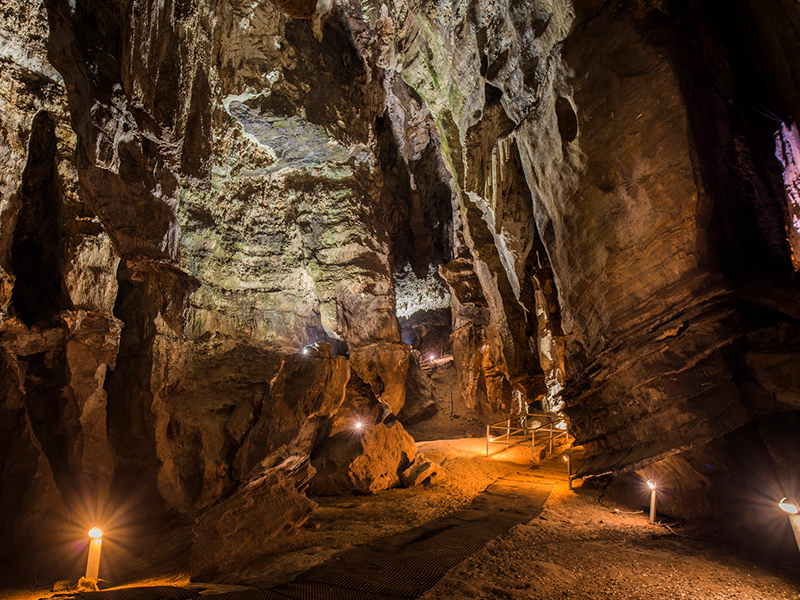 Return to the origin of the human race by heading to this heritage site in Johannesburg. Home to expertly preserved fossil-bearing caves, the Cradle of Humankind boasts a record of human evolution spanning over the past 4 million years. A whopping 40% of the world's known human-ancestor fossils can be found here – talk about going back to your roots! Take a guided tour of the impressive site and see the previously undiscovered "Homo Naledi" species of humanoid, or go and check out the famed Australopithecus Africanus skull, Mrs Ples. Either way, your insta-feed will thank you and so will your sense of culture and history.
12. Hartebeesport Cableway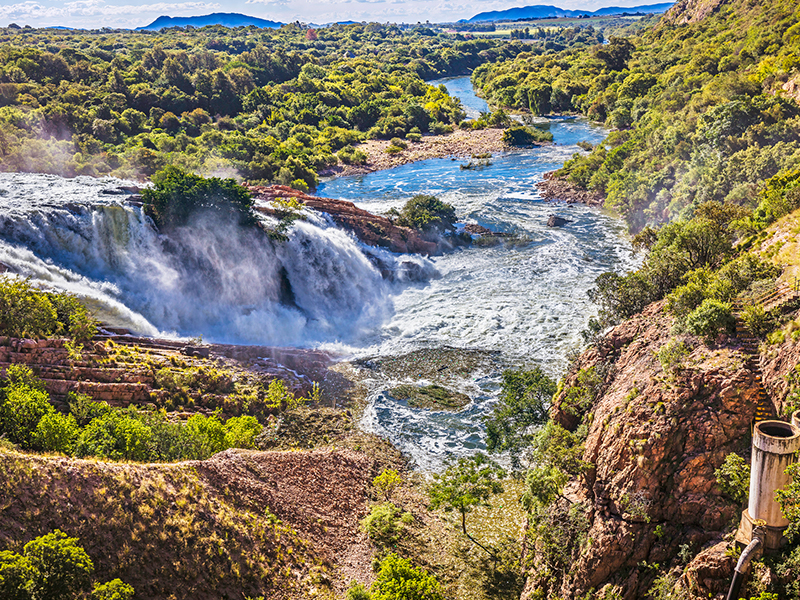 If you thought that South Africa only has one aerial car to offer, you were wrong and your adventure awaits. Take a peacefully scenic ride up to the top of the Magaliesberg and relax on one of the viewing decks. On a clear day, take in sites of the incredible mountain terrain and even the Coca-Cola Dome! If you're lucky, you may spot endangered species of vultures as they take flight to and from the nearby vulture sanctuary.
13. Pilanesberg Hot Air Balloon
What says "Africa" quite like hot air ballooning over a gorgeous mountain reserve? Experience the Pilanesberg from elevated heights as you're whisked away among clouds peppering an azure sky. Take in views of herds of antelope, elephant and buffalo and throw back a glass of sparkling wine upon your descent. Hakuna Matata!
14. Nelson Mandela Bridge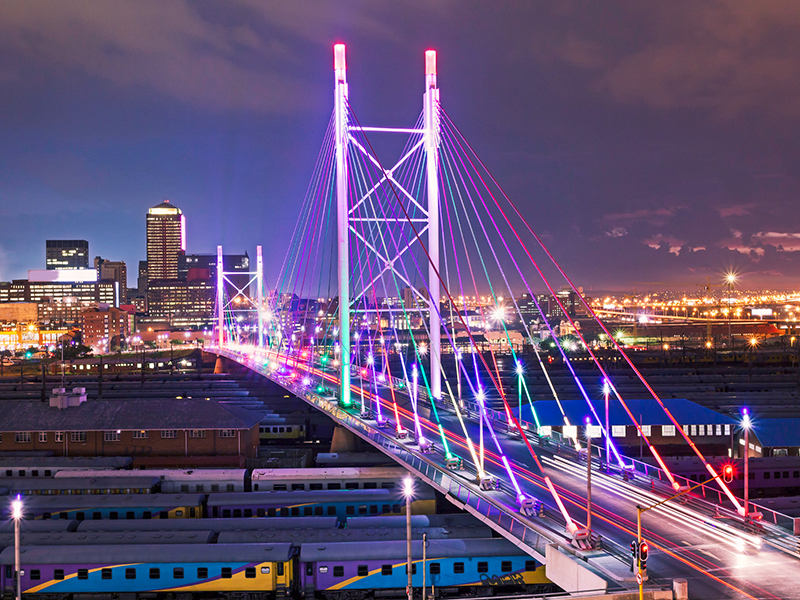 Experience the Johannesburg skyline from this relatively new addition to the Egoli landscape. The Nelson Mandela Bridge is lit up in rainbow colours at night and promises some truly awe-inspiring snaps of the City of Gold. The bridge was initially constructed to modernize the Jozi inner-city and has since fast become a cultural landmark, so be sure to make this your first stop before experiencing some Joburg nightlife.
15. Freedom Park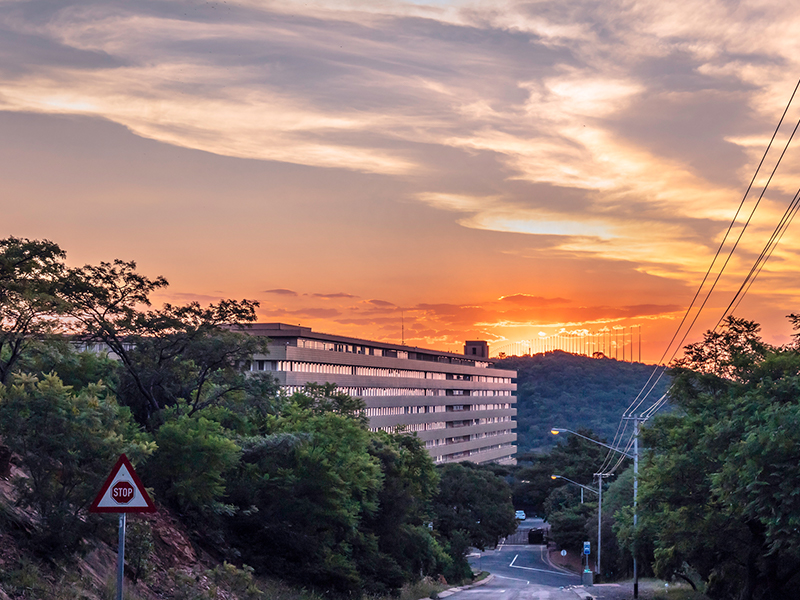 A celebration of freedom, diversity and South African heritage, Freedom Park promises a reaffirmed connection to the rainbow nation. Freedom Park hosts a museum and memorial site dedicated to those who contributed to the liberation of all South Africans. Make your way to Pretoria to experience this iconic landmark while getting yourself a healthy dose of culture and history.
16. Valley of Desolation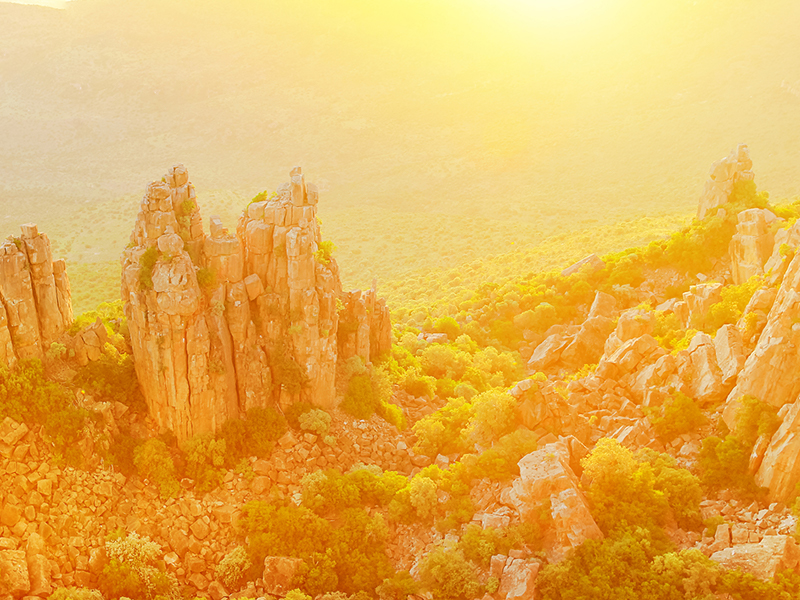 Next stop: Graaff Reinet! The Valley of Desolation is always worth a visit for geological enthusiasts. Check out this awesome piece of Volcanology spanning over 100 million years. Precariously balanced columns tell breathtaking stories of volcanic and erosive forces of nature and dish out not-so-subtle reminders of how beautifully destructive mother nature can be.
17. Cedarberg Arch
Feeling brave? Hike the Wolfberg Arch Trail over 2 days and show us what you're made of! This gruelling 7-hour trail will reward you with views fit for royalty. Start at the Dwarsrivier farm and make your way to the Arch via the Wolfberg Cracks. The majestic rock formations at the end will make all your toils worth the journey. Don't feel like running up a mountain? We don't blame you! You can drive with little to no scrambling and experience the same absolute viewing pleasure.
18. Hole in the Wall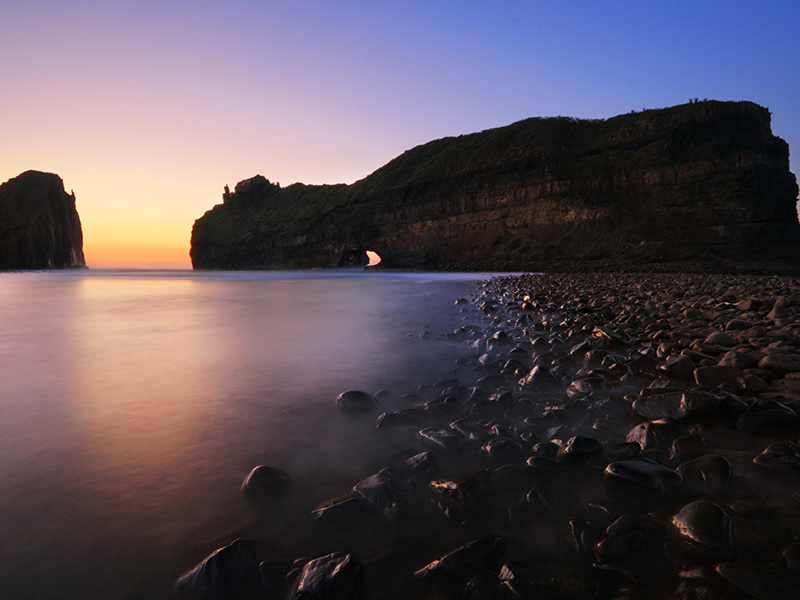 Heed the call of the Eastern Cape and immerse yourself in tranquil remoteness made gorgeous by vast expanses of unspoiled coastline. Escape the stresses of modern-day city living and go and check out this tidal island with its extraordinary natural arch. The arch takes the form of a hole pierced through a wall of sandstone and shale and is kissed by the waves of the sea at the mouth of the Mpako River. This Wild Coast gem promises a getaway well worth the break from the amenities of big city life.
19. Storms River Mouth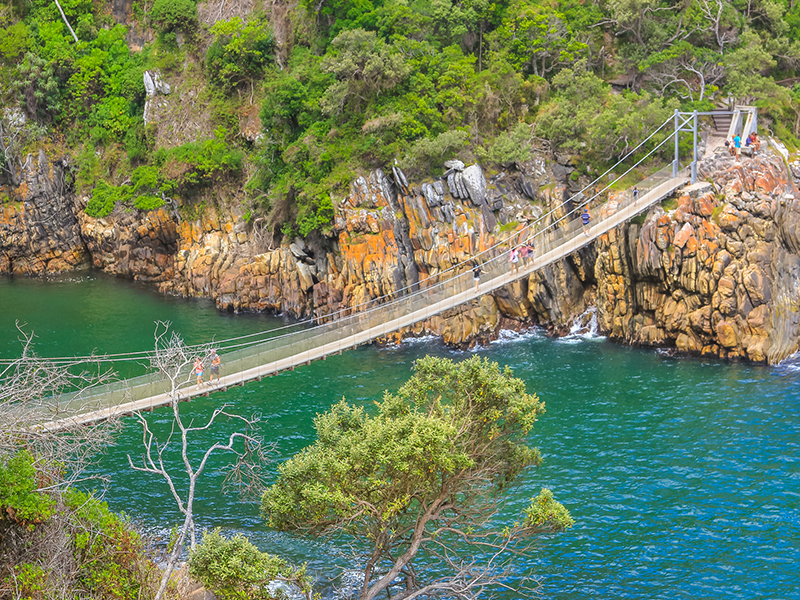 Venture into the ancient Tsitsikamma on the Garden Route and experience views of dolphins and more frolicking in the Indian ocean breakers. Walk along the Storms River Mouth boardwalk and meander through the forest towards the Storms River Bridge. This 77km suspension crosses the river mouth and offers spectacular views of the crashing waters below. Bask in nature before making your way back to the Storms River rest camp for a caffeinated beverage of your choice and the infamous Tsitsikamma biltong. Life is always better with coffee!
20. The Tankwa Quiver Tree Forest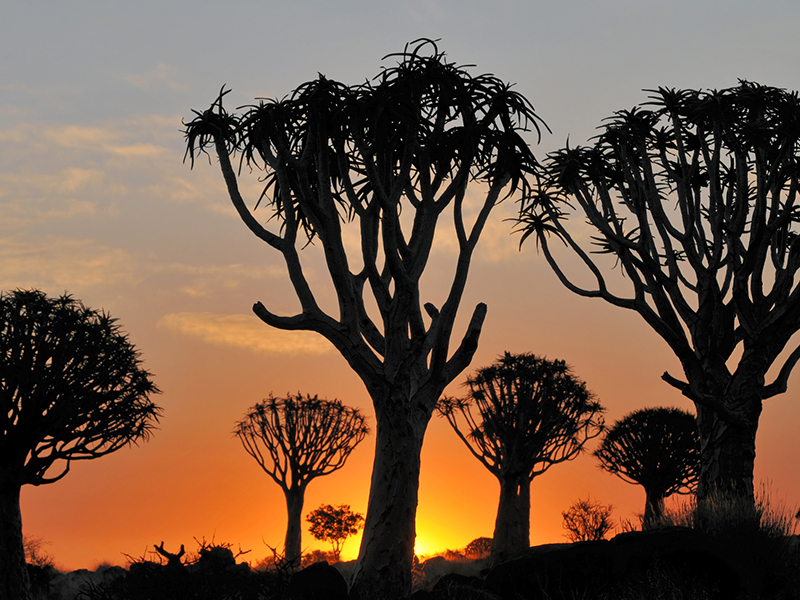 Forage a forest of Kokerboom (Quiver) trees at the edge of a sea of wildflowers on the road between Nieuwoutville and Loeriesfontein. The trees, so named because of their use as quivers for the arrows of locals, offer an interesting viewing experience in that the trunks fork and divide into arms reaching for South African skies. Why not have a little photo shoot among the natural flora?
21. The Drakensberg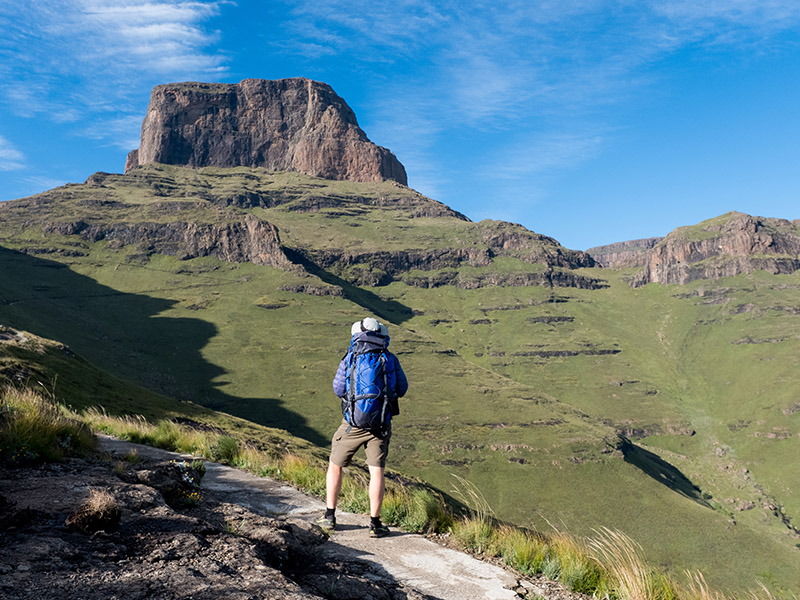 The Drakensberg is a true South African marvel. The great expanse of mountainous escarpment forms a natural border between Lesotho and KwaZulu Natal and boasts over 200km of sheer mountain joy. This awe-inspiring mountain encloses the central South African plateau and thus promises elevated views of well over 3000 meters above sea level. How's that for living the high life?
22. The Sani Pass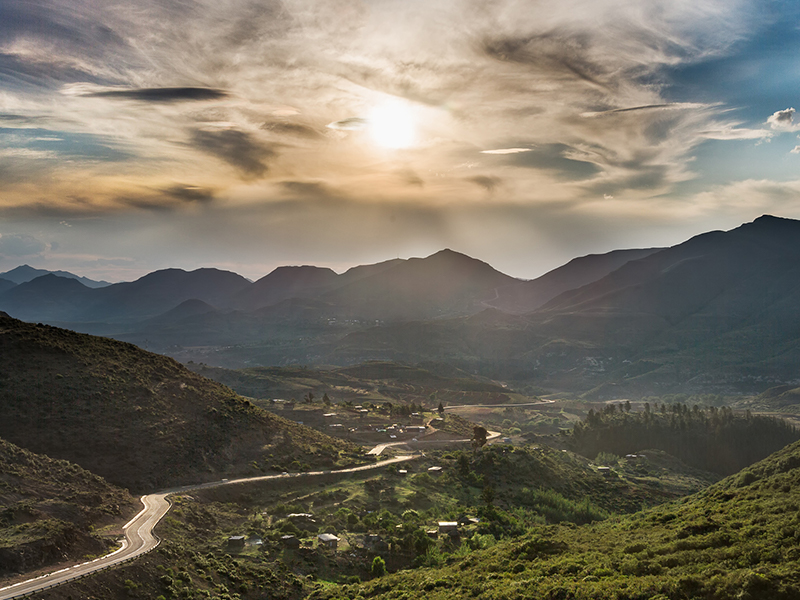 This mountain pass is located on the road between Underberg in KwaZulu Natal and Mokhotlong in Lesotho. Go on an adventure when you take a guided tour through this incredibly beautiful pass before making your way down to a fully functional Basotho village where you can hang out with the locals, do some shopping and tuck into some scrumptiously unique eats.
23. The Durban Golden Mile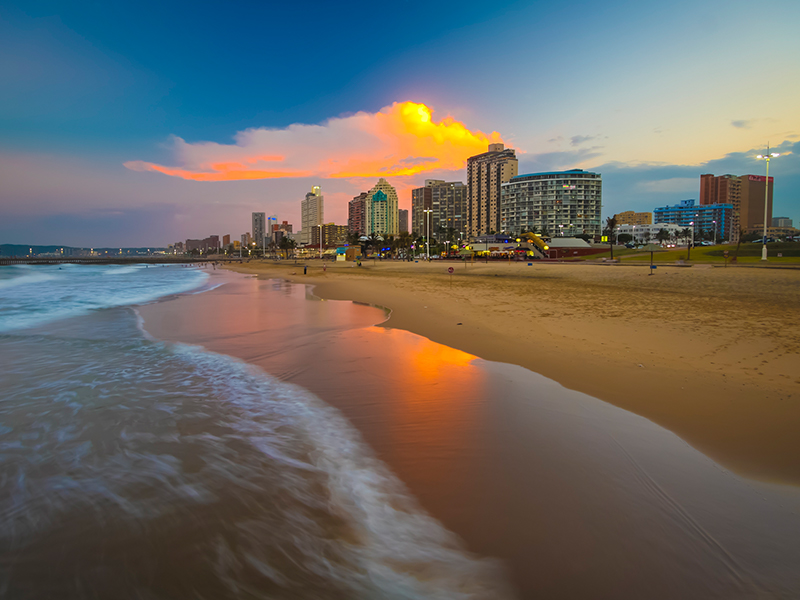 Forget the Mile-High Club, the Durban Golden Mile comes with a stretch of gorgeous beachfront views and locals who can't wait to show you a good time. Stretching from South Beach to the Suncoast Casino in Durban, the seemingly unending golden sand along this world-class coastline promises beach and reef seekers an escape like no other. Snap some photos of the waves as you turn a lovely shade of holi-yay brown. Don't forget to pack your sunscreen!
24. The Oribi Gorge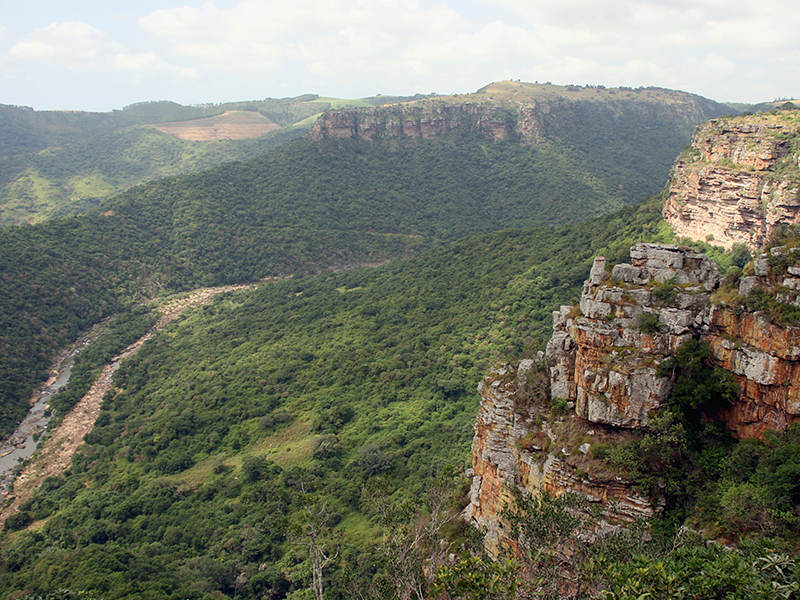 Found 21 kilometres inland of Port Shepstone, The Oribi Gorge is the perfect backdrop for a scenic picnic or an incredible hike. The cliffs and forests hide antelope and oribi who sometimes grace travellers with their presence for photos and general awe-inspiring grace. Here, spectacular sandstone cliffs have been carved out by the Umzimkulwana river and the walking trails on their own offer quite the viewing experience. Pack a light lunch to make your stay that much more special.
25. The Golden Gate Highlands National Park
The Golden Gate Park takes its name from the shades of gold reflected by the sun on the park's sandstone cliffs. Nestled among the rolling hills of the Maluti Mountains, this park is an absolute must-see for anyone making their way to the Free State. Feast your eyes on the Caledon River before making your way to the Welbedacht Dam in the southern part if the reserve. Be sure to keep an eye out for rare wildlife like oribi, zebra and bald ibis. Booking is not essential.
South Africa has no shortage of photo-worthy locations to explore, and with all these natural wonders to behold, we're sure your insta-feed will be well and truly transformed while you have the time of your life!