There are quite a few things to consider when booking your perfect flight! Once your destination and dates have been finalised, you're set with the task of booking your seat in the cabin class of your choice. There are often quite a few options here, and if your budget allows, you can go wild.
So, which cabin class is best? What are the differences between Economy Class, Premium Economy Class, Business and First Class?  If you're looking for the best seats on a plane, we'll break it down for you and have you seated in the cabin class that suits you best!
What are airline cabin classes?
Cabin classes are the different types of seating available on a flight. There are numerous things that factor into a cabin class. Remember that the more expensive your flight ticket is, the better the facilities of your cabin class are. Things such as how many passengers in your cabin, the size and length of your seat, what kind of food is served, as well as amenities offered to you, all have to do with the airline cabin classes.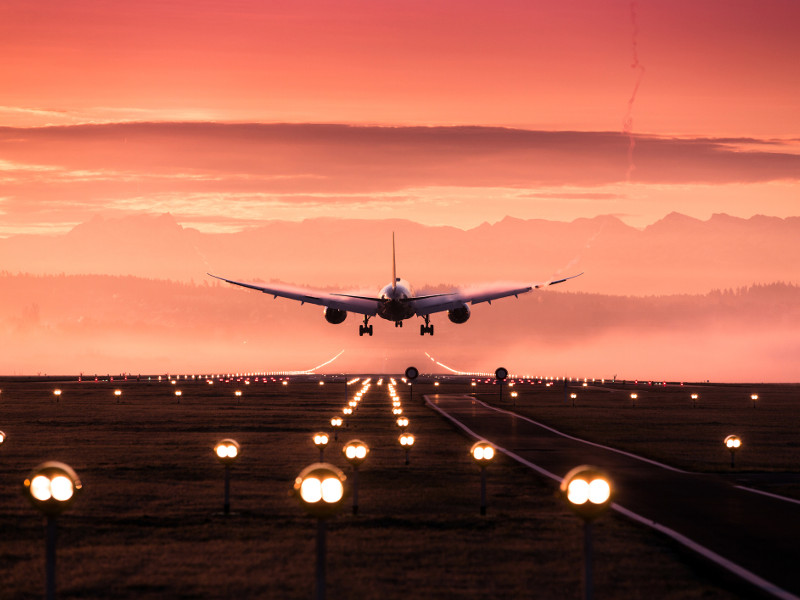 How many classes are there on a flight?
The amount of cabin classes depends on the airline that you'll be flying with, but there are traditionally three cabin classes. These are Economy Class, Business Class and First Class. Depending on the size of the airplane and its seat configuration, you may find more or even fewer cabin classes.
For example, a smaller plane that only has room for 30 passengers may only have one cabin class, Economy. On the other hand, if you're lucky enough to be invited to join a 10-person only flight on a private plane, you may experience First Class service and certainly have the best seat on the plane!
Large airplanes may also incorporate an in-betweener cabin class to their flight – Premium Economy Class. This is ideal for those passengers that are looking for a bit more from their flights with a little extra budget to push.
For top of the industry airlines such as Emirates and Etihad Airways, who often cater to the rich and famous, you can also find private suites. This is a cabin class that is completely separate to the rest of the cabins and may come with proper sleeping quarters, sleep area and/lounge and a private chef.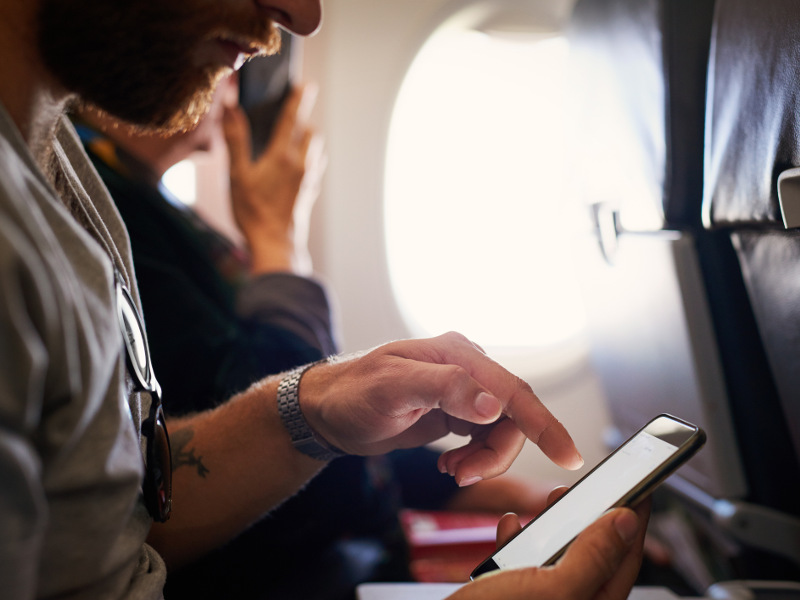 What does each cabin class offer?
Economy Class
These are usually the least expensive tickets for a flight and offer the most basic services and amenities. On larger airplanes such as a Boeing-737, the seat configuration of Economy Class is 3-4-3. On a Boeing 777, there are 385 seats in this cabin class, in comparison to the 42 seats available in Business Class.
International flights
Economy Class on international flights offer all of the essentials that you need and, other than the lack of personal space, you will not want for much. Most international airlines offer personalised screens with limitless viewing time, at least two options for your meals, free beverages and adequately comfortable seats. Many airlines also offer free or paid WiFi. If you'd like a bit more space, make sure to check in ahead of time (online or first in the queue at the check-in desk) and choose to sit right in front of the cabin class, by the exit rows, or along an aisle. Window seats offer a view and are also a good option. Keep in mind that you will have to pass your fellow passengers to stretch your legs or head to the loo.
Meals on international flights are served hot, along with snacks and beverages. And if you have any dietary requirements, you can easily notify the airline when booking your flight or at least a day or two in advance. Most airlines that fly internationally also make sure to include amenity kits for longer flights. These often include all of the basics that you will need to enjoy your flight comfortably, such as an eye mask, flight socks, earphones and a toothbrush.
Domestic flights
Economy Class on local flights may have fewer facilities to offer. South African local carriers, such as Mango and FlySafair, offer discounted prices in exchange for niceties such as hot meals and personalised screens. As these flights are often only a few hours long, you may not miss these extras  too much. There are on-board cafés that you can purchase snacks from, and you can sometimes pay a bit extra for priority seating that includes early boarding and snacks. You can also pay more for a seat with extra legroom.  
Premium Economy Class
Not all airlines offer Premium Economy Class, but those who do, offer something truly wonderful – that perfect gap between Economy and Business Class. Many airlines that have this cabin class do so with a price tag that fits between two classes. Passengers that fly in this cabin class are greeted with a welcome drink as they sit down, and are gifted amenity kits that may have one or two additional pieces than that in Economy Class. Some airlines offer these amenity kits in fancier packaging and include things like pens, earplugs and soaps.
The most important thing about Premium Economy Class would have to be the additional seating space. The seats are usually wider, with more elbow room and a very comfortable headrest. Certain airlines offer seats that recline a lot further back than those in Economy Class. When flying overnight with Lufthansa, passengers are also given access to the Business Class lounges at no additional charge. As for meals, British Airways offers three-course meals to their Premium Economy Class passengers, served on bone-china with linen napkins. For its price tag, these might be the best seats on a  plane.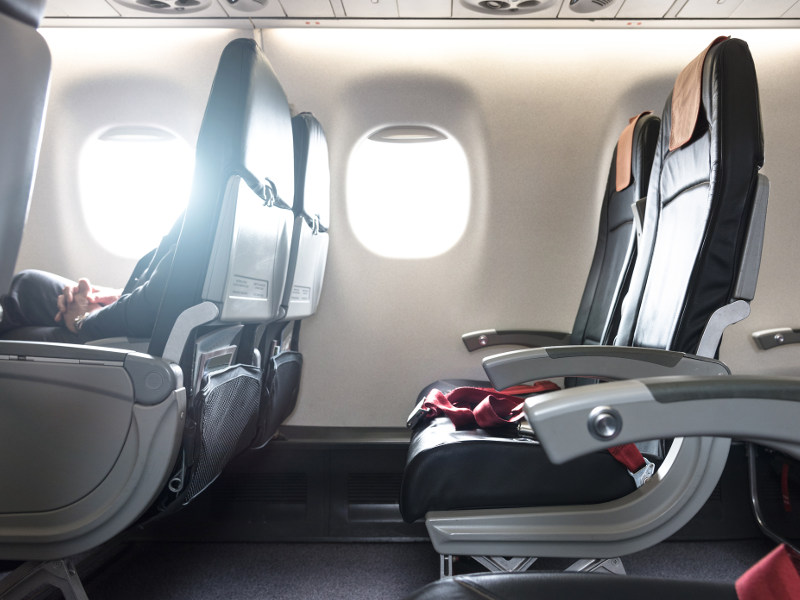 Business Class
Business Class has a lot to offer its passengers, with a wide array of facilities available both on the ground and in the air. Be prepared to be treated like a VIP by the airline as your needs are taken care of throughout your journey. Business Class comes with its own check-in queue at the airport, and of course, priority boarding.
Onboard, most airlines offer spacious leather seating that reclines to fully-flat beds. If not a fully-flat bed, you're still guaranteed a very comfortable seat. You have the option to dine off a large menu and eat whenever suits you best. There is also an unlimited supply of beverages, including alcoholic drinks. Even your earphones are special, with airlines, such as Qatar Airways, introducing special noise-reducing earphones that are only available to Business and First Class passengers.
The lighting in this cabin class is unique and passengers can look forward to mood lighting throughout the various stages of their flight. On the ground, Business Class passengers have their own grand airport lounges. Expect fine dining meal options, spacious areas for rest and work, bathrooms that include showers and, in some cases, a spa. Tickets are expensive though, and you could pay anything between double and three times the price of your Economy Class ticket.
First Class
Luxury is the name of the game in First Class. Passengers flying in this cabin class have access to the best facilities of their airline of choice and are treated to extra special services. Alongside things such as priority check-in and boarding, some airlines, such as Singapore Airlines and Qantas, also offer complimentary chauffeur and pick-up services from your home or hotel.
Seats are always able to fully recline into comfortable beds, alongside large TV screens, personal desk lamps and a number of other facilities. Amenity kits are amazing with mini perfumes, designer gifts, full pyjama sets and even specialised bedding, such as those found on  Air France flights.
With meals, those in First Class can expect only the best. There is often a private chef that looks after the culinary needs of those in this cabin class and is available to create any of the many, many options from a fine dining menu, or whip up something requested. Passengers are seated in individual pods and there are only between 10 and 12 seats available per flight.
As with Business Class, First Class passengers have access to premium airport lounges.
Private Suites
For the top 1% of the world's elite, or those looking to just splurge on the most expensive and best seats on the plane, some airlines offer their passengers private suites. As you can imagine, there is nothing that can quite compare to flying in your private enclosed room (with your own bathroom!) and a personal assistant to see to whatever you may fancy. Singapore Airlines, Emirates and Etihad are currently the only airlines that offer private suites.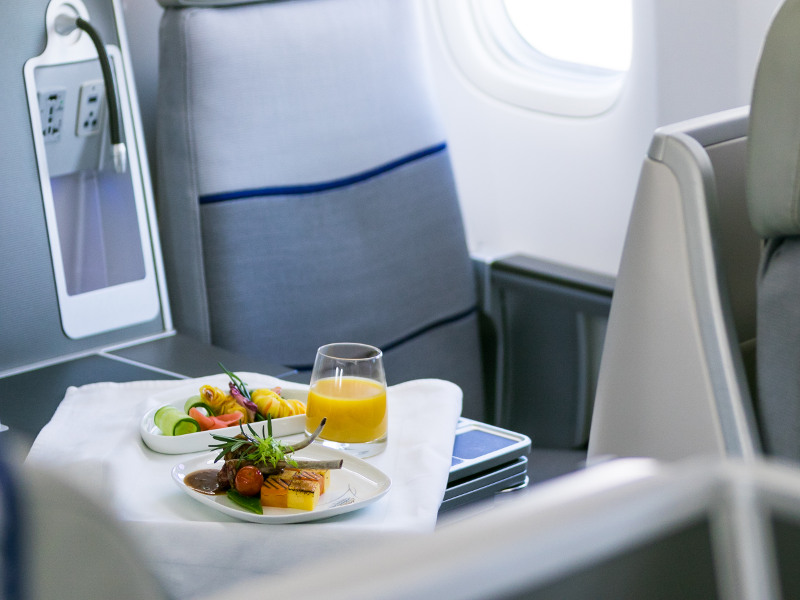 Should you upgrade your ticket to the best seat on the plane?
If you're flying for more than five hours and would sincerely appreciate the comfort and ease of better service and comfortable seating, then yes, you should upgrade your seat. For short, local flights, you could overlook the smaller seats and lack of facilities that you get with a budget flight ticket. For two hours, you could easily sit between other passengers and assuming you don't take a nap, your seat in Economy Class will be more than adequate. If your budget allows though and you're travelling for many hours, then consider an upgrade.
If a First Class ticket is too expensive, an upgrade from Economy to Premium Class might be a lot more affordable. As for an upgrade from Business to First Class, there are fewer amenities than with the change in the lower cabin classes, so there is less of a reason to pay the extra money for the best seats in the house.
So, which cabin class will you be seated in for your next flight? Make sure to check out our flight deals and sign up to Travelstart's newsletter for updates on your next travel adventure!
Also read: How to get discounts on airline tickets