I spent my day in the air with Skywise Airline, the new independently-owned, low-cost domestic carrier that operates exclusively between Johannesburg and Cape Town. We took off from Cape Town at 10:20 and arrived in Johannesburg a prompt hour and forty minutes later. I caught the two-hour return flight to Cape Town later that afternoon. Watch the video below to get an idea of what it's like to be up in the air with SA's new low-cost carrier:
They Literally Roll Out the Red Carpet for You
This sounds like an exaggeration however you'll find red carpets and roses waiting for you at each check-in station. Carol Wyngaardt, a Skywise passenger flying for the second time, told me she liked that their check-in area was so easy to spot. A passenger who usually flies on business-class carriers reported:
"When I arrived at the check-in counter I had a chuckle at myself seeing the red carpet and roses and this friendly assistant just showing teeth. I had to look up and make sure I was heading for the right counter. Thinking to myself (SA needs this! An airline making people feel welcome). At the desk I was stunned when the lady said, 'Good Afternoon, how are you today?' I am usually greeted with, 'ID please, bag on the belt'. So firstly thumbs up for whoever thought of the red carpet. Secondly, lady with the bright smile you eased a very agitated and nervous flyer today simply by being polite."
Also read:
Check-in was over in 30 seconds as I wasn't carrying much except a camera bag. (Skywise does not offer online check-in just yet but they are working on it). I was pleased to note there's 20 kg free baggage per person so the option is there if you have lots of stuff to transport, especially students flying home for the holidays. Also you can check two bags, including sports equipment. Infants under-two fly free but then you are required to share the 20 kg, if you are flying with a child over two, you'll pay for a separate ticket and then you'll have 40 kg of luggage available between you.
They're Low-Cost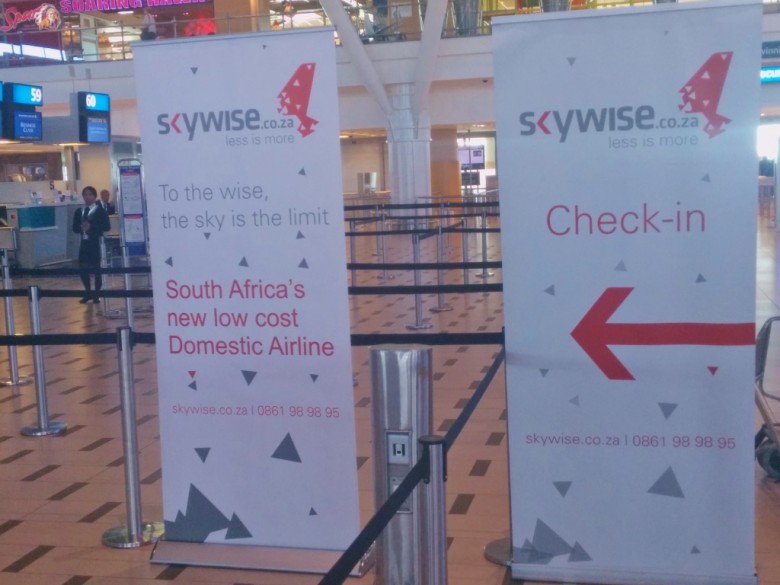 Johan who was flying for the first time to Cape Town on Skywise, said he had a smooth online-booking experience and that he chose the airline because they were well priced: "If it's a business trip then cost isn't going to be my primary concern, but when it's personal it is going to factor into my decision".
Charl, a first-time-flyer with Skywise, said he was happy with the ample legroom and leather seats. Though he added that he was waiting to see the fruition of the offers in the May copy of Skye. Skye is the A5 sized travel and lifestyle mag you'll find in your seat-pocket (see the video at the top of the page). Carol Wyngaardt added that she's pleased with their service but wishes the Skywise website had been more clear about how much time there was to pay after booking. She lost her booking because of this but fortuitously managed to make another booking for the same price.
They're Expanding Their Flight Times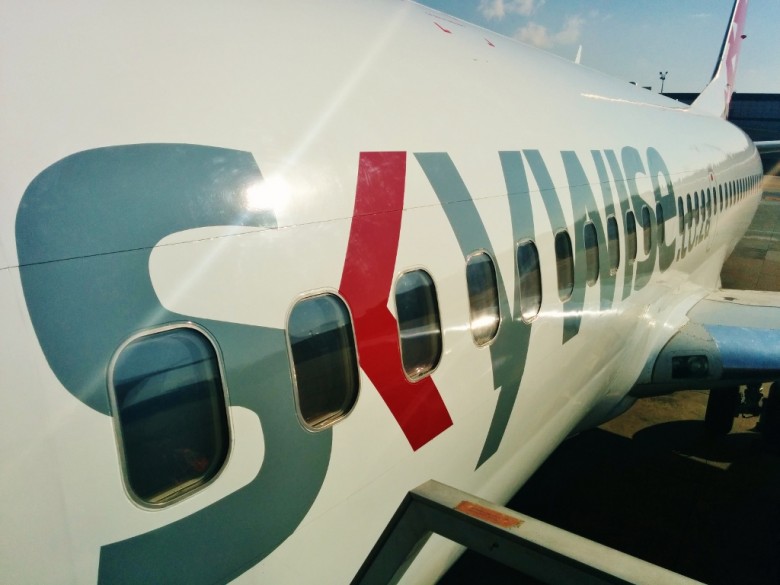 Leon Botha, the manager for Skywise at Johannesburg Airport, told me that from the 11th June they'll be introducing a daily early-morning flight, leaving at 06.20 to get business passengers to Cape Town by 8.20. He said getting everyone to their destination on time is the airline's top priority – another reason to become a Skywiser. They are also adding a later flight leaving Johannesburg at 17:55 and arriving in CPT at 20:00. They are capable of carrying 36 000 passengers per month at present and hope to increase this in the near future. More good news is that their ticket includes complimentary money-back insurance of up to R2500 in the event that Skywise has to cancel your flight.
The Coffee and Tea is Free

I had the tea on the way there and coffee on the way back as well as an enormous chocolate cookie for R10. There is something so ridiculously pleasant about getting a complimentary cup of tea/rooibos or coffee. Skywise is waiting on their liquor license so at the moment they only serve still or sparkling water, Coke, Fanta, Sprite, Coke-light, hot chocolate, apple and orange juice (ranging in price from R10-R15). Mariepa Vogelare said she'd had a pleasant flight down and that she only wished the menu was more extensive as she wanted to buy something more substantial. Luckily the flights are fairly short and you can buy sliced beef biltong at R30, wine gums at R10, chocolate bars at R15, a rusk at R5 and various other snacky items.
They are FRIENDLY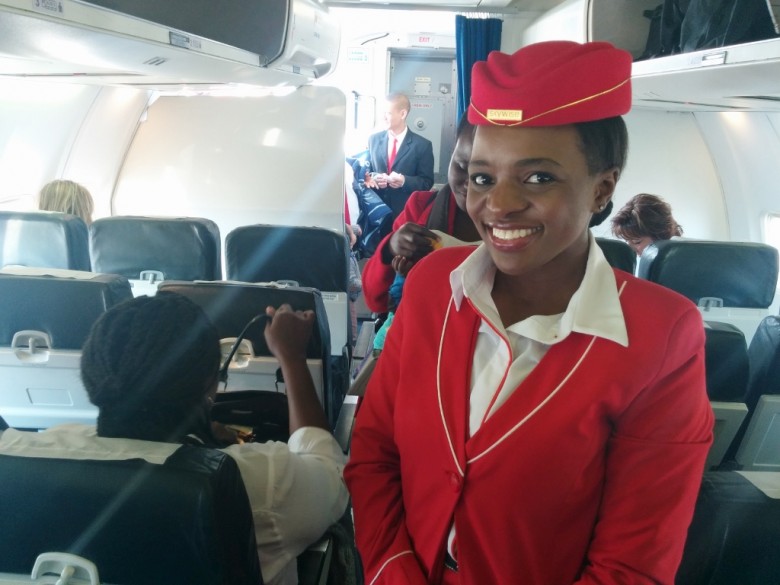 The team of pilots, check-in attendants, flight attendants are all very, very welcoming. I watched a flight attendant happily carry a mother's extra bag on the transport bus to JHB airport, while she carried her child. Yes, this is his job but he did it very cheerfully. Marlon Stephen emailed customer care to congratulate flight attendant Bradley for his "excellent service and hospitality" and pilot Garth White for his "communications and updates during the flight".
So all in all not a bad day in the sky.
Check out our Instagram account for more pics of our day out with Skywise.