Travelstart's Annie van Deventer recently took a flight to Zanzibar for a holiday. She's taken the liberty of compiling a handy Zanzibar travel guide and checklist.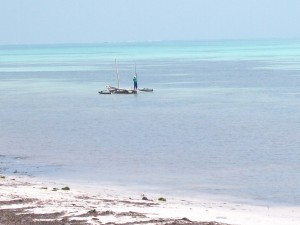 Go for your Yellow Fever injection and Malaria tablets before you leave your home country
South Africans – Exchange your Rands into US Dollars, it is the best  currency to have on you. Most Zanzibar hotels do accept credit cards
When you arrive in Tanzania exchange some of your US Dollars into Tanzanian Shillings. You will need small currency to tip the locals and to buy things
When shopping in Zanzibar, always ask for the cost in Shillings because if it's in Dollars you will be paying too much
Pack light clothes and sandals, it gets very hot in Zanzibar
Pack loads of sunscreen and a hat, there is nothing like bad sunburn to ruin a holiday
For the smokers, take a carton of your own cigarettes, as the cigarette brands available in Zanzibar are limited
DO NOT DRINK THE WATER.  Always drink bottled water and ask for drinks without ice in the local pubs as they may use normal tap water for their ice. Most Zanzibar hotels, like Coral Rock use bottled water to make their ice
Learn a few basic Swahili words. The locals love it when you greet them in their own language and it shows you have respect for them.  HALLO – "Jambo", a more slang greeting such as HI WHATS UP "Mambo, Weepee". I'M FINE – "Poa, Poa". THANK YOU "Asante Sana".  WELCOME "Karibu".  NO PROBLEM/WORRIES  "Hakuna Matata". ONE "Moja"; TWO "Billi"; THREE "Tatu".
Don't bring Tanzanian Shillings back to your home country. South African foreign exchange kiosks will not accept it
Don't bring back sand or shells, it is not allowed and you will be fined
When walking in the sea lookout for Sea Urchins. They look like little black balls with spikes that sit on the sea bed and they are very poisonous.
Read Annie's interview – 15 Minutes in Zanzibar.