Café culture is alive and well in the Mother City. Homey armchair hideaways with comfortable couches and the omnipresent free Wi-Fi are cropping up all over the shop … a crucial cuppa accompaniment when you consider many of these outlets are the networking domain of a diverse crowd from idle 'IGers' to modern entrepreneurs who've swapped clubhouse beers in favour of doing business over a well-bodied brew.
Cape Town's baristas, the captains of coffee, are knowledgeable; many of them as skilled at grinding out a single origin as they are expressing their artistic flair in your cappuccinos' tastefully decorated foamy head.
Next time you're looking for a place to fly solo for a while, meet a mate, woo your first date or catch up on business, look up one of these Cape Town coffee shops … they're bound to impress unless it's a Double Ristretto Venti Nonfat Organic Chocolate Brownie Frappuccino Extra Hot with Foam and Whipped Cream Upside Down Double Blended you want … in which case head to Starbucks.
Kamili Coffee, Greenmarket Square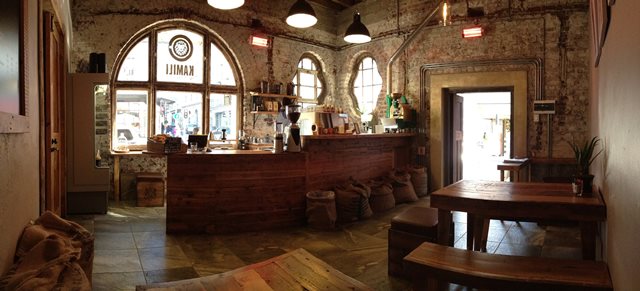 One of the Mother City's newest dens to kick back in a fragrant haze of caffeine induced bliss, Kamili Coffee resides in a rustically revamped corner of Shortmarket Street where Cape Town's iconic Purple Turtle once was. Whether your order is to stay or to go; the coffee has a strong emphasis on African beans; Kamili Khaya, a blend of Ethiopian and Ugandan sourced beans, being their trademark bean. The Greenmarket Square store gets our vote for being the ideal spot in the centre of town to catch your breath; sitting at one of the interiors warm rustic tables surrounded by raw brick, wood, hessian; and the comings and goings of a vibrant inner city coffee shop ambience. Owner Theo Snyckers' roaster is a practical and interesting cornerstone feature of his intimate shop, and it's a good place to stock up on beans for home and office use.
Contact Kamili Coffee: 083 444 5375 | View location
Empire Café, Muizenberg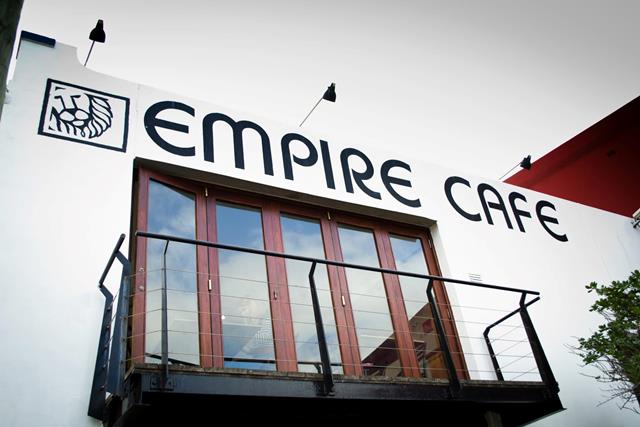 Possibly the best spot on the Cape coast to enjoy your post surf caffeine fix, lavish in surfed out satisfaction as you keep an eye on the conditions at the Corner from Empire Cafés first floor, or enjoy the buzz downstairs – a conveyor of coffee creating and croissant consuming activity.
Owner Dave Jones says:  "Empire is, was, and likely always will be about lifestyle for me. I live about 50m away with a view over the ocean; walk to work; check the surf by rolling over in the morning – you get the idea. I believe the lifestyle choice is a direct backlash from working in hotels and high end restaurants with ridiculous (but necessary) hours."
Contact Empire Café: 021 788 1250 | View location
Deluxe Coffeeworks, City Centre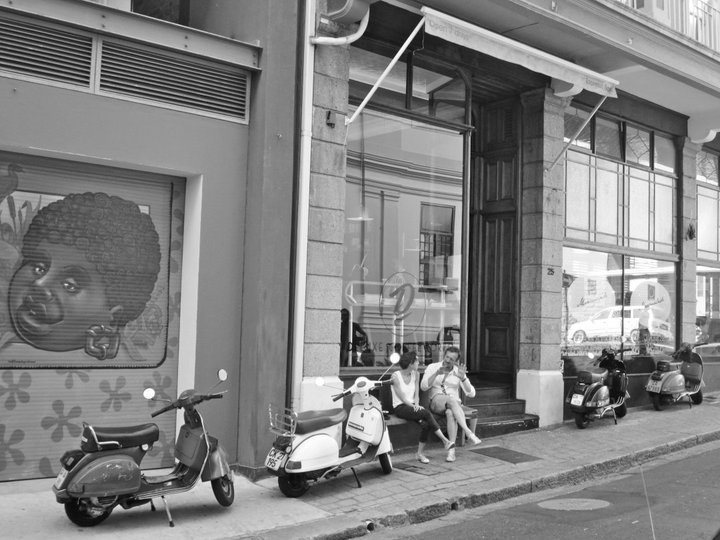 This is the quintessential Cape Town coffee experience, especially on weekday mornings when the city's workforce pile into the Church Street roastery. Steered by a motley crew of unconventional baristas, despite the invariable MacBook toting crowd an establishment of this nature attracts, Deluxe flies in the face of free Wi-Fi and fanciful sandwiches, so don't come here expecting free downloads and sourdough sarmies. The Deluxe way has kept it a core coffee experience; finishing your brew with feeling and confidence. If you can navigate your way past the ever supportive regulars, and can figure out what to do with your spare change, then you may have found your new favourite pre-graft pit stop in this edgy coffee bar.
Contact Deluxe: 082 681 5740 | View location
Baked Bistro, Bakoven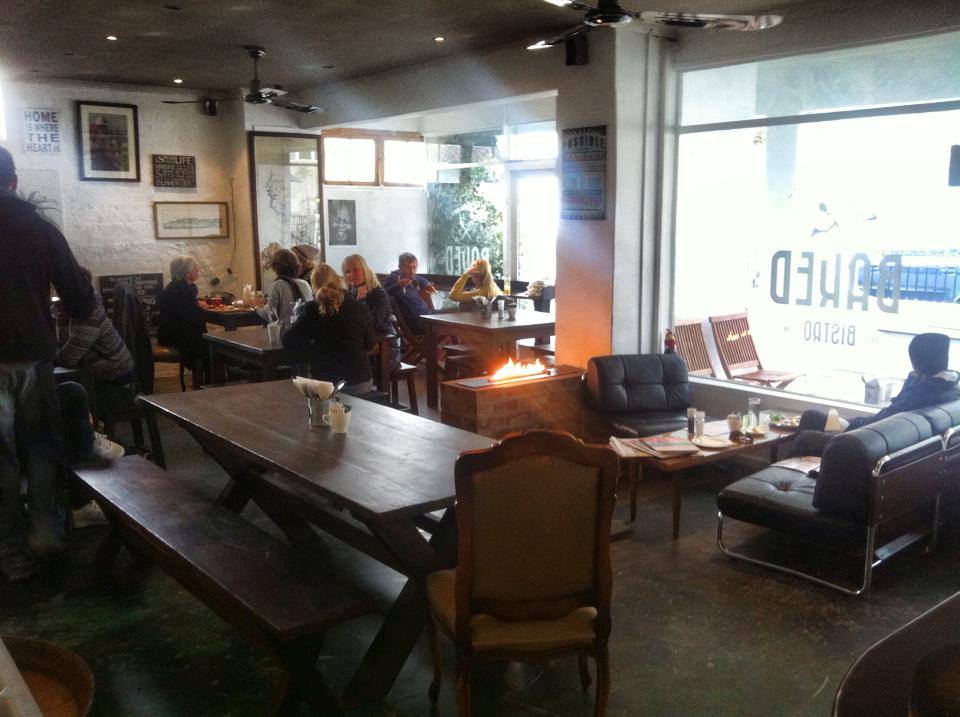 A blustery day on the Atlantic Seaboard first led me to Baked Bistro on Victoria Road in my frantic search for a steaming cup of coffee. Baked has a strong reputation for excellent coffee (by Origin), freshly baked goods and breakfasts, and they're well supported by locals and tourists alike. Despite the high flying hood in which Baked resides, the setting is grounded, and proprietor Zahir Mohamed's customer friendly approach will have you coming back for more. Try the rolled oats brûlée with vanilla and almonds.
Contact Baked Bistro: 021 437 0297 | View location
Starlings Café, Claremont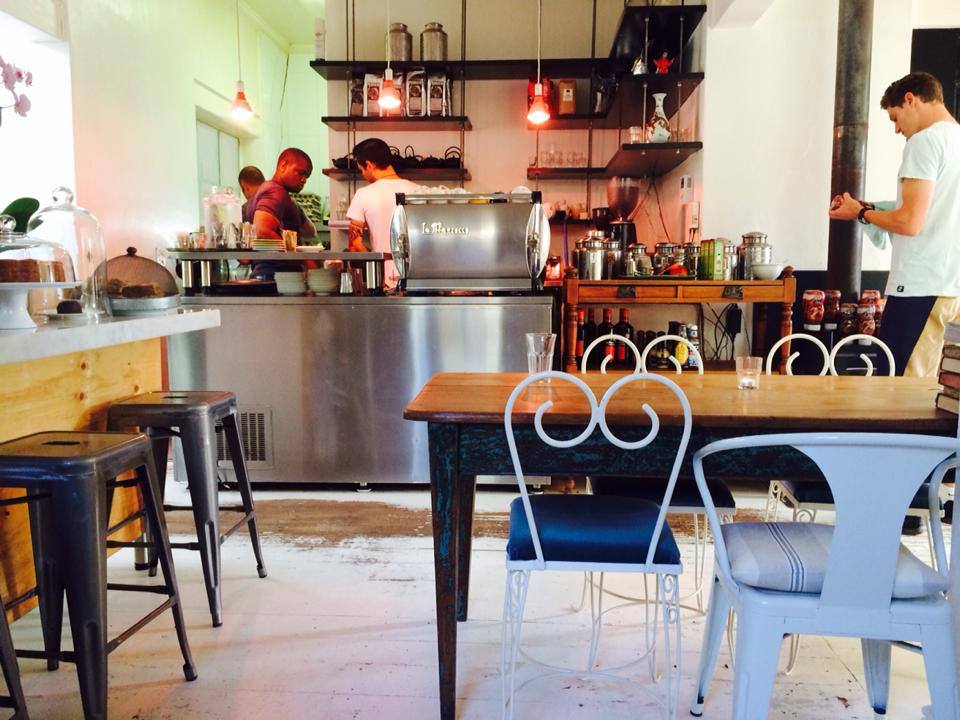 The Southern Suburbs' gift to the coffee world, Starlings is a true local's retreat in the 'burbs' – a neighbourhood coffee shop set in a leafy garden serving simple, honest soul food, not to mention, excellent coffee by Origin. They might be difficult to find, but then again, the regulars like it that way.
Contact Starlings Café: 021 671 6875 | View location
Origin Coffee Roasting, De Waterkant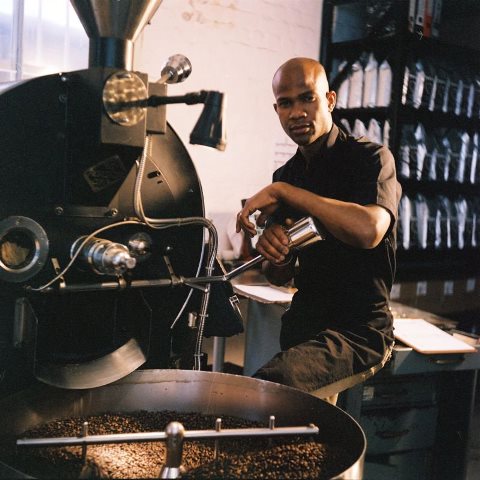 As a major bean wholesaler, it's likely you've tasted Origin Coffee even if you haven't had the pleasure of visiting their De Waterkant HQ. Origins De Waterkant premises offer aficionados a chance to commune with the culture of coffee in the most intimate way. Stepping inside this fragrant factory it feels as if you've entered South Africa's coffee nerve centre … it's a hub of experimental excellence which spans two streets and stretches three levels skyward, housing a barista training school, a roastery, café, and a specialist tea room called Nigiro (that's Origin spelt backwards). Travelling to far-flung corners of Africa to source beans and learn from the farmers who grow them, it's clear the 'mad scientists' at Origin have a very serious undertaking in bringing coffee to the people.
Contact Origin Roasting: 021 421 1000 | View location
Rosetta Roastery, Woodstock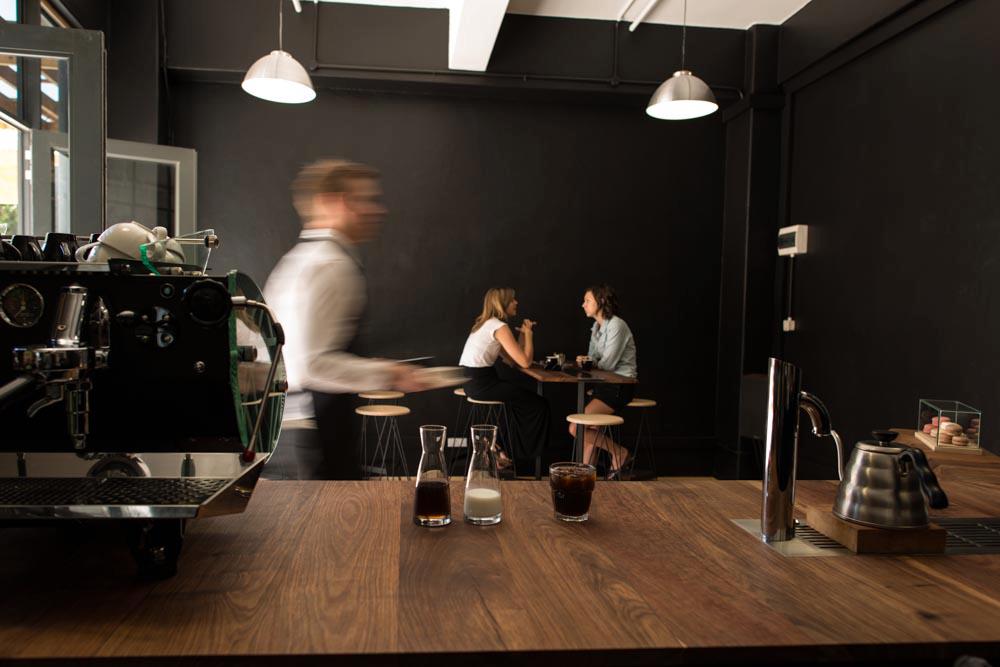 Cape Town's exclusive single origin roaster invites coffee fanatics of all levels to come and get acquainted with some of the best beans in the business. The Rosetta approach flies in the face of coffee snobbery; they want to introduce their audience to something new; whether their audience comprises amateur chicory drinkers or connoisseurs of a higher coffee drinking pedigree does not matter! From sourcing coffee to roasting and front-facing service, passion defines the Rosetta Roastery way. Make your way to the stylish Rosetta Coffee Bar at the Woodstock Exchange – open from Monday to Friday, soon to be open on Saturdays too.
Rosetta Coffee is also available from satellite outlets at Frankie Fenner Meat Merchants on Church Street, and at the kiosk at Scar on Kloof Street. A pop-up pourover bar is at the Neighbourgoods Market every Saturday between 09:00 and 14:00.
Contact Rosetta Coffee: 021 447 4099 | View location
Department of Coffee, Khayelitsha
Image source: I Love Coffee
Coffee Kasi-style, the Department of Coffee was a popular insert on the list about things to in Cape Town on a budget. Lolo, Vusi and Wongama are your hosts, baristas and coffee connoisseurs at the Department of Coffee in Khayelitsha. Founded in 2012, and situated next to the Khayelitsha train station, these 3 passionate entrepreneurs have successfully introduced coffee culture to Khayelitsha. Their goal is to develop the Department of Coffee into THE social hub of Khayelitsha, where everyone can come and chill with friends, family or colleagues whilst sampling their brew.
Contact Department of Coffee: 073 300 9519/078 086 0093/078 316 2918 | View location
Bean There, City Centre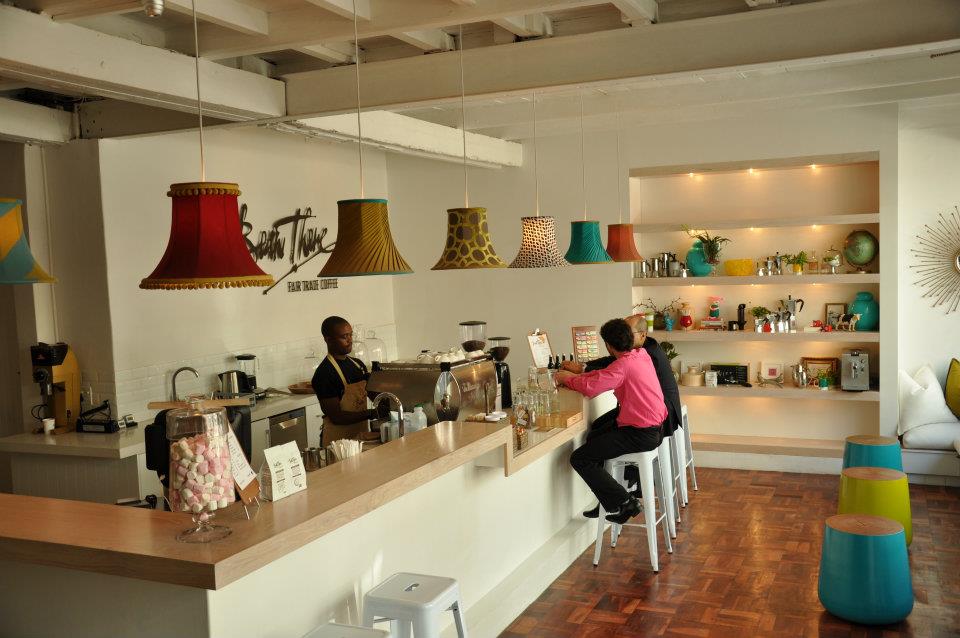 This CBD gem does its societal duty by opening early (7:30am on weekdays), and serving up some of the best African coffee with a side of sound ethics – they're Fairtrade so you can sip assured the origin has been sourced sustainably. Bean There's Wale Street shop front is a visually pleasing oasis with ample space to set up your laptop and caffeinate the hours away over a range of fierce brews which vie for your attention against the massive, shiny roaster which takes centre stage. A flat white starts from about R18.
Contact Bean There Cape Town: 087 943 2228 | View location
Hard Pressed Café, City Centre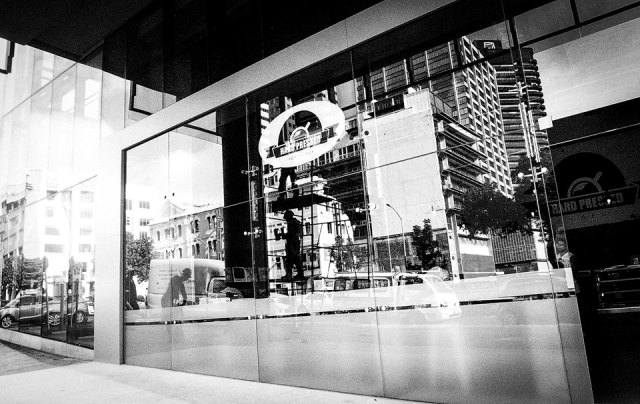 Residing in the brand spanking new Portside Tower building (Bree Street entrance) in town, Hard Pressed Café promises to be a disruptive force on the Cape Town coffee shop scene. Despite its newness, the setting is lo-fi and warm, combining the owners' love for music and mocha. Hard Pressed already has a strong reputation for excellent coffee, light meals and, in a twist of typical coffee shop produces, premium vinyl records play a large role in what they're doing. Bulletproof Coffee (at Hard Pressed they call it the Wham) is on the list of options, so, for all you paleo pundits, Hard Pressed Café is an excellent choice for a caffeine fix.
Contact Hard Pressed Café: 079 066 8888 | View location
---
Picking out the best coffee shops in Cape Town is a tall order, and you probably have your local café that you view as being beyond comparison. The choices you see above have been evaluated on, first and foremost, coffee quality, as well as innovation, style and ambience. As usual, leave your favourite coffee shops in the comments, or don't say a thing so you can still enjoy your daily fix uninterrupted.
You might also like