[Updated: 21 September 2018]
Thailand's capital city attracts hundreds of thousands of people from all over the globe every year. It offers tourists a unique set of characteristics – it is the largest and most developed city in Thailand but manages to maintain its historical architecture and traditions dating back hundreds of years. Bangkok, which is for most a jumping off point for Thailand holidays, is packed with everything from excitement and chaos, to freedom, beauty, and adventure. Through the hustle and bustle, gigantic skyscrapers, grand palaces and temples, and a world-renowned floating market, Bangkok continues to attract millions of travellers from around the world.
Here are 10 reasons why Bangkok is one of the most visited cities in the world today.
1. Wat Arun – The Temple of Dawn
Wat Arun is located on the west bank of the Chao Phraya River, opposite the Grand Palace. This is a must see sight in Bangkok as the architectural design is completely unique to that of the other temples in Thailand's capital. The spire which sits directly on the river bank is covered from top to bottom with minute pieces of colourful glass and Chinese porcelain. And for the brave at heart, one can even climb this steep 70-metre high spire which boasts the best views of Bangkok's skyline. Although named the Temple of Dawn, Wat Arun is best at night when lit up as it gives off a golden beam of light over the Chao Phraya River.
2. Floating markets
This is one sight you won't see anywhere else other than in Southeast Asia. Picture this – anchored on either side of the river, boats stocked to the brim with fresh tropical fruit and veggies, coconut juice, and local food which has been lovingly tendered on open grills. The best way to go about exploring Bangkok's floating markets is to hop aboard one of the many guided boat tours on offer. The 3 most popular floating markets in Bangkok are Damnoen Saduak, Amphawa, and Klong Lat Mayom with Damnoen Saduak being the most popular floating market in the country.
3. Khao San Road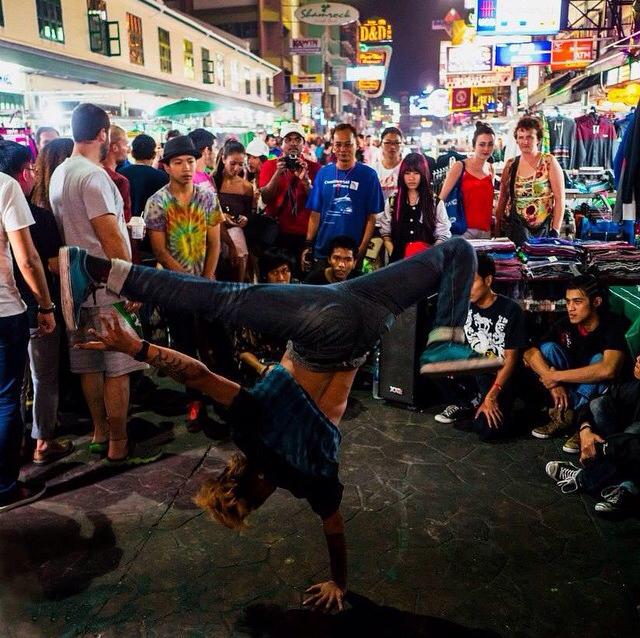 Khao San Road – home of the backpacker, the nocturnal party fiend, and a chaotic intersection where west meets east. Most famous for its revered nightlife scene and carefree atmosphere, this is where 99% of all youngsters will find themselves at least once when in Bangkok. It is also an accommodation hotspot for many as a great variety of cheap accommodation types can be found within the vicinity of Khao San Road. When the sun sets, the street transforms rapidly: mobile street bars pop up all over the place selling buckets of "deadly" cocktail concoctions while bars and clubs line the street from top to bottom. Liberal Thais flock to Khao San Road come nightfall searching for a "farang" (foreigner) partner and a taste of the Western world.
4. The Grand Palace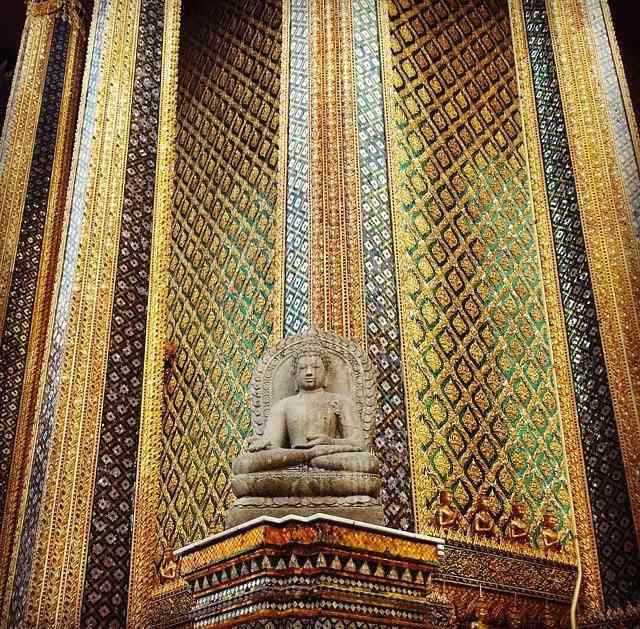 Built in 1782 and once the home of the Thai King, the royal court and the administrative seat of government, Bangkok's Grand Palace is the most glorified and world-renowned landmark in the capital. Here all you architectural and culture junkies can lose yourselves in the ancient designs of the diverse array of Buddhist sculptures and temples that flow through the vicinity. Most popular amongst tourists has to be Wat Phra Kaew, in English the "Temple of the Emerald Buddha".  The 14th century Emerald Buddha, revered by all Thais, is a highlight too.
5. Soi Cowboy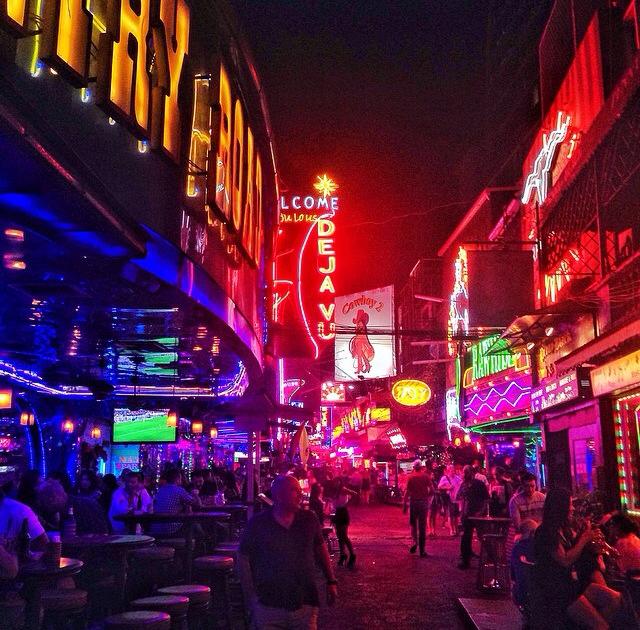 In Thai, Soi means "street". This particular street got its name in the 1970s when the first bar was opened by a real American, Stetson-wearing cowboy. Bangkok is a sex-oriented city, a characteristic that won't go unnoticed unless you stay indoors at night, and Soi Cowboy is recognised as the epicentre of the city's Red Light District. It's very different from Amsterdam's Red Light District; bars line the street, the "Hello, welcome!" yells from girls becomes a familiar sound as you walk by. Here you can simply have a good time with your friends over a couple of drinks although you will definitely get some attention from the bar girls who will most likely try to get a few drinks out of you. Many of the bars have dancers and you are more than welcome to take a seat around the stage and enjoy the show.
Also read:
6. The Thai massage
Thailand has developed an international reputation for their massage techniques, and with the non-stop shopping, temple visits and sleepless nights, a Thai massage will set you in good stead for the remainder of your trip. Thai massages generally cost about 250 Baht (R110) for an hour of relaxation and stress relief. The fatigued traveller can also choose between a Thai oil massage; head, neck and back massage; foot massage; and many more. Massage parlours can be found all over Bangkok and you will levitate from the doors when it's over. From someone who has travelled throughout Thailand, trust me – you will not regret this choice.
You might also like:
7. Tailored suits
Another unique characteristic of this cosmopolitan urban jungle are the tailors which can be found on nearly every street. The trick, however, is to know where to go for the best quality and price. If you only have a few days in Bangkok then this isn't worth your time unless you don't mind a suit thrown together with far from premium material – these are the cheap suits. If you do have time, you will find premium quality tailored suits in Bangkok for a far more reasonable price than what you will find in the west, however, you need to be prepared to wait between 1 to 2 weeks for your suit to be fit for wear. If time isn't on your side but you are returning to Bangkok in a couple of weeks then you are in luck – just don't pay the tailor until you return and have the suit in your hands. Prices for top quality suits range from R3500 to R7000 and the best-recommended tailors in Bangkok are Narin Couture, Rajawongse Clothier, Perry's, and July Tailor.
8. Chatuchak Weekend Market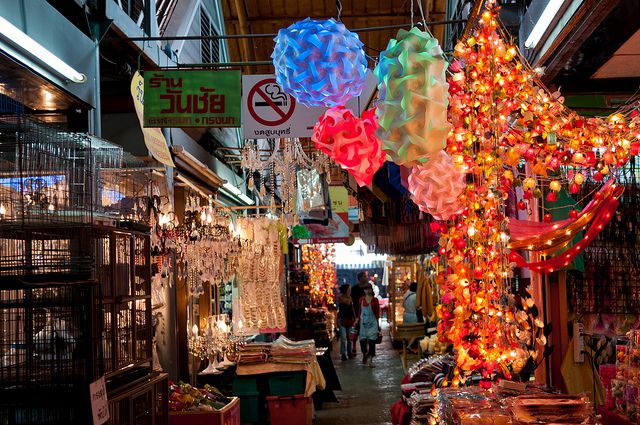 Thailand is renowned for its market culture and the Chatuchak Weekend Market in Bangkok is the king of them all. Covering an area of 35 acres with over 8000 market stalls and 200 000 visitors each weekend, this is definitely the largest market in Bangkok. Size is not everything though – the diversity of products on sale is ridiculous with everything from food and beverages, antiques, pets, garden supplies, clothes, handcrafts, books, furniture, and art galleries just to name a few. If you hate crowds and a chaotic atmosphere then this is not for you, but if you're seeking rare treasures and best bargains then the Chatuchak Weekend Market should not be missed.
9. Sky Bar and Hotel
This is the tallest building in Thailand. The 88-story building gazes out over the entire Bangkok skyline with mesmerising views reaching out over the horizon. The cylinder-shaped structure does not only cater for those looking for luxurious accommodation but also for outsiders looking for a once in a lifetime setting to quench one's thirst in the country's highest bar – the aptly named Sky Bar. The tip of the iceberg though is the 360-degree rotating viewpoint right at the very top of the building. In exchange for the cover charge, you receive a free drinks voucher and the best position to sip and see in the capital.
10. Bang Krachao Gardens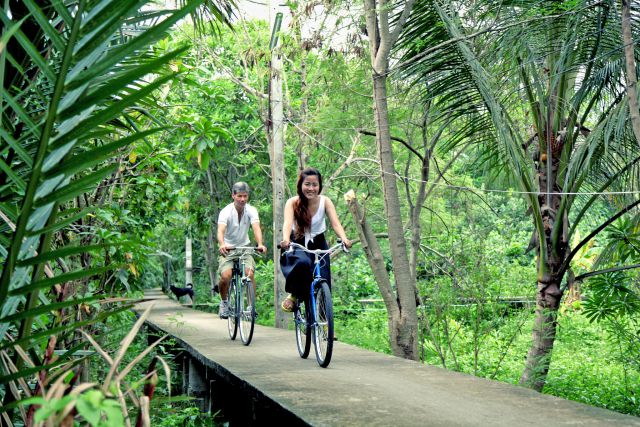 Claim some green respite from the sprawling concrete jungle by visiting the Bang Krachao Gardens. Known to many as the lungs of Bangkok, the sheer natural beauty of Bang Krachao Gardens includes walking trails and beds packed to the brim with lush tropical trees, lakes, and raised embankments which pass unique houses on stilts built along the Chao Phraya River's edge.
Bangkok is arguably the largest and most developed city in Southeast Asia and years ahead of the majority of other cities and towns that scatter the Kingdom of Thailand. I urge you to go and see for yourself why the fuss about Bangkok exists.
Need some more inspiration to visit Thailand?