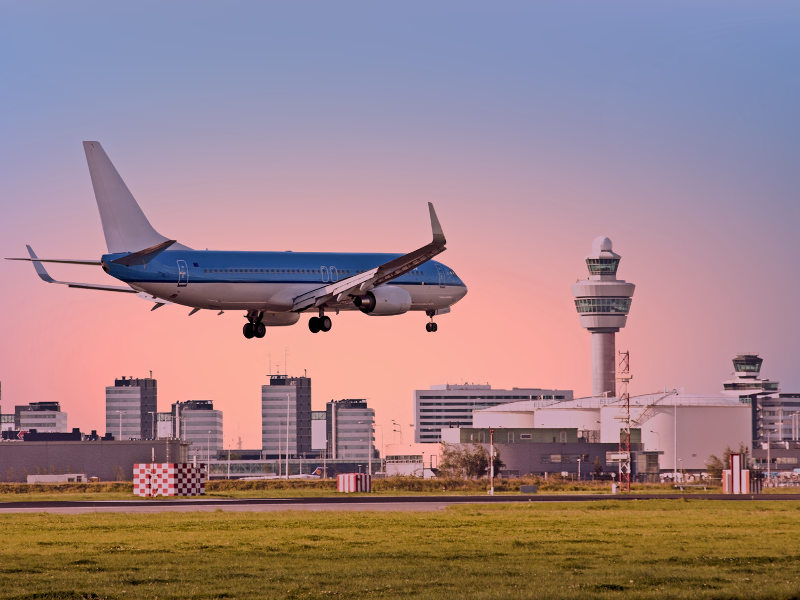 So, you've booked your flight to an incredible destination and you cannot contain your excitement. The day arrives and you're headed to the airport, and suddenly standing in the middle of the airport seems daunting. Avoid the overwhelming feeling of having to navigate through the airport and making sure you catch your flight on time.
We've curated a list of airport tips for the moment you're getting ready to board your flight. With this airport tips guide, you'll skip the airport angst and board your flight without any hassles.
Before Getting to the Airport
1.      Have your travel documents at hand
Check that you have all the necessary travel documents. Local travellers travelling within South Africa can make use of a driver's license to check in. If you're flying internationally, make sure that you're in possession of your valid passport and any other documents required to board your flight, such as visas or return tickets. A great airport tip from @miss_dhanusha highlights making a certified copy of your passport and to keep it separate from your original passport. If you're flying with children, some airlines require an original copy of the child's birth certificate while a copy would be fine for other airlines. Find out all there is to know about unabridged birth certificates for minors.
If your passport has expired, get your passport renewal done in adequate time before your departure date to avoid disappointment.
"Make sure your passport is not expired. Most countries require that travellers have at least 6 months availability on their passport beyond the date of departure."- @belleblushh
2.      Make a checklist
Make a checklist of the required items for your trip. These items include any chargers for electronic devices, prescription medications (be sure to include your prescription) and travel documents. There's nothing worse than accidentally leaving your passport at home. Save yourself from the pre-travelling angst!
3.      Request special requirements in advance
Travelling with children or have reduced mobility needs? You can request your seats when you book your tickets. Did you know people with a disability have priority on front-of-section seats? Some airlines will ensure that children and passengers with reduced mobility are sitting in close proximity to at least one parent or travel companion respectively.
4.      Check your luggage requirements
Be mindful when packing your essentials and make sure to check what items are allowed on the airline you're flying with. Take note that different airlines have different requirements for luggage sizes and weight, it is best to do your research before packing!
5.      Pack according to customs requirements
Make sure that all liquids in your luggage are packed in a leak-proof bag or container. All liquids must be carried in a transparent packet, @sugarspiceblog2 can attest that a ziplock packet will suffice. Do not pack containers that are over 100ml.
For easy travel, pack as light as possible! This helps with ensuring that your bag meets the weight and size requirements. Over-sized carry-on bags could result in getting a fine at the boarding gate.
Another airport tip to consider is checking the baggage allowance of the airline you're travelling with. Weigh your luggage before leaving for the airport and make sure your baggage doesn't exceed the allowance.
"You don't want to be in a position where you can't afford to pay for extra luggage and are forced to squeeze some things from your main suitcase into your hand luggage." – @teshieogallo
Make sure that all your valuables are packed in your hand luggage. All of your baggage should have a luggage tag including your name, home address, cellphone and email on it. Take a photo of your luggage – in case of lost luggage, this way you will be able to make a claim. Delayed and lost baggage protection will ease the stress in the event your luggage is delayed or lost.
To prevent having your luggage tampered with consider getting your bags wrapped in plastic. Make use of this paid service at the airports. If you're travelling from Durban, take note of King Shaka International Airport's baggage wrapping facilities which is located on the upper level.
6.      Save time by checking in online
Take advantage of today's technology perks by checking in online for your flight. It is possible to check in up to 24 hours before your flight from the comfort of your home with most airlines! If you're flying with Air France and KLM check-in is allowed as early as 30 hours to one hour before your departure time. You'll need your flight and passport number to check in online.
By checking in online you can choose the best seats and go straight to bag drop off which will save you time as experienced first-hand by @minkyscoza.
Check out Travelstart's convenient airline check-in guide for all major airlines.
7.      Dress comfortably
Avoid wearing tight-fitting clothing. A comfortable dress attire can help make you feel relaxed which is vital when getting through the process of waiting to board the plane. Wear comfortable shoes as your feet can swell especially during a long flight.
"Allow yourself to wear loose yet fitted clothing. Something easy to move around in that still looks decent." – @MRLEEFRASER
8.      Avoid Airport Parking by using Uber
Make use of the Uber app to get to the airport. We all know how expensive airport parking can be. By using Uber you remove the stress of parking your car as well as those high fees. Ordering an Uber allows you more time to settle in and relax at the airport.
At the Airport
9.      Arrive early at the airport
If you're taking a domestic flight, you are advised to arrive at the airport no less than one and a half hours prior to your departure time.
International travellers are advised to be at the airport at least three hours prior to their departure time.
10.  Locate the airport facilities
Familiarise yourself with the airport surroundings, this way you will save time navigating to your points of interests. Airports can be an overwhelming place on your first visit. @tammyry63 notes that at Cape Town International Airport, the ground floor (level 0) is  largely for arrivals, on the second floor (Level 2) you'll find departures/check-in, while retail shops, lounges and restaurants are on Level 3.
On arrival, locate the various restaurants and duty-free shops to get the best experience possible while you're waiting to board your flight. A good airport tip is to grab a bite close to your boarding gate, so that you're not scrambling to find your gate at the last minute.
11.  Use the airport's free Wi-Fi
Not all airports offer free Wi-Fi. However, airports such as Cape Town International Airport offer up to 4 hours free access or 1 GB data. You will need to log in to the airport's Wi-Fi network if free Wi-Fi is available.
"Connect to the Airports@vast WiFi network then follow the on-screen instructions, you will be required to register with your email."  – @bosch_venean
At Lanseria International Airport and O.R. Tambo International Airport Wi-Fi is not available throughout the airport so you're encouraged to sit at a restaurant or café and make use of the establishment's Wi-Fi.
"At O.R. Tambo International you can have a yummy filling breakfast and enjoy free Wi-Fi at a restaurant. Always ask the staff at the restaurants beforehand if they have working Wi-Fi."- @twiggymoli
12.  Purchase a day pass to an airport lounge
Wouldn't it be great if you could freshen up at one of the amazing airline lounges during a layover? Well, here's a great airport tip, simply purchase a day pass and gain access to the lounge. You can enjoy snacks, drinks and a shower while you wait to board your flight! In the past, entrance to a majority of airport lounges were only available to passengers with a first or business class ticket. That is no longer true as many airlines now allow passengers to purchase a day pass for lounge access. Turkish Airlines Star Alliance Lounge at Jomo Kenyatta Airport is a must to experience if you ever arrive at or depart from Nairobi.
According to @justjadeblog you should visit the airline's page and find out how you can gain lounge access with your economy class ticket.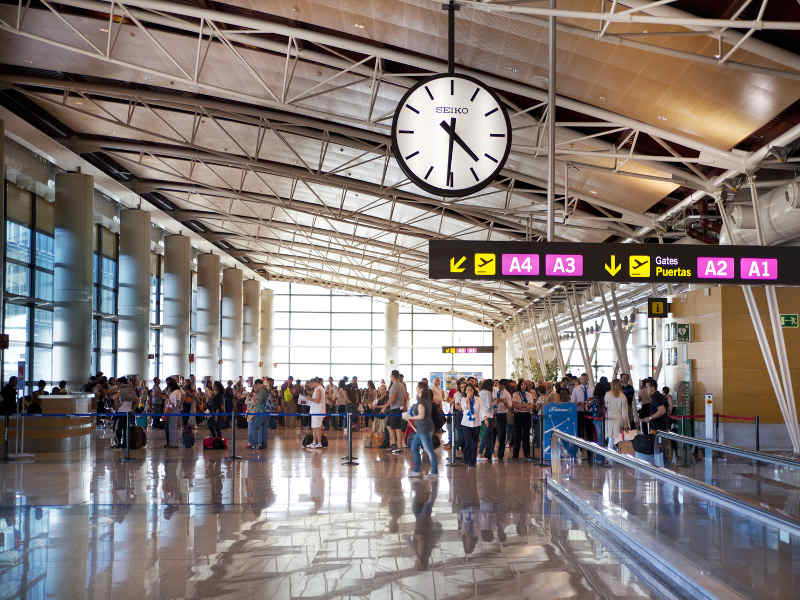 13.  Be mindful of airport peak times
Weekends are generally the busiest days to occupy the airport. If your flight is scheduled from Friday to Monday, it would be best to give yourself an extra 30 minutes to avoid missing your flight. When planning your trip take into consideration the influx of travellers on Friday evenings and Monday mornings.
14.  Allow adequate time for passport control
International travellers should factor in the approximate time it would take to get through passport control. Don't make the mistake of leaving insufficient time to get through passport control before you are required to board your flight.
15.  Breeze through the Security Checkpoint
To make the security checkpoint process go smoothly, make sure you remove all metal objects such as belts, watches, rings and earrings. Be sure to take out any electronics in your handbag. Your boarding pass and ID or passport should be readily available too. This will speed up the process of getting through security.
Leaving the Airport
16.  Stay Safe in the Surrounding Areas
It is best to check your location and to have thorough directions to where you're going. If you're not familiar with your destination consider arranging a pickup with your accommodation or use an official taxi service or Uber.
17.  Get a map of the destination
Consider the old school way of getting around by grabbing a map of your destination or make use of Google Maps. This way you'll save precious time and avoid going down the wrong dodgy road.
With these incredible airport tips, boarding your flight should be much easier. Now that you're equipped to make the time spent in an airport more pleasant we hope you're ready for your flight to your incredible destination. Be sure to pass these airport tips to first-time flyers and anybody who needs it now that you're a pro at keeping your calm at any airport.
Subscribe to Travelstart's newsletter to find out the latest deals on cheap flights to amazing destinations around the world.
If you have any airport tips of your own kindly share it in the comment section below!