Childhood was a glorious time.
It was a time when pocket money could be spent on sweets and toys, not rent and bills; when the only password you had to remember was "open sesame"; and nothing brought a smile to your face quite like a new box of crayons did.
It was a time when bed sheets were superhero capes, sticks were wands, and socks were hand puppets.
And it was a time when there was no such thing as 'dreaming big' because everything was possible and you weren't afraid of climbing too high or jumping off swings because you believed you could fly.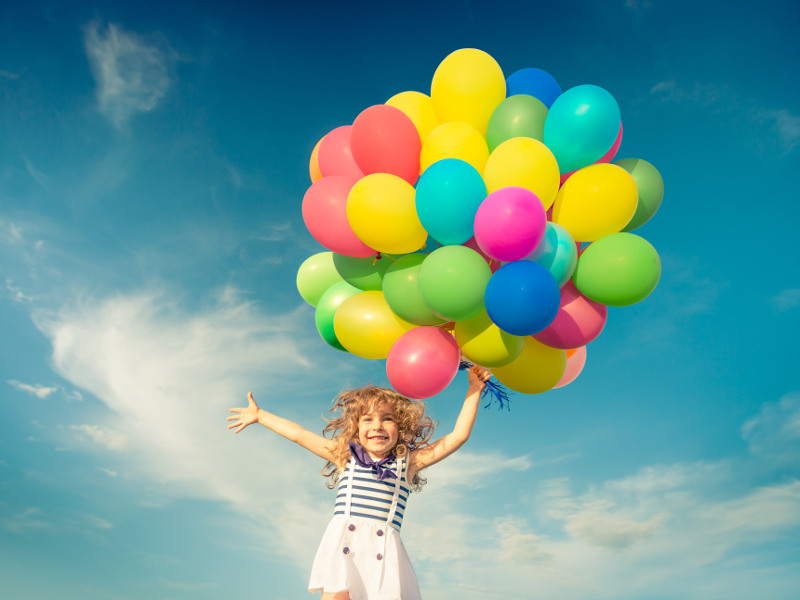 Luckily, that innocent childlike wonder is not gone and there is no such thing as too old to play with bubbles or get excited about colourful sprinkles.
And with Youth Month upon us, there is no better time to forget about being an adult for a moment and discover the wonders of being a kid again. Here are 15 great ways to get in touch with your inner child.
Want to get in touch with your inner kid and win amazing prizes? Join the Paper Jet Challenge!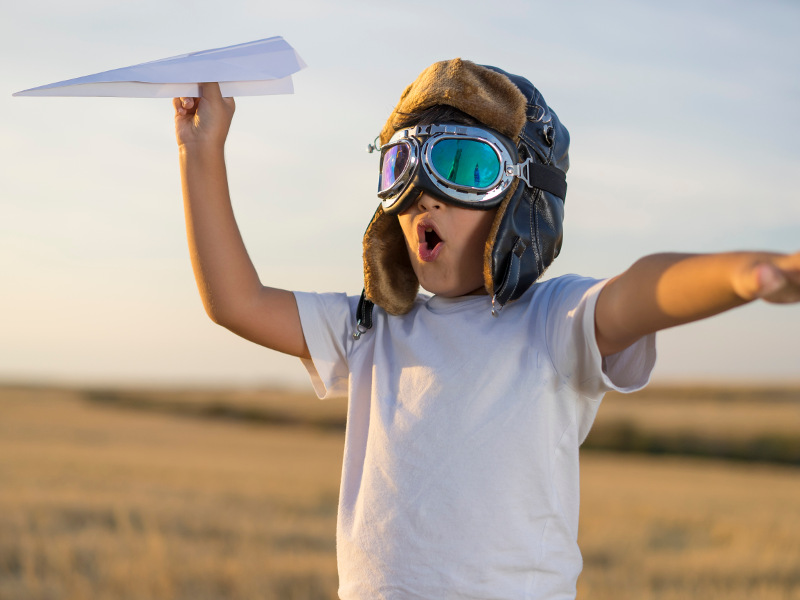 1. Bake something
Dark chocolate fudge merlot cupcakes, red velvet cheesecake, giant chocolate chip cookies, peanut butter and Nutella balls, raspberry rainbow cake – bake it all! Play some music, pop open a bottle of wine, and don't be afraid to get flour everywhere – half the fun of baking is getting a little messy.
And remember, you only live once, so lick the bowl!
2. Blow bubbles
You know what they say about there being no angry way to say "bubbles". Well, that's because bubbles are tiny balls of happiness that just make the world a better place. Buy some from your local store or take it to the next level and make your own.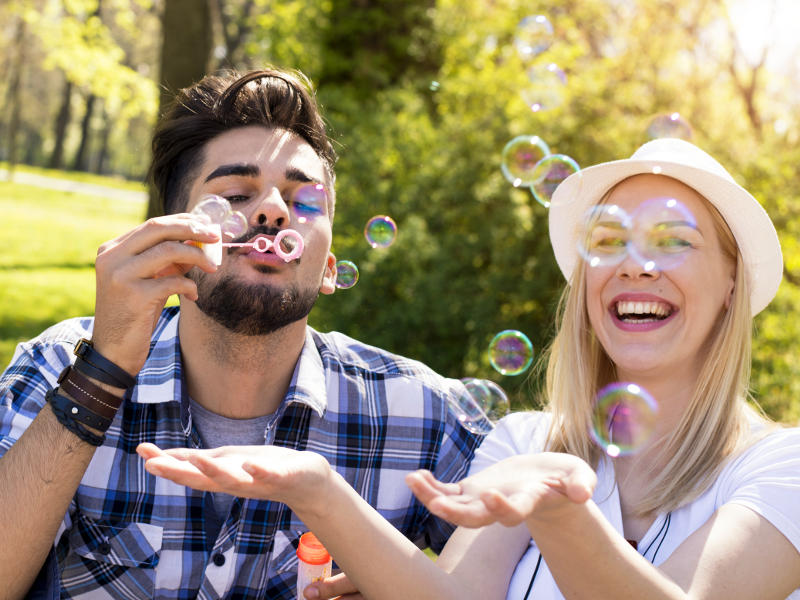 3. Ride around the neighbourhood
Dust off that old bicycle (even better if it has a basket and bell), lace up those old roller skates, unroll that kick scooter, or pull out that skateboard and go for a carefree ride around the neighbourhood.
If you stay in Cape Town or Jozi, check out these fun and exciting bike tours:
5 interactive bike tours in Johannesburg
4. Play games
Instead of going out for dinner, host a games night and get everyone to bring over one of their favourite games. If you're having a braai, make it a whole lot more exciting by bringing out paint bombs or water balloons* and challenging your friends to a battle. Games are a great way to reconnect with your inner child and add an extra dose of fun to your afternoon or evening plans.
*Not while the country is experiencing a water shortage of course.
5. Skip down the street
Yeah, you read that correctly. If there is one thing on this list that will get you from 30 to 13 within seconds, it is skipping. Next time you are walking down the street or anywhere really, try it out. And if you're afraid of looking like a weirdo, find an empty street, field, or mountain path and give it a go.
6. Spend a day on the beach
Build sandcastles with towering turrets and deep trenches, go searching for seashells, fly a kite, snorkel, make a sand angel, and jump over the waves. And the sun is a great source of Vitamin D, which makes you happier, while the minerals in the ocean reduce stress and help detox the body.
Also read: SA's best beaches to get away from it all
7. Have a sleepover
Get some ice-cream, slip into your comfiest jammies, order a couple of pizzas, make margaritas, and spend the night watching old Disney films or trashy horror films with your favourite people. Extra points if you build a fort, indulge in a good ol' game of truth or dare, have a pillow fight, or play Twister!
8. Go to the arcade
Nothing reawakens the sweet merriment of childhood quite like spending an afternoon shooting zombies, racing cars in Sega Rally, and trying to outrun ghosts in Pac-Man amongst the cheery jingles of the arcade. So, take that 50 bucks you would have spent on fries and get a bucket of tokens instead.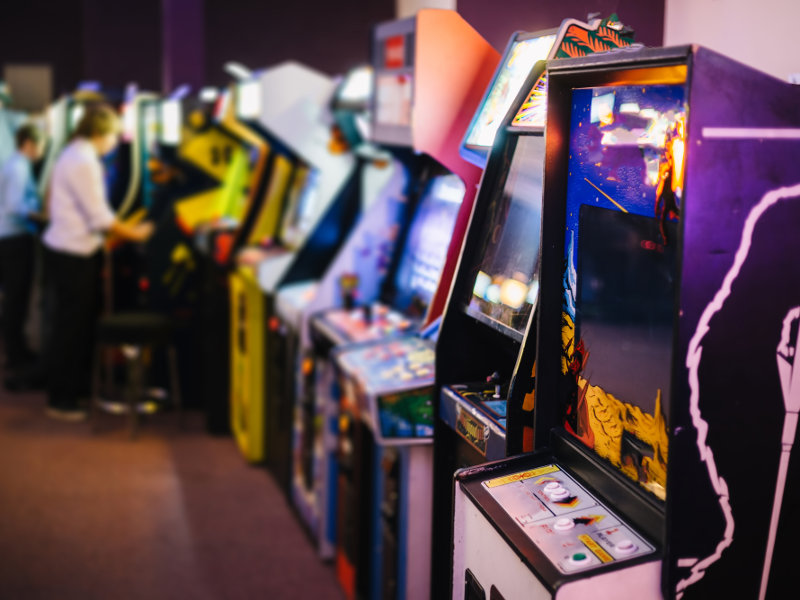 9. Make breakfast fun
Make flapjacks with animal faces made of fruit, trade in eggs on toast for sunshine toast instead, have a bowl of guilt-free Coco Pops or Fruit Loops, or go for the classic soldiers in boiled eggs. Breakfast is the most important meal of the day, so don't make it boring!
10. Try something new
Hire a surfboard and learn to surf, join an art class and give finger painting a go, learn to play the guitar, sing in the shower, or buy a pair of outrageous socks and wear them to work! Life is too short to take it so seriously and stick to old routines. And who knows, you might find a new hobby that you really enjoy or make some great new friends.
11. Dance like nobody is watching
Remember those afternoons singing at the top of your lungs into your hairbrush and dancing like a wild animal around the house while the family was out shopping? Us too. Good times.
You may not be the next Beyoncé or Enrique Iglesias, but that doesn't mean you can't turn up the volume and still have one helluva good time pretending.
Here are 10 great songs to tear it up to:
Whitney Houston – I Wanna Dance With Somebody
*NSYNC – Bye Bye Bye
Michael Jackson – Billie Jean
Joan Jett & The Blackhearts – I Love Rock And Roll
Cyndi Lauper – Girls Just Wanna Have Fun
Lou Bega – Mambo No. 5
Def Leppard – Pour Some Sugar On Me
Ini Kamoze – Here Comes the Hotstepper
Los Del Rio – Macarena
Kenny Loggins – Footloose
12. Go camping
Whether you rope in your family, gather a few friends, or just go with your partner, camping trips are a great opportunity to relive the glory days of childhood. Play card games, tell ghost stories around the fire, and braai marshmallows on sticks.
You might like this: 25 of the best South African campsites
Also read: The best pet-friendly campsites in South Africa
13. Buy some candy
Find a candy store and spend some time filling a bag with Rascals, jelly beans, jujubes, glow worms, milk bottles, and all the sugary things you remember from childhood. And if you don't like sweets, you can use them to bribe your kids to clean their rooms, give them to your younger siblings, or make everyone's day a little brighter by handing out free sweets at the office!
14. Helium balloons
Next time you're at a party with helium balloons, embrace the silly kid inside by sucking the helium out of a balloon and singing "Happy Birthday" in a ridiculous leprechaun voice. You will destroy a balloon but it will certainly get you and everyone else laughing like little kids.
15. Be curious
Finally, whether you go searching for starfish in rock pools, opt for the path less travelled on your favourite hiking trail, or take a spontaneous road trip across the country, be curious about new places, new people, and new experiences.
Also read: 5 unforgettable road trips in South Africa
Curiosity is one of the great wonders of childhood that is often lost as we get older and distracted by the stresses and responsibilities of life. Curiosity is what motivates us to go on new adventures and uncover magic where we never knew there was. We should hang onto it.
And above all, watch with glittering eyes the whole world around you, because the greatest secrets are always hidden in the most unlikely places. Those who don't believe in magic will never find it. – Roald Dahl
Share your favourite things about childhood in the comments section below!