Are you craving a beach holiday? One where you can relax, work on your tan and take it easy? If you answered 'Yes!', then let Travelstart help guide you in the right direction. We've compiled a quick and easy list of some of the best beach holiday destinations that have everything you're looking for and so much more. Beach with a bit of something on the side – we've got you covered!
Beach and
nightlife: Croatia
To the south of Croatia, we go! For the best beaches in this European destination, head down to the south of the country to the perfectly crafted Dalmatian coast. It's here that you'll find all of what Croatian beaches are loved for – turquoise and emerald water and soft, sandy shores. Croatia is known for its many islands off the mainland, accessible by ferry rides and short boat trips. The bays are often shallow and perfect for wading in for a swim. The beauty of the islands also lays in their lush greenery that makes a picture-perfect backdrop for its visitors. You can spend your days island hopping as you go from Pag to Hvar, and then on to Brac. Hideaways add much of the appeal of this beach holiday destination.
Top 5 beaches:
 

Baska Beach, Krk island

 

Uvala Dubovia, Hvar Island

 

Plat Beach, Dudrovnik

 

Zlatni Rat,  Brac Island

 

Zrce Beach, Pag Island
Read also: Adventurous Croatian islands
Croatia after dark is something that caters to both the chilled traveller and also, the very intensive party-goers! The main cities of Croatia are an ideal spot to get your pulses running throughout the year. Popular dance festivals and internationally acclaimed DJ's are known to visit the streets of Zagreb with their decks and live instruments. The summer season is even more fun, and bring about the all-day parties on popular islands and beaches of the country. Party to the sounds of your favourite tunes with the waves in the background.
Top 5 nightlife locations:
 

Zagreb

 

Istria

 

Zadar

 

Hvar Island

 

Split
Beach and culture: Italy
Welcome to the summer paradise of the Mediterranean! Italy's beauty runs deep into its gorgeous coastline and is known as one of the best beach holiday destinations in the world. Visitors have endless options to choose, from mainland beach bays with cafés on the doorstep of the ocean to rugged edges that meet the ocean in a striking white on blue collaboration. There are hotspots dotted all along the coast of Italy, from the north to south. Much-loved destinations such as Sicily and Sardinia are only but two of the country's beach gems.
Top 5 beaches:
 

Isola Bella, Sicily

 

Cavoli Beach, Elba beach

 

Marasusa Beach, Calabria

 

Spiaggia Rosa, Sardinia

 

San Fruttuoso, Liguria
Italy and the hundreds and thousands of its annual visitors have a complete and absolutely intense love affair with Italian culture – its people, food, wine, traditional ways and numerous festivals and celebrations. It's impossible not to be engulfed in the culture of the Italians as everyone that visits is drawn into it. Take a cooking course, spend the day with a local family or simply walk the streets of the cities to fully appreciate it all.
Top 5 cultural spots:
 

Renaissance art – Florence

 

Street food – Sicily

 

Cathedrals and Vatican City – Rome

 

Ancient sculptures and museums – Venice

 

Traditional cuisine – Bologna
Beach and nature: Mozambique
The coast of Mozambique is synonymous with natural beauty and topaz waters. Visitors from across the world come to enjoy the splendour of Mozambique's warm sea temperatures. With a Portuguese influence, you can look forward to freshly grilled prawns or whatever the catch of the day is on a bed of spicy rice. Mozambique caters to all beach lovers, with 2,500 kilometres of coastline for variety. Enjoy the seclusion of hidden bays as you drive your way from one stunner to the next. The northern coast is full of character with lots of hotels and even some backpackers. Inhambane Province is a popular choice with quiet and wide deserted expanses, arguably making it the best beach holiday destination in the country. 
Top beach destinations:
 

Praia do Tofo, Tofo

 

Bilene, Xai-Xai

 

Praia da Costa do Sol, Maputo

 

Barra Beach, Inhambane

 

Wimbe Beach, Pemba
Mozambique's natural resources are divided into two sections by the Zambezi River. If you're searching for nature then you're in luck as both regions are breathtaking. The national parks are committed to sustaining the wildlife after previously suffering from relaxed hunting and poaching regulations. Visitors are invited to view and appreciate wildlife in their natural environment in conservation areas.
Top nature locations:
 

Gorongosa National Park

 

Niassa National Reserve

 

Maputo Elephant Reserve

 

Maputo Special Reserve

 

Ponta do Ouro Marine Reserve

Beach and spa: Sri Lanka
Sri Lanka's golden beaches are a magical drawing card to the country as its endless bays are pure magic. The sand, palm trees and warm Indian ocean water is a guarantee to get visitors into the water and splashing about. You can also partake in snorkelling and surfing while enjoying your beach holiday with perfect weather conditions to enjoy. As Sri Lanka is not yet as popular as other beach destinations, make sure to take full advantage of the hidden bays and quiet magnificence that you will find.
Top beach locations:
 

Hikkaduwa Beach, Galle District

 

Nilavela Beach, Trincomalee District

 

Unawatuna Beach, Galle District

 

Negombo Beach, Western Province

 

Passekudah Bay, Batticaloa District
Read also: The most gorgeous Sri Lankan beaches
Sri Lanka caters to the body and soul with rest and relaxation being one of its tourist attractions. The country has many wellness resorts that take pride in providing a full experience, leaving their visitors feeling rejuvenated and ready for the world. You can find resorts on the oceanfront, and others tucked away in the mountains, with tropical jungle adding to its appeal. When looking for spa treatments in Sri Lanka, you can expect lots on offer and decide on detox rituals, yoga and meditation cleanses, indulgent pampering sessions and lots more. Emphasis is placed on natural and alternative healing, so you'll be sure to feel refreshed after your experience here.
Top spa locations:
Santani Wellness Resort, Kandy

Sanctuary Spa, Unawatuna

Amangalla Baths, Galle

Kalundewa Retreat, Dambulla

Ulpotha, Kurunegala district

 
Beach and food: Thailand
Thailand has been a popular choice for beach lovers for a long time coming and it's easy to see why. The coast of this Southeast Asian destination is absolutely gorgeous and the added factor that travelling to the country is affordable is definitely a bonus. Whether you're keen on island hopping between its popular beach oasis or sticking to the mainland as you move from one bay to the next, Thailand is the perfect beach holiday destination. Pack in a pair of scuba goggles or even just your swimsuit and enjoy the perfect weather conditions on these famous and much-loved beaches.
Top beach locations:
 

Patong Beach, Phuket

 

Maya Bay, Koh Phi Phi

 

Kantiang Beach, Koh Lanta

 

Railway West, Krabi

 

Chaweng Beach, Koh Samui
Read also: Thailand's top beaches
Beaches aside, everyone knows that if you're going to visit Thailand, you are in for a culinary treat! From street food galore to national staples and even cooking classes, Thailand is a foodie's delight. There is an array of options in all areas of the country's major cities, and in the countryside, you will find the true local cuisine and authentic flavours. From steaming bowls of tom yum soup to street-side confectionaries such as deep-fried scorpion – Thailand does not disappoint!
Read also: Wonderful street food from around the world
Top food locations:
 

Chinatown, Bangkok – Street food

 

Chiang Mai – Noodle soups & Thai curries

 

Pattaya – Seafood

 

Across the country – pad thai

 

Phuket – spicy salads and fresh fruit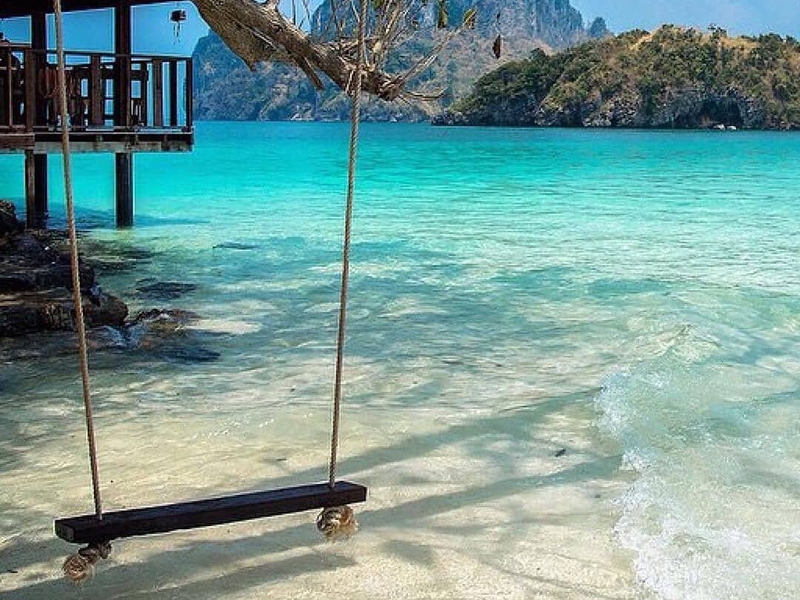 Next time you're thinking of planning a beach holiday, why not kill two birds with one stone and do a combination trip? Have you visited one of these amazing destinations and taken advantage of all that it has to offer? Let us know in the comments below. 
Make sure to sign up to Travelstart's newsletter for the best flight deals and more!