The destination of choice for an affordable, tropical escape in Southeast Asia, Thailand's beaches are exceptional, and so are the resorts that accompany them. From boisterous, crowded beach parties to serene, secluded island shores, there's a sandy spot somewhere in Thailand with your name on it.
With so many to choose from, we narrow down the best beaches in Thailand and why they should make it onto your shortlist!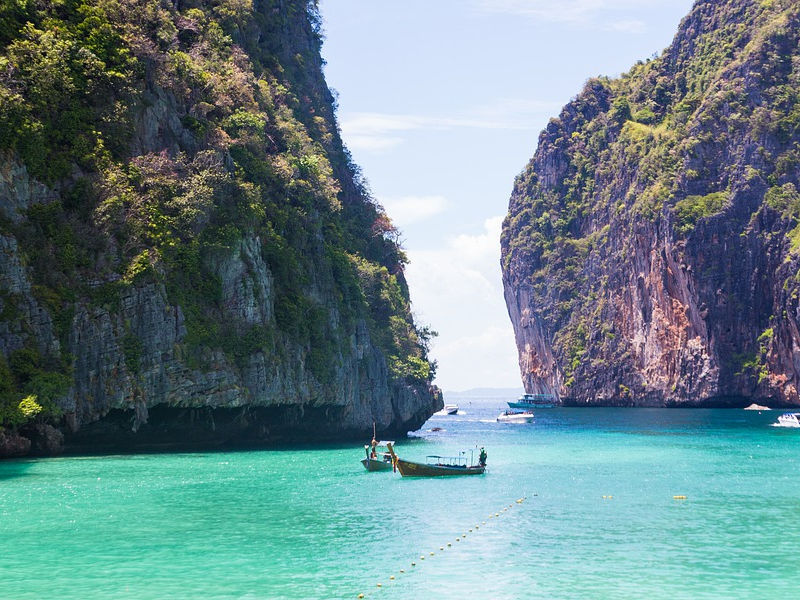 Where to Find the Best Beaches and Top Thailand Beach Resorts
Colourful longtail boats bob iconically on azure-stained waters, lapping gently onto the soft, powdery white shores that welcome them. Bask under the bright Thai sky on one of these top Thailand beaches.
1. Chaweng Beach (Koh Samui)
Home to the famed Ark Bar, serving up mouth-watering seafood and all-night beachside beats, Chaweng Beach is the drawcard of this popular town. With no shortage of restaurants or typical Thailand nightlife spots to choose from, take in as little, or as much, of the vibrant atmosphere as you like.
Stay at Chaweng Regent Beach Resort, not only for its close proximity to bustling Chaweng Beach but also for its luxurious jewel-coloured swimming pools, spa and award-winning on-site restaurant and bar, the Red Snapper Bar & Grill. Alternatively, keep the good times going and stay at the Ark Bar Beach Resort!
Also visit: Lamai Beach, for laid-back afternoons swimming, sunbathing and soaking up the scenic surrounds in this family-friendly resort area.
2. Sairee Beach (Koh Tao)
Koh Tao is well loved for its scuba diving spots and rich coral reefs that beg to be snorkelled. Its longest beach, Sairee Beach, stretches over 2 kilometres with plenty of long tail boats lining the soft, sandy shore. See the day out to sunset and enjoy a sundowner from one the palm-tree swings scattered across the beach.
Integrated into the natural, lush surroundings, Koh Tao Cabana is the perfect Thailand beach resort to stay at to enjoy the splendour of Sairee beach. Indulge in great seafood, sunset beach walks, spa treats, sunbathing, snorkelling and refreshing swims by a cascading, pool-side fountain.
Also visit: Tanote Bay, for the lively atmosphere and a chance to cliff jump from an enormous rock into the turquoise, snorkelling friendly waters below.
3. Haad Rin Beach (Koh Phangan)
Synonymous with many a moon phase inspired, fire-throwing, fun-fueled party, Koh Phangan is home to arguably Thailand's most famous beach, Haad Rin. For a taste of the full moon festivities from sunrise to sunset, Haad Rin is the place to be.
Stay in the heart of happening Haad Rin, momentarily escaping the bustle at Delight Resort, which is in walking distance from the pier and Haad Rin Nok beach. It offers a chance to retreat to the expansive azure swimming pool within and regroup.
Also visit: Bottle Beach. Nestled in a secluded cove, lined by a lush jungle backdrop, this well-loved beach is accessible only by boat, keeping most of the nearby revellers away.
4. Patong Beach (Phuket)
When thinking of Thailand, Phuket is definitely front of mind! Patong Beach even more so. The island's largest beach is somewhat regarded as its 'party capital', with an array of nightclubs, restaurants and bars luring travellers in, with their sandy feet and smiles from time spent on Patong beach.
Stay just 100 metres from Patong Beach at The Bloc Hotel, a contemporary offering with a dazzling rooftop pool and bar overlooking the popular locale. The uber-cool hotel is located next to the Surf House and walking distance to vibey Bangla Road and shopping at Jungceylon Mall.
Also visit: Kata Noi beach, for peaceful swims on the sandy seabed, snorkelling, sunbathing and surfing the beach break.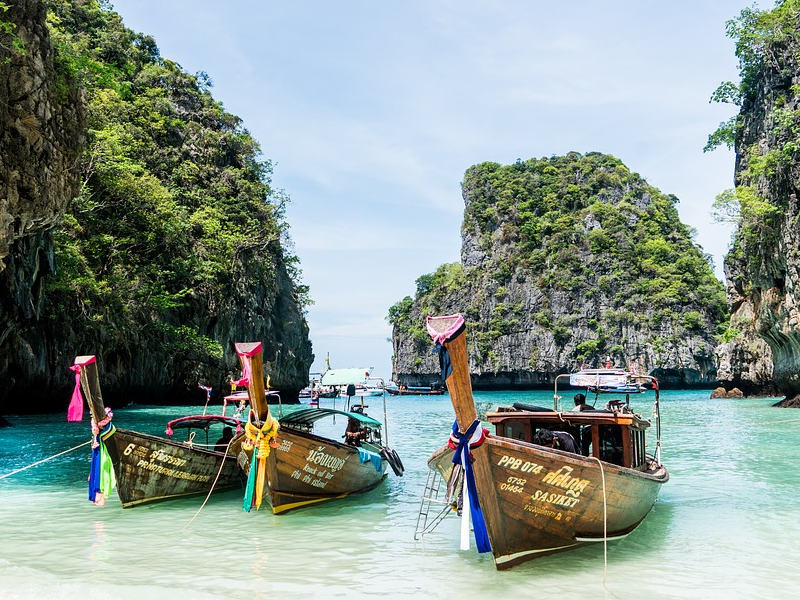 5. Maya Bay (Koh Phi Phi)
Made famous years back by Leonardo DiCaprio in the film, The Beach, Maya Bay is the jewel of Koh Phi Phi. A breathtaking, secluded beach surrounded by cliffs, the sheltered bay is best enjoyed by kayaking, snorkelling or soaking up the sun on the powdery white shore alongside curious monkeys.
There is nowhere to stay on the island, but Koh Phi Phi Don is a short boat ride away, where HIP Seaview Resort @ Phi Phi awaits at its Long Beach locale. The hillside bungalows offer breathtaking views and the resort is in short walking distance from some of the best beaches on Koh Phi Phi Don.
Also visit: Koh Phi Phi Don's top beaches nearby, Long Beach, Loh Mu Dee Beach and Viking Beach.
6. Kantiang Beach (Koh Lanta)
Located within the Mu Koh Lanta National Park, the crescent-shaped Kantiang Bay comes complete with a quiet, calm and scenic beach. The beach is accessible by foot through the park and a hike up through jungle-like terrain, amongst monkeys and monitor lizards, leads to an old, unused lighthouse.
Settle in at the Kantiang View Resort with its expansive views of Kantiang Bay from the hillside bungalows and the glorious Kantiang Beach just a stone's throw away. Alternatively, splurge on the five-star luxury that is the Pimalai Resort and Spa, nestled into the lush hillside nearby.
Also visit: Bamboo Beach, for its unspoilt sketch of white sand and blue waters, reminiscent of how beaches once were from earlier times in Thailand.
7. Sunset Beach (Koh Lipe)
Also known locally as Hat Pramong, Sunset Beach is set on a small bay on Koh Lipe Island. As the name suggests, it's well-known for spectacular sunsets and offers a simple, bohemian experience, marked by plenty of seafood servings.
You couldn't get closer to Sunset Beach if you tried than at Bayview Sunset! The beachfront bungalows, adorned with their grassy roofs below a canopy of coconut palms, are the perfect place to escape and enjoy cycling, snorkelling, ocean swims, and of course, sunsets. Looking for something more exclusive? The Asara Private Beach Resort is the answer!
Also visit: Sunrise beach, or Pramong in Thai, for beautiful sunrises, seafood, serene morning walks and snorkelling on the opposite side of the island to Sunset Beach.
8. White Sand Beach (Koh Chang)
Koh Chang, or Elephant Island, houses the popular White Sand Beach, starting at the islands northern end. Dotted with beach bars, dive spots and seafood restaurants, the beach is well loved not only for its wide, sandy shore that juts from the jungle, but also for the entertainment and activities it offers.
Step straight out onto White Sand Beach from the sprawling, four-star KC Grande Resort & Spa. Apart from swimming, watersports, snorkelling, sunbathing and a round of beach volleyball, the on-site spa welcomes you in at this luxurious slice of Koh Chang. If you would rather use your budget elsewhere, the splendid, beach-facing pool at Mac Resort Hotel beckons nearby at the palm-lined resort.
Also visit: With its relatively recent development (from the 80s), Kai Bae Beach is well-loved by families for the perfect balance of accessible restaurants, shops and resorts nearby, as well as a lovely beach straddled by nodding palms.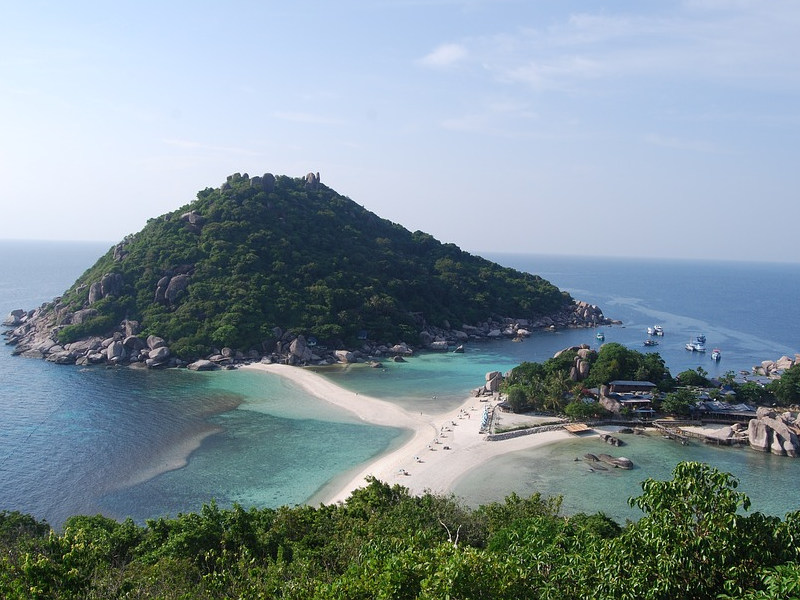 9. Ao Leuk Beach (Koh Tao)
The protected cove on which Ao Leuk Beach is based, is frequented by locals and tourists alike. Perfect for swimming, diving, snorkelling and just generally soaking up the serene beauty of Koh Tao on a cosy, quiet stretch of beach. An entrance fee applies but buys you refreshments and beach loungers to enjoy for the day.
Stay directly on Ao Leuk Beach at Aow Leuk Grand Hill, and admire the azure waters below, tucked away in your balcony hammock. The beachfront resort offers snorkelling of the shallow reefs directly from the beach.
Also visit: Nang Yuan Beach on nearby Koh Nang Yuan Island. The three-pronged sandbar that forms the beach in-between is a privately owned portion of land, and only accessible by non-resort guests during the day. Catch a ride from the mainland to the island by zip-line or boat!
10. Railay West Beach (Krabi Province)
Rai Leh as it's known by locals is part of Krabi Province and is accessible only by longtail boat, lending the small peninsula a truly isolated, island-feel. The main beach, Railay West, stretches softly across 600 metres and is surrounded by limestone cliffs that beg to be summited by rock climbers.
Stay at the Sand Sea Resort for its prime location on Railay West Beach. If it's not a Thai massage at the on-site spa that speaks your language, then its the sun, sand and sea, or close proximity to Walking Street for lane-side shopping.
Also visit: Phra Nang beach, for shallow swims in the emerald water, snorkelling around coral reefs, and a visit to the sea cave to make an offering to the mythical princess that calls it home.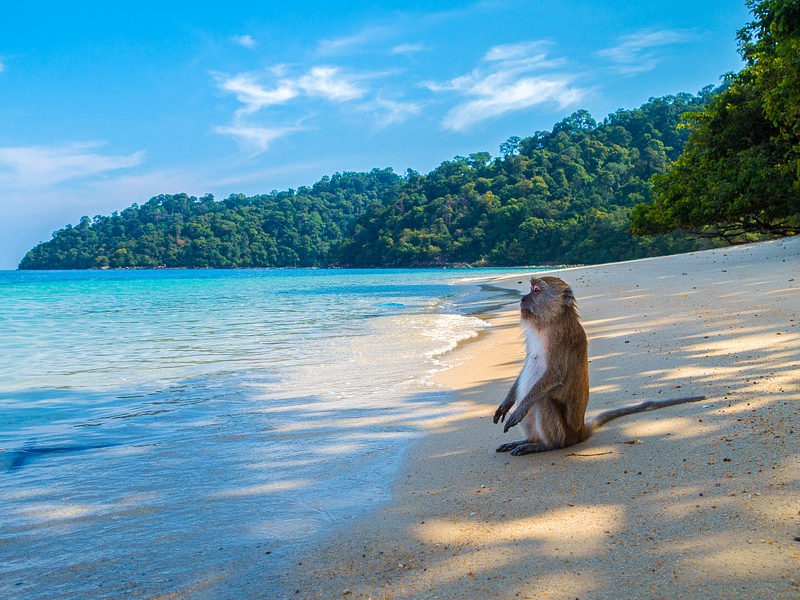 Top Tips for Thailand's Beaches
Of all the wonderful things to do in Thailand, leisurely beach visits to some of the spectacular island locales come out tops. To make the most of your trip to Thailand's islands and beaches, consider a few of these points:
Choose just a few of the best beaches in Thailand to visit, rather than rush from one to the next, trying to see them all, but not really experiencing them all.
Sunscreen is your new best friend.
Always keep bottled water on hand, not only to stay hydrated but also to avoid the chance of getting sick.
Don't feed the monkeys, it cultivates bad habits.
Be careful of scams when travelling between beaches, some of which are remote. Arrange a metered fare before starting your journey, or insist that your taxi driver turns on the meter, to avoid ending up paying an inflated price for the journey.
From serene shore escapes at top Thailand beaches to exciting city escapades, Travelstart has you covered! Find the best beach resorts in Thailand for your upcoming ocean-side adventure or browse and book your cheap flights to Thailand to get that island-dreaming off to a great start.
Did you discover these, or any other Thailand beaches worthy of a mention? We would love to hear about it! And if you would like to stay in the loop of all things to Thai-for, be sure to sign up to our newsletter!
All information on this blog page was correct at the time of publishing and may change at any time without prior notice. Travelstart will not be held liable for loss or inconvenience resulting from the use of out-dated or incorrectly noted information.