Cape Town has once again felt the love from TripAdvisor. After winning the best tourism destination in the world in 2011, the Mother City once again has a winner in TripAdvisor's Best Hotels 2012 Travelers Choice Awards and as always is filled with places to see. The Villa Zest Boutique Hotel in Green Point took pole position in the Trendiest Hotel in the World category.

Voted for by TripAdvisor users, the award means much for Villa Zest and for the Mother City, further cementing the pretty city's position on the world stage as one of the most desirable destinations on the planet.
Villa Zest owner Kevin Gerlach said of the TripAdvisor award, "There are a lot of preconceived ideas about what Cape Town has to offer. The World Cup helped to break those barriers, then winning the Design Capital and now we can boast that we also have the Trendiest Hotel in the World."
Villa Zest Boutique Hotel
Located in Cape Town's trendy Green Point, Villa Zest Boutique Hotel offers designer luxury accommodation in the heart of the Mother City.  The hotel comprises seven rooms, a rooftop deck with views over Green Point and the ocean, the Object art gallery, a high-end media room with every single gadget the modern business traveller requires, a lounge with views over the V&A Waterfront, and a refreshing garden and pool area.
No expense has been spared at this luxury Cape Town accommodation. The Bauhaus inspired architecture played a major role in Villa Zest's 2012 TripAdvisor award while the funky modern-retro interior wows even the most discerning guests. In addition to its unique architecture and enviable interiors, Villa Zest does not disappoint when it comes to top service. In true Cape Town style, the hotel says that they don't throw you out of bed at 10:30 and the first drink is on the house; and if you want to have breakfast at noon then that's fine by them too.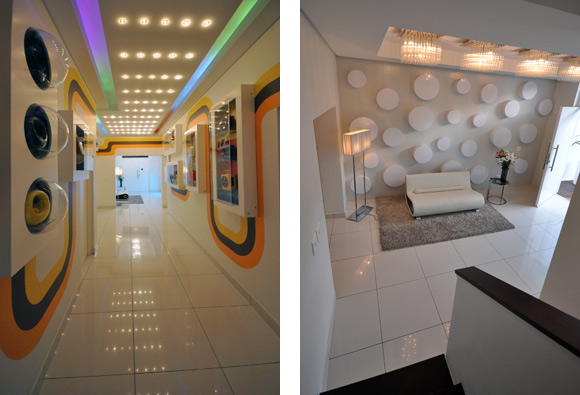 Fast Facts
– It took more than 600 hours searching eBay to drive home the 70's theme of Villa Zest
– Out of 520 hopefuls, Villa Zest took top honours in the Trendiest Hotel category of  TripAdvisor's Best Hotels 2012
More Award Winning Cape Town Hotels
Three more Cape Town hotels made it into the top 25 in the 2012 Tripadvisor ranks including Derwent House Boutique Hotel in Tamboerskloof (5th), the Protea Fire & Ice (11th) and Blackheath Lodge in Sea Point (18th).
Visit us now for online hotel bookings and choose from hundreds of Cape Town hotels.
Images: Villa Zest Boutique Hotel