There's more to Ireland than potatoes and beer. The clink of Guinness glasses as you stare into a friendly face and declare "sláinte" becomes a happy sound that alerts your taste buds to the liquid satisfaction imminent. Rolling green hills drop into dramatic cliffs, plunging into the endless ocean as you catch your breath and snap a pic. Here's more on what to do, where and how.
Follow Tabitha's tales in 2 dimension here.
Feeling Jolly In Dublin

One of the many trendy cafes nestled in the warm brick walls that line the streets of Dublin, Ireland
At any given point there is some form of art, culture or music happening in vibrant Dublin. See the Dublin Event Guide for daily free events like theatre in the park, live music and educational talks.
Some events include:
▪ Free Walking Tours with Emily Gallagher.
They take place every Tuesday from 11am to 1pm, Thursdays from 7pm to 9pm and Saturdays from 2pm to 4pm. Contact Emily to book here.
▪ Free Yoga every Saturday on Stephen's Green this summer.
It's donation based with all proceeds going to charity. 11am on Saturdays beside the bandstand in Stephen's Green in between the Harcourt Street and Leeson Street entrance.
▪ Art talks and screenings at The National Gallery.
Shop, Drink, Play
The George Street Arcade in the city centre opens daily, and you can shop away with everything from pocket watches to jewellery, photography and Belgian waffles! My personal favourite is a little stall run by a film photographer who sells prints that he's collected over the years, frames and sells for €5 a piece or 3 for €12. He's got a story for most of them too!
Weekend Markets
▪ Ha'Penny Flea Market for vintage clothing, books, crafts, photography and more at The Grand Social located at 35 Lower Liffey Street, Dublin 1. The Grand Social also boasts frequent music events so check their website for updates.
▪ The Temple Bar Market for food and design although be wary of spending too much time in Temple Bar as it is an area full of tourist trap bars and restaurants. You may want to have just one beer and a walkabout then move on to other areas to play. 12 East Essex Street, Temple Bar, Dublin 2.
▪ See the Dublin Event Guide published every week for more free events – there's loads!
Drink Guinness
"Maybe it's the mineral flavour of the water used to make Guinness, that tastes as if it's run directly off the mountain into your glass. "
Seriously. It tastes the best in Ireland, and locals get very serious about the craft… to the extent that they will switch to something else if the pints poured at a certain bar are not up to scratch. This could be because the pipes haven't been cleaned properly, the beer has been sitting for too long, or the pourer simply lacks the skills. Either way, the Irish do not drink bad Guinness. So basically you are almost guaranteed a perfect pint every time, with a delicious frothy head and full flavoured body that isn't sweet nor bitter, making for a hearty mouthful of flavour that doesn't linger for too long. Maybe it's the mineral flavour of the water used to make Guinness, that tastes as if it's run directly off the mountain into your glass. It could be the air, crisp and tinkling with laughter floating out of the cafes and mingling with the gentle rattling of the sailboat masts in the wind. Or perhaps it's the nostalgic sight of the quaint cobbled streets hugged by their big-stone buildings, as if in an attempt to retain the heat emanating off the bodies all clad in edgy outfits and thrilled after-work-drinks faces. Whatever the reason, hands down, the Guinness is most delicious when drunk in Ireland.
Once you're feeling fuzzy and ready to be swept up in the motions of Dublin's nightlife ocean… go play at places like Yamamori Izakaya for fine Japanese cuisine, cocktails (I love the Espresso Martini), and its upbeat vibe. 12/13 South Great George's Street, Dublin 2, Dublin.
Grab a bottle of Japanese Asahi in the quirky beer garden of sister restaurant Yamamori Tengu, across the river. 72 South Great Georges Street, Dublin 2. Pick up the tempo at Pygmalion, a maze of arches and bars set against glass walls that look out onto the elegantly lit-up Powerscourt Centre.  Expect anything from Minimal Techno to funky New Disco, and once a month they host some big names. I got to watch Nightmares on Wax… seriously smooth! Pygmalion is located at Powerscourt Town Centre, South William Street, Dublin 2.
Eat Some More
Not just famous for it's beer and whiskey, there are some local delicacies you can't leave without trying:
▪ Dairy. All of it. The thick yogurt that's all natural ingredients and none of the gelatine-plumped stuff in SA, and far removed from the clotted milk found in Spain. The yummy goats cheeses… the vars melk… dis al lekker.
▪ White pudding. Yup, there go my veggie efforts… It's a mixture of pork, onion and oats sold in a polony roll. Buy it at the local supermarket for €2, slice it thickly and fry it up with your brekkie. Mmmm…
▪ Fig rolls. I'm really not doing well on the health section but hey, at least it's fruit! Rolled up in a biscuit blankie, they're yummy with local black tea.
For the Adventurers: Trekking
The island of Ireland is outlined and criss crossed with trails in a range of difficulties, all pretty mind-blowing. From Dublin, try:
Howth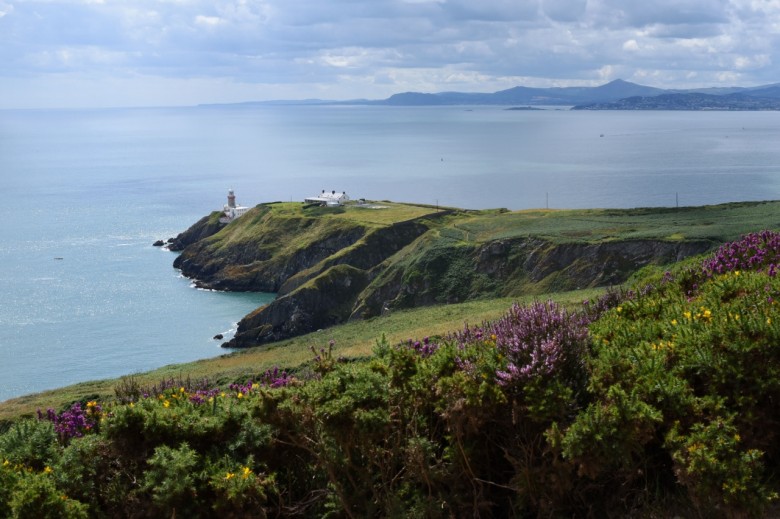 The view where the shorter trails split from the pink trail (10km) in Howth, Ireland
This small fishing village on a peninsula was once detached from the mainland until a sand bank formed making it accessible by car and Dart train from Dublin (it is considered an outer suburb of the capital). When you arrive navigation is simple, exit the train station left and follow the main road until you get to a wooden info booth on the left. Pick up a map showing most of the treks, which range from 3km – 10km. The 10km or pink trail covers loads of ground right up next to the ocean, as the path undulates gently over the cliffs. It's an easy trek considering the top class picturesque rewards, and to motivate you further is the seafood chowder waiting for you at the end of your long journey. Word of mouth has it that the Brass Monkey serves up the champion of this creamy heaven, packed with bits of salmon, chunks of haddock and soft mussels that crumble and melt in your mouth in an avalanche of gooey goodness. Yup, it's really that good… and for only €8. Add a couple extra dineros and they'll throw in some shellfish and the title of 'World's best chowder'. I couldn't resist the giant frothy cappuccino to top off a treat fit for champions, and I left the pleasant village feeling content with the day's accomplishments.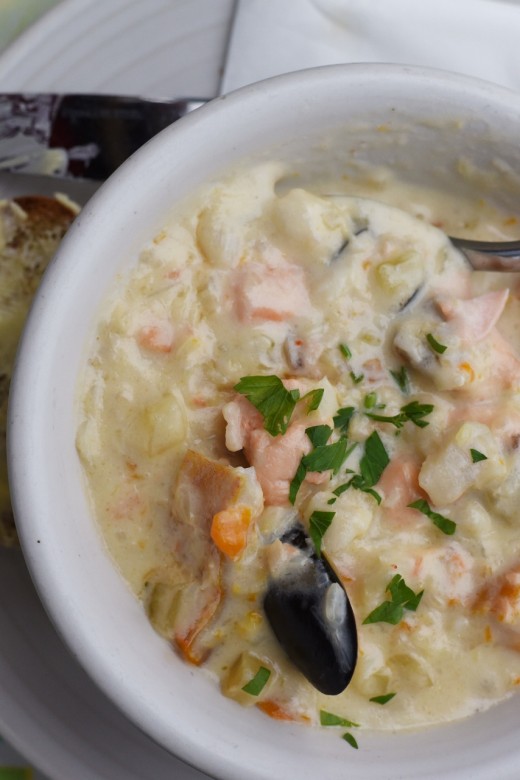 Delicious seafood chowder from The Brass Monkey in Howth, Ireland
The Dart train runs every 20 minutes and takes around half an hour journey from Dublin city centre to Howth. The train connects all the way down South to Bray and is convenient for traversing the city too (rumour has it the bus system is less than commendable but as a Saffa I'm happy the option exists at all!) Singles at €3.50 and return €6.70, although swiping a Leap Card is cheaper. These can be purchased and topped up at any news stand, and used on the buses and Dart trains.
The Brass Monkey: turn left out the train station and take your first left down the pier. It's on the left hand side, and open every day from 12pm.

Soup-bowl sized cappuccino for desert at The Brass Monkey in Howth, Ireland
Eat some more… at the Howth Market, open on weekends and holidays. Think gluten free coconut and date balls among other scrummy crafty yums, cosy sheep's wool beanies and beeeeer. Find it at 3A Harbour Road, Howth.
Also read:
Glendalough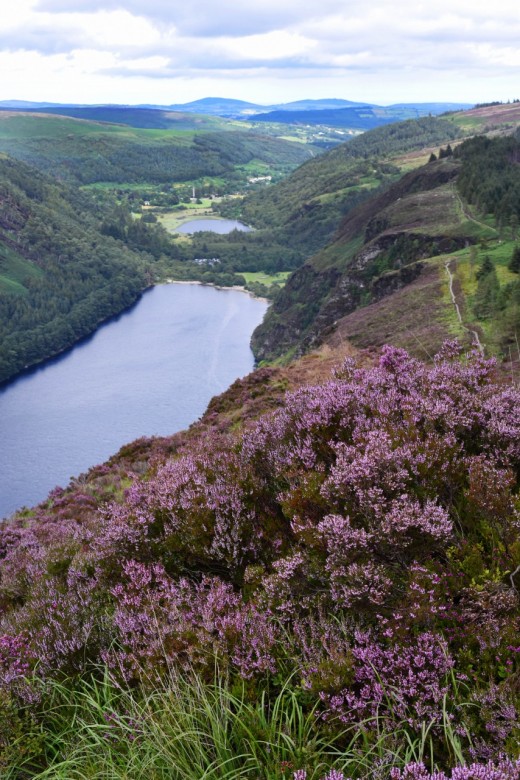 The lakes in Glendalough, viewed along the An Spinc / white trail, Ireland
If you're up for a challenge the trails around the Glendalough valley (2 hours from Dublin), nestled in the county of Wicklow, should do the trick for you. The An Spinc (white) trail runs up over 600 stairs to a peak that overlooks two lakes, formed when a glacier slid down the mountain and melted years ago. The path loops down and crosses a river running alongside the ruins of a miner's village. To do this route you need full hiking kit including boots, rain jacket etc. There are other trails of varying intensities, and some folk come for a casual Sunday wander and an ice-cream. Near the entrance to the park you can also see the ruins of a Monastic village established in the 6th Century by St Kevin, later partially destroyed by the English. If you're lucky you could spot Bambi and his mama too.
For info on trails: Wicklow Mountains National Park website
It's best to drive as the area is a little off the beaten track, or take the private St Kevin's Bus that runs a daily service. It leaves at 11.30am from Dublin (top of Dawson street), and you buy tickets on the bus. Return is €20 and single €13. For more details check here.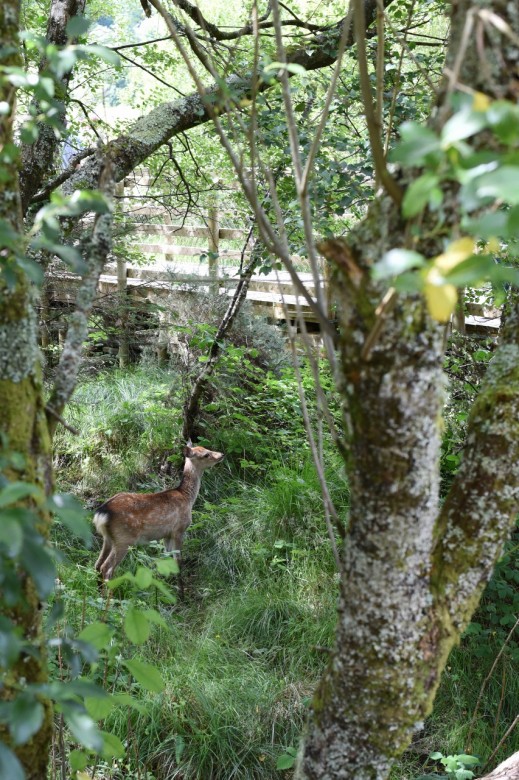 We spotted Bambi at the beginning of the trail, just after the Monastic ruins. Glendalough, Ireland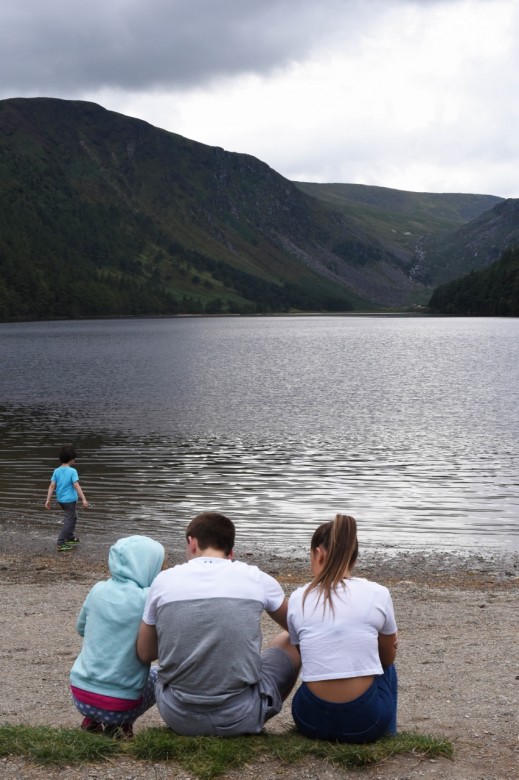 Sunday afternoon at the bigger lake of two, in Glendelough, Dublin
The Cliffs of Moher
Pronounced 'moor', they're a must-do. The dramatic cliffs plunge into the crashing waves, and a vivid contrast forms between the teal blue ocean that becomes speckled with white spray as it collides with the enormous walls of grey rock.
Stay at the Doolin Hostel for the best location, situated at the start of the 8km trek to the Cliffs of Moher site, they charge €22 /person/night in a 6 bed dorm.
Get from Dublin (Busáras) to Doolin Hostel by Bus Eireann for €42 max return, around 6 hours one way with one change (or 3 hour self-drive). Plan your public transport journey on the Transport for Ireland website. The train is more expensive and requires a couple changes but routes can be checked on Irish Rail.
Rome2rio is a great website that lets you check routes from A to B or C, D, E… It usually shows the cheaper options and a variety of train, bus and car routes with links to transport websites.

The forests in Ireland have an ethereal quality, one can't help treading lightly and quietly… so as not to disturb the fairies.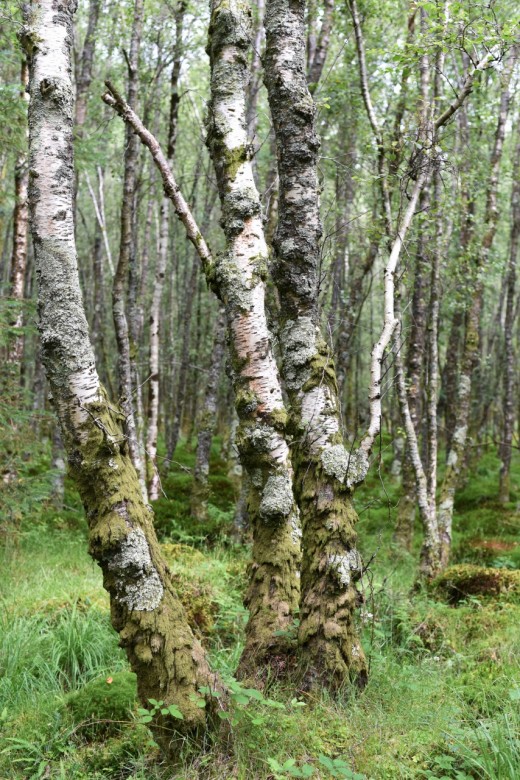 Ireland is vast, beautiful and littered with cities and towns that burst with true Irish tradition. Like Galway, about a 1 hour drive from the cliffs of Moher, it's a vibrant student town with a promenade curving along the seaside, it's an arty city where you'll find unique crafts, traditional Irish music around every corner, and a rocking nightlife.
Getting To And From Dublin Airport
Air Coach connects the airport to areas all over Dublin and runs every 15 minutes from 03:25 – 23:55 then every half hour. One way costs €10 on the bus, or €6 if bought online and on Ryanair flights.
Visa Free For 90 Days
South Africans can visit the Republic of Ireland (excluding Northern Ireland) for a period of 90 days visa free. Just pack a valid passport and ensure you have a return ticket or ticket for onward travel and you're good to go!
What To Pack
The maximum recorded temperature in Ireland is 27C, although the heat here can be uncomfortable with heavy humidity. That being said you are usually lucky to be caught in hot weather so pack for the usual:
▪ raincoat or umbrella plus windbreaker if you prefer
▪ waterproof shoes
▪ a couple nice, warm jerseys to go out in
▪ pretty T-shirts for underneath
▪ a decent jacket for in-between the pubs at night
▪ a fleece: they're amazing because they're light to travel yet with super warm, especially layered underneath a windbreaker or raincoat
▪ hiking or at least comfy walking shoes
▪ camera! The more lightweight the better for trekking
▪ sleeping mask if your sleeping patterns are allergic to light, most houses don't have shutters here
Save Space For:
▪ beanies and jumpers knitted with Irish wool
▪ cheap jerseys and Ts at Primark, like Mr P but actual quality and style
▪ art and crafty souvenirs, not your regular keyrings
▪ 5€ bottles of delicious, quality whiskey
You really have no excuse… there's a path waiting to be walked, Guinness to be drunk, and memories to be made.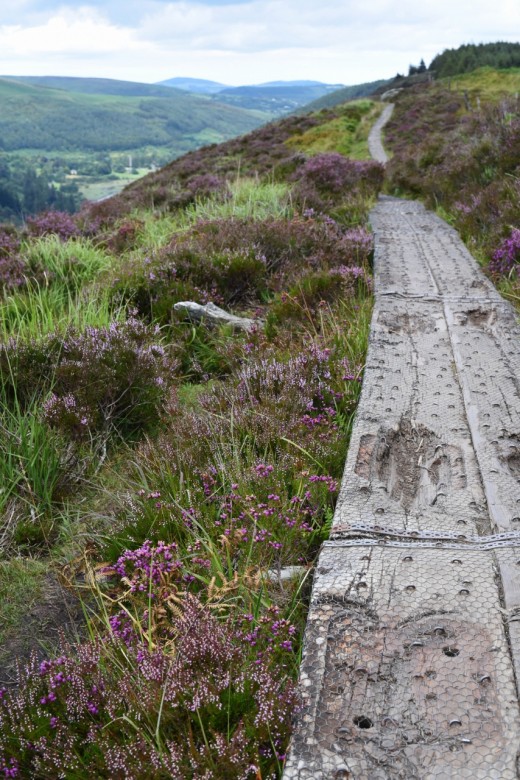 View from the An Spinc trail in Glendalough, Ireland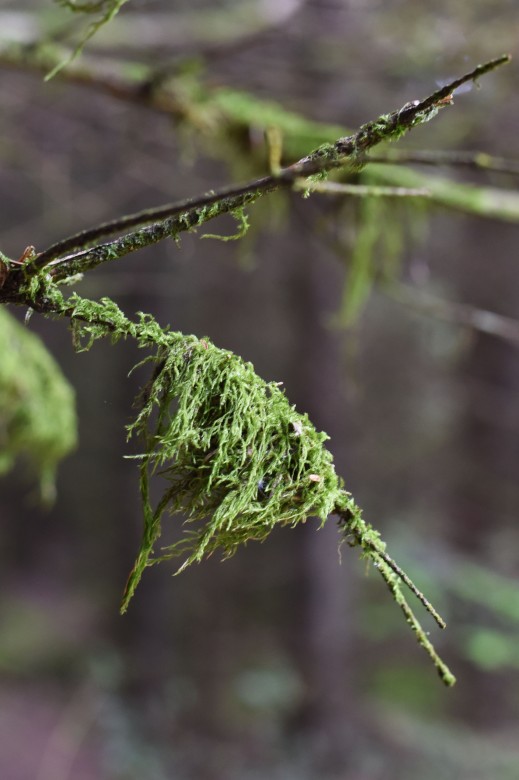 Moss hangs delicately off the trees in the cool, deep and dark forests, Ireland
All photographs courtesy of Tabitha Dillschnitter.