Apart from picturesque stretches of tropical beaches, streets lined with food stalls, gilded temples, and world-renowned Thai hospitality, Thailand is also home to some of the most sought-after dive spots in the world.
We delve beneath the surface to discover the best scuba diving sites in Thailand, whether you are a well-seasoned, advanced diver, or just beginning to dip your toe into the exciting world of diving in the deep blue.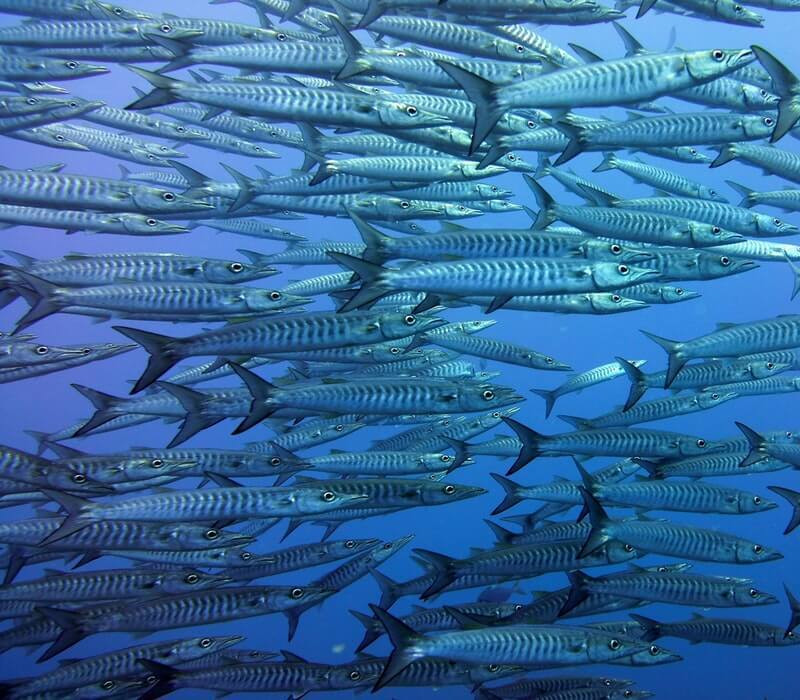 Where to Find the Best Scuba Diving in Thailand
Thailand is strewn with balmy, palm-lined islands, and numerous world-renowned dive sites. How do you choose which ones to explore? You either find yourself lucky in one of these top dive locations or keep this list handy when planning an upcoming diving holiday.
1. Hin Daeng (Mu Koh Lanta National Park)
Also referred to as 'Red Rock', Hin Daeng clings to the edges of the Mu Koh Lanta National Park, a marine park spanning over several islands. Sharing the spotlight with Hin Muang, Hin Daeng is one of the most famous dive sites in all of Thailand.
Hidden below the surface, an eruption of colour emanates from the red and purple corals below. This deep rocky pinnacle in the southern Andaman Sea is the perfect place to encounter an array of reef fish, rainbow runners, barracudas, trevallies and scorpionfish.
If you are an intermediate to advanced diver, and can endure the sometimes choppy waters and challenging currents, then this dive will afford you the chance to swim alongside reef sharks, manta rays and whale sharks. Navigated by speedboat from Phi Phi or Koh Lanta, this is definitely one for the bucket list.
Other dive sites near Mu Koh Lanta National Park: Koh Rok, Koh Rok Noi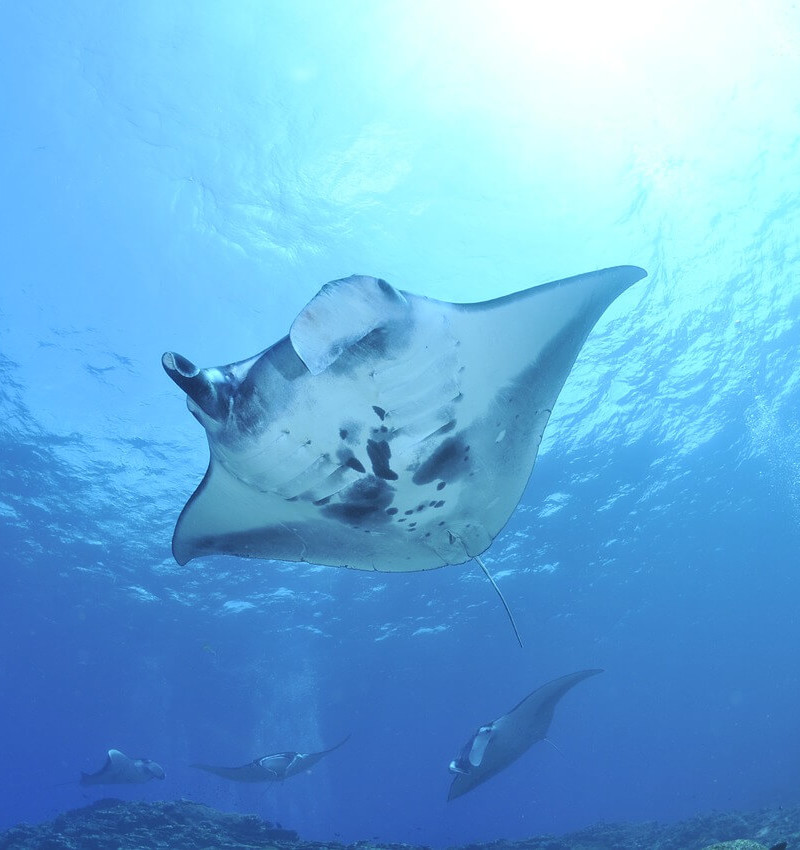 2. Hin Muang (Mu Koh Lanta National Park)
Otherwise known as 'Purple rock', this prime diving spot and Thailand's tallest wall dive, is littered with purple-hued corals, anemones and macro marine life. This rocky underwater ridge connects to Hin Daeng a few hundred metres deep below the surface of the Andaman Sea.
Surrounded by open water, intermediate to advanced divers are better equipped to handle the weather-dependant conditions and strong currents of this dive site. Traverse up to 30 metres below the surface and you're likely to find schools of barracudas, tuna and jack fish alongside whale sharks and feeding manta rays below.
As part of southern Thailand's Krabi province, Hin Muang can be accessed by liveaboard or a short, sometimes choppy ride by speedboat from Koh Lanta.
Other dive sites near Mu Koh Lanta National Park: Koh Haa Yai
3. Chumphon Pinnacle (Koh Tao)
The most notable dive locale in Koh Tao (or 'Turtle Island'), Chumphon Pinnacle, is better suited to the advanced diver. The pink anemone-encrusted pinnacles in the Gulf of Thailand are home to an array of marine life, which share the 45-metre depths with an equal abundance of eager scuba divers.
Koh Tao is renowned for spectacular coral reefs and varied marine life, as is Chumphon Pinnacle, from chevron barracudas, trevallies, big eye jacks, to scorpion fish, giant grouper and batfish lying in wait near the bottom. Keep an eye out as the site is occasionally visited by whale sharks too!
Other dive sites near Koh Tao: Sail Rock, HTMS Sattakut shipwreck, Shark Island, Japanese Garden and Koh Nang Yuan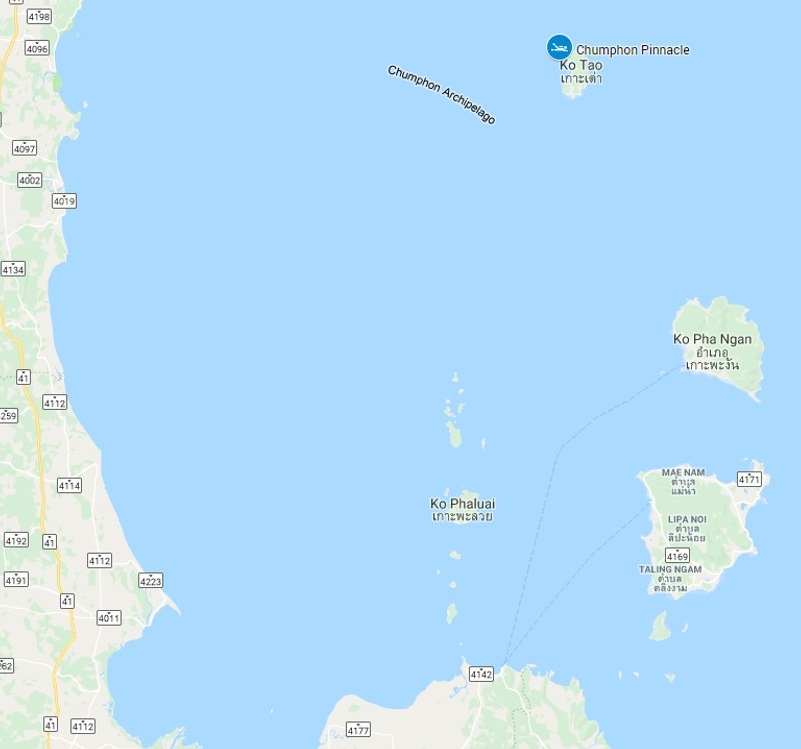 4. HTMS Chang (Koh Chang)
Located in the Gulf of Thailand, Koh Chang (or 'Elephant Island') is the country's second largest island and home to its longest shipwreck. On-land, the Koh Chang National Park is a thicket of rain forest, while the surrounding waters in the National Marine Park are rich with corals and marine life.
A once warcraft, HTMS Chang dates back to the Second World War, but now forms part of an artificial reef that spans over some hundred metres of the seabed. Accessible by all experience levels, this recreational dive site can be better navigated by advanced divers, who can explore the barnacle-laden ship nestled 30 metres deep.
A leisurely boat trip from Koh Chang sees you swim alongside barracudas, batfish, scorpionfish, squid, shrimpfish and the occasional octopus.
Other dive sites near Koh Chang: Hin Luk Bat (3km southwest of Koh Chang), Koh Rang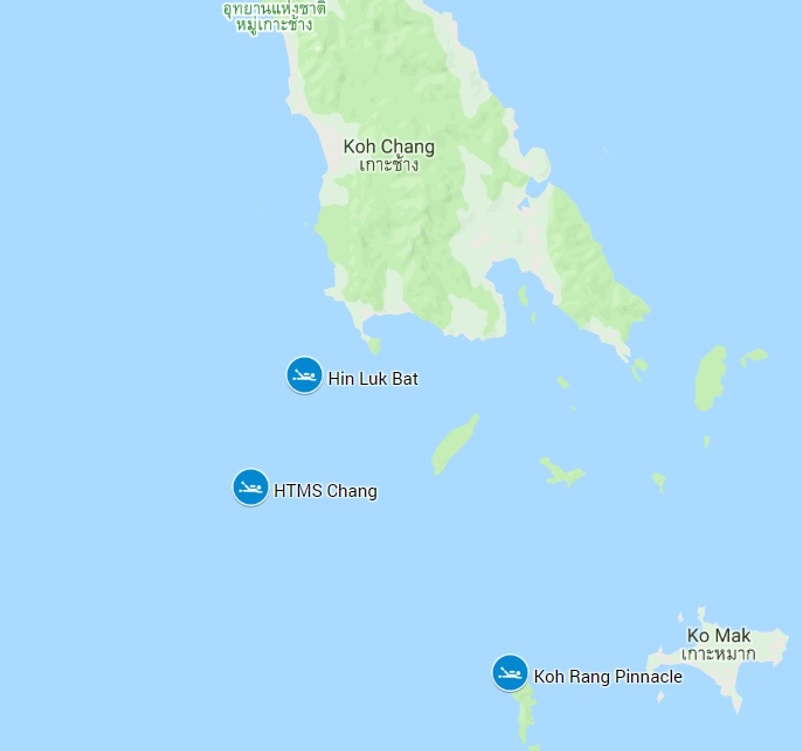 5. Shark Point (Phuket)
Referred to as the 'Pearl of the South', Phuket is host to one of the most well-known dive spots in Thailand. Aptly named after the abundance of leopard sharks that inhabit its waters, Shark Point is the epitome of Phuket diving.
Located within a marine sanctuary, the seemingly small, rocky outcrop in the Andaman Sea reveals a vibrant reef below. Shark Point is most ideal for divers who have open water experience.
A reef clustered with sea fans and plush corals in pink and purple, the main of three dive sites is littered with tropical fish, from trevallies and jack fish to scorpion fish, groupers, cuttlefish, moray eels and squid. The star of the show, leopard sharks are accompanied by reef sharks, and on occasion, whale sharks.
Regular day visits from Phuket are navigated by boat, and exploring all of this dive site may take several visits.
Other dive sites near Phuket: Anemone Reef, Koh Racha Yai, King Cruiser Wreck
6. Richelieu Rock (Surin)
An archipelago in the Andaman Sea, the Surin Islands dive sites are some of the best in Thailand and form the Mu Koh Surin National Park. Most notably, iconic Richelieu Rock is famed for its position in deep, open water, which attract a myriad of marine life to the plankton-rich site.
Regarded as the best place in Thailand to spot the often elusive whale shark, Richelieu Rock, is also the perfect place to dive with other pelagics too. While submerged during high tide, the rocky pinnacle regularly pops above the water's surface to reveal just a glimpse of the horseshoe-shaped site.
Due to the depth and strong currents, only open water students and advanced divers can access Richelieu Rock and meet the whale sharks, manta rays, barracudas, ghost pipefishes, groupers, moray eels, harlequin shrimp and other creatures that call the area home.
Although there are no islands closely located to the site, it can be easily accessed by way of liveaboard or a day trip by boat from Surin or Khao Lak.
Other dive sites near the Surin Islands: Hin Rap, Koh Chi
7. Elephant Head Rock (Similan Islands)
Set near to the eighth of nine Similan Islands, in an open stretch of the Andaman Sea, this well-visited dive spot is prone to strong currents and a seasonal monsoon-swept sea. Part of the greater Mu Koh Similan National Park, these granite islands are spectacular.
The contours of this uber-popular reef are decorated with hard and soft corals around arches, caverns and swim-throughs. Advanced open water divers can negotiate the challenging currents to discover the local pelagic inhabitants, including barracudas, trevallies, tuna, leopard sharks, manta rays and more.
A little closer to the corals hide groupers, moray eels, sweetlips, mantis shrimp and hawksbill turtles. Best accessed by liveaboard or boat, the journey to Elephant Head Rock is typically made from Khao Lak or Tap Lamu Pier.
Other dive sites near the Similan Islands: Christmas Point, Boulder City, Shark Fin Reef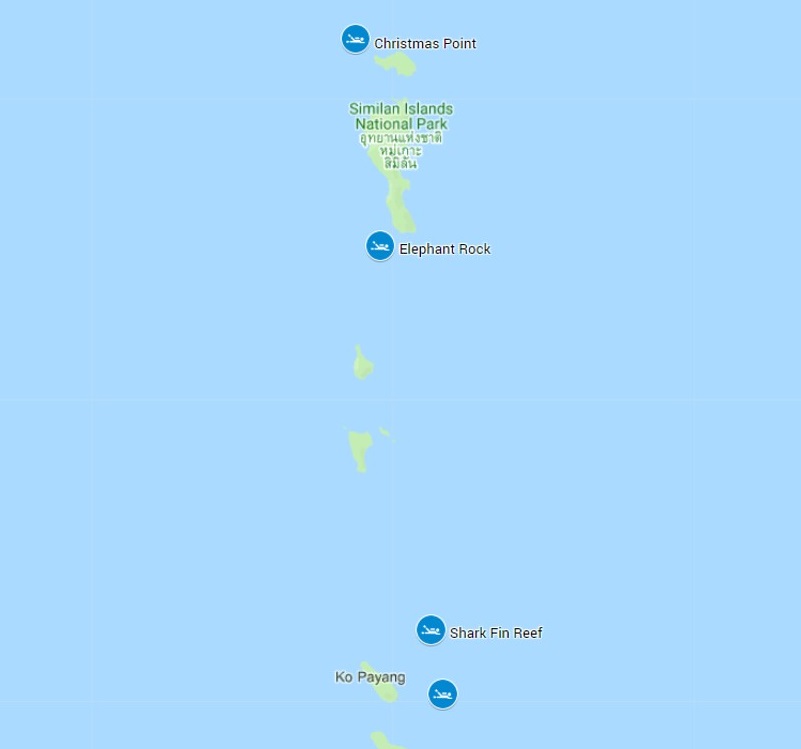 The Best Snorkelling in Thailand
For those who enjoy life a little closer to the surface, or if you simply want to catch your breath between dives, there are an abundance of great snorkelling spots to enjoy while on holiday in Thailand. Be sure to make a splash at some of these top snorkelling locations:
Koh Tao
Visit: Aow Leuk, Shark Bay, Mango Bay, Tanote Bay, Liam Thien, Japanese Gardens
Phi Phi
Visit: Maya Bay, Monkey Beach, Mosquito Island, Bamboo Island, Hin Klang
Angthong National Marine Park
Visit: Thale Nai Emerald Lake
Surin Islands
Visit: Islets, shallow bays and deep reefs within the Surin Islands
Similan Islands
Visit: Island 8 (Kon Similan/Sail Rock), Island 7 (Payu Island), Island 4 (Kon Meang)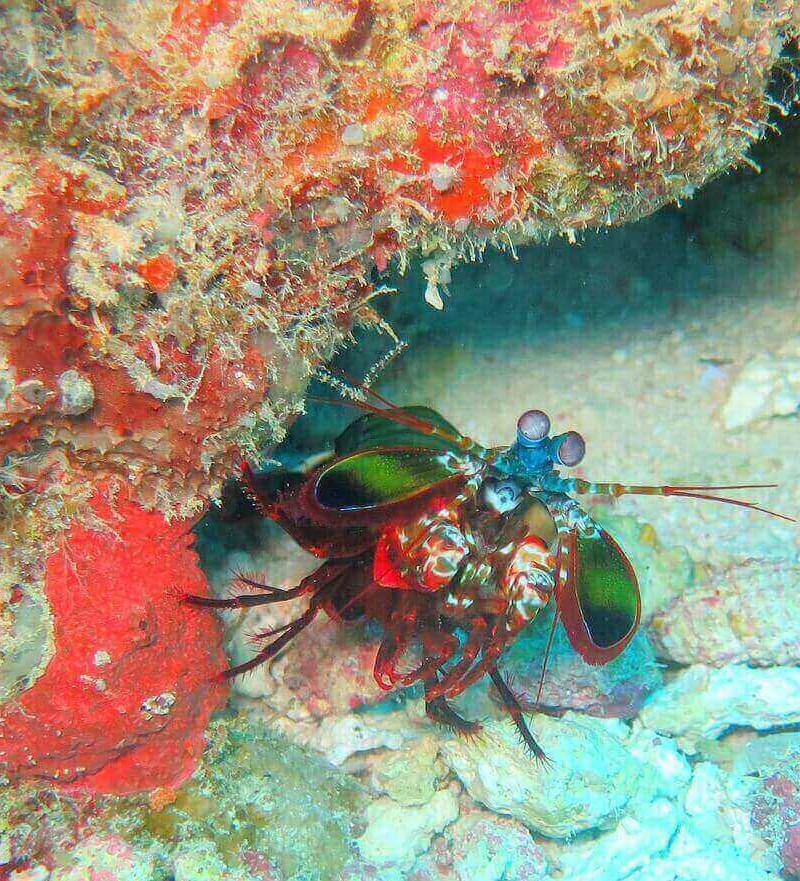 The Best Time to Go:
When is diving season in Thailand? A year-round diving destination, Thailand's most-visited diving locations each have their own ideal time to visit. While May to September is regarded as the best time to visit dive sites in the Gulf of Thailand, October to April is better for diving in the Andaman Sea.
Also read: The Best Time To Visit Thailand
Best time to see:
Leopard sharks: June – July
Whale sharks: February – May
Manta rays: January – April and November – December
Top Tips for Diving in Thailand
Thanks to the perennially warm water, diving in Thailand is a year-round attraction. With that said, many top dive sites are located in open water, and exposed to the elements, making them challenging at times.
A few tips for diving in Thailand:
Know your limits and try not to dive beyond them
A PADI Discover Scuba Diving course teaches you the basics of diving and prepares you for exploring shallow waters around Thailand
A PADI Open Water Diver course is recommended for exposed, open water dive sites and can be completed over three days while in Thailand
Use the PADI dive shop locator to find certified centres at locations around Thailand
Average water temperatures range between 26℃ and 30℃, so you can get away with a rash vest
To preserve the vibrant underwater landscape, avoid stepping on the reefs or touching the corals
Although they are used to seeing divers, marine animals can be shy, so approach them respectfully and try not to scare them off by making lots of bubbles with your equipment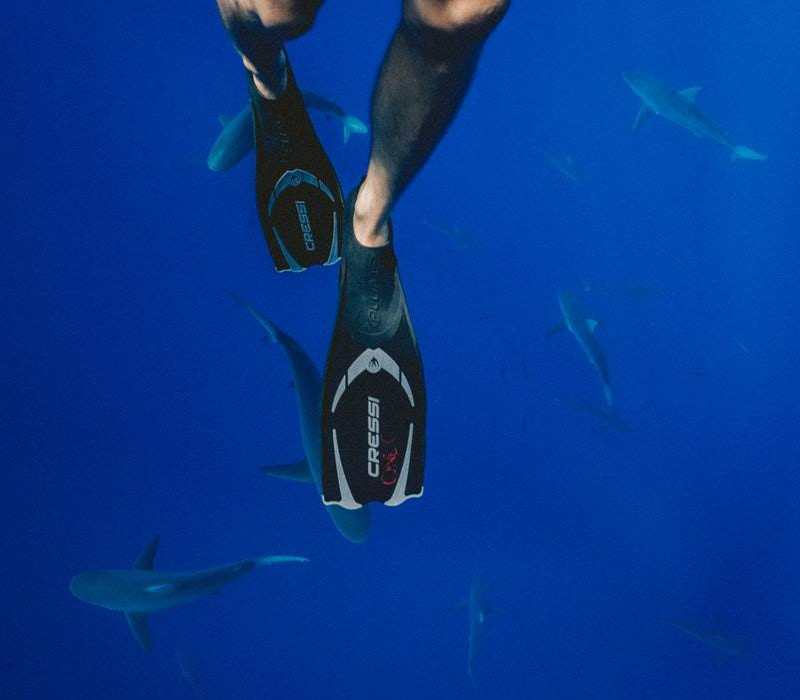 Getting to Thailand
Part of the fun of going on holiday is in getting there! A flight from Johannesburg to Bangkok (with a quick stop) sees you arrive in Thailand's capital in just under 14 hours, while a flight from Cape Town comes in a little longer at around 17 hours.
Once you've arrived in Thailand, getting around is easy. Catch a bus, taxi, train or tuk tuk to just about anywhere in the city and soak up the Thai atmosphere en route. If you're more comfortable booking your ride by mobile app, then download Grab, Thailand's answer to Uber!
There are so many accommodation options to choose from in Thailand, it can be overwhelming knowing where to begin. Why not make the process a little easier? Check out these Bangkok accommodation options to get the trip started.
Does the thought of lying on a tropical beach, pina colada in hand, under gently nodding palm trees sound like your slice of heaven? Whether it's a dive in the deep blue sea or sunbathing on cascading white beaches, Thailand is the perfect tropical dream destination.
Keep up to date on the latest flight specials by signing up for our newsletter, and you could be in Thailand quicker than you can say "Sawasdee!".
Have you been diving in Thailand? We would love to know which scuba diving spots made it to the top of your list!
All information on this blog page was correct at the time of publishing and may change at any time without prior notice. Travelstart will not be held liable for loss or inconvenience resulting from the use of out-dated or incorrectly noted information.