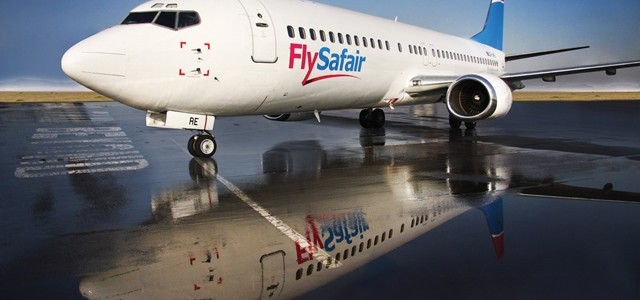 Drum roll please, the results are in, the people have had their say and due to popular demand the low-cost domestic carrier FlySafair has extended its routes to include the coastal cities East London and Durban.
The routes you've been waiting for are finally here with FlySafair.
FlySafair have put the public first by running a voting campaign to see which routes are preferred. In a poll which saw  more than 20 000 South Africans voting, East London to Cape Town proved to be the most popular choice with Durban to Johannesburg coming second, Durban to Cape Town third and East London to Johannesburg coming fourth but almost tied.
How much?
Their base fares (including tax, excluding checked luggage) will be R448 for East London to Cape Town and vice versa, and R448 for East London to Johannesburg and vice versa offering a dramatic reduction on average fare prices to these cities.
Durbanites have not been neglected as FlySafair will be operating a new route between Durban and Johannesburg and vice versa at a base fare of R448 and Durban to Cape Town and vice versa at a base fare of R548.
Hand luggage up to 7kg is included in the price of your ticket.
---
Book FlySafair Flights at 2009 prices
---
Travelstart researched average fares for 2015 and found the costs for certain routes were not as competitively-priced as one might hope. In the first quarter of 2015 the average fare for a flight from East London to Johannesburg amounted to R1851 while the average fare for a flight from Johannesburg to East London was R2813. From Durban to Johannesburg the average fare was R1488 and from Johannesburg to Durban the average was R1675. Durban and Cape Town came to an average fare of R2057 and Cape Town to Durban amounted to an average of R2010. FlySafair estimates the average cost of East London to Cape Town at R1800 and Cape Town to East London at R2500.
FlySafair have reduced fares by up to 39% on some routes they operate and have seen a corresponding increase in demand of up to 132% on some routes. And they're bringing a refreshing competitive edge to previously unoperated routes.
How often will they fly?
Between Cape Town and East London FlySafair will operate 2 flights daily (one inbound, one outbound). Between Cape Town and Durban they will operate 4 daily flights (two inbound and two outbound). And for those commuting to and from East London and Johannesburg there will be 4 flights daily during the week (two inbound and two outbound) and 2 flights daily on the weekends. Between Johannesburg and Durban FlySafair will now operate 8 flights daily (four inbound and four outbound).
When to book?
New route (ELS and DUR) tickets go on sale 22 July, for flights starting 25 October 2015.
Also read:
About FlySafair
In keeping with the spirit of a true low cost carrier, FlySafair do things a little different than what most of us are accustomed to. Although it is standard practice in Europe for low cost airlines to charge extra for pre-seating and checked baggage, FlySafair is the first South African airline following this model. The cost is R250 for one 20kg piece of checked luggage and R150 if you pre-order through Travelstart.
To date FlySafair have operated almost 4200 flights and transported more than 450 000 people. Their ACSA-measured on time performance is the best of all domestic airlines year to date at 95%. It's encouraging to see FlySafair using their low cost carrier model to the customer's advantage as well as for their own expansion. This introduces much-needed competition between low-cost carriers. The bottom line is customers get to fly more often for less.