Thailand is synonymous with its crystal-clear turquoise waters, evergreen rainforests, ancient temples and bustling city life. Fishing in Thailand is another famed past time. The opportunity for catching fish is endless. You can opt to go fishing by yourself, go to a private park, or join a fishing tour. Either way, adding fishing to your Thailand itinerary will definitely enhance your vacation. You can go fishing in Thailand at any time of the year. However, to increase your chance of catching plenty of fish, consider planning your trip during the rainy season.
Freshwater Fishing in Thailand
In the last few years, Thailand has become a world-class freshwater fishing destination. There are a huge range of species to hook, including Giant Carp, Mekong Giant Catfish and Arapaima. This has made freshwater fishing in Thailand one of the best locations in Southeast Asia. There are a number of great fishing spots all over Thailand, including national parks, resorts, ponds, dams and lakes.
Top Spots for Freshwater Fishing in Thailand
Bungsamran Lake
This legendary fishing park is situated in Ban Kappi district, a 1-hour drive from Bangkok's city centre. It is Thailand's premier destination for Mekong Catfish and Giant Siamese Carp. You are almost guaranteed of catching fish weighing 15 kilograms and up in a 1-day trip. The lake has depths ranging from 3 to 8 metres. The main features of Bungsamran comprise of bungalows, bridges and platforms. The lake can be accessed from a public area, 'the shed', and from the private stilted bungalows. For your convenience, there is an on-site restaurant and shower facilities at Bungsamran. The lake is open 24 hours, there are two sessions available, from 09:00 to 21:00 (day time) and from 21:00 to 09:00 (night time).
Catch: Giant Mekong Catfish, Pacu, Chao Phraya Catfish and Giant Siamese Carp, and Barramundi.
Cost: The day rate for non-locals is 6,000 Baht, and includes a guide, bait and a rod.
Getting There: Book a registered taxi in Bangkok to Bungsamran Fishing Park.
Accommodation
S Bangkok Hotel, Navamin
This 4-star hotel is surrounded by key attractions. It is a 35-minute drive from Bungsamran Lake. You'll get the best value for your money at S Bangkok Hotel, Navamin. Amenities include a restaurant and meeting hall.
Gold Airport Suites
Just a 9-minute drive from Suvarnabhumi Airport, Gold Airport Suites offers convenient and comfortable accommodation to all. Amenities include a pool, airport shuttle, spa and wellness centre.
Jurassic Fishing Park
Situated between mountainous landscapes and rice paddy fields, Jurassic Fishing Park is just short of a 2-hour drive from downtown Bangkok, 25 minutes from Hua Hin, and 10 minutes from the seaside town of Cha-Am. It is considered a top-class fishing park, ideal for anglers interested in catching Carp and predator fishing. There are 17 different fish species in the water. The medium sized lake is 1-4 metres deep. Jurassic Fishing Park has a custom built, spacious and shaded bivvies (shelter) for anglers' privacy and comfort while fishing. There is a limited number of anglers allowed each day, with swims (part of the lake) well-spaced out around the lake, which means it is never overcrowded. You can get food and drinks delivered to your swim, so you never have to leave your prized spot.
Catch: Amazon Redtail Catfish, Alligator Gar, Giant Gourami, Giant Siamese Carp, Rohu, and Giant Mekong Catfish.
Cost: It costs 6,400 Baht to access Jurassic Fishing Park, including 1 x Arapaima rod, 1 x Carp rod, 10kg 25mm Pellet, 10kg of dead fish bait, complete tackle set, lunch and dinner.
Please note, no bait from outside Jurassic Fishing Park is permitted without prior permission. No rod, tackle or bait sharing is allowed.
Getting There: There are various transport options available to get to Jurassic Fishing Park, including minivans, taxis, and busses from Bangkok and Hua Hin. You'll need to get to Cha-Am, where another minivan or taxi can be arranged to get you to Jurassic Fishing Park.
Accommodation
Jurassic Mountain Resort
This 4-star resort is a great choice for a fishing in Thailand holiday. The idyllic Jurassic Mountain Resort has luxurious two and one bedroom villas and suites, tropical gardens, a swimming pool, and a top quality restaurant.
Gilhams Fishing Resort
Located in Krabi, Gilhams Fishing Resort comprises of an artificial lake and resort hotel. It is set amongst landscaped gardens with stunning views of mountains. Gilhams Fishing Resort is hailed as the best big fish venue in Thailand. The lake is beautifully designed with deep channels, plateaus, shallow areas and also non-fishing areas. With 46 different species of fish, anglers are guaranteed a fun day of fishing. The resort caters for the experienced to novice angler.
There is a lakeside restaurant, a small shop selling snacks and ice creams, a tiled sala for shelter fitted with lights, a fan and charging points. English speaking fishing guides are available to assist you.
Catch: Amazon Redtail Catfish, Alligator Gar, Giant Gourami, Giant Siamese Carp, Rohu, and Giant Mekong Catfish.
Accommodation
Gilhams Fishing Resort features beautiful bungalows overlooking the lake, as well as a sports bar, cookery school, health spa and infinity pools.
Cost: Contact the resort for their pricing. Please note, the intention is to gain the full Gilhams Fishing Resort experience, including accommodation. Therefore, day tickets will only be sold when the accommodation is full.
Fishing times for non-staying guests start at 08:00 until 19:00. Every angler is given 2 x Free Spirit 6lb tc Cat Tamer rods, 2 x Shimano XTA long cast big pit baitrunner reels, 2 x electronic bite alarms with Fox swingers, 1 x solar rod pod, all end tackle, 1 kg of boilies, 2kg of pellet and ½ kg of fish per day.
Getting There: You can get a ferry, bus or taxi from Phuket to Krabi. If you're booking accommodation at Gilhams Fishing Resort, they'll arrange transfers from Krabi Airport, Krabi Town, Ao-Nang, Nopparat Thara, Ao-Nammao, Klong Muang and Tubkaek areas to the resort.
Top Cats Fishing Resort
Top Cats Fishing Resort is located on the idyllic tropical island of Koh Samui in Southern Thailand. The fishing resort is surrounded by a lush jungle setting surrounded by palm trees and other flora and fauna. The resort combines accommodation in the form of lakeside bungalows with an onsite restaurant and a thrilling man-made freshwater lake. The lake is filled with over 4,000 fish and over 30 different species. With a depth of around 8 metres, anglers can challenge themselves to catch fish weighing a staggering 150 kilograms! Facilities available to anglers include a well-stocked tackle shop and an expert guide service.
Catch: Giant Siamese Carp, Arapaima, Cattle Indian Carp, Black Shark Minnow, and Redtail Catfish.
Cost: Fishing day tickets can be purchased at the resort and are charged according to the duration of your fishing session. The price includes a bait pack, fishing guide assistance, 2 x Century fishing rods, Shimano reels, Delkim alarms, pods, fishing licenses, shaded seating, and terminal tackle. The lake is open between 08:00 and 20:00 (latest start time is 14:00).
Fishing Day Tickets
12 hours = 5,000 Baht
6 hours = 3,000 Baht
4 hours = 2,500 Baht
Getting There: Catch a flight to Samui International Airport. You can take a taxi, minivan or scooter-taxi to get to Top Cats Resort. If you'd like to stay at the Top Cats Resort, airport pickup for stays up to 7 nights upward are included in your accommodation fee.
Cheow Lan Lake
The mesmerising Cheow Lan Lake is located in Khao Sok National Park, a 2-hour drive from Phuket. It is considered a premier freshwater fishing destination in Thailand. You'll get the full rainforest experience as you'll witness animals in their habitat while casting your rod. Anglers have the choice of lure fishing and fly fishing, or both if that's what you prefer. It is best to bring your own gear as the fishing tours do not include fishing equipment, and the rental gear in the area are not good quality.
Catch: Barb, Perch, Masheer, and Catfish.
Cost: You can find the various prices on the Fishing on Khao Sok Lake website.
Getting There: Private taxis and shared vans can be hired to get to the national park's office in Ban Ta Khun. The office is 15 minutes away from the lake.
Accommodation
Khao Sok Nature Resort
This 3-star resort is surrounded by nature. You'll be immersed in the forest with a tranquil atmosphere and a 360-degree panoramic view. Khao Sok Nature Resort is located 500 metres from Khao Sok National Park. Amenities include a private balcony, restaurant, airport shuttle and Wi-Fi.
500 Rai Floating Resort
This 4-star accommodation boast overwaters bungalows on the Cheow Lan Lake. 500 Rai Floating Resort's natural surroundings boost the tranquillity of this stunning resort. Amenities include a bar, kayaks, and an airport shuttle.
Map of Freshwater Fishing Spots in Thailand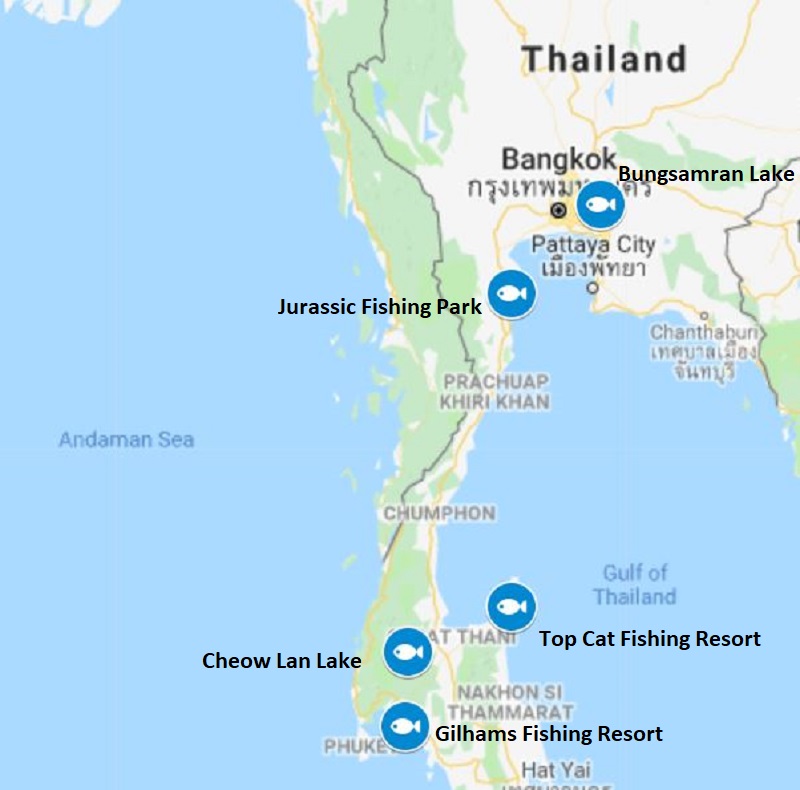 Saltwater Fishing in Thailand
Also known as big game fishing, saltwater game fishing in Thailand is a popular activity! Some of the incredible big game fish include Black Marlin, Barracuda, Sailfish, Wahoo and Giant Trevally. The Gulf of Thailand, Andaman Sea, the west side around Phuket Island and a part of the Indian Ocean is considered a great region for big game fishing.
Top Spots for Saltwater Fishing in Thailand
Racha Islands
The Racha Yai and Racha Noi Islands are located 18km from Phuket. They are easily accessible by day charters. The islands provide surreal fishing opportunities. The waters are also excellent for swimming and snorkelling. Common catches include Sailfish, Wahoo, Dorado, Barracuda, Skipjack and Kawa Kawa Tuna. Phuket is the ideal destination for an introduction to big game fishing. There is a big game fleet of approximately 40 charter boats available to take you for a fishing trip of a lifetime.
Cost: The 1-day fishing trip costs 2,504 Baht and includes bait, equipment, fresh fruit, lunch and soft drinks served on board.
Getting There: The fishing tour will arrange pick-ups at your hotel. You'll be taken to Chalong Pier, where you'll meet your guide. The boat will then head off to Racha Yai Island.
Accommodation
Racha Island Resort (Rayaburi)
This incredible 4-star hotel features a private beach area. Racha Island Resort (Rayaburi) provides luxury accommodation for all seeking a taste of the Thai-island lifestyle. Amenities include a fitness centre, garden, restaurant and swimming pool.
Rawai Grand House 
This 3-star hotel features spacious modern Thai-style rooms with private balconies. The staff at Rawai Grand House will go beyond your expectations. Amenities include a restaurant, jacuzzis, swimming pool and valet parking.
Koh Samui
The waters surrounding the island of Koh Samui are teeming with diverse fish. It is a great destination for beginners and experts to have a great fishing trip by day or by night. Koh Samui is one of the largest islands in the Gulf of Thailand. There are a range of fishing tours to choose from, including luxury big game fishing boats and rebuilt Thai fishing vessels. Mr Tu Fishing Tours is a renowned company in Koh Samui. They take you from Koh Samui's coast into the best fishing territory.
Cost: A day trip can cost from 1,500 Baht per person. The costs includes full insurance, fishing gears, baits, lures, lunch buffet, English speaking guide, life jackets and all other fishing equipment.
Getting There: The fishing tour company will arrange to have you picked up at your accommodation on Koh Samui Island and drop you off at Big Buddha Pier. The vessel departs from the pier and heads to the first fishing area where you'll cast your lines.
Accommodation
Manathai Koh Samui
Manathai is the ideal summertime getaway in Koh Samui. This 4-star elegant sanctuary is set on the sands of Lamai Beach. It is a peaceful haven created for all guests to enjoy fully. Amenities include a swimming pool, free parking and a fitness centre.
Bay Beach Resort 
This 3-star resort is comfortable and laidback. Bay Beach Resort is ideal for guests looking for a quiet and relaxing holiday by the sea. Amenities include a swimming pool, tropical gardens, restaurants and a fitness centre.
Pattaya
Located in the north of the Thai Gulf coast, Pattaya is renowned for its big game fishing. There are many commercial companies to choose from. Pattaya enjoys year-round pleasant weather and it is free from monsoon rains. October to March is considered the best time for fishing here. Along this region, your tour guide will take you to Koh Phai, Koh Khram and Koh Samae San. A typical catch along these parts of the coast includes Tuna, Snappers, Jacks, Marlin, Trevally, Angel Fish and Barracuda.
Getting there: The tour collects you at your hotel and transports you to the port of departure, Balihay. The boat departs for Koh Kram.
Cost: Anglers pay 2,200 Baht which includes transfer from the hotel and back, all tackles, bait, and fishing guide.
Accommodation
East Suites
East Suites offers the opportunity to escape into paradise with its sophisticated hotel. You can experience the laidback comfort of home with a touch of East Suites charm. Amenities include a swimming pool, Wi-Fi, parking and restaurants.
Centara Nova Hotel and Spa Pattaya
This 4-star hotel is a 15-minute walk from Pattaya Beach. Centara Nova hotel offers a sense of comfort and quiet to all guests. Amenities include a spa, restaurants and bars, a fitness centre, and swimming pool.
Map of Saltwater Fishing Spots in Thailand
Always Practice Responsible Fishing
Remember that many locals are reliant on the fishing industry for their livelihood. Over recent years, Thailand's ocean has suffered severe overfishing. You are encouraged to always listen to your guide and by all measures respect the environment that you're fishing in.
If you're an avid fisherman, this incredible list is worth exploring while you're in Thailand. Whether you're a professional or beginner in the game of fishing, the thrill of holding your catch is incomparable to any other feeling in the world.
Sign up to our newsletters for flight specials to Thailand and more travel guides on adventurous travel!
Have you recently been fishing in Thailand? Tell us about your experience in the comments below.
Also read:
The Best Time to Visit Thailand is Now
Key Ingredients for the Best Thailand Holiday!
Exploring Thailand's Beautiful Islands
Image courtesy of @danveghela via Instagram