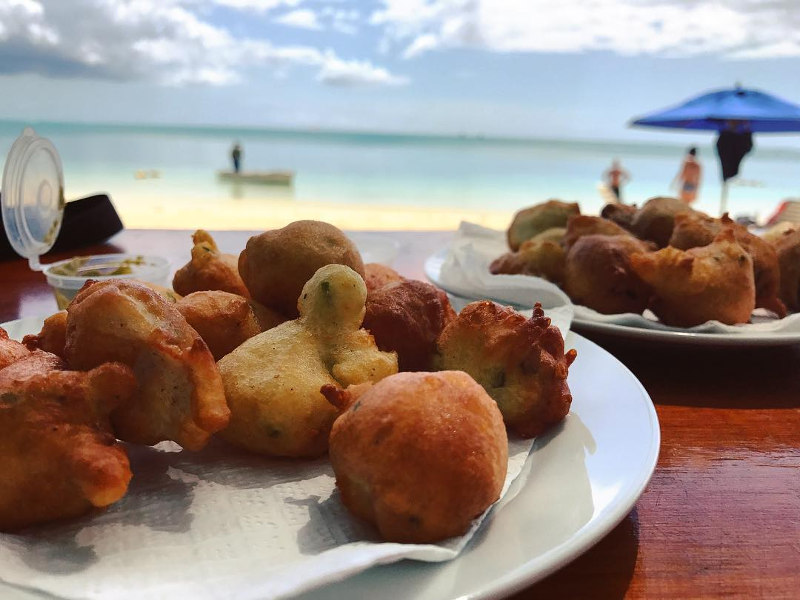 One of the best ways to experience a country is through its food. And the food of Mauritius is some of the tastiest you will ever try. It is considered one of the great Creole cuisines and is famous for its exciting street food scene.
Over the years, Chinese, French, European, and African migrants settled on the island of Mauritius and brought with them the flavours of their homelands. Wander through the streets of Port Louis and you will be greeted with some familiar and some downright peculiar dishes.
Also read: Authentic experiences in Mauritius
Some typical Mauritian dishes include:
Curry
Mauritian curries are in a league of their own in terms of flavour, but what makes them particularly exciting is the array of accompaniments and sides: achard, mazavaroo (chilli paste), lentils, rice, farata (roti), mine frite (fried noodles), and even dumplings. If you are feeling adventurous, try the hot Creole curry or head to Chez Rosy in Souillac for octopus curry (they are also known for their fresh lobster).
Fish vindaye
A traditional seafood dish that is fantastically flavourful and one of the most famous dishes of Mauritius. Although the seafood ingredients can vary it is usually a decadent dish of fried, pickled fish in a tangy onion, turmeric, mustard seeds, garlic, and ginger sauce.
Boulet (dim sum)
Mauritian-style steamed dumplings made with chayote (an exotic pear-shaped vegetable), chicken, seafood, or vegetables and served in a broth infused with chilli and spring onion. Boulet can be found at most market stalls and restaurants across the island and is made in various ways.
Where to go: Chinatown in Port Louis and Ti Kouloir in Grand Baie
Bol renverser (upside down bowl)
This is one of the most popular dishes in Mauritius. Chicken or prawn, stir-fried vegetables, Chinese sauces, and rice is layered into a bowl and turned upside down when served. A fried egg is placed on top of the dome after the dish is turned upside down as a finishing touch.
Dholl puri
The national dish of Mauritius that locals and travellers alike go gaga over. Dholl puri is a yellow split-pea pancake that is griddled on a tawa and filled with cari gros pois (bean curry) and Mauritius' famous rougaille (a spicy sauce of sweet tomatoes, thyme, garlic, and ginger). Sides include achard (pickled vegetables) and coriander satini (chutney).
Where to go: Dewa & Sons on Royal Road
Salade palmiste
Also known as 'millionaire's salad', this is a Mauritian delicacy and definitely one of the more unusual dishes. Salad leaves and some kind of seafood (usually smoked marlin) are tossed together with a delicious dressing and served with the sliced, raw heart of a palm tree. A dream dish for seafood lovers and salad savants.
Gato piments
Crispy on the outside and soft as snow on the inside, these tiny balls of fried chilli goodness are an iconic street food of Mauritius. Chana dal (split peas) is mixed with spring onion, turmeric, and chilli and served on a warm baguette with a drizzle of hot sauce. These are great for breakfast, lunch, and dinner!
Tropical fruit salad
It is nothing like you know. Fruit salad in Mauritius is the usual mix of tropical fruits such as pineapple, mango, lychee, guava, apple, and even a bit of cucumber, but the Mauritian twist is lashings of zesty tamarind sauce and a sprinkling of chilli salt. It may sound odd, but it is delicious!
Coconuts
Drinking from a coconut may seem like a tropical cliché but you are in paradise and it is kind of obligatory, so you can't leave Mauritius without drinking from one. Coconut vendors pepper the beachfront and are skilled in cutting them open. Ask for a 'coconut spoon' so you can eat the cream too!
Just a spoonful of sugar
Satisfy your sweet tooth with a trip to L'Aventure du Sucre in Pamplemousses. It was once a sugar factory and is now a museum that offers sugar tastings of about nine different types of sugars.
Gato coco are deliciously sweet coconut cakes that come in various shapes, flavours, and colours. You can find these at many corner shops and patisseries across the island.
Relax hard, snack often
Popular Mauritian snacks to try: sliced Victoria pineapples or mangoes served with chilli flakes or marinated in vinegar, sugar, and chilli.
The best food markets in Mauritius
Port Louis Central Market
Address: Corderie Street, Port Louis, Mauritius
When to go: Get there in the morning before 9 am to avoid the crowds
Rose Hill Market
Address: Beau Bassin-Rose Hill, Mauritius
When to go: Anytime
Flacq Market
Address: Central Flacq, Mauritius
When to go: Wednesdays and Sundays
Beverages
For a little evening tipple on one of the amazing beaches of Mauritius or a chaser to a good lunch, try one of these popular Mauritian drinks:
Vanilla tea – hand-picked black tea blended with Ceylon tea and vanilla.
Rhum Arrangè – local sugar cane rum steeped in fruits and sometimes even chilli.
Alouda – a sweet milky beverage made with agar-agar, basil seeds, vanilla and almond essence, and tapioca balls.
Beer – Phoenix Beer is an award-winning lager and Flying Dodo is the only craft beer produced on the island.
Things you should know
Most countries have their own quirks when it comes to food and Mauritius is no different. These tips will help make your culinary experience easier and perhaps spare you a blazing tongue.
Learn some of the basic terms before you go. Wild herbs are called "bredes" and pronounced "bread", so if you want bread, ask for 'dee pen'.
Try out a cooking class with a Mauritian family. It is a great way to meet the locals while learning how to cook traditional Mauritian food. And if you are lucky, you might be able to get your hands on a secret family recipe!
Another great way to get an intimate glimpse into the unique flavours of Mauritius is on a food tour.
Most dishes are served with chilli so be sure to say "no chilli" if you do not respond well to hot food. And if you do encounter them in your food remember: eat bread; the pips are the hottest; red chillis are more potent; and the smaller they are, the hotter they are.
If you do not want your food to be spicy say, 'pah for', which means 'not hot' in Creole.
Head to the beach at about four in the afternoon and you will find the freshest catches of the day laid out at the stalls.
A trip to Mauritius is more than just a sojourn in paradise. It is a sensory experience that will give you a chance to explore the unique, exotic flavours of Mauritian food. So be curious and try as many things as possible!
Be a traveller of the world and an explorer of food. They are, after all, two of life's greatest pleasures.
Find cheap flights to Mauritius and let your next big food adventure begin!
Have you tried the food of Mauritius? Or perhaps something weird and wonderful in another country? Share your foodie experience in the comments below!
And don't forget to sign up to our newsletter and have a look at our holiday packages to stay up to date with the latest flight specials and find the best travel deals.
Featured image courtesy of @sublime_mauritius via Instagram