This morning Travelstart joined the live-studio audience KFM interview with cannoli king Cake Boss, Buddy Valastro. Not only did he approve of the winning melk tert he sampled, but he is a huge fan of the Mother City. He said: "Waking up this morning and seeing Table Mountain, Cape Town really is one of the most amazing places on earth."
"Cape Town is one of those places- I've traveled the world, and you're mesmerized. It's probably one of the nicest places I've ever been."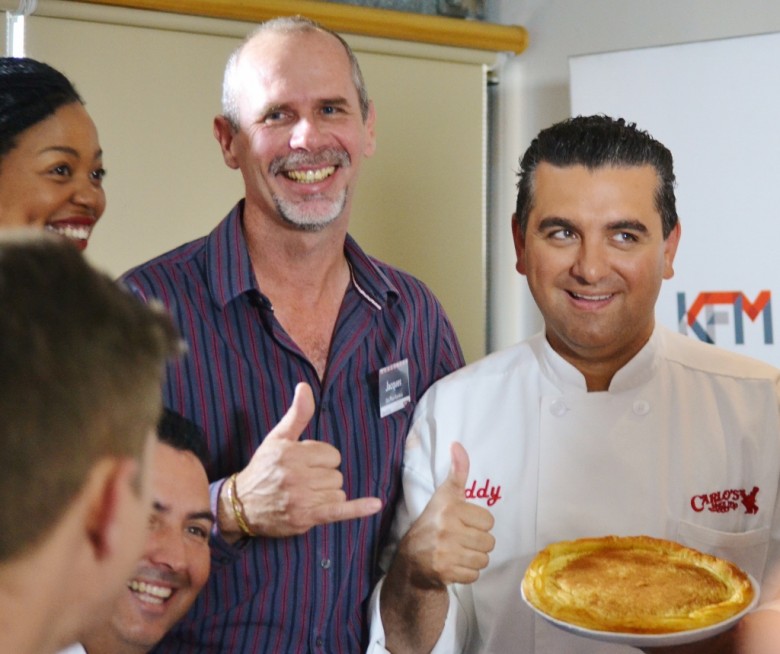 Buddy traveled to Cape Town with his son to attend The Good Food and Wine Show taking place from the 21 – 24 May at the CTICC in Cape Town. He says he tries not to be away from his family for more than 5 days at a time and that he hopes to come back to Cape Town with them to film at a later stage. Ryan, from KFM, asked if he would consider opening a cake shop in Cape Town, "you never know what can happen" was his reply.
The Cake Boss' South African look-alike also attended the KFM breakfast show. Tyrone says he was there because his daughter had told him how much he looked like the Cake Boss. He'd spent the night before on Youtube honing his Hoboken accent and his badda bings badda booms.
Buddy is currently filming 40 episodes of Cake Boss in between visiting his 9 bakeries and his restaurant, Buddy V's Ristorante, in Las Vegas. Catch him at the Good Food and Wine show along with Australian Masterchef Judge Matt Preston, Siba's Table Food Network host Siba Mtongana and international Celebrity Chef and Food Network host Jenny Morris. Tickets are R130 for adults, R110 for kids aged 13-17 years, R50 for kids aged 7-12 years and free for kids under the age of 6. The Good Food and Wine Show comes to Johannesburg in July and to Durban at the end of October.
If you can't get to the Good Food and Wine Show this weekend and you are craving some cake after all this talk of pastry then read our bakery recommendations:
The Cake Boss said of all his creations "the Transformer" had been the most challenging. Watch the video below to get an idea of the sheer scale of his creations.
And if you too are wondering what are these cannoli of which the Cake Boss speaks (as was I) then watch the video below to learn more about the Sicilian dessert pastry.
What goes better with cake than coffee?
Also read:
Which is your favourite Cake Boss creation? Let us know in the comments below.