This is part three of three chronicling a trip to Ireland and Northern Ireland for Travelstart.co.za, and a media trip on invitation from Tourism Ireland and the Northern Ireland Tourist Board. It started with a summation of 20 interesting facts about Ireland; part II of the story is about driving Ireland's Wild Atlantic Way.
A few changes manifest themselves as we cross the border into Northern Ireland close to Enniskillen – road distance has switched to miles, cars are moving with lesser regard for speed limits, and though I haven't handed over my closely guarded change for a pint yet, when I inevitably do so, I will be making sure it's in Great British Pounds. Most significantly, being a bearer of the contrary green passport which I have a hate/ love relationship with, I now need a UK Visa to legally be here, though you wouldn't think it necessary when you cross the unmanned border between Ireland and Northern Ireland.
In spite of these logistics and legalities, we arrive unscathed, and as I was soon to discover, options for tourists in Northern Ireland are as broad as the locals' accents. From the cinematic landscapes of the Antrim and Causeway Coasts to the cultural, historical and modern attractions of Londonderry and Belfast, Northern Ireland offers a tightly packaged passage of discovery both outdoors and indoors. Not to mention Game of Thrones; the TV series has catapulted the region into a new age of tourism drawing visitors from all over the world.
[Tweet "Northern Ireland offers a tightly packaged passage of discovery both outdoors and indoors."]
Derry~Londonderry – The 2014 Music Capital of the North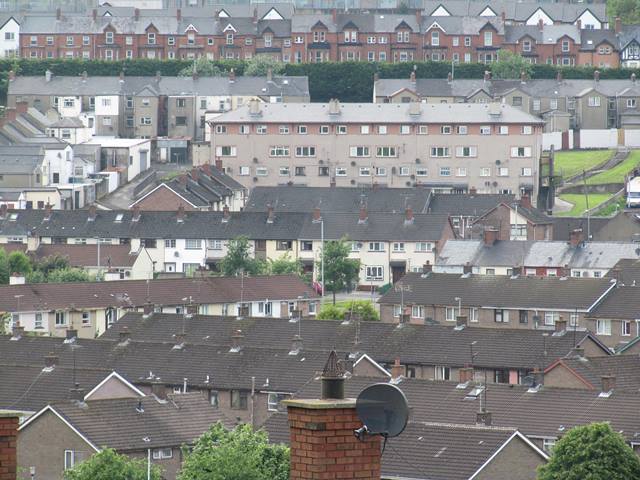 Our first stop is Londonderry, the 'Walled City', the 'back door to England', and the site of 'Bloody Sunday' – the atrocities perpetrated against unarmed civil rights protesters and bystanders by British troops here would later be immortalized by U2 in their hit making song Sunday Bloody Sunday.
Despite the peaceful evolution residents are waking up to these days, to most nationalists the 'London' prefixing Londonderry remains silent as a reminder to the unionists that many residents steadfastly refuse to acknowledge the official name imposed by the Royal Charter of 1662. While the name of the city has been a cornerstone of dispute over the years, through dialogue and mutual respect locals have smoothed their rocky history, and in its modern incarnation most people here agree the city is simply "LegenDerry!"
A predominantly Catholic and Protestant town, it's these very religious and political exchanges which led to the troubles that dogged Derry only up until recently. A town tarnished by acts of terrorism and socio-political unrest, nowadays Derry is a nonviolent and cultural city, and was recently voted by Lonely Planet readers as the fourth best city in the world to visit.
Derry's history unfolds before us on a guided walking tour of the city's walls, while the politically charged murals scattered around the Bogside neighbourhood offer a picture book like visual aid to the city's story. We take in some key points of interest including the Guildhall and the Peace Bridge – the link which crosses the River Foyle now connects the previously warring 'Waterside' and 'Cityside' neighbourhoods; it's a poignant reminder of the troubles and, more importantly, a beacon of optimism as Londonderry embarks on a new era of diplomacy and cultural tourism.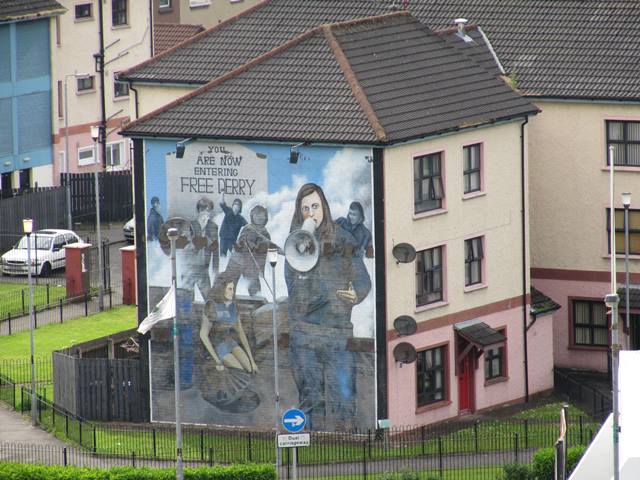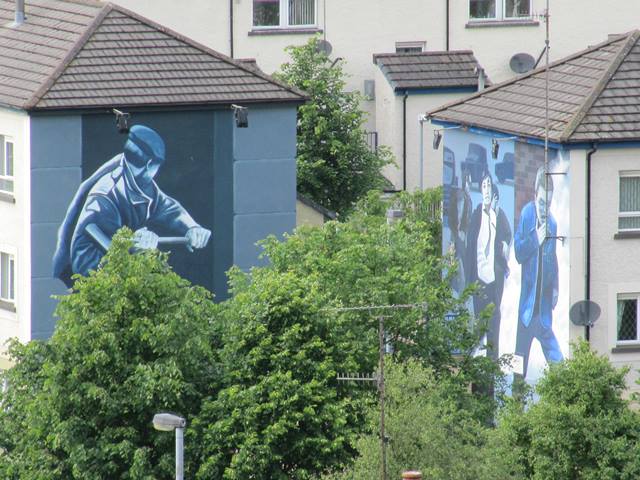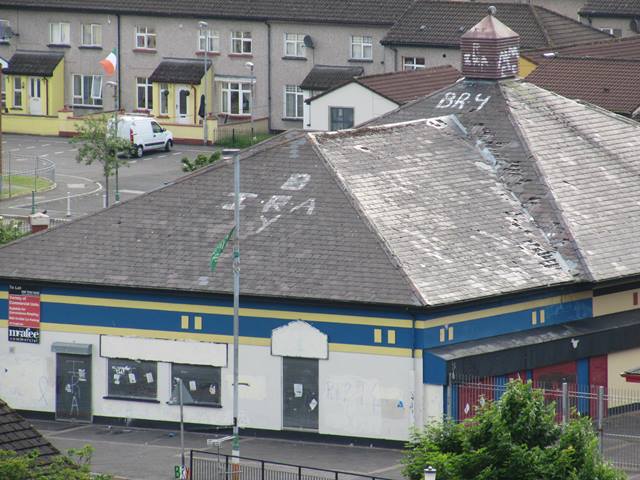 Chasing Giants on the Causeway Coast
En route to Belfast I was excited to learn Giant's Causeway was on our Northern Ireland itinerary. It is along this rugged stretch of the North's coast, famous for the basalt columns which line the shoreline of County Antrim, that Northern Ireland's claim to the award winning HBO series Game of Thrones becomes apparent.
Along our route we appreciate the crumbling history of Dunluce Castle, catch a thrill on the swaying Carrick-a-Rede rope bridge crossing, and, at Ballintoy Harbour, we stand in the same spot as the ill-fated Theon Greyjoy did in Game of Thrones (S02E02). You get the feeling that before the series, no one knew this quaint harbour even existed … Bushmills, with its shops, cafés and restaurants, let alone the famous Irish whiskey of the same name and home of the oldest distillery in the world, is also located in the vicinity. It's worth noting that all these pristine locations, including Giant's Causeway, are situated a short drive away from each other.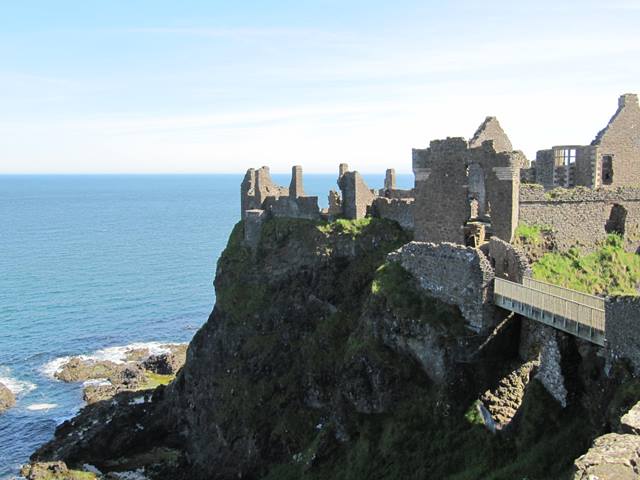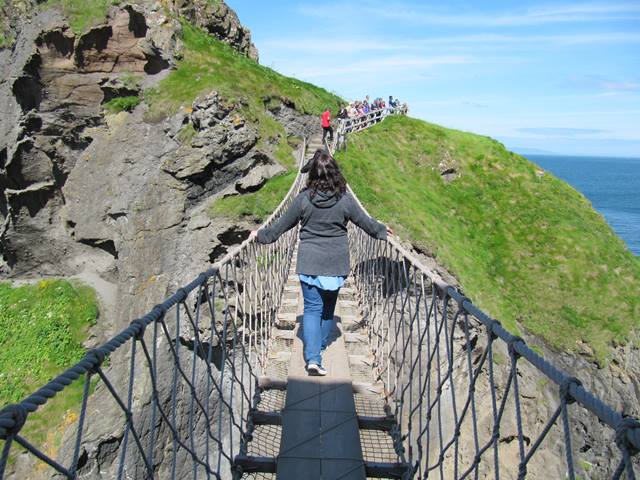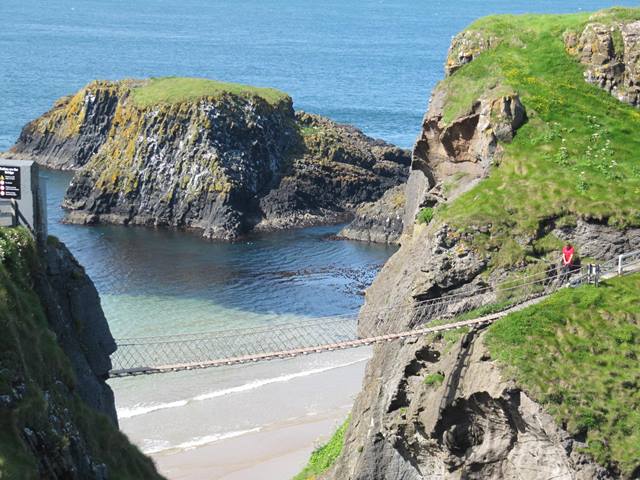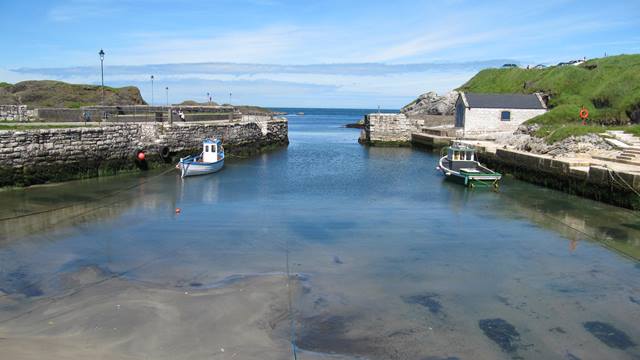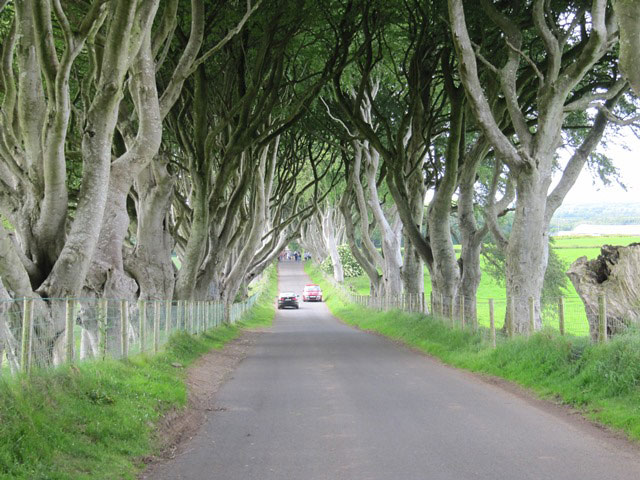 Formed 60 million years ago as a result of volcanic activity, the 40 000+ hexagonal basalt columns which carved Giant's Causeway were declared a UNESCO World Heritage Site in 1986 and a National Nature Reserve in 1987.
Over and above its impressive geological features, the area is rich with folklore and the story of Finn McCool – the mythical Giant that gave the Causeway its name – takes centre stage. Looking across the Atlantic to Scotland on a clear Causeway day, I could relate to these fables; the area is magnificent as it is untamed … alive with sea, greenery, shrubbery, rock and mystical undertones.
Giant's Causeway features a state-of-the-art visitor centre, and self-guided tours are a must as you walk the coastline with a handheld audio guide. Strangely, the Causeway itself is free to visit; however, you do have to pay (£8.50) to enter the visitor centre where you can explore the interactive exhibits.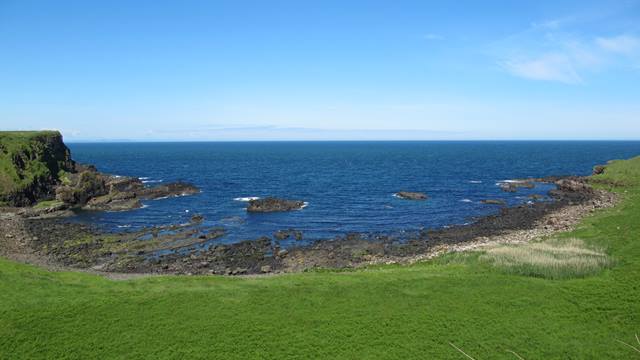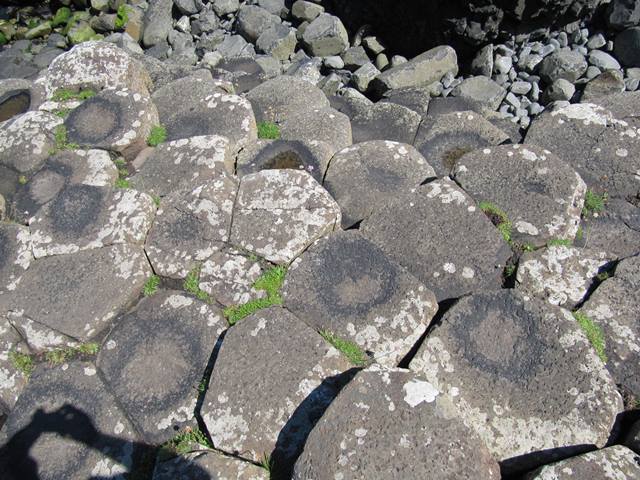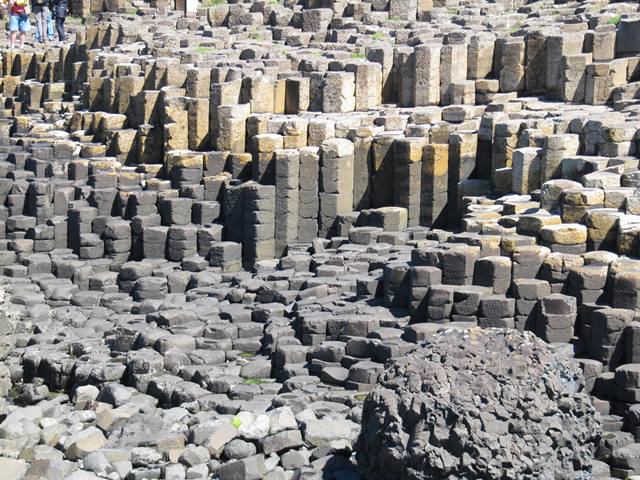 Explore 160 years of history at Crumlin Road Gaol – Belfast's oldest prison
This stony-faced former prison in the Capital is an unsettling prospect if you're keen on taking a tour of a different sort. Crumlin Road Gaol (that's jail in Old English) only stopped operating as a prison in 1996; nowadays it's a popular if not spine-chilling Belfast attraction, and we're told this is where the convict phrase "being sent down" originated. It's a suitable expression given the 'long walk' to captivity offenders would endure when, on being convicted; they were marched to a new age of uncertainty down the tunnel connecting the abandoned Courthouse with the unforgiving jail across the road where they'd be booked. Standing in this dreadful, dripping shaft my mind is cast to the feelings of panic and impending doom that would've gripped the sanities of less hardened criminals.
Threatening as its stoic walls and clammy corridors are, Queen Elizabeth saw fit to visit here as recently as June 2014.
Our tour continues from the dismal booking room to an unnerving viewing of the execution chamber, and below this the 'drop room' where strangled convicts would come to final unrest. A short-lived visit to the Condemned man's cell and the Gravesite, where the remains of inmates executed at "The Crum" are buried, are just some of the darker features to satisfy your morbid curiosity.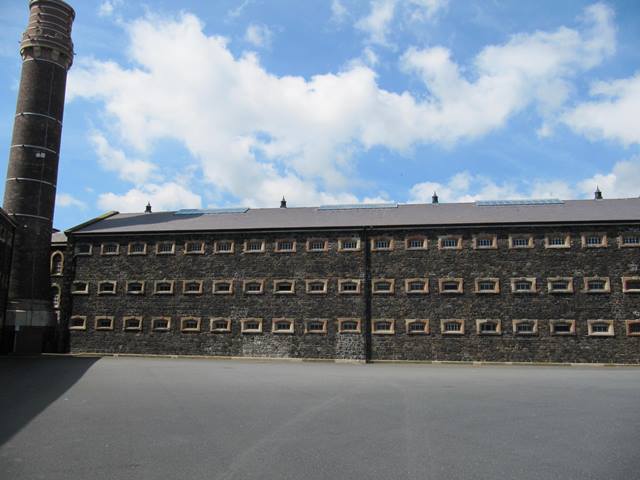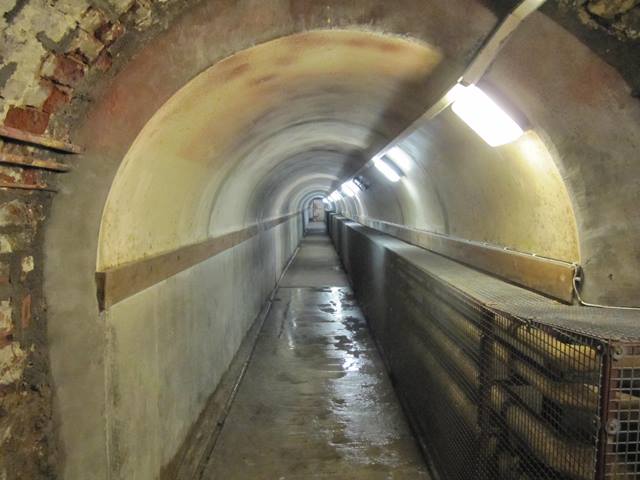 Experiences of Titanic proportions in Belfast
RMS Titanic left Southampton with 2224 passengers and crew onboard on its first fateful voyage; however, it is also true that its first venture into the salty waters that would eventually be its undoing was in Belfast, near the same shipyard where the notorious vessel was birthed. And Titanic Belfast – the world's largest Titanic visitor experience – is Northern Ireland's modern monument to this particularity.
[Tweet "At the heart of Titanic Belfast is the impressive 20 000 square foot giant atrium"]
The iceberg inspired architecture of this 6 floor dedication to the world's most recognised passenger ship is located beside the Titanic Slipways, the Harland and Wolff Drawing Offices and Hamilton Graving Dock – the very places where Titanic was designed, built and launched in 1912. The spectacular building is set to become an icon of Belfast and greater Northern Ireland, reporting visitor numbers that have doubled year-on-year since it opened its doors in 2012 (100 years after Titanic sunk). At the heart of Titanic Belfast is the impressive 20 000 square foot giant atrium where your experience begins.
Without giving too much away, Titanic Belfast is definitely worth the £15.50 ticket price, telling the story of her conception in the city, to her famous maiden voyage and subsequent place in history.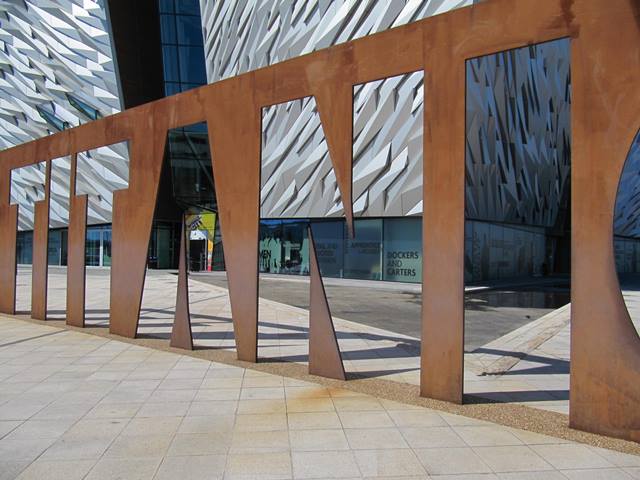 Becoming Lannister – a Tour of Thrones in Northern Ireland
It's our last day in Northern Ireland before we head back to Dublin to fly out; Castle Ward, the film location of fictional Winterfell and home base to the besieged Stark family in the award winning HBO series Game of Thrones, is our first and final tourist stop of the day. Given the ubiquity of the series throughout the North, it's a fitting last minute ending to our tour of Northern Ireland.
We descend on Castle Ward where we're greeted by a man dressed in Lannister family garb; but his South African accent gives him a way from the outset, and I suspect this character hasn't been home in a while given his excitement at meeting his countrymen in this arbitrary woodland.
Truth be told, Castle Ward is nothing like the grand Winterfell, and the only evidence of the movie is a striking old tower house which stands at the gate to this medieval compound. It's then you realise the extent of the visual effects that were used to extrapolate the original structures in the making of HBO's greatest success story.
Clearsky Adventure Centre run Game of Thrones scenic film location tours from Castle Ward near Downpatrick just 40 minutes south of Belfast. Here you can dress in HBO approved Stark and Lannister costumes and try your hand at archery in the exact spot Jon Snow taught young Bran in Season One. There are guided cycling tours, scene reenactments, and an optional feast fit for King Robert himself!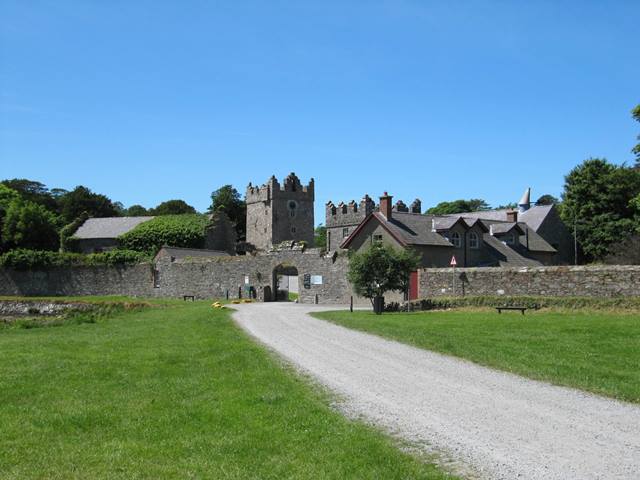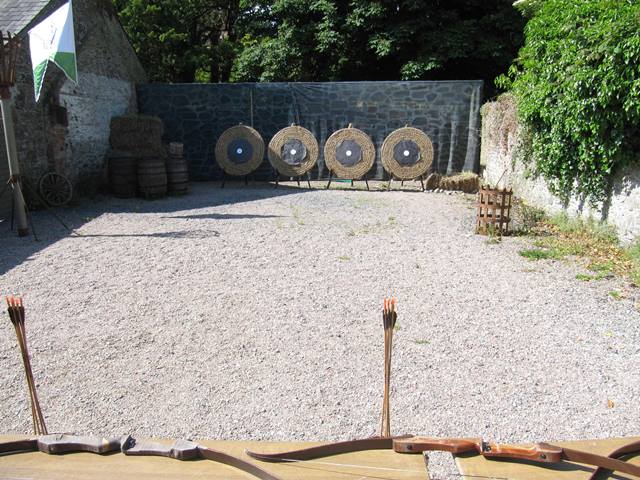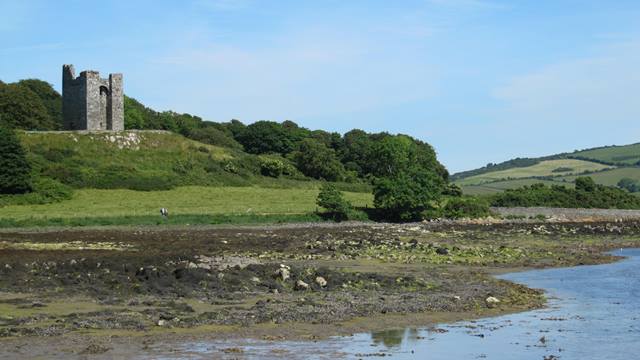 ---
Tourism to Northern Ireland continues to grow in 2014 and it's easy to see why – the variety on offer is remarkable in spite of its small size. You're never far from a scene-stealing Game of Thrones location, you can reach out and touch history across the 6 counties, and the attraction of contemporary city pursuits versus the calm of the coastal countryside, are guaranteed to leave an indelible mark on your most-cherished travel memories.
To find out more about Northern Ireland as a holiday destination visit www.discovernorthernireland.com – the official visitor website for Northern Ireland.
You might also like