When you think of a holiday in the South of France you think of small sun-drenched villages, wooden shutters, flowers and fresh market food. But your mind also inevitably jumps to an 11 hour flight plus another hour transfer to the South by plane or 3-hour train. Actually you could be eating petits fours and swanning around french St-Denis after a mere 4-hour flight from Johannesburg. That's shorter than driving from Johannesburg to Durban.
Air Austral offers two 4-hour flights per week leaving from Johannesburg. You don't need a visa to visit this french department because it does not fall within the Schengen treaty zone so South Africans can enjoy 90 days visa-free. Travelstart's Cara Wares gives us some advice about holidaying the french way in sunshine-filled Réunion.
Do you need to speak French?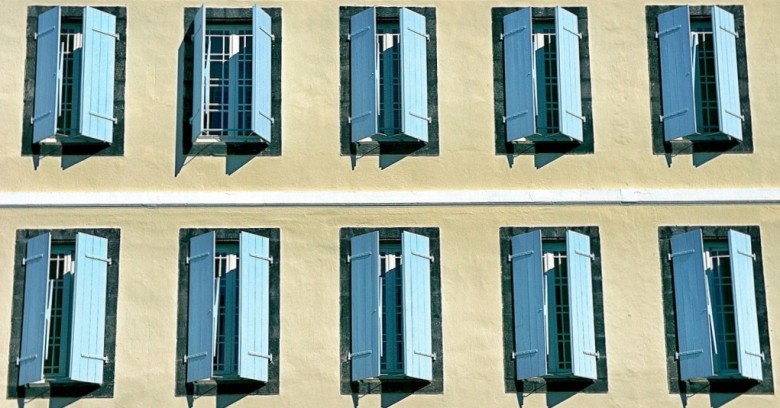 French Shutters by Miwok on Flickr
The official language of the island is French with the majority of people speaking this and Réunion Creole. English fluency is rare.
Cara says: "We got on fine without French, though there was lots of sign language and pointing. The people are very helpful and friendly and try their best to understand you. The bigger hotel we stayed at had English-speaking receptionists and some of the restaurants have an English-speaking waiter or an English menu."
Cafe au Lait and Pain au Chocolat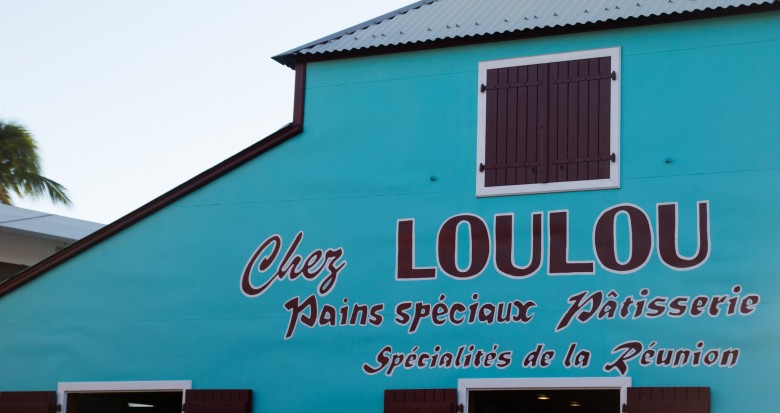 Bienvenue.. taken by Olivier LaFuteur on Flickr
Cuisine Réunionnaise- so good! You have your pastries, your delicious café au lait each morning, your baguettes with cheese and cured meats for lunch but then there is also the delicious fish curries, exotic fruits and Indian samoosas to choose from. The patisserie Chez Loulou in St-Gilles is a must-visit. So is Le Reflet des îles, an authentic Réunion restaurant in St Denis. This is perfect for the evening you arrive as it's located in St Denis and your Air Austral flight will land here. You can ease yourself into island life before exploring further afield. It lists its set menu for the week here and you can book in advance here.
Cara's favourite meal on the Island? "A delicious Creole Ginger and Lime Dorado fish dish with a creamy sauce accompanied by noodles and veg. There are many lunch options like banana and chocolate crêpes or do as the locals do and have a picnic with a french baguette, Camembert and pastrami."
The Volcano
Known only as "the volcano" to the locals, La Piton de la Fournaise is one of the most active volcanoes in the world. It's an incredible 530,000 years old and it's located within a UNESCO World Heritage Site. It made news this week for erupting yet again. It does not pose a threat to people living on the island but when erupting is best viewed from the coastal Grand Brûlé area or by Helicopter tour or microlight.
The highlight of Cara's trip was driving up to the top of the volcano and walking along the ridge of the actual volcano crater, then visiting the museum afterwards to learn about how it was formed.
When asked if she felt in danger when walking along the ridge of the volcano, Cara said: "When you first arrive you think- 'Wow! We are on a island with an active volcano!' – but I never felt nervous about it. The locals don't seem worried at all. It is very interesting and the main population live on the other side of the island far from the active volcano. The lava flow usually goes straight towards the sea away from any towns."
Below a video of the volcano erupting:
The Volcano Museum is a world-class interactive museum experience. The architecture is designed to look like a volcano and as you enter the lava lights and trembling floor are very atmospheric. It costs 9 € a ticket.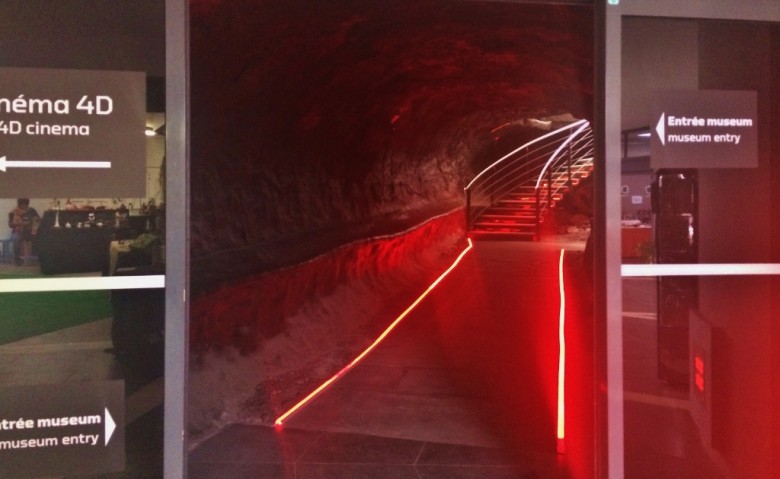 Also read:
Six Unmissable Activities
1. Stand-up Paddling
Photo by Stephanie O'Brien for Madame le Figaro
Don't leave the island without doing some stand-up paddling in the lagoon around St-Gilles-le-Bains. You can take a morning class to learn the basics at the School of Stand-up paddling with Bertrand.
2. Transparent Kayaking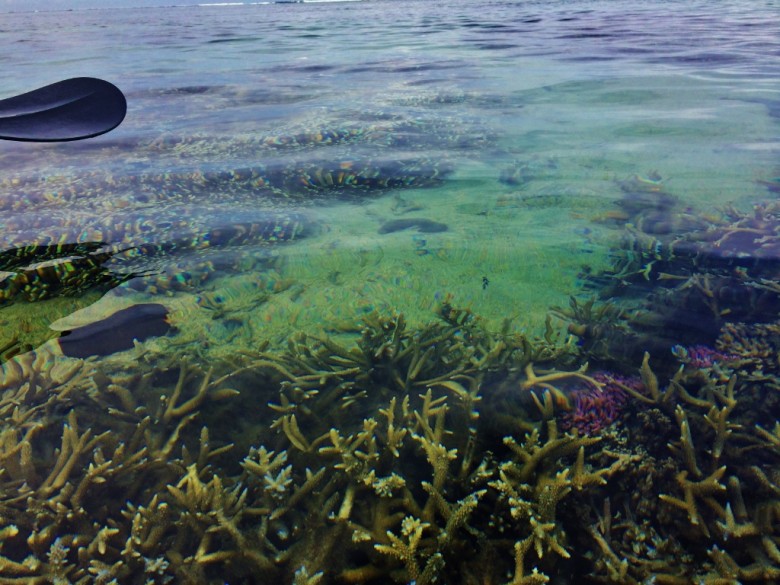 Take a transparent Kayak and see the amazing coral formations in the lagoon first-hand. Book here.
Take a look at the lay of the land on the island as well as the two transparent kayaking launch spots:
3. Visit the Grave of the Infamous French Pirate Olivier 'La Buse' Levasseur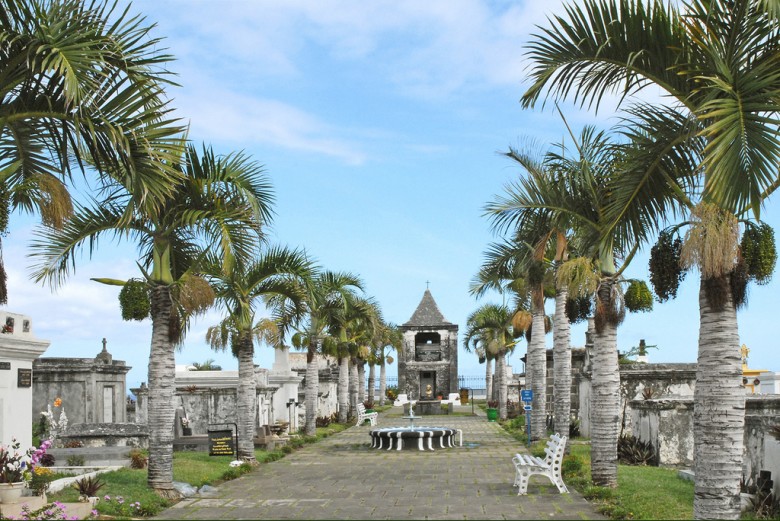 Le cimetière marin de Saint-Paul by russavia on Wikipedia Commons
He's famed for leaving one of the greatest pirate treasures behind- at an estimated value at £1 billlion. Legend has it that when he stood on the scaffold in Réunion he had a necklace around his neck. The necklace consisted of 17 encrypted lines which he threw into the crowd exclaiming: "Find my treasure, the one who may understand it!". No one knows what happened to the necklace or the treasure. Among the sweet scent of frangipanis this peaceful maritime cemetery in St-Paul evokes romantic stories of the Island's past.
4. Don't Miss the Spectacular Grand Galet Waterfall
Located in the Réunion National Park near St-Joseph, the drive there can be quite hair-raising. However it's well worth the corkscrew turns. You can spend an entire day dipping into the pools around the waterfall and picnicking on the banks. Try to come during the week as it can get quite busy on the weekends.
5. Visit La Vanilleraie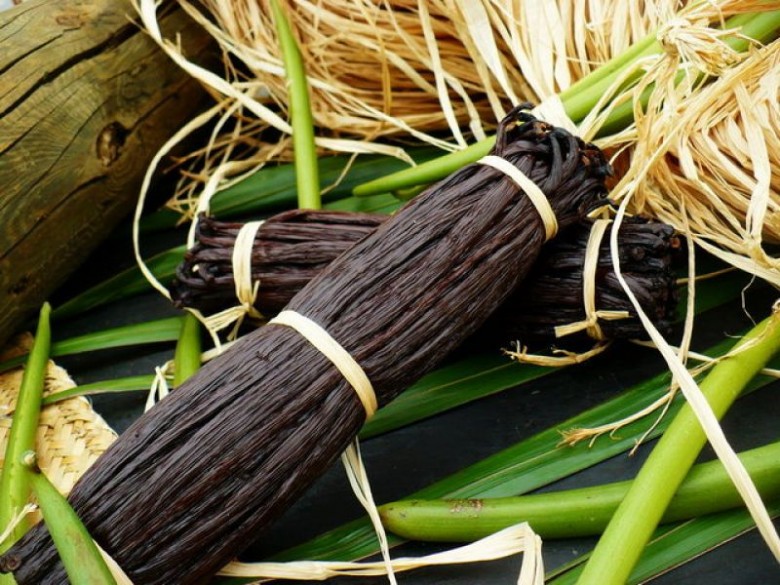 La Vanilleraie in ST Suzanne Reunion on Ticaz
Réunion used to be called Bourbon island (it was also known as Bonaparte Island briefly) and Bourbon Vanilla is famous for its particularly rich quality. Book a tour at La Vanilleraie to find out about the harvesting of these expensive and desirable pods. The Vanilleraie is near Sainte-Suzanne, an 11 minute drive from the capital, St Marie, and a 40 minute drive from St Denis. Betrand Côme, the owner of the La Vanilleraie and former scientist, has specialised in vanilla production for 27 years. He passionately explains the growing and harvesting process and why 1kg of premium-grade vanilla costs about €1000. There is a six-year production process, the beans are massaged once a month for 8 months. The tour is conducted in both French and English. Book here or call 0262 23 07 26. It's €5 per adult, €3 for children over the age of 10 and free for kids under the age of 10. They're open from 9h00-12h00 and 14h00-17h00 Monday to Saturday.
6. Diving with Blue Marine
There is amazing diving to be had near St-Gilles. For a diving company you can trust and book independently Cara recommends Blue Marine. They have 19 years of experience. Call them on 0262 24 22 00 and check out their website here. they offer diving trips, snorkeling trips and dive training.
Planning your Itinerary
Cara says: "We did a 7 nights self-drive package. We stayed in St- Pierre for 3 nights and St- Gilles les-Bains for 4 nights. It was too short! I would recommend staying for at least 10 days as we only saw half of what the island had to offer. It's a good idea to stay on two different sides of the island and in the mountains if you want a cooler spot for a night or two. These are two very different experiences.
I recommend staying in St-Pierre when you want to explore the south of the island. It was a good base to go up to the Piton de la Fournaise for the day as you need to leave early in the morning to get up to the volcano before the clouds roll in the afternoon. St-Gilles was a great place to stay to do water sports. My favorite Hotel was La Creole Beach Hotel in St-Gilles. It was a good base and it was relaxing coming back to the hotel after a day of exploring to lie next to the pool and read a book." Book here.
---
Book a 7 Nights of Reunion Self-Drive Package
---
What did you wish you knew before going?
"There are lots of mosquitoes so remember to take repellent and antihistamine. They tend to congregate near rivers and forestry areas. It's quite hot and humid but you get used to it and it's cooler in the mountainous areas. Also very important to know is that there is no surfing or swimming at the beaches that are not inside of the coral reef lagoon area."
Yay or Nay to the National Beer?
"Yay- le Dodo (Bourbon) is nice and refreshing on a hot day, it's a locally-made light beer and is cheap at about €1-2 Euro for a beer. There is also Fischer beer which is a stronger and is available in different flavours. Most beach bars serve cocktails and the local Rhum de Reunion is a popular after-dinner shot."
Best Time of the Year to Go?
"We went in April at the beginning of the cooler season, which is still hot and humid at about 30 degrees on the coast and about 24 degrees in the mountains. They say the best time is from April to August. The busiest time is during the European summer time (July-August) and December holidays."
Best Place to Watch the Sun Go Down?
"Any beach along St-Gilles will do. Either for sunset drinks at one of the many beach bars, picnicking on the beach, or at a restaurant along the mariner."
What are your Réunion highlights? Let us know in the comments below.
---
Enter Travelstart's Scratch Competition to Win a Réunion Family Adventure
---
Check out Réunion Tourism's Instagram account for more inspiration.
All images by Cara Wares unless credited
Header Image at top of the page: les-cascades-du-takamaka by Serge Halabert on Madame Le Figaro