When it comes to heritage sites in South Africa, we are spoiled for choice. Incredible locations like the Cradle of Humankind near Johannesburg, or the Richtersveld Cultural and Botanical Landscape are just a few of our UNESCO World Heritage site icons that make us proud.
Did you know that there are 144 sites across the continent of Africa that have been selected as heritage monuments by UNESCO? Take a cross-cultural journey with us as we explore seven breathtaking heritage sites across the African continent.
1. Fasil Ghebbi – Ethiopia
The ancient fortress-city of Fasil Ghebbi in Ethiopia starts off our list today. Located in the Gondar region of Ethiopia, this heritage site was founded in the 17th century by the Ethiopian Emperor Fasilides and was also his royal residence. Behind its 900-metre high fortified walls, Fasil Ghebbi is a sprawling complex of intricate castles, monasteries, libraries and churches.
Its architecture is a unique and diverse mix of Hindu and Arabic influences, with later European baroque influence coming from Jesuit Missionaries. Its historical significance, as well as dazzling architectural confluence, make Fasil Ghebbi a UNESCO World Heritage site icon and a must-visit place in Ethiopia.
2. Fort Jesus – Kenya
Fort Jesus in Kenya is a historical fortress in Mombasa built by the Portuguese colonists between 1593 and 1596. It is one of Kenya's oldest UNESCO heritage sites. Mombasa was an important trading port on the African coast from the 16th to the 19th centuries, and the fort was built to protect the city from pirates and invaders.
First occupied by the Portuguese, many battles were fought over control of the fort and Mombasa. Between 1631 and 1895, it was captured by numerous armed forces, changing hands at least nine times! Today, it is a heritage monument, and one of the most visited places in Kenya.
3. The Saloum Delta – Senegal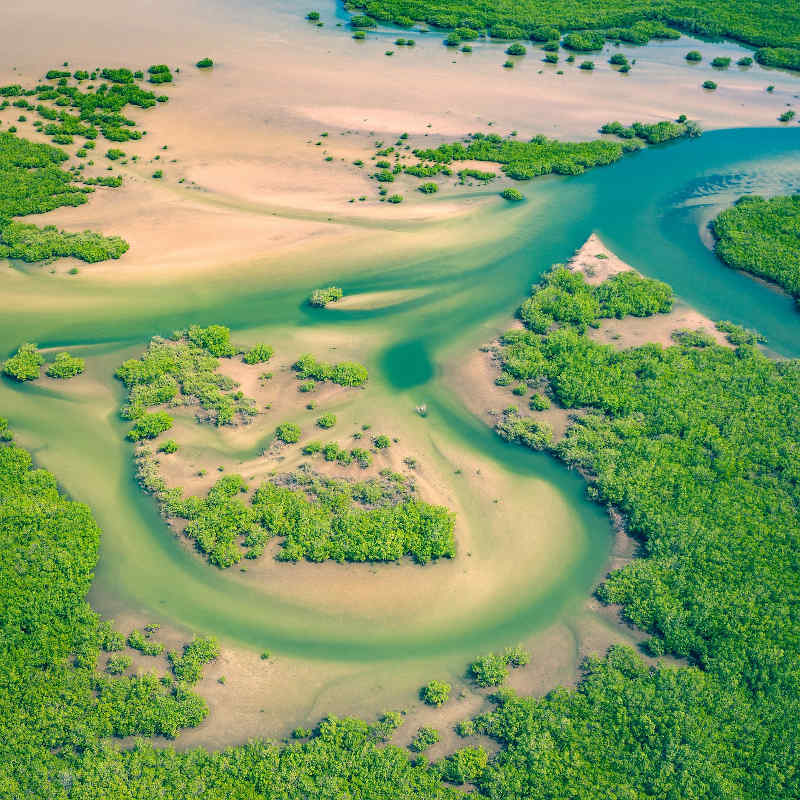 The Saloum Delta in Senegal was designated as a UNESCO World Heritage site icon in 2011, and it's not hard to see why! The delta is a natural wonder consisting of a merging of three rivers (the Saloum, the Bandiala and the Diombos rivers) into the Atlantic Ocean.
This creates a unique topography of brackish rivulets, otherworldly salt pans, lush mangrove forests as well as over 200 islands and islets! The heritage site is also home to hundreds of ancient man-made shellfish mounds, some dating back 2,500 years ago! These mounds are believed to be burial sites, and are evidence of human settlements along the delta predating biblical times!
4. Ruins of Meroe – Sudan
An absolute must-see monument has to be the ruins of the city of Meroe in Sudan, home to the captivating Nubian pyramids. Once the heart of the historical Kingdom of Kush, the city was founded in 785 B.C in Nubia (northern Sudan and Southern Egypt). It was a powerful kingdom that rivalled Cairo in Egypt for over 1,000 years, until its fall in 350 A.D.
The ruins of Meroe still house the burial pyramids of Kushite rulers and the city actually boasts more pyramids than the whole of Egypt! Get a fascinating glimpse into the past of an ancient, mighty African metropolis when you visit this UNESCO site.
5. Virunga National Park – the Democratic Republic of Congo
As one of the most geographically diverse regions on the planet, Virunga National Park in the Democratic Republic of Congo is one of the most impressive natural heritage sites chosen by UNESCO. The park is comprised of 7,800 square kilometres of land and is home to more than 200 mammal species including 22 different species of primates.
The park is divided into three geographically diverse sections – the south consisting of volcanic mountains and lava lakes, the savannas and Ishasha Plains of the central region, and glacier-capped mountains and tropical rainforests in the north. As one of Africa's oldest national parks and protected regions, it's little wonder that Virunga is an essential African heritage monument.
6. Carthage – Tunisia
The ruins of Carthage in the city of Tunis are a splendid archaeological heritage site, offering an intriguing insight into its fascinating history. The city of Carthage was a thriving metropolis on the Mediterranean coast, founded by the Phoenicians in 814 B.C.
Carthage remained a Phoenician city until 146 B.C when the Romans fought for and won control of the city, assimilating it into the Roman Empire. A robust trading port that was also the centre of culture and politics in the ancient world, it's no surprise that Carthage is a prominent UNESCO World Heritage site icon.
7. Stone Town – Zanzibar
Stone Town in Zanzibar, Tanzania is one of the oldest surviving Swahili towns on the east African coast! Situated on the Indian Ocean, Stone Town faces Tanzania's capital city Dar es Salaam. Stone Town was first built in the 1700s by Arabic spice and slave traders.
It became an important trading port and cosmopolitan merging of Swahili, Arab, Persian and European influences. This melting pot of cultures is reflected in the diverse mixed architecture of the town, which gave Stone Town its heritage site status.
That's our list of stunning heritage sites selected by UNESCO across Africa. Have you visited any UNESCO World Heritage site icons in Africa or in another part of the world? Let us know in the comments below. We'd love to hear from you!
_______________________________________________________________________________________
Go on a journey of culinary discovery with our list of traditional food from around the world!
Cure your cabin fever and travel within the comfort of your own home with our guide to VR travel!
Disclaimer!
All information on this page was correct at the time of publishing and may change at any time without prior notice. Travelstart will not be held liable for loss or inconvenience resulting from the use of out-dated or incorrectly noted information.