It's official the rest of the world finally woke up to what Durbanites knew all along- Durban is cool. The New York Times featured Durban as 7th on its 52 places to go in 2015. A little bit Rio, a little bit Miami, eThekwini is in a class of her own. View other international destinations.
Here are 55 ways to soak up the Durban Vaab:
Featured Image above "Surfer Chicks" by photographer Adam Rozanas
1. Johnny's Rotis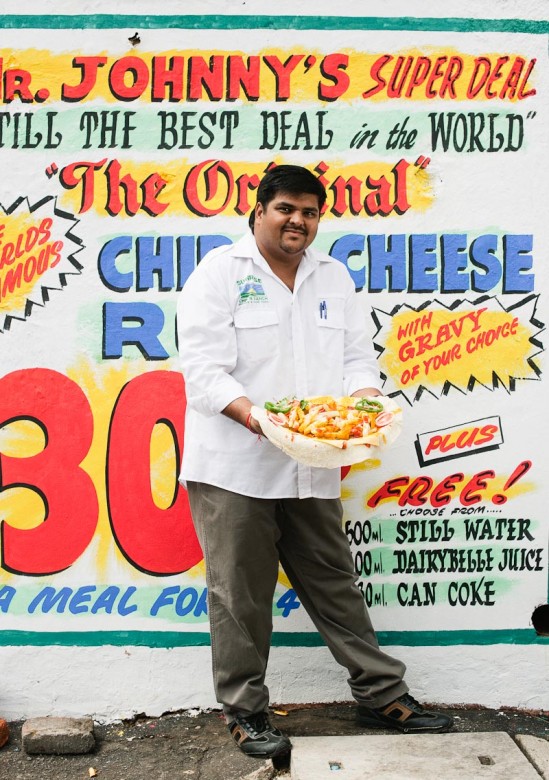 Johnny's Rotis by Tyrone Bradley on Itswhatiminto
Also known at Sunrise Chip 'N Ranch, Johnny's Rotis is an institution. You haven't been to Durban if you haven't eaten the triple cheese and chip roti with mutton gravy after a night of jolling hard. They're open 24/7.
89 Sparks Road, Durban. Call: 031 209 2020.
2. Afternoon Tea with Skabenga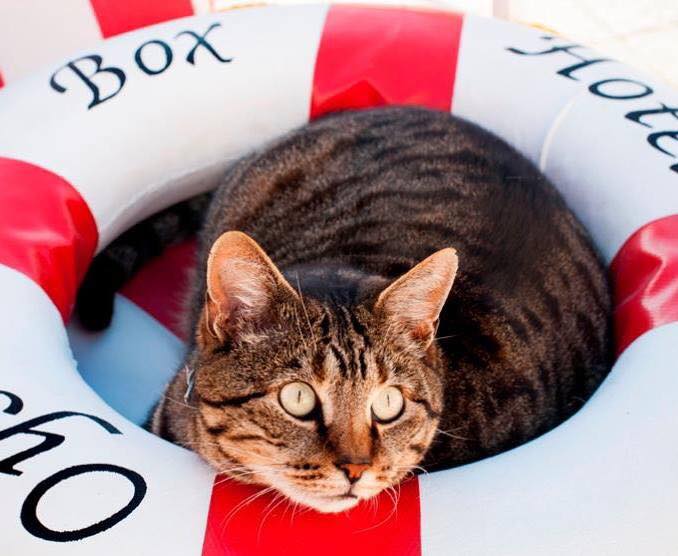 Attend afternoon tea at the Oyster Box luxury hotel in Umhlanga and make the acquaintance of Skabenga the cat. Skabenga ("sgebengu" meaning hooligan in Zulu) recently went missing but was found and happily returned. He wandered into the hotel 10 years ago as a stray and has never left, flourishing on prawn tidbits. Afternoon tea costs R220 per head and is from 14h30 to 17h00 daily. Booking is essential. Call 031 514 5000.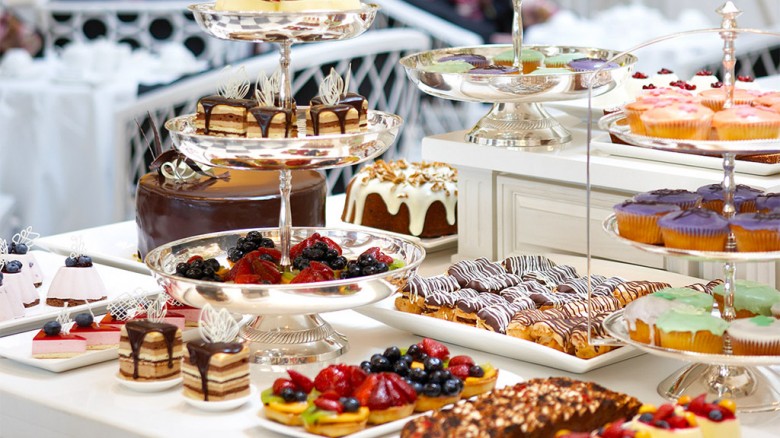 3. Walk on the Sky at Moses Mabhida Stadium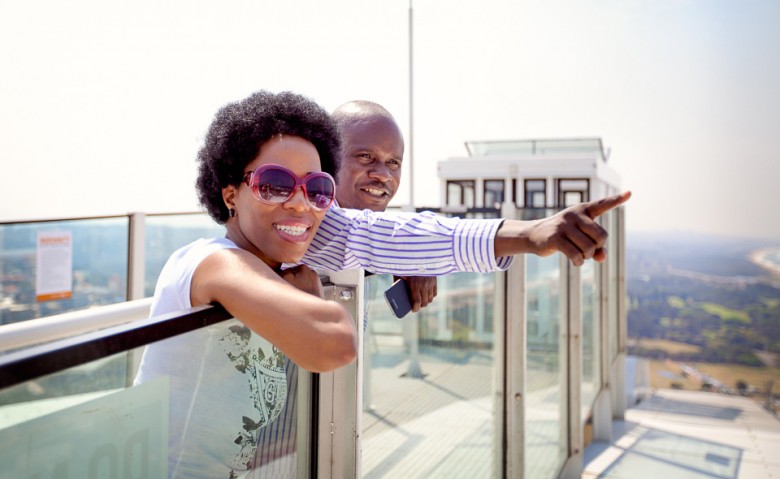 The Skycar at Moses Mabhida Stadium
Built for the 2010 Fifa World Cup, the enormous stadium has many adrenaline-inducing activities on offer. The Sky Car, a single cabin that runs up steel tracks on the northern arch of the stadium and is designed to roll down the arch under its own gravity (in case of load shedding), has a 106m vantage point. Tickets cost R60pp and R30 for kids under the age of 12. There's also the Big Swing ride, the tallest swing in the world since 2011 (at R695 per person it exceeds our budget but is cheaper than skydiving and looks just as nerve-wracking). Then there's a Big Sky Walk along the arch of the stadium (don't look down!) or a beach glide on a Segway for those seeking a more serene adventure. The Beach Glide costs R190 for 45 minutes. 44 Isaiah Ntshangase Road, Durban. 031 582 8222.
4. Take a Tour with Beset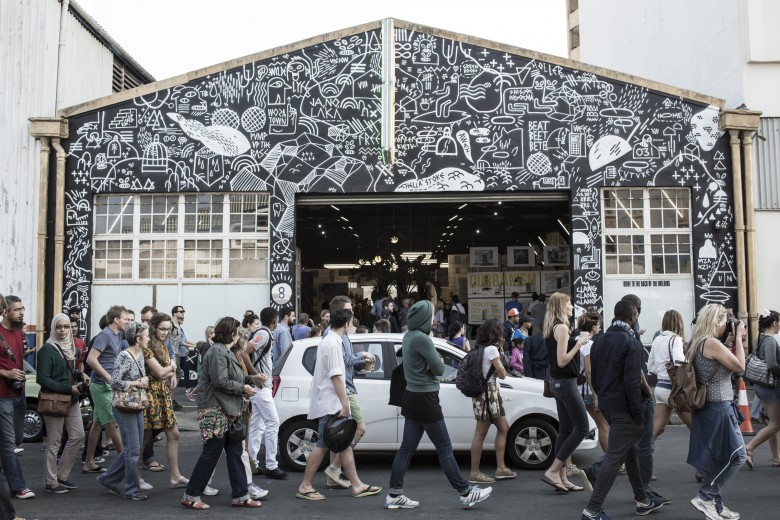 Beset Walk at 8 Morrison Street
This forward-thinking trio showed celebrated conflict reporter João Silva around when he covered Durban for the New York Times Travel list. Their focus is on urban exploration and getting people on the streets and experiencing Durban. They say:
"Durban will make you work to discover her. She is not a show off. She is certainly beautiful, but she will make you work hard to find her substance. Durban is a very deep city, a city fill of grit and history. In many ways it is a layered city which reveals more each time you dig deeper."
Join one of their brilliant public walks for free (past walks have included the hip Rivertown area, the Natural Science Museum, and Point area. You can also organise a paid private walk here. Check out their facebook page for upcoming events.
5. Conquer the waves at Wave House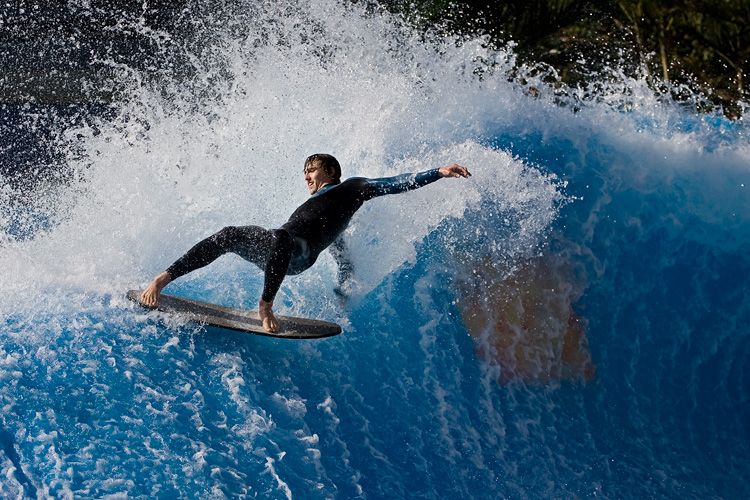 Surfer by Mike van Heerden at The Bomb Surf
The Wave House at Gateway flaunts some great waves. Tear things up on the Flow rider or for something a little tamer have a go on the supertube rides (perfect for keeping the kids busy in the school holidays). The Flow rider is R50 an hour for members and R75 an hour for non-members. The supertube costs R60 for the whole day. Find it at Galaxy Gateway Theatre of Shopping, Palm Blvd, Durban. Call 031 584 9400.
6. Afro's Chicken
This afro-chic beach-side takeaway spot is right on the promenade. The food is simple and delicious and comes in two flavours- hot is chili, koel is lemony. Meals cost around R25-R40. Find them at 2 O R Tambo Parade, South Beach.
7. The Chairman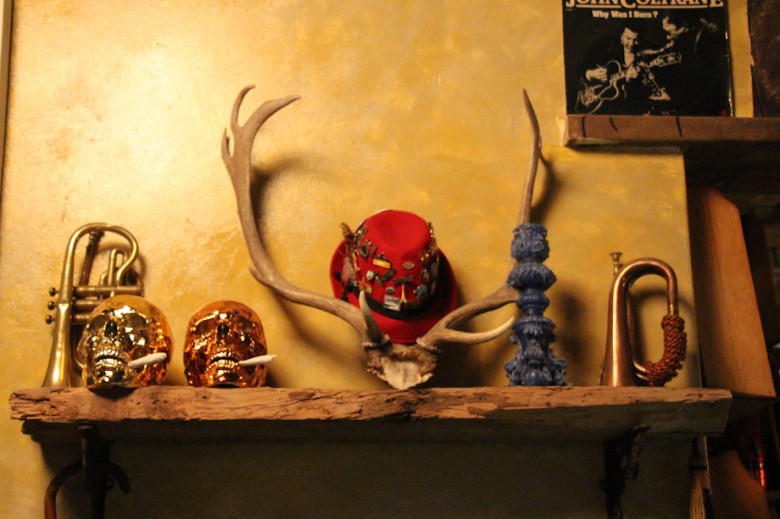 The Chairman by Skattie What Are You Wearing
This sophisticated hole-in-the-wall jazz bar is a well-kept secret. The space wouldn't be out of place in Buenos Aires or Catalonia. 146 Mahatma Gandhi Rd. For table bookings call: 078 387 1408.
8. Go Godzilla at Mini Town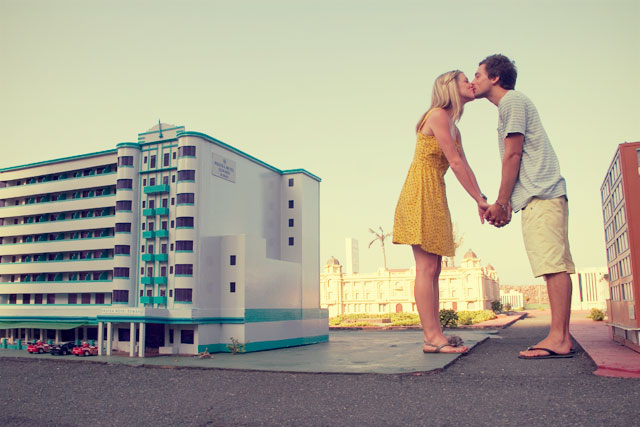 Engagement Shoot by Knot Just Pics
The perfect place to practice your Godzilla destroying eThekwini pose, Mini Town is fun for kids and grown-ups too. Tickets cost R15 for adults and R10 for children aged 2-12. 114 Snell Parade, Durban. 031 337 7892.
9. Mitchell Park Zoo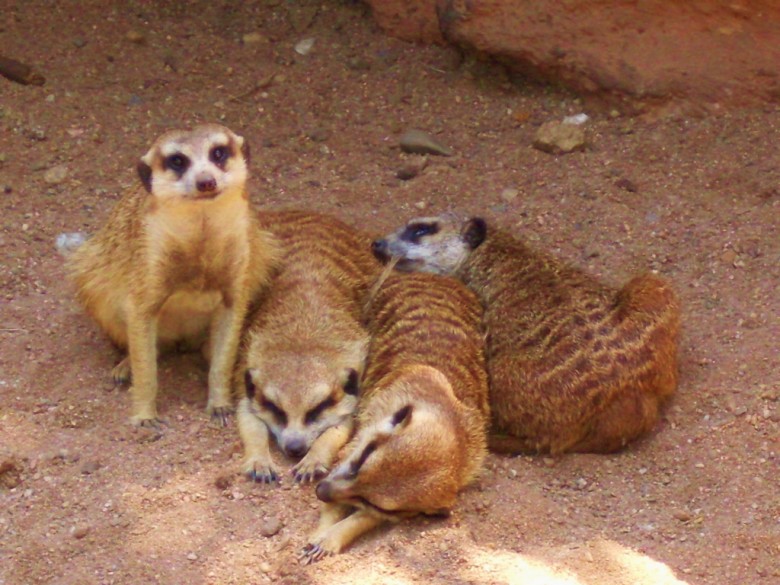 Meerkats at Mitchell Park Zoo by Andy1026
Much-beloved by Durban parents, kids can explore the grounds which used to be an ostrich farm but now houses crocodiles, buck, meerkats, cranes, flamingoes, wallabies, monkeys and tortoises. There's also the Blue Zoo tea garden for coffee and cake. Tickets cost R10 for adults and R7 for kids. Find out more from the knowledgeable Zoologist here. 10 Ferndale Road, Durban. Call 031 303 2275.
10. Lekka by die See Nostalgia at Fun World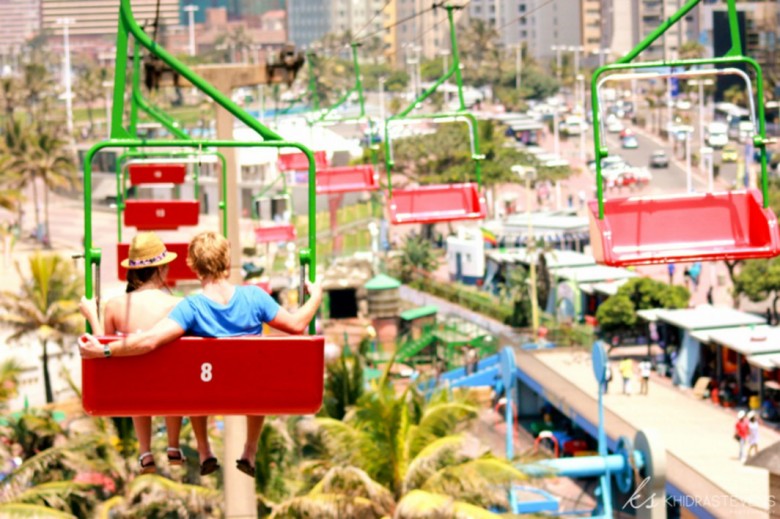 Fun World by Khidra Stevens
Though a little scruffy these days, Fun World is a beach amusement park with tons of nostalgia value. Founded in the 1930's by Arthur Thornton, Durban Fun World started out as a miniature steam train ride. The cableway was added in 1970 and still offers a great view of the city. Entrance is free and you can buy tickets at the kiosk for the rides. Find it opposite Marine Parade Holiday Inn on Durban's Beach Front. Call: 031 332 9776 for more information.
11. Bike & Bean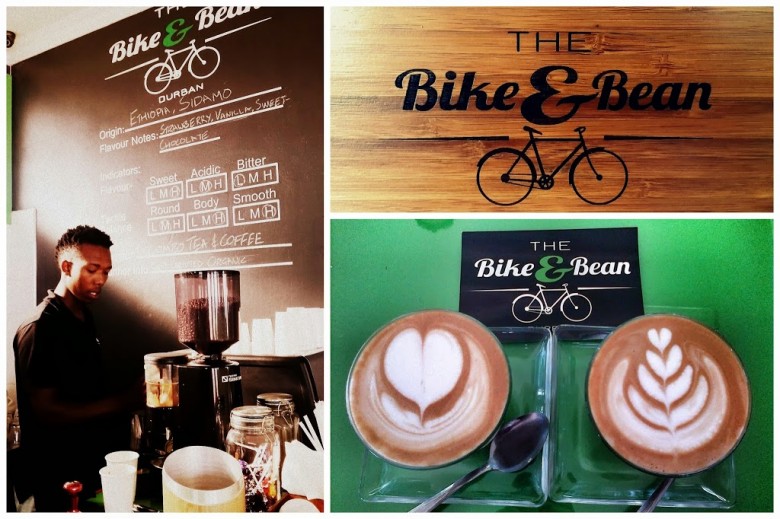 Phillipa Rowney at Coffey & Cake
Down a rich espresso then hire a bike and roam the golden mile of Durban beachfront bliss or vice versa. Bike hire is R50 per hour, or R40 per hour for the early risers from 6am to 8am. Rollerblades, skateboards, umbrellas, boogie boards, kids bikes, tandem bikes, push bikes and swingballs are also available for hire. Snell Parade, Durban. Call 082 773 6870.
12. Surf's Up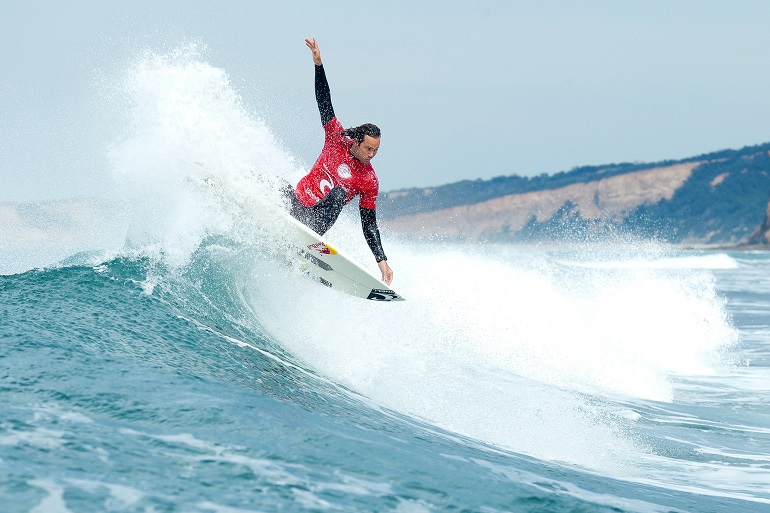 Photograph of Jordy Smith in action courtesy of WSL/Cestari
Grab a board and do as the locals do with "Learn to Surf" on Addington Beach. It's R200 an hour for a private lesson. Call 083 414 0567.
13. Faith47 Murals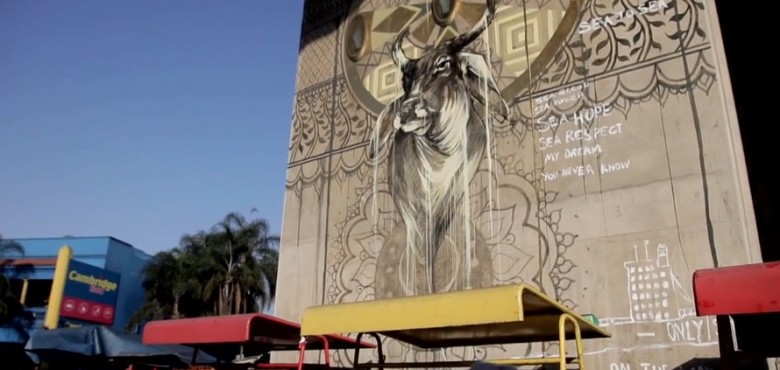 Image by Durban is Yours
Faith 47 is a South-African born street artist with a strong sense of social justice. You can find her work in countries all over the world including Sweden, Scotland, the USA and China. Visit Warwick Junction in central Durban for a closer look at her murals including life-like portraits of the traders on columns adjacent to the Early Morning Market.
14. Rivertown Beerhall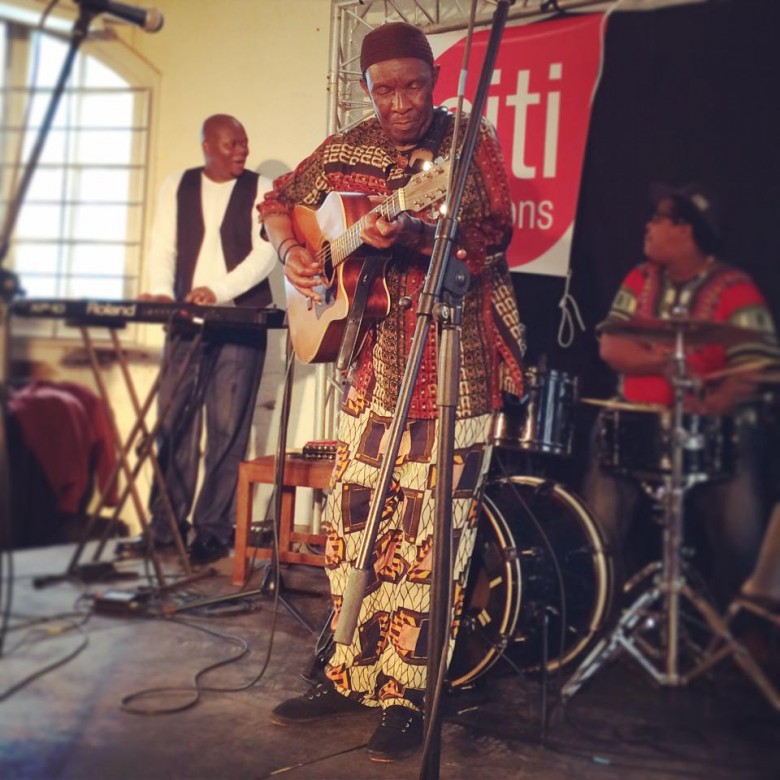 Madala Kunene playing at Rivertown Beerhall by Karen Van Pletsen
The Rivertown Beerhall is an eThekwini Municipality initiative which started with the activation and naming of the area during the UIA 2014 Durban Architecture Congress. It was built in 1914, and opened again on 3rd August to 10th August 2014, 100 years on. Grab a beer and enjoy live music in this historical space. They aren't open everyday so check beforehand. Don't miss the Zakifo Music Festival from 11-14 June. Find them at 102 Prince Alfred Street (Florence Nzama). Call: 083 7996019.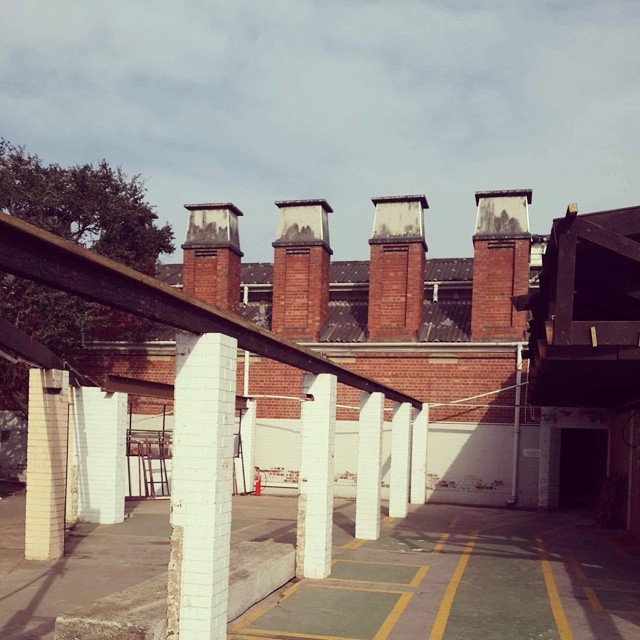 15. KZN SA Gallery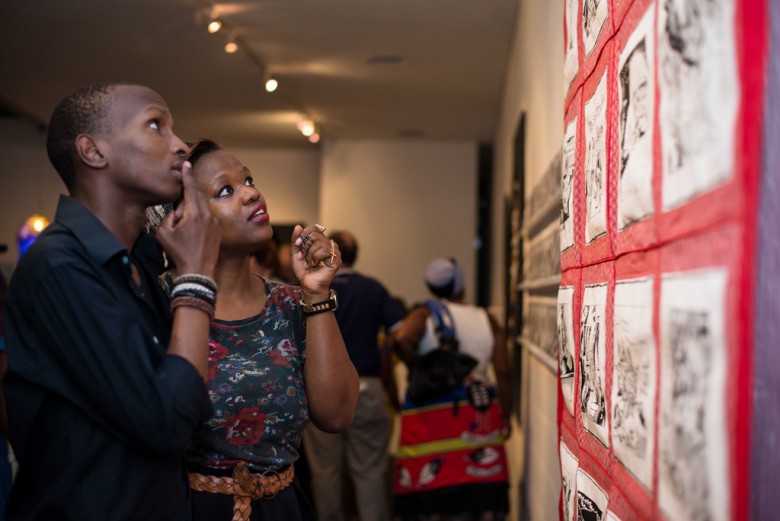 Image by Shirin Motala
This modern, airy building is an inviting space. Along with upcoming and experimental artists the gallery has an extensive collection of well-known South African artists such as Penny Siopis and Isaac Sithole. Enjoy a cold drink and cheese cake in the gallery café which spills out into the garden. Entrance is free. 166 Bulwer Road. Call: 031 277 1705.
Also read:
16. Wilson's Wharf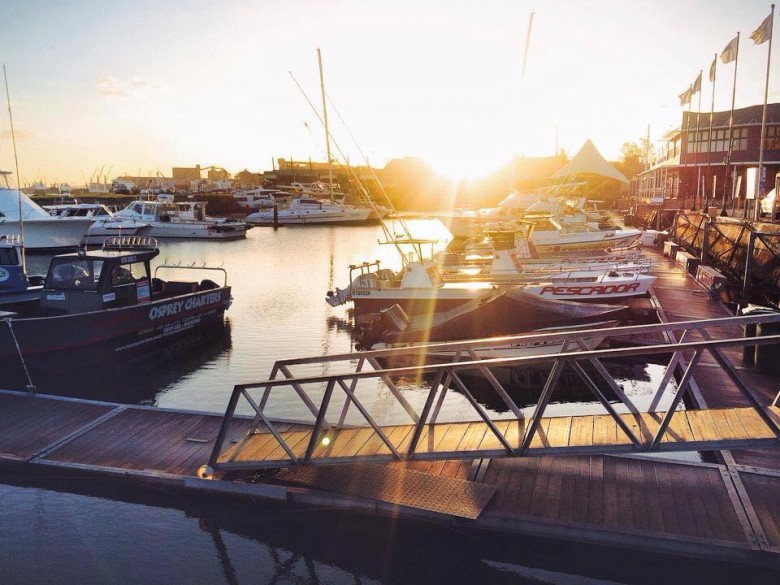 Image by Yuvi K Photography at 5 Star Durban
The place to see Durban Harbour, the busiest port in Africa, in action. You'll glimpse luxury yachts, racing boats, hulking great tankers, trawlers and tiny optimist sailing boats as they go by. At Wilson's Wharf there are many restaurants and fastfood spots to choose from and the flickering lights on the water at night are particularly atmospheric. Our choice is Julio's on the Bay for paella. 14 – 18 Boatmans Rd, Durban. Call 076 440 0057.
17. Warwick Junction- Guided Tour Through 9 Markets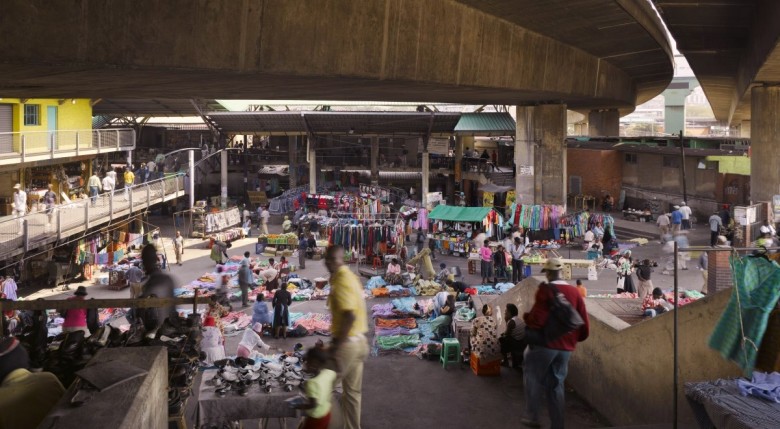 Take a guided-tour through the 9 markets in central Durban to get a feel for the pulse of the city. The Markets of Warwick Tour takes you through Victoria Street Market, the Impepho and Lime market, Brook Street Market, Bead Market, Herb Market, Music Bridge Market, Berea Street Market, the Bovine head Market and the Early morning or 'Mother' Market, which hosts over 640 stalls with vendors selling fresh produce, flowers, spices and live poultry. In the Bovine market cow heads are collected by trolley operators from local butcheries, the traders then skin the head, utilising only the facial meat which is then boiled in large pots. The cooked meat is then presented on wooden chopping boards with condiments for customers to eat. Tours cost R100 per person (or R70 per person for more than 8 people). Call 031 309 3880.
18. The Golden Mile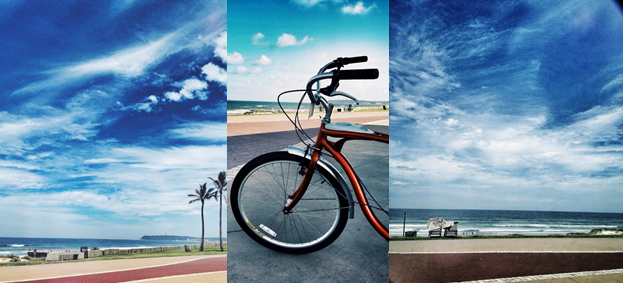 A Two Wheel Coffee Tour of Durban's Beach Front by Phillipa Rowney
The Golden Mile runs roughly from South Beach (uShaka Marine World) to Suncoast Casino in the north in a perfect gilded stretch of sea and sun. Longer than a mile it's the best place to do an early morning beach run, rollerblade or cycle à la Ipanema beach. Or you could join an hour and a half morning cycle tour with Bike & Saddle. Call 031-813-5633 to find out more. Find them at 170 Mahatma Gandhi (Point) Road.
19. Grab a Cold One at Wahooz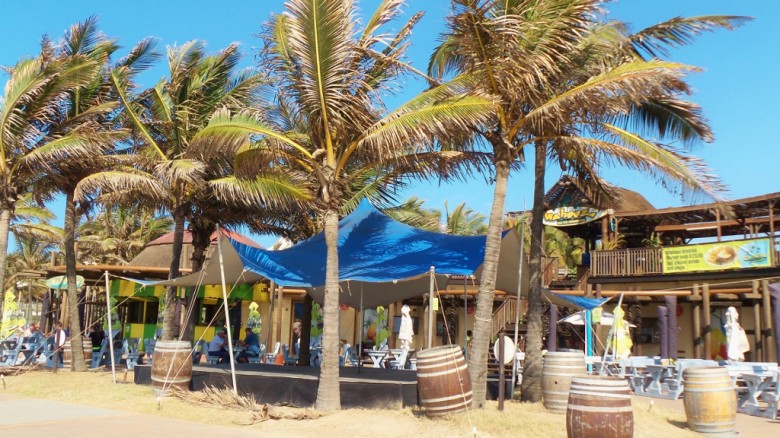 Wahooz by Urban lifestyle Blog
Stop in at this Hawaiian-vibe beach-side restaurant for a beer among the palm trees. Get a bucket of 6 SAB beers for R100. 1 King Shaka Ave, Point.
20. Umgeni River Bird Park


Kids will love the Umgeni river bird park- they have 900 birds from 180 species in the park, a free-flight bird show, restaurant and playground. Tickets cost R50 per adult and R40 for children aged 4 to 12 years. Find them at Riverside Road. Call: 031 579 4600.
21. The Morning Trade Market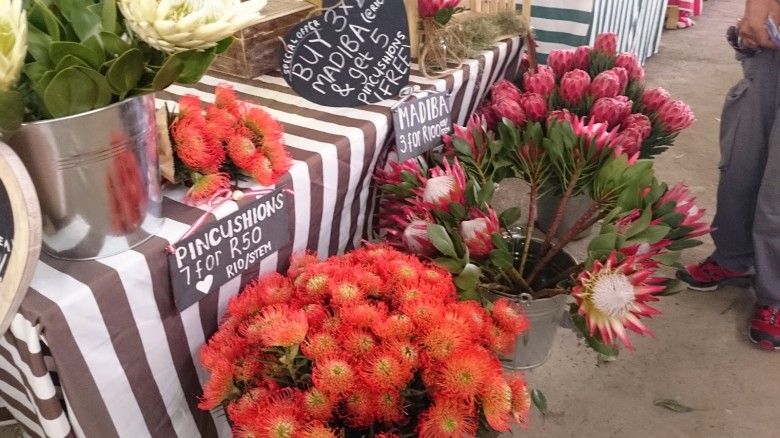 The Morning Trade Market by Raisaysblog
This market is Durban's answer to the Biscuit Mill. You can find them at 15 Station Drive, in the Station Drive Precinct just off Umgeni Road. Enjoy delicious artisanal and locally-sourced farm produce. Open every Sunday from 8h00-13h00.
22. Jumma Mosque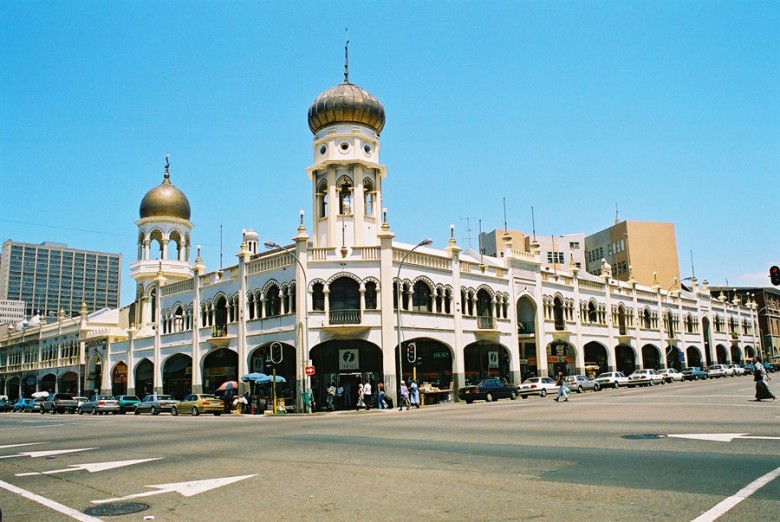 The 'Mosque of the Congregation" is Durban's first mosque and the oldest and largest in the Southern Hemisphere. Find it in Grey Street to take in its geometric splendor. It can fit 6000 worshipers at one time. Remember to remove your shoes and dress respectfully when visiting.
23. Durban Natural Science Museum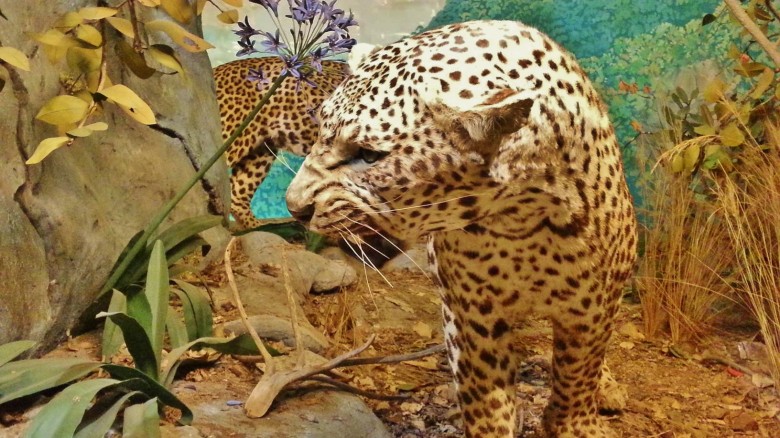 A taxidermied leopard at the Durban Natural Science Museum by Thrishni Subramoney
On the 1st floor of the magnificent Durban City hall, this trove of dinosaurs, fossils and taxidermied predators will enchant bath kids and grown-ups. Entrance is free. Smith Street. Call: 031 311 2242.
24. Sunset Catamaran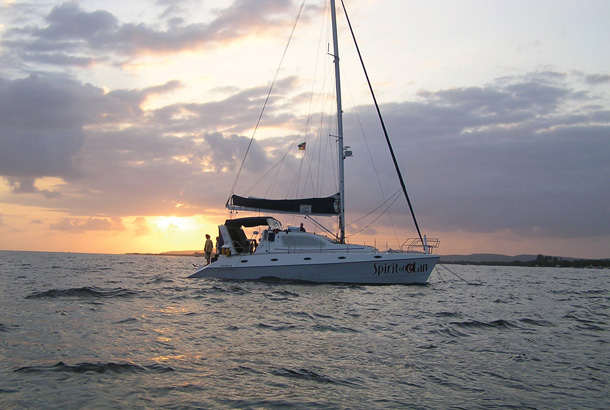 The Spirit of Elan Catamaran available for charters at Spirit of Elan
Watch the powerful KZN sun go down over tropical Durban from a catamaran sundowner cruise. Hakuna Matata Charters offer a 90 minute Sunset Sea Cruise at R220 per adult and R110 per child. 031 307 3782.
25. The Shree Ambalavaanar Alayam Hindu Temple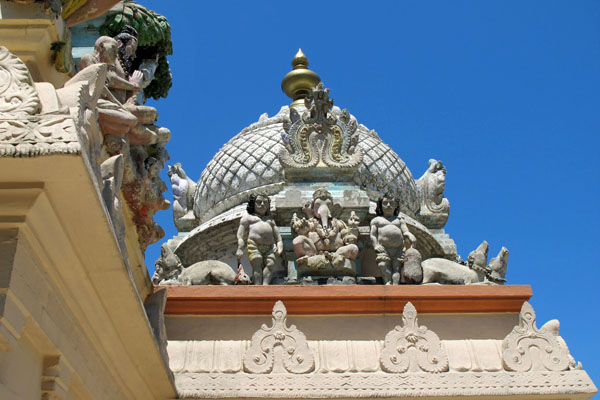 Image by Show Me Durban
This beautiful temple is well-worth a visit. Make sure to observe the intricate carvings of Ganesha, Shiva and Vishnu on the temple facade. The antique doors that lead to the cellar were salvaged from a temple built on the banks of the Umbilo River in 1875, which was later destroyed by floods. 152 Jacobs Rd, Durban. 031 465 3533. Dress respectfully.
26. The Boiler Room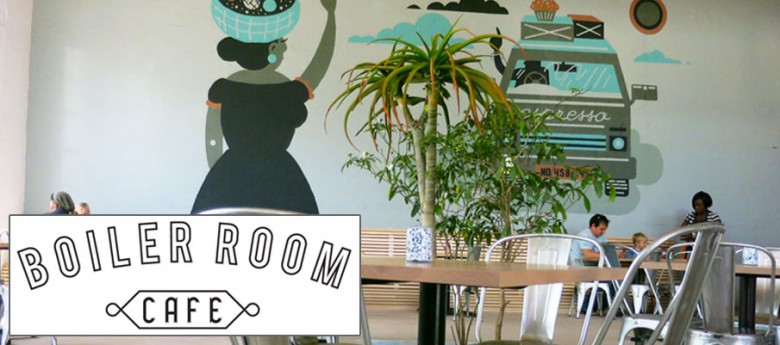 The Boiler Room by The Taste Detectives
From the owners of the more swish 9th Avenue Bistro, the Boiler room is the newest place to lunch in Durban mid work-week. They also do a great Saturday brunch. Lions Match Office Park. 892 Umgeni Road. Call: 031 312 9134.
27. Bay of Plenty For A Quick Swim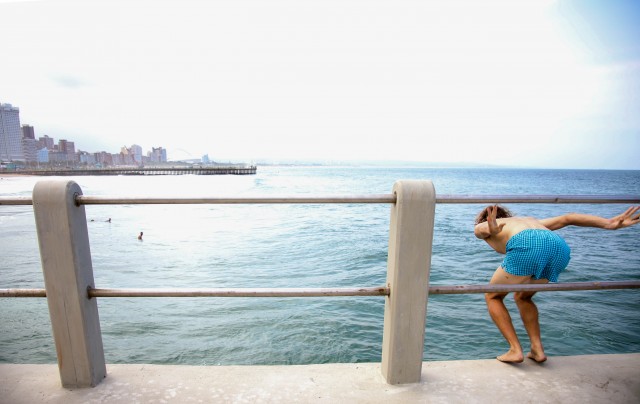 A day in Durban with Matt Vend at Durban is Yours
The best thing about Durban is that winter, summer- it's always a good idea to kick off your slops and leap into that beautifully warm sea. The Bay of Plenty, at the heart of the beach front also offers good surf conditions and beach volley ball.
28. The Sardine Run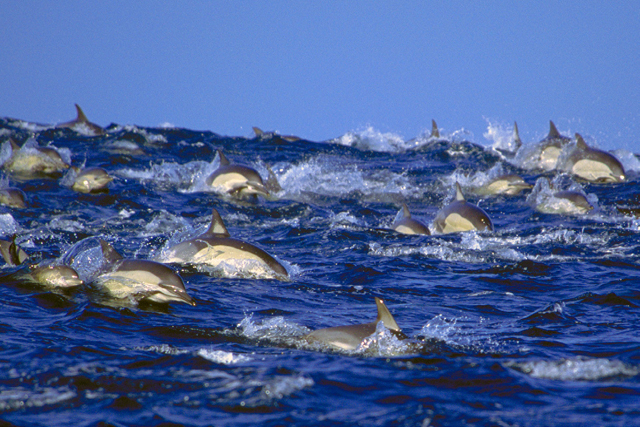 Nearly every year between June and July billions of sardines travel along the east coast of South Africa attracting an abundance of dolphins, whales and sharks. If you are lucky enough to see the sardine run while in Durban it will be worth renting a boat to get a closer look. For a less pricey option hire a kayak for R100 per person (or do a kayak tour for R200pp) at uShaka Marine World. You'll launch in front of uShaka and paddle to the Vetjies Reef, past the shark nets and out to the limestone reef where there's a 1940's shipwreck. If you're exceptionally lucky and the timing is right you'll catch the hundreds of dolphins tailing the sardine run. 086 100 1138.
29. Freedom Café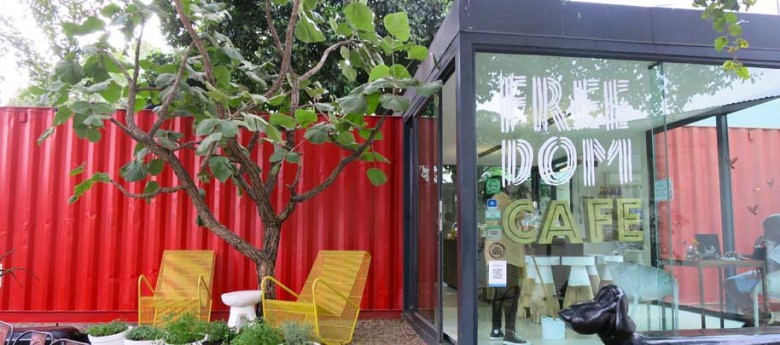 Review of the Freedom Café by The Taste Detectives
This bright space is brilliant for an all-day breakfast. Order their buttermilk pancake stack (R48), Pampoen koekie (R45) or Freedom Fry breakfast (R62). 34 St Mary's Avenue, Greyville, Berea, Durban. 031 3094453.
30. KwaMuhle Museum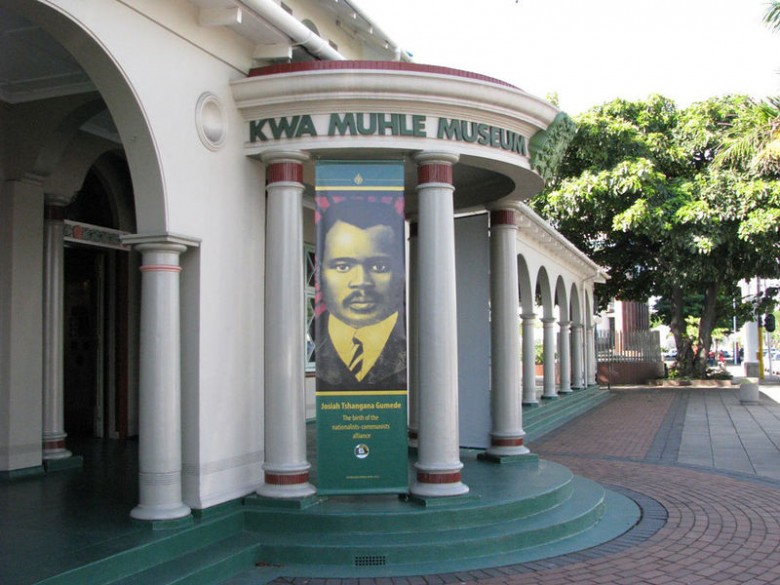 Once the Native Administration Department, step through the copper-covered entrance doors to find a post-apartheid museum documenting the history experienced by all of Durban's residents. The photographs and artifacts on display portray a city in search of an identity within a new political context. Entrance is free. 130 Bram Fischer Road.
31. Visit the World's Rarest Plant at Durban Botanical Gardens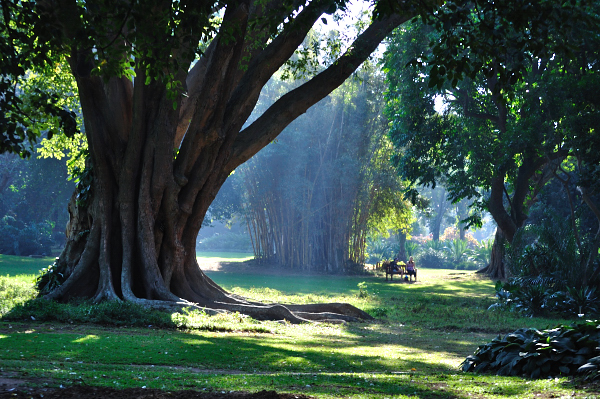 The Durban Botanical Gardens boasts the rarest cycad collection in the world. Cycads, have been around before the dinosaurs and have survived three mass extinction events although they are in danger of extinction today. Wood's Cycad is reputed to be the world's rarest plant. You can find it growing peacefully near the old reservoir. The Orchid collection and palm grove are also worth visiting. Attend one of the concerts at the lake which take place throughout the year. Read the concert schedule and buy tickets here. 70 St Thomas Rd. Entrance to the gardens is free.
32. Roma Revolving Restaurant
Enjoy the kitsch but fun seventies dining atmosphere of the Roma Revolving restaurant on the 32nd floor of the John Ross building. The Roma is the only revolving restaurant in the Southern hemisphere. You'll be privy to an incredible rotating view 105m up in the air while eating hearty Italian food. If you're not hungry head to Gino's Bar one floor above for drinks in the sky. 031 337 6707.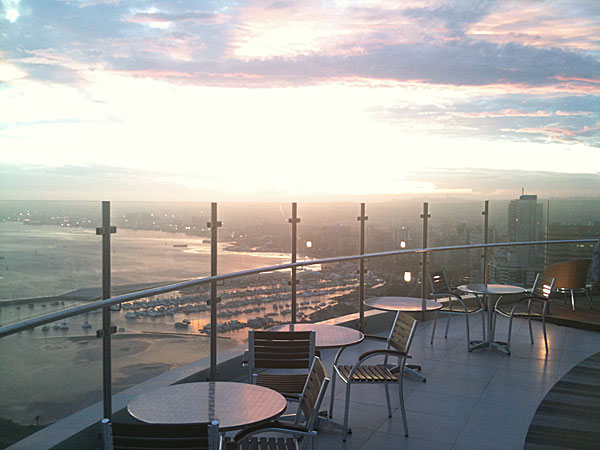 33. Skate Parks
Skater at the Wave House courtesy of Red Bull Media House / Tyrone Bradley
Skate for great at the beachfront skate park in front of the Bay of Plenty- entrance is free. Your other option is the Wave House in Umhlanga. Members pay R20 for the day, non-members pay R40. They also offer lessons. Annual Membership is R150 per year. Galaxy, Gateway Theatre of Shopping, Palm Blvd, Durban. Call 031 584 9400.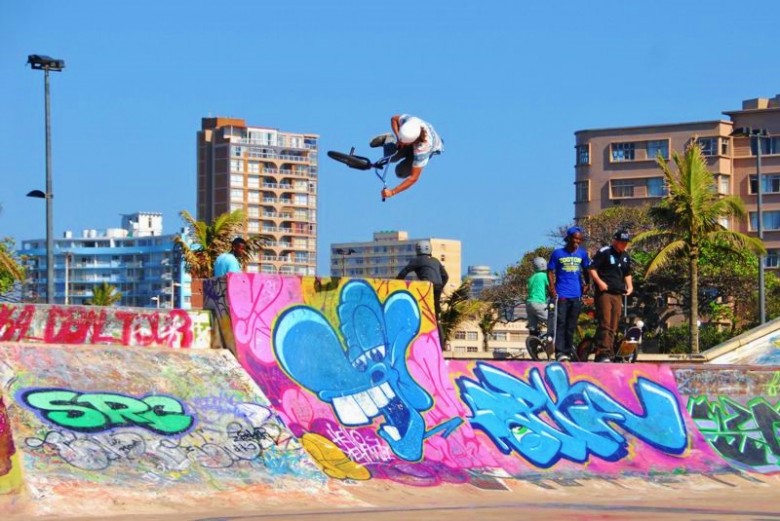 34. Hop Aboard a Ricksha Bus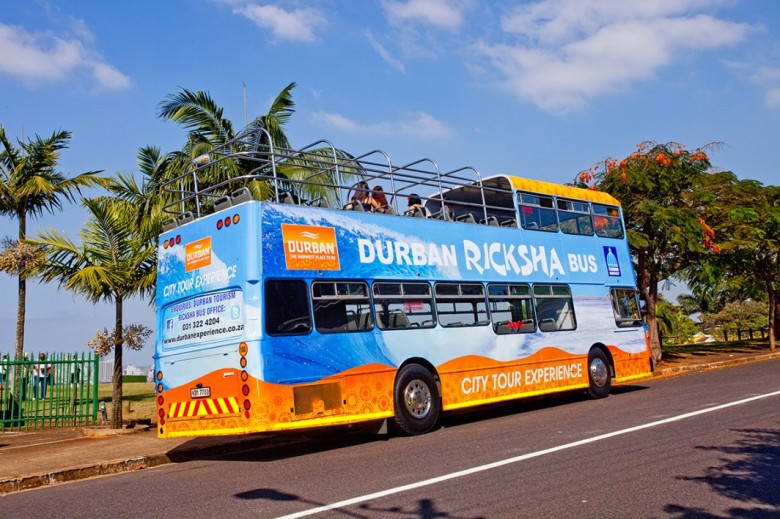 Take a three-hour whirl around Durban on the top deck of a Ricksha bus. It's practically always blazingly sunny so enjoy the sun on your face as you pass all of Durban's major attractions. There are two tours per day, seven days a week. The morning tour starts at 9am and ends at midday and the afternoon tour starts at 1pm and ends at 4pm. Tickets are R100 per adult, R60 for kids aged 6-8 and free for the children under 5. They accept cash only. Call 031 322 4209 for more information.
35. Little Gujarat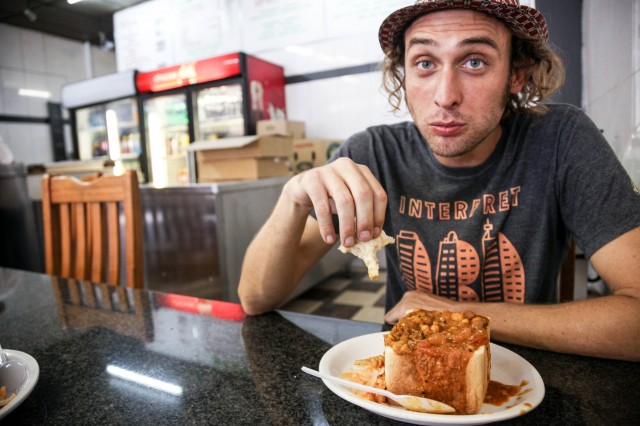 A day in Durban with Matt Vend at Durban is Yours
Arguably the most authentic and affordable Indian food in the city, Little Gujarat offers a feast of delicious vegetarian bunny chows, samoosas, pakoras, bhajis, roti breads, rice and pickles. Find them at 43 DR Goonam St. 031 305 3148.
36. Beach Horse Riding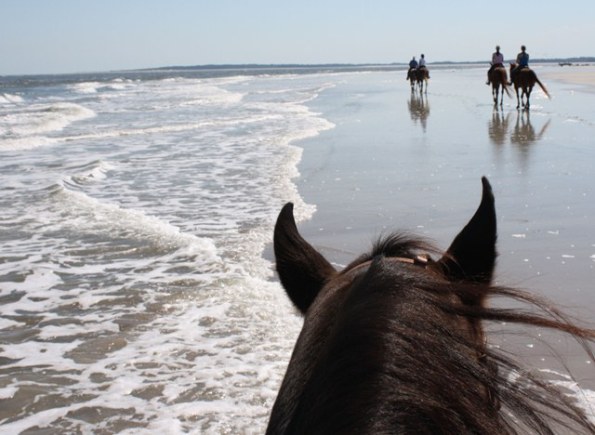 Image by Kelly Horse Ranch
There's nothing like a late-afternoon gallop on the beach, kicking up sand and surf at sunset. And if you happen to fall in, the water is inviting and warm. For R250 pp Gary offers a two or four-person beach ride. 71 School Rd, Amanzimtoti. Call 084 205 9797 to arrange your ride.
37. Durban International Film Festival

The film festival is in its 36th year and is an unmissable event on the Durban calender. it's one of the oldest of its kind in Southern Africa. Catch it from 16th to the 26th July 2015. At last year's awards ceremony, the festival's most prestigious award of Best Feature Film went to Malian director Abderrahmane Sissako's masterful "Timbuktu". The festival also serves as a launch pad for Wavescape, a film and music festival celebrating a mutual love of surfing and ocean culture. To find out more about both film festivals call: 031 260 2506.
38. Florida Road Shopping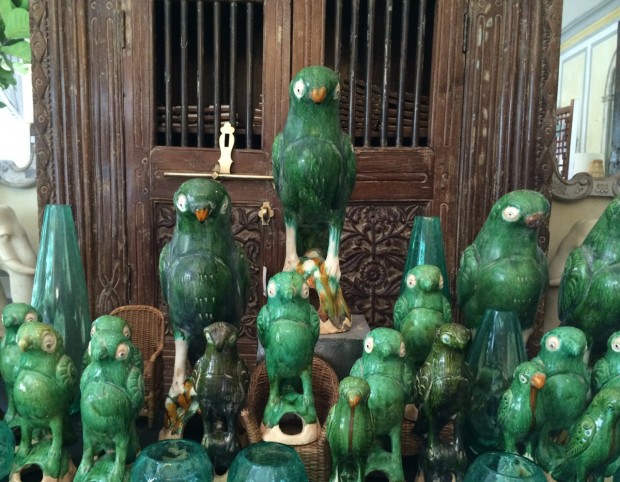 Cecile & Boyd by The Salt Box
In between stopping in at the many greats cafes, bars and restaurants on Durban's glam dame Florida Road (be sure not to miss the burgers at Dropkick Murphy's) there's the beautiful emporium of wooden and ceramic home ware at Cécile & Boyds. 253 Florida Road. For a throw back to the 90's visit Art Film Co, a discerning DVD rental store, where you can find curated dvds. 150 Florida Rd. Call 031 303 3131.
39. Scuba Diving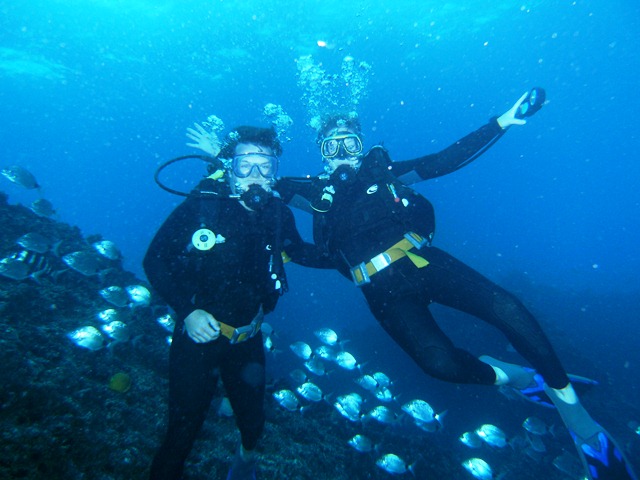 Image courtesy of Scuba Dive KZN
The Durban Undersea Club offers wreck dives at R230 per non-member. Find them at 79 Browns Road, Vetch's Pier, Point. Call: 031 368 1199.
40. Beachwood Mangroves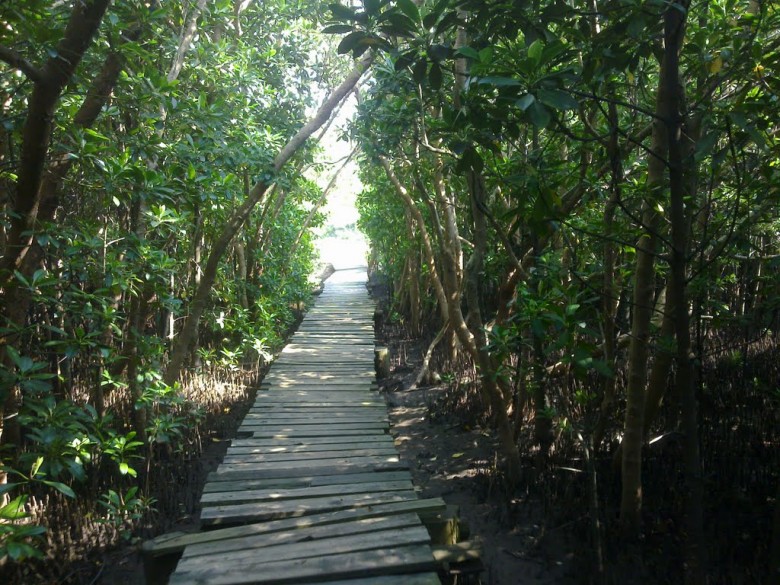 Elevated boardwalk tunnel through Beachwood Mangroves Nature Reserve by John A Forbes
This mangrove reserve is a national monument and contains 3 species of rare mangroves; black, red and white. Walk along the sturdy wooden platforms to catch a glimpse of mudskippers, fiddler crabs and rare kingfishers among the muddy water and white sand. The reserve is open to the public on the third Saturday of every month from 8am to 1pm, you can also arrange a visit in advance with a conservation officer. Call 082 359 2839. Riverside Road, Durban.
41. Dine with Sharks at uShaka Marine World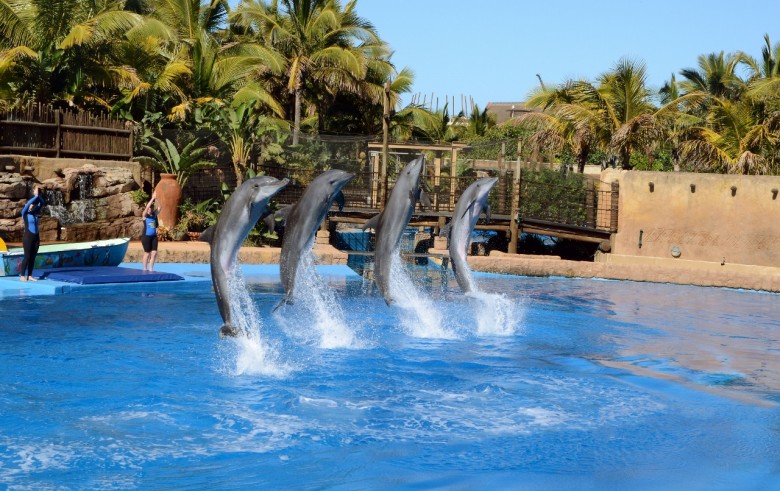 Dolphin Show in uShaka Marine World by Amada44 on Wikipedia Commons
The fifth largest aquarium in the world, the building of uShaka was pivotal in the revitalization of the Point area. Expect water rides, penguin, seal and dolphin shows, sharks circling you as you eat dinner, a dangerous creatures section and an extensive shopping walk. Get a Combo ticket for R199 per adult and R149 for children aged 3-12. It's free for kids under 3. 1 King Shaka Avenue, Point, Durban. Call: 031 328 8000.
42. House of Curries
House of Curries by Cuizine.co.za
Famous for their tender lamb curry, mini-bunny chows and spicy bean curry, House of Curries, is an old favourite on Florida Road. Relaxed Durban vaab for days. About R70 a main. 031 303 6076.
43. Woza Weekend Breakfast Buffet at Moyo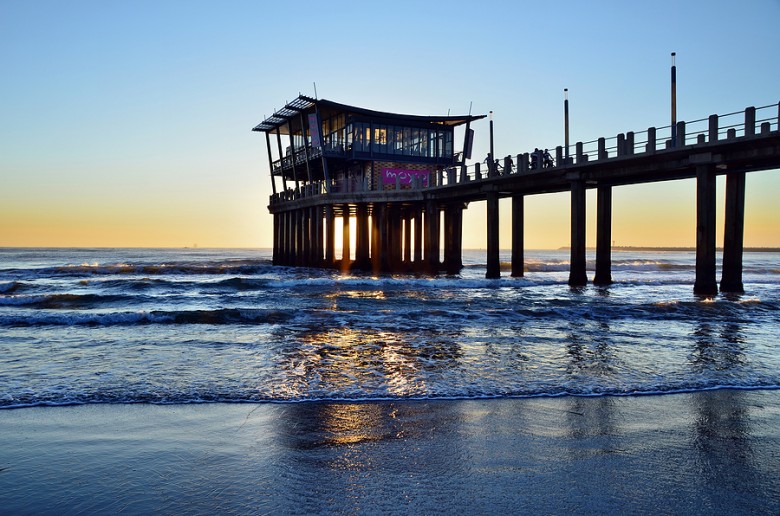 If you're hungry after all your Durban explorations head to Moyo, set dramatically at the end of uShaka Pier for their Woza Weekend Buffet. Expect sweet potato and biltong soup, lamb curry, briyani, braai kebabs and an extensive array of desserts. The good news is that it's free for the under fives, R95 for kids aged 6 to 11 and R195 per adult. The Dinner buffet is available on Fridays and Saturdays from 18h00 to 23h00 and on Sundays for lunch from Midday to 16h00. They also offer a Carb clever buffet breakfast for the Noakes-fans.
44. Watch Gangs of Ballet on Their Turf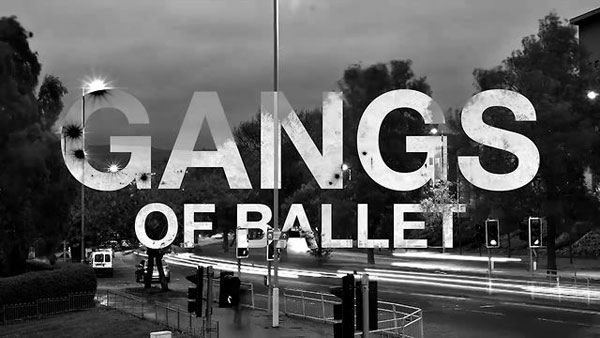 These Durbanites won the MTV Africa Music Award for best alternative act in 2014 as well as 5 SAMAS. Catch them on their home turf at the Barnyard Theatre at Gateway on the 26 June. Book here.
45. Rooftop Night Market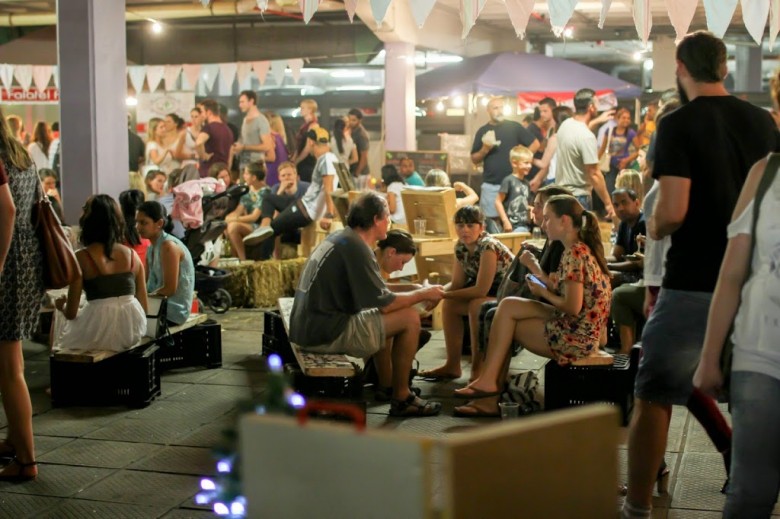 The Roof Top Night Market by Philippa Rowney
More and more unexpected spaces in Durban are being repurposed. Experience live music and slow food at the night market on the first Friday of every month on the 5th floor of the Musgrave Centre. Call 031 277 8420.
46. Lekka Vibes at Nev the Barber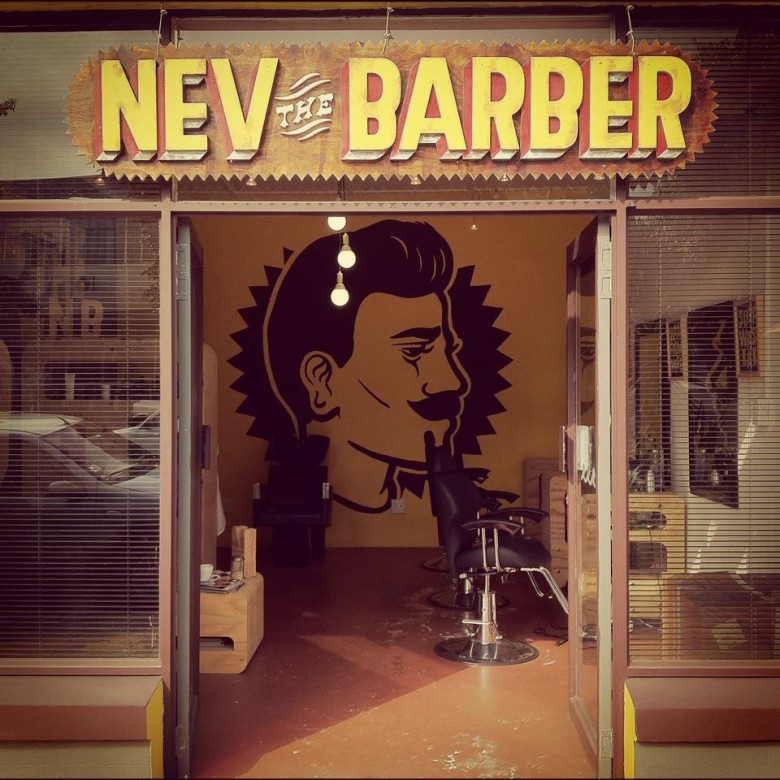 Nev the Barber by Lola Malone
Nev offers a slick hair cut with attitude, "kiff cuts, laka vibes" is the idea behind this punchy Glenwood barbershop. You'll see posters up with zingers like "vibe the vibe" and "waai from here". Right next door is the much-loved Corner café where you can munch a panini and drink a flat white. And the good news is that Nev is opening another spot in Umhlanga. 071 898 7555.
Things to do a bit further out but worth the drive (no more than 50 mins from Durban CBD)
47. Take a Sunday Steam Train Through the Valley of 1000 Hills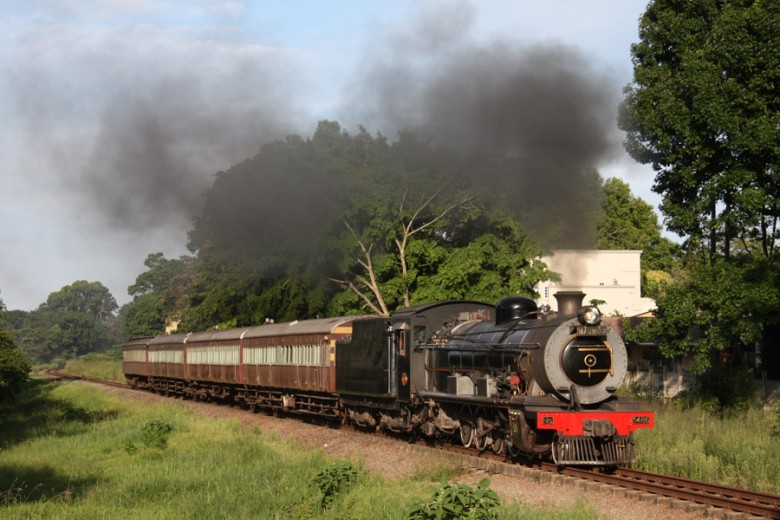 Tucked in the verdant Valley of 1000 hills is the village of Inchanga. Catch a steam train from Kloof to Inchanga's small Victorian station in the rolling hills of Kwa Zulu and back again. There are trains on the first and last Sunday of every month, seats fill up quickly so book in advance here. Tickets for adults cost R200, tickets for children aged 2 – 12 cost R140. Photographers will enjoy the early-morning curling smoke shots over the dramatic rolling hills. Stop in for a pint at the Stoker's Arms in Kloof. 087 878 7715.
48. Giba Gorge Biking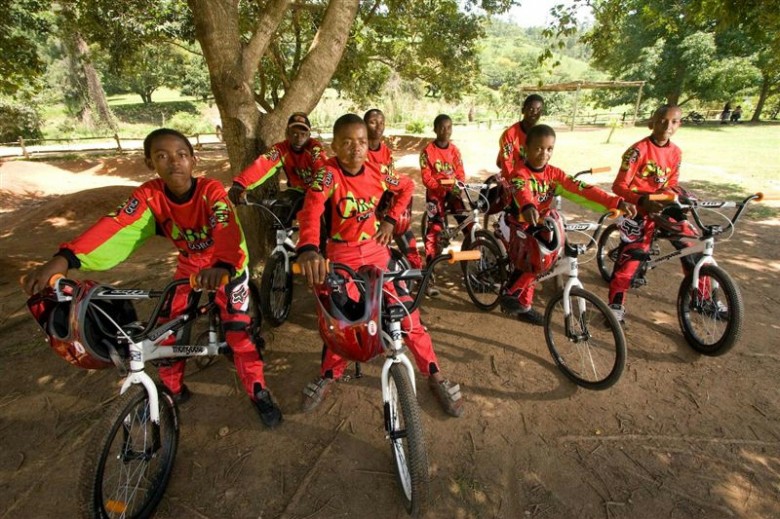 Giba Gorge Mountain Bike Park at Find it Faster
For adrenaline lovers Giba Gorge boasts a Supercross, BMX and cycle track. There are also calmer spots for picnics but with space for kids to run around. Entrance is R50 for adults and kids over 12 and R20 for kids under 12, non-riders pay R10 and trail runners pay R20. If you don't have bicycles and helmets you can rent them from the independently run "Yolo Cycles" within the park. 110 Stockville Road, Pinetown. Call 031 769 1527.
49. Inanda Mountain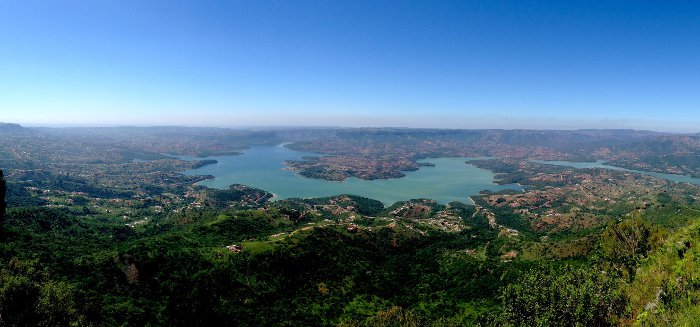 Inanda Mountain by Durban Green Corridor
Drive 50 mins out of the CBD to Inanda Mountain for Durban's most incredible view. The road ends practically at the edge of the cliffs that plunge down to Inanda Dam. Photographers and birders will appreciate the Lanner falcons and banded Harrier hawks that ride the thermals every morning. Local communities are rebuilding a 250 hectare coastal scrub area. Find the mountain here.
50. Mzinyathi Falls and Rasta Caves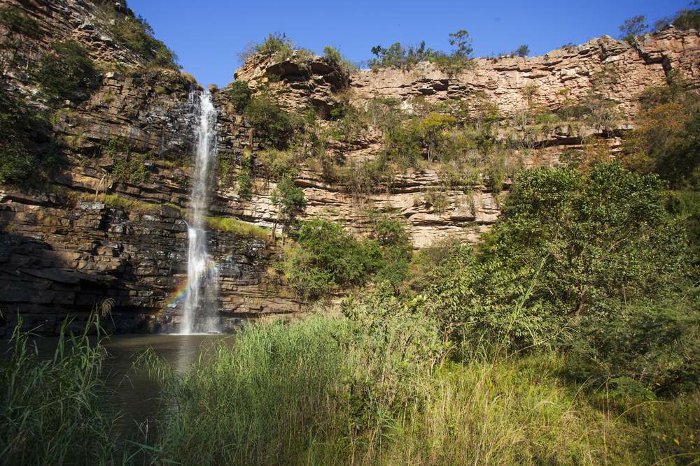 The Mzinyathi Falls by Durban Green Corridor
A 20 minute drive from Gateway, Mzinyathi falls is relatively unknown. The dramatic sandstone amphitheatre makes this a popular rock climbing spot. In summer after heavy rain the falls have an impressive volume. The Rastafarian caves are a sacred place where Rastafarians who work in the city during the week come on the weekends. The path to these caves is quite difficult to find, contact the Green Corridor to arrange a tour to the caves, falls and surrounding area from R85 pp.
51. Zorbing Around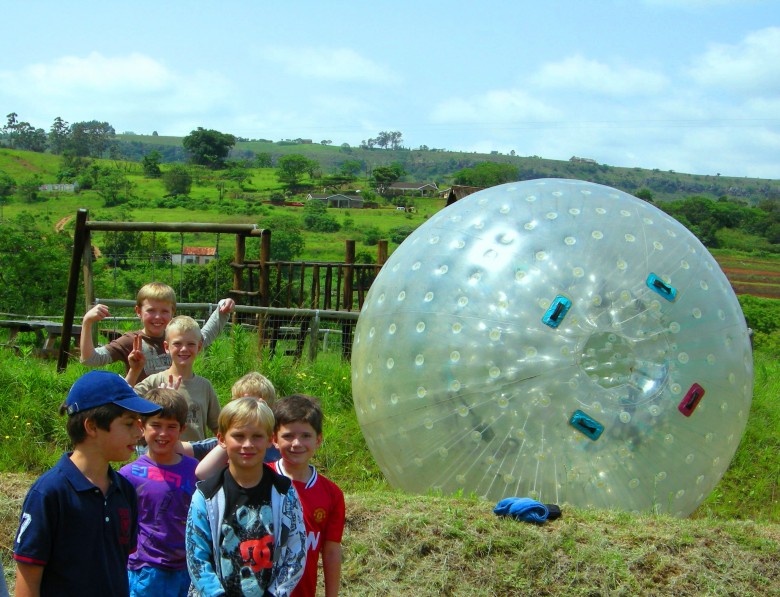 Zorbing at Groovy Balls Adventure Park
Zorbing involves climbing into a large plastic ball and careening around a specially-designed course. At Groovyballs you and a friend can climb into a zorbing ball and roll around their three specially designed courses. One go costs R100 pp and R75 for the subsequent one. They mainly cater for corporate events and children's parties. Both you and your kids will have a ridiculous amount of fun. Find them in Outerwest Durban. Call 084 330 3122.
52. Mfula Store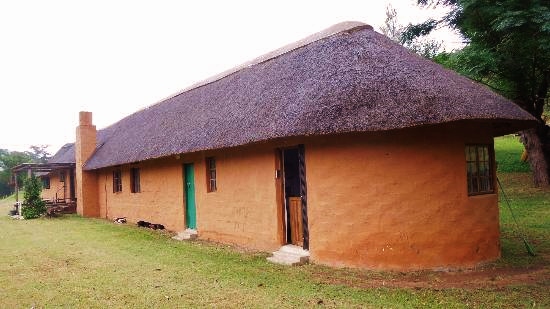 50 km out of Durban deep in the Valley of 1000 Hills, on the banks of the Umgeni River, is a traditional trading store. Mfula store was established in 1947. Though the store has passed into new hands it will continue to trade as it always has done, and will provide a mobile clinic and pension payout points. Mfula Store offers many adventure activities in the area including mountain biking, paddling and hiking. There is a beautiful picnic area nearby maintained by community leaders and a natural rock water slide. Call 082 784 3144.
53. PheZulu Safari Park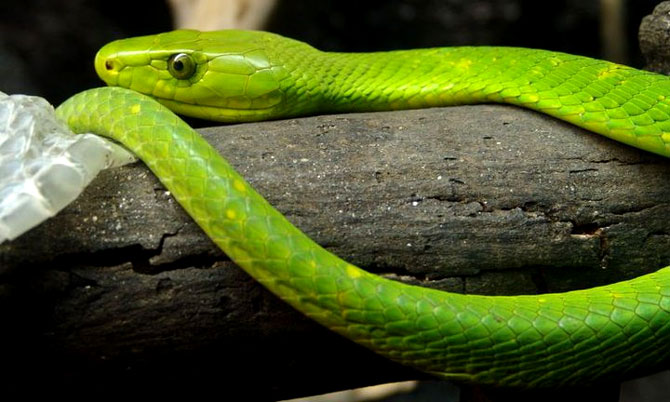 Green mamba at Wikipedia Commons
35 km from central Durban in the Valley of 1000 hills you'll find Phezulu Safari Park which offers game drives and a crocodile & snake park among many other activities. The 1 hour Game drive costs R225 for adults and R125 for children under 12. You'll see blesbok, giraffe, impala, zebra and wildebeest. There is also a curio store and traditional Zulu village. Old Main Road, Bothas Hill. Call 031 777 1000.
54. Virginia Nature Reserve
Image by Melancholy Mons
The Virginia Nature Reserve in Durban North provides a 38 hectare respite from the suburbs. It has winding paths of coastal scrub filled with Natal figs, hibiscus, grey duiker, spotted genet and dwarf mongooses. It's great for bird watching. Give yourself 2 hours to ramble around. The reserve is open from 7am-4pm. Call 031 563 6777.
And lastly:
55. Umhlanga Pier the Most Beautiful Pier in the World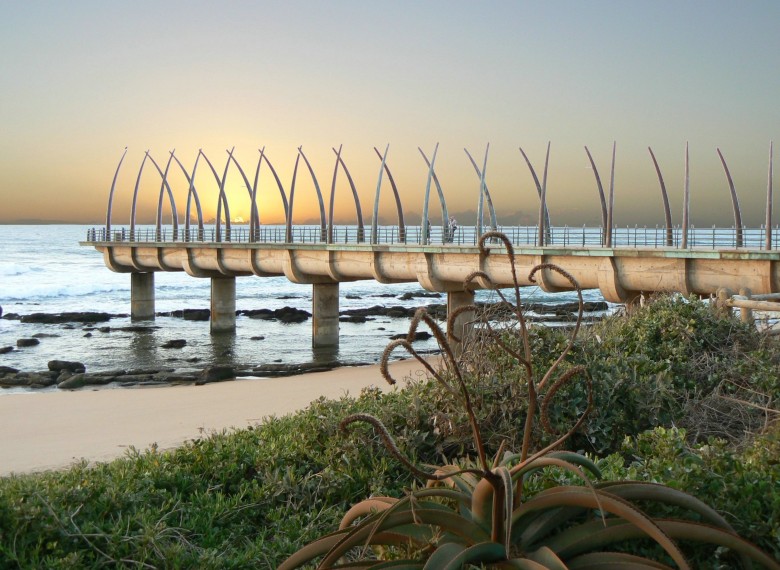 Umhlanga Pier by  Durban Gov
CNN has crowned Umhlanga Pier the most beautiful pier in the world. The whale bone skeleton structure is striking and the favourite of sunset instagrammers, however the pier also performs an important function as an extension of an underground culvert that helps disperse excess storm water into the sea.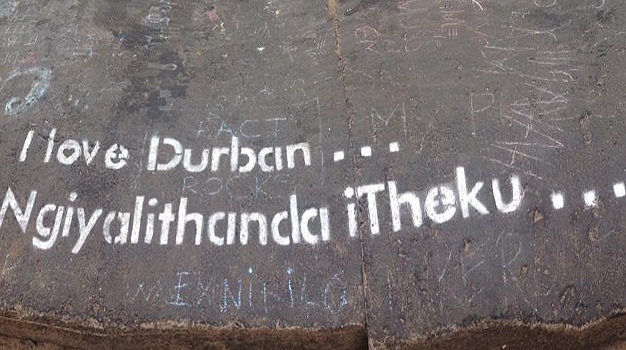 Love Durban by Meruschka Govender
What do you love about Durbs? Share your favourite things to do in Durban in the comments below.