[Updated 27 August 2018]
Cape Town is one of the most photogenic cities in the world, with so many people around the globe captivated by all the spectacular gems it has to offer. To celebrate its beauty, we've rounded up 50 photos of Cape Town that best represent the pretty city's people, scenes and landscapes. In no particular order, take a look at the breathtaking and exciting Mother City gems!
Looking for a place to stay in Cape Town? Have a look at the best hotels in Cape Town.
50. Truth Coffee
This "steampunk" coffee shop on Buitenkant Street was named the best coffee shop in the world by respected travel journalist Tom Midlane. Truth's interior, designed by Heldane Martin, draws on the 'steampunk aesthetic' which translates into imagery of nineteenth-century heavy industry. Grab a flat white at this famous Cape Town coffee shop and take in the unique vibe.
49. The Big Issue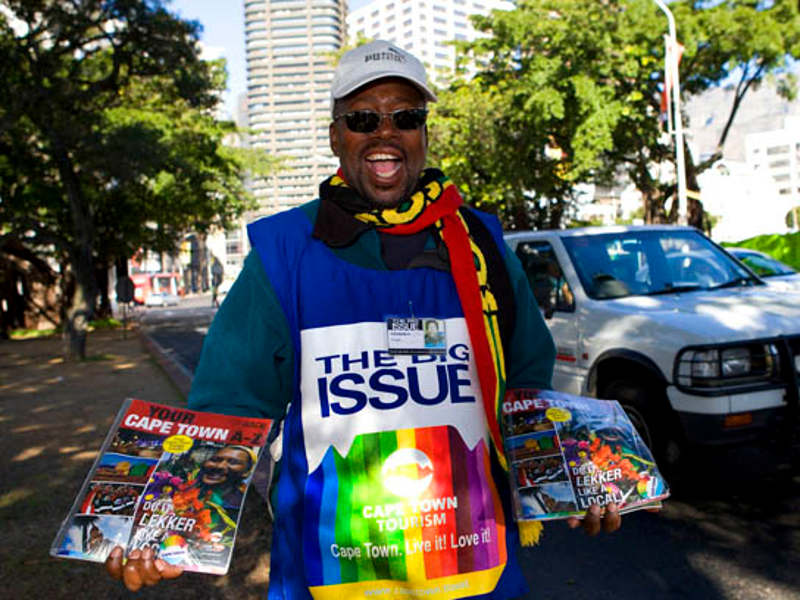 Written by professional journalists and sold by willing unemployed and marginalised adults which helps them take responsibility for their own lives. The Big Issue is a social upliftment initiative operating on four continents. In Cape Town, The Big Issue is a welcomed feature in the city's streets and friendly vendors can be found at intersections throughout the City Bowl. Big Issue vendors are independent salespeople.  The magazine costs R25 and R12.50 goes to the vendor. Find out more on The Big Issue's Facebook page.
48. Noordhoek
Situated at the foot of Chapman's Peak, the Noordhoek valley is one of Cape Town's most treasured coastal hideaways. It has a rural atmosphere and is famous for the beach, its vast wetlands, the vibey Red Herring and amiable village atmosphere.
47. Groot Constantia
The Winelands are synonymous with the Western Cape, so a trip to the coastal city demands a Winelands tour. As the oldest wine estate in South Africa, Groot Constantia is just one of the established estates that dot the fertile landscape of the Cape wine region. It can get very busy owing to its close proximity to the Cape Town city centre and it's popular with large tour groups.
46. Cape Town Airport
As a major gateway to the Mother City, we could not leave out Cape Town International Airport. It's the second-largest airport in South Africa and welcomes well over 1 million foreign visitors annually. Operationally, it has been the recipient of many accolades including being voted the best airport in Africa in 2018 by Skytrax.
45. Llandudno
Set at the foot of one of Cape Town's most alluring and exclusive suburbs, Llandudno's beach is in the same league as Clifton and Camps Bay when it comes to popularity, only it has a lot less parking space available. Get there early to reap the rewards of this Blue Flag beach where surfers, lifesavers and sunbathers romp side by side in one of the Southern Hemisphere's best seaside settings.
44. Greenmarket Square
Merchants from all over Africa converge on Greenmarket Square to sell a wide variety of goods. It's not so much a local hangout as it is a hotspot for tourists with a severe souvenir obsession, but even residents can't deny that the vibe here in the centre of Cape Town is something special. You can catch buskers and jazz concerts in the square throughout the year.
43. Festivals
Festivals and trance parties are part and parcel of living in the Mother City and you can be sure there's at least one happening somewhere every other weekend. From Rocking the Daisies and Up the Creek to Earthdance, Vortex and many others in between, this is your signal to round up your mates, grab your tent and drive into the abyss of mystical visuals, amazing energy and endless dancing.
42. Oudekraal
Oudekraal is just one of many hidden nooks on the Atlantic Seaboard. The beach at Oudekraal forms part of the Table Mountain National Park.  SANParks asks an R41 per adult and R26 per child entrance fee. It's a popular dive site and swimming spot, and there are public braai spots available.
41. Table Mountain Aerial Cable Way
This should be your first port of call on a trip to the Mother City. The cableway whizzes to the top of Table Mountain at 10 metres per second, all the while providing an easy path to the best views of the Mother City and her surrounds.
40. Adderley Street Flower Market
The flower sellers that occupy the arcade off Adderley Street in the CBD have been there for more than 100 years and always deliver a range of freshly cut flowers at reasonable prices.
39. Paragliding
"Why fly? For once you have tested flight, you will walk the earth with your eyes turned skyward, for there you have been, and there you long to return." – Leonardo Da Vinci
These words couldn't be truer when it comes to paragliding in the Cape. Silently gliding over the sea and mountain with just the flapping of your wing occasionally breaking the silence, a Cape Town paragliding adventure might be just what you need if it's solitude with a view you're after.
38. Company's Garden
This inner-city greenbelt is shrouded in Cape history, having been established in 1652 by Dutch settlers. Today it's a favourite lunchtime escape for weary office workers who come to relax in the garden's manicured surroundings. There are also a number of museums in the vicinity, including the Iziko Museum's South African Museum, the South African Jewish Museum, the District Six Museum, as well as the South African National Gallery.
37. Mzoli's
Since Mzoli's opened in early 2003, the restaurant has become a popular gathering spot amongst local's and international visitors alike. People from all walks of life come to Mzoli's Place in the heart of Gugulethu to shake off all inhibitions and celebrate the Kasi way of life in the most welcoming atmosphere imaginable, not to mention, indulging in the ultimate, authentic 'Shisa Nyama' experience.
36. Silvermine
Forming part of the Table Mountain National Park, Silvermine Nature Reserve is where local residents go to picnic, hike and mountain bike amongst indigenous fynbos vegetation. It's popular because it's easily accessible from the city and its suburbs, and the hikes are decidedly gentler than the more demanding scrambles up and down Table Mountain National Park.
35. UCT
Located in one of the most beautiful cities on earth, the University of Cape Town is one of the top education institutions on the African continent. But its accolades are only a small part of a long and proud history that includes being South Africa's oldest university. Today the campus is one of the most diverse campuses in South Africa, with staff and students hailing from more than 100 countries in Africa and the rest of the world.
34. Kaapse Klopse Carnival
Every year in January the streets of Cape Town come alive with colour and the sound of trumpets as the Cape Minstrels take to the streets in inimitable style. Tweede Nuwe jaar is an age-old Cape tradition that was originally introduced by the Muslim slaves who celebrated their only day off work in the whole year. Nowadays men, women and children march from the Grand Parade, through the CBD streets and Bo-Kaap, singing and dancing. They are clad in colourful, shiny suits, white hats and carry a sun umbrella.
33. Small Wave Grovelling at Muizenberg
The self-proclaimed home of South African surfing, Muizenberg is where you'll find the oldest surf shop in the country, Gary's Surf School, and a world record for the most surfers to ride a single wave at the same time.
32. Shark Spotters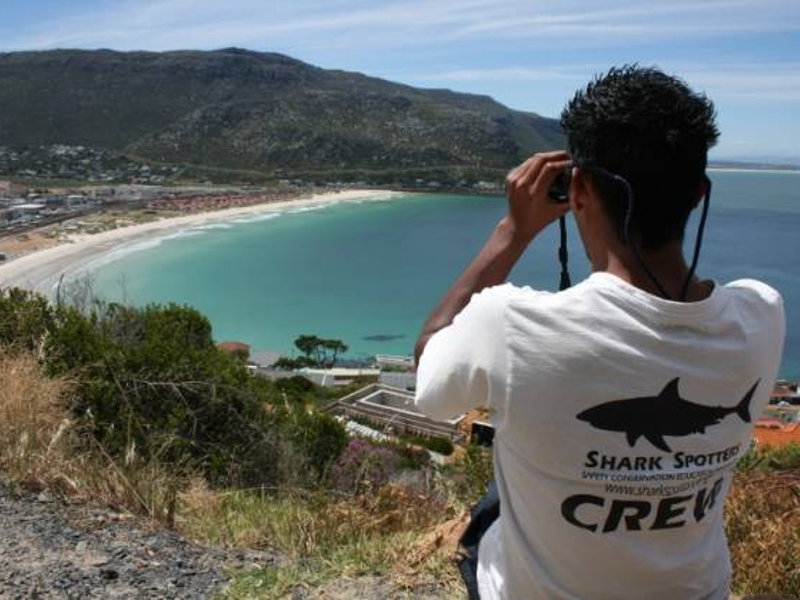 Perched on strategic viewpoints above the surf, full-time shark spotters operate at Fish Hoek, Muizenberg, St James and Noordhoek all year round. The Shark Spotting programme is a registered NPO managed by Kommetjie Environmental Awareness Group. These spots offer epic views and photo opportunities.
31. Market on the Wharf
It's no secret that Capetonians love all things relating to good food, good vibes and good times and Market on the Wharf at the V&A Waterfront provides a suitable platform for all that goodness to merge. The result – a vibrant meeting place for local merchants, suppliers and visitors where discussion and trade are focused on, offering everything from organic food to sweet treats, oysters, cheese, craft beer and even home ware products and clothing.
30. Long Street by day
During daylight hours Long Street is a bustling inner-city arena full of lunch options, fashion boutiques and antique shops all characterised by Victorian architecture you'll be hard-pressed to find anywhere else in South Africa.
29. Long Street by night
At night, Cape Town's iconic street spawns a party scene that's not for the faint-hearted. For those seeking a night out in town, clubs and bars line each side of the street and tourists and locals rush to and fro' dodging flashing blue lights and hooting taxis.
28. Signal Hill
This is where the city comes for sundowners. Signal Hill is a little more accessible than Table Mountain and Lion's Head but it still offers truly astounding views. Bring your partner here for a romantic glass of wine before the sun sets, or bring the family for a picnic and an ice cream. It's also a great spot to get up close and personal with launching and landing paragliders.
27. Atlantic Kelp Forests
While they might seem like a creepy, slimy drawback to your icy Atlantic swim; the kelp beds, found close to the shore off beaches around Cape Town, are in fact recognised as one of the most productive and dynamic ecosystems on Earth.
26. Up Cycle around the Mother City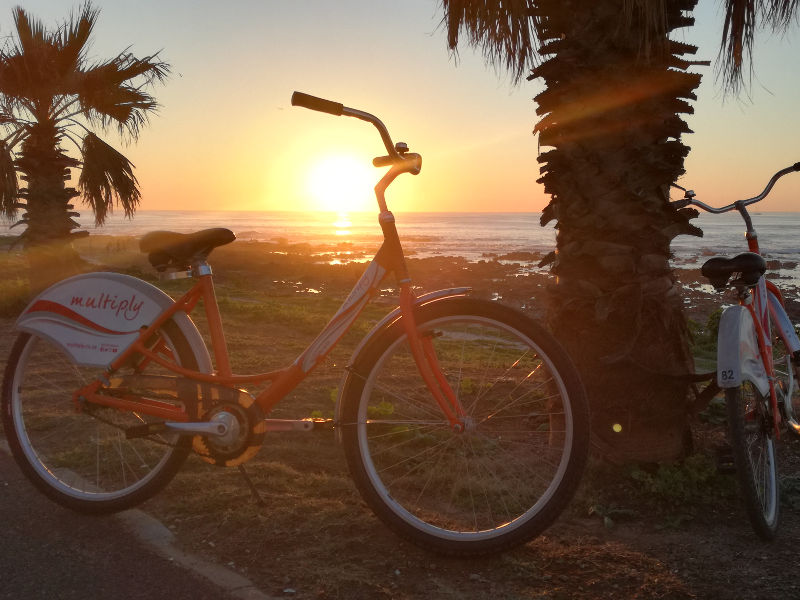 Get the best views on a bike with Up Cycles. The bike rental service allows locals and tourists the chance to venture around the Atlantic coastline, including Camps Bay and Sea Point as well as riding through Green Point Park and the CBD. Simply arrive at an Up Cycles station (Sea Point Pavilion, V&A Waterfront Silo 5, Camps Bay Strip or Breakaway Café), choose and pay for the duration of the ride you'd like to do, go riding and snap cool photos. When you've completed your bike ride you can return the bike to any of the Up Cycles stations. Pricing starts at R70 for one hour.
25. Big Wave Surfing at Dungeons
Putting South Africa on the big wave surfing map, Dungeons in Hout Bay is a right-hand break known for its power and ability to scare visitors away. Getting to the break is not an easy task, seeing as there is a mountain you have to traverse in order to get there. The best way is to grab a boat out of the bay for a direct ride to the break.
24. Kloof Street
Durban has Florida Road, Johannesburg has 4th Avenue, and completing the trifecta of popular streets in each of South Africa's 3 major cities is Kloof Street – the boutique shopping, bar hopping, bistro obliterating, tequila tanking, student swarming delight of Cape Town's in-crowd.
23. Sea Point Promenade
The promenade is much-loved for the walking,  jogging and meandering opportunity it offers to anyone who's looking for a little fresh air and some beautiful views. Busy no matter the time of day, it's a rare treat to be able to enjoy such untamed beauty while walking on a flat, comfortable path. The promenade also features a free outdoor adult jungle gym.
22. Old Biscuit Mill
Every Saturday morning, small farmers, beer crafters, designers, artisan chocolate makers, bakers, and vintage collectors and lovers meet at the Old Biscuit Mill in Woodstock to sell, buy, and share ideas. It opens at 09:00  and closes at 14:00.  The building was previously a biscuit mill, and that's where the name comes from. Come and explore the Mill and meet some of South Africa's most talented designers, artists, photographers, and connoisseurs of fine taste and décor.
21. Camps Bay Strip
This is where Cape Town's idle rich comes to party, soak up the sun cocktail in hand; the 'strip' is where lively bars spill on to the pavement and celebrities make merry next to mere mortals. The Camps Bay Strip is a great summer hangout spot!
20. Cape Point
You can only imagine how the Portuguese sailor, Bartolomeu Dias, must've felt on rounding Cape Point – the headland at the southeast corner of the Cape Peninsula. It's a wild stretch and a navigator's nightmare, but you'll never have to worry about that as you can drive right up to the point and take the stairs or the funicular to the viewpoint.
19. Kirstenbosch Gardens
Nestled on the eastern slopes of Table Mountain, Kirstenbosch Botanical Garden boasts over 22,000 indigenous plant species and was the first botanical garden to be declared a UNESCO World Heritage Site. The open-air concerts that are held every Sunday from November to April have come to represent a fitting end to the weekend, attracting the best in local musical talent.
18. Robben Island
Mandela's cell on Robben Island is a stark reminder of the adversity that once plagued South Africa. Everyone should visit Robben Island, if not to be humbled, then to be inspired by the island's history and the stories of the men who rose from obscurity to build a free and fair South Africa.
17. Spring Flowers on the West Coast
Admittedly this attraction is seasonal but when August does eventually arrive the beautiful display of flowers that comes with it is a must-see natural masterpiece. A drive up the West Coast is a must as it affords the exciting opportunity to, discover epic West Coast gems like beaches, nature reserves, art galleries, and loads of quirky farmstalls.
16. Hout Bay
The 'Republic of Hout Bay' represents a favourite weekend jaunt for Capetonians. Home to the Bay Harbour Market, Dungeons – Africa's big wave surf spot- and a lively harbour, it's no wonder this seaside enclave south of Cape Town has such a popular following. Hout Bay has so many attractions to enjoy, be sure to take your camera along and capture some beautiful photos of the unique suburb.
15. Clifton Beach in the height of summer
Clifton Beach crowns the Cape Town summer hotlist. Thirty plus degrees on the sand and ten degrees or less in the surf – are you brave enough to tempt the cold Atlantic?
14. Fog rolls in over Cape Town City Bowl
Fog creeps in over the Cape Town City Bowl at night. It's a surreal scene from Signal Hill as imagery of Gotham City springs to mind. If you find yourself above the city as the fog creeps in, don't forget to capture it!
13. Cape Town Stadium Capacity Crowd
Built for the 2010 Fifa World Cup, Cape Town Stadium continues to play host to football matches and concerts. Located in Green Point, a visit to Cape Town Stadium should be on your Cape Town itinerary. Catch a PSL game and capture the city's energy with the locals in attendance.
12. Fish 'n Chips at Kalky's
Kalky's is a favourite amongst locals and tourists. Grab a delicious box of fish 'n chips to complete your fun day of exploring the quirky and laidback suburb of Kalk Bay. Kalky's has a charming atmosphere that gives tourists the best experience of the town's informal fishing industry.
11. Chapman's Peak Drive
It's arguably one of the most scenic drives in South Africa, if not the world. Chapman's Peak hugs the coast on a cliff between Hout Bay and Noordhoek. Affectionately known as "Chappies", this 9 km route, with its 114 curves, skirts the rocky coastline of Chapman's Peak (593 metres), which is the southerly extension of Constantiaberg.
10. Great White Shark breach in False Bay
Take a look at this epic photo of a   great white shark breaching  in False Bay (notice prey in its jaws). False Bay is one of the very few places where you are able to see a great white shark breaching. To increase your chances of seeing this magnificent creature, visit Seal Island (Hout Bay) from June to October.
9. Lion's Head Full Moon Hike
On windless nights, when the moon is full, hundreds of Capetonians leave work and take the hour-long trek to the summit of Lion's Head. With the sun setting to the west and the moon rising in the east, the Lion's Head full moon hike is an experience like no other and it won't cost you a cent.
8. Colourful Huts at Muizenberg
These huts at Muizenberg on the False Bay side are another symbol of the Mother City and her colourful vibrant nature.
7. Lightning Strikes Table Bay
An artful photographer's touch and mother nature come together in a precise moment as lightning lights up the night sky over Table Bay in Cape Town.
6. Bo Kaap
Cape Town's colourful Bo-Kaap neighbourhood is a visual masterpiece with cobblestoned streets brimming with history. The delicious smell of Cape Malay fare hangs heavy in the air, intercepted every so often by the call to prayer.
5. Kalk Bay Harbour
One of the most charming little harbours imaginable this side of the Cape Peninusla, Kalk Bay Harbour is a quaint neighbourhood dotted with lively restaurants, great ocean-facing pubs and a gazillion stores to explore.
4. Winelands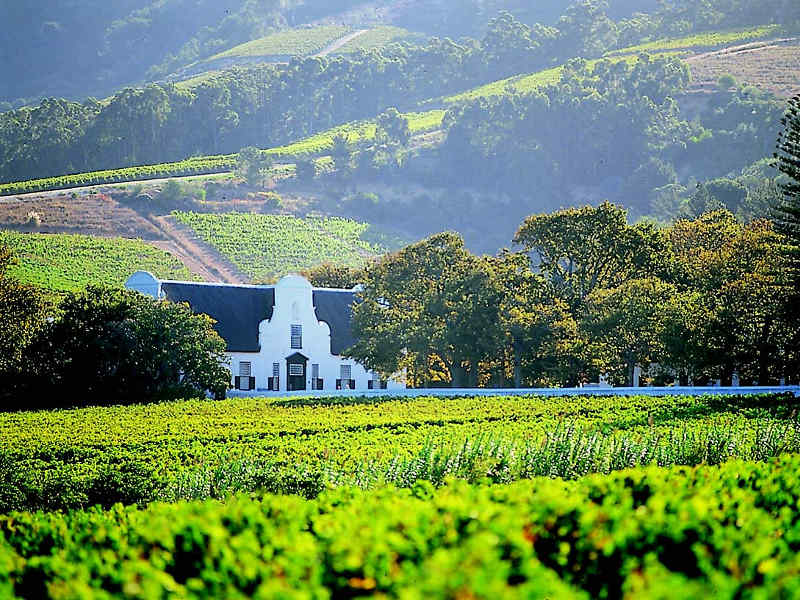 South Africa's world-famous wines are produced mostly in the Cape Winelands – a region of great beauty, fertile soil and historic towns surrounded by impressive mountains. One of South Africa's most visited destinations; the towns of Stellenbosch and Paarl are less than 30 minutes' drive from Cape Town, while Franschhoek is a little further afield.
You might like: 6 Undiscovered Wine Farms Around Cape Town
3. Boulders Beach
While Boulders Beach near Simon's Town is beautiful, probably its biggest charm is the colony of African Penguins that reside here. Capture these charismatic penguins in their habitat and remember to respect their surroundings at all times. During summer, you can swim with the penguins and soak up the beautiful beach.
2. V&A Waterfront
Incorporating an up-scale shopping complex, a world of restaurants, markets, an amphitheatre for outdoor events surrounded by numerous 5-star hotels, the V&A Waterfront is a Cape Town favourite.
1. Cape Town Aerial Photo
An aerial shot of modern Cape Town with Green Point Stadium in the foreground. It doesn't get any better than this. One look at this aerial shot of Cape Town and you'll see why the city is a tourism magnet!
If these photos have made you want to pack up and get a move on to Cape Town then our work here is done. The pictures showcased above are the day-to-day scenes that make the Cape a feature on every nomads bucketlist.
Book your Flysafair, Kulula or SAA flight to Cape Town with popular flight routes from Johannesburg to Cape Town and Durban to Cape Town.
Have you had the opportunity of visiting Cape Town? Let us know what attractions you enjoyed capturing in the comments below.
Also read: