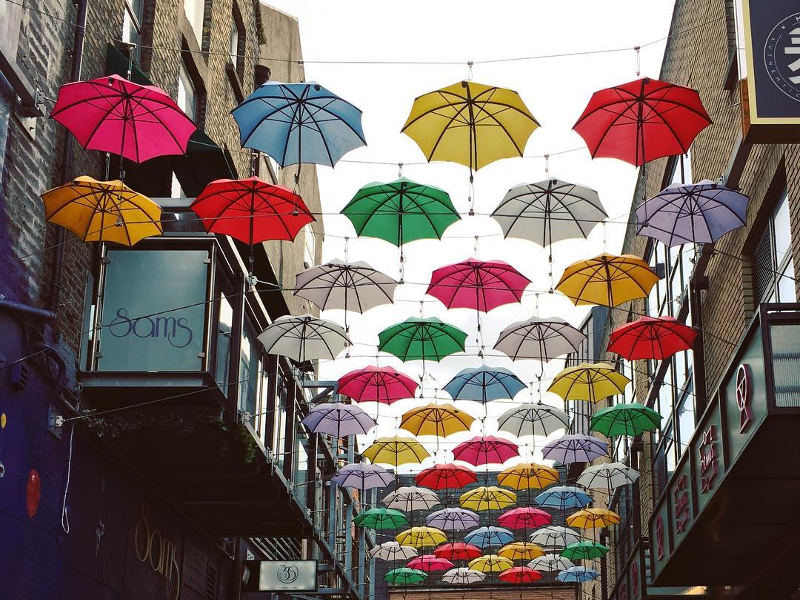 Ireland is the land of endless green landscapes, pebbled beaches, the cutest sheep and of course, fantastic beer! A trip to this country should definitely be on your list when you're in the mood for some fresh air and unspoilt beauty. Ireland has the world's longest defined coastal driving route, offering endless views of the Atlantic Ocean and Celtic Sea. When deciding on this wholesome destination, choosing the best time to visit is a good idea, as Ireland certainly has its peak and off-peak seasons. Many say that travel to this country is great at any time of the year, but let Travelstart guide you on choosing your ideal holiday dates!
Seasons
When visiting ancient castles, hidden Celtic tombs and further exploring, what would you define as ideal weather conditions? One thing you can certainly place a bet on, be it winter or summer, is that you're likely to encounter the rain in this glorious country! Ireland has steady rainfall throughout the year and has a general climate that leans toward the cooler end, with plenty of days that fall under the 20°C mark. Those in the know agree that though you may give up sunny days, what you get in return looks a lot like a lush, green wonderland! Ireland has four seasons that intertwine in terms of temperatures and can be set apart by the length of the days.
Winter
You'll never experience truly ice-cold days in Ireland, and for that we are grateful! On most days, you will have to fight off some strong winds and wear a thick jacket, with daytime highs of around 8°C. If you're visiting the country during these months of December and February, chances are you are planning on spending your time in the cosy pubs and markets that are in the city centres, and not venturing off on adventurous hikes along the legendary hills and mountains. Days are cut rather short during winter and you may be a bit disappointed when the sun starts to set at around 4pm! If you're feeling a bit chilly, why not warm up your blood with the country's most famous production – beer! You may even consider visiting the St. Jameson Distillery for a day trip!
Spring and autumn
Many would argue that the best time to visit Ireland would fall between one of its shoulder seasons. Both of these are wonderful times of the year, as it's still cool enough to layer up very comfortably, and warm enough to be out and about to enjoy the fresh air. What's really lovely about these shoulder seasons is that as a tourist, you're skipping the summer crowds and beating the shortened winter trade hours! Spring falls between the months of February and April and a warm day will average at around 10°C, so don't pack your spencer tops away just yet! On the other hand, during autumn you may very well catch some great accommodation and flight specials as the season picks up after a quiet winter. Autumn falls between the months of September and November, with day time averages that are oddly warmer than during spring, at around 16°C.
Summer
Summer is peak tourist time in Ireland, with warmer days than the rest of the year and lots of cheer in the air. Days are extra long and a big appeal to the season as the sun only sets at around 10pm! For those in search of endless days, summer could very well be the best time to visit Ireland as you're guaranteed full days enjoying the sights, eating and drinking at all of the cities' quirky joints and venturing far and deep into the lesser known parts of the country – all under the summer sun! Summer falls between the months of June and August, and though it may not get very hot, you can enjoy temperatures of up to 20°C! That said, the sun can get quite strong during the day time, so don't forget to pack in your sunscreen lotion and a hat.
Daylight hours
Winter
Take advantage of the daylight hours for all of your sightseeing during the colder months of the year, and enjoy the cosy comfort of the long evenings.
Daylight hours: 08:30 – 16:00
Summer
There is so much to enjoy during the very long days in Ireland! With 17 hours of sunshine, make sure to plan in some sleep!
Daylight hours: 05:00 – 22:00
How much are flights to Ireland?
Peak season:
Summer (June to August)
Peak season in Ireland falls over the warmest months of the year. To enjoy the Irish summer, you will pay about 25% more on flights than during the rest of the year.
Low season:
Winter (November to February)
Flights to Ireland during the low season can work out a lot cheaper, and you could easily save up to 35% on flights if you book at the right time. Just don't forget to pack in those extra layers of clothing along with your umbrella!
Festive season (December and January)
To the delight of many, flight prices to Ireland over the festive season stays more or less the same as the rest of the low season. You'd have to book at least three months in advance to get the best flight deals, but with such a big discount, Ireland may be the best place to visit for Christmas and New Year!
Annual events in Ireland
Ireland loves to celebrate, and it especially loves events that are extra bizarre and fun – all the more fun to join in. The island has many celebrations throughout the warmer months of the year to make up for the very quiet cold months. Choose the best time to best Ireland by deciding which annual events you'd like to attend.
St. Patricks Day – March
Home of this well-loved celebration, St. Patricks Day is best enjoyed in the cities of Ireland! The day is a family-friendly event with plenty of green hats and pubs filled with happy locals. Locals refer to it as 'Paddy's Day'  and this day was once a religious day on the island. It is now an international party with lots of local beer to be enjoyed!
Vantastival – May/June
If you're looking for something different and love listening to new music, then this music festival is a great opportunity to rent a caravan for the weekend and don a pair of Wellies. Vantastival has been going strong since 2010 as the stage features up-and-coming Irish bands and artists that are on their way to stardom!
Kilkenny Arts Festival – August
Ten days of international music, literature, theatre and street performances is all that you can look forward to with this artsy festival. It is held in the most peculiar settings in Kilkenny, including old churches, townhouses and unused open spaces in the town. There are many international acts to catch, so plan ahead to see your favourites.
Puck Fair – August
This fair is one for the young and old, the whimsical, and everyone else that enjoys a good day out with the family. Every year, a male goat is crowned King Puck by a young girl from the surroundings. After the ceremony, the fun begins and fair-goers can enjoy good food, rides for the children, dress-ups and a lot of sing and dance.
Galway Oyster Festival – September
Galway celebrates this prestigious event every year, the second most known festival (after St. Patricks Day) in Ireland. Over recent years, more than three million oysters have been consumed during the three-day event. Not an oyster lover? Not to worry as the festival offers plenty of food and drink to those who attend, including lots of live music and child-friendly activities.
Halloween – October
Ireland is the home of Halloween, known originally as 'Samhain'. The uncanny event was first celebrated here, and the country makes sure to put on a huge fuss every 31 October! If you're looking for something extra special, head down to the streets of Dublin or Shannon and get ready to get spooked around every corner!
A whole different adventure awaits just north of Ireland, in the beautiful country of Northern Ireland. Have you thought about doing both on one trip? Read about Northern Ireland and consider adding it to your itinerary.
Planning a trip to this magical destination? Sign up to the Travelstart newsletter for all of our flight specials and you might be on your way to Ireland sooner than expected!